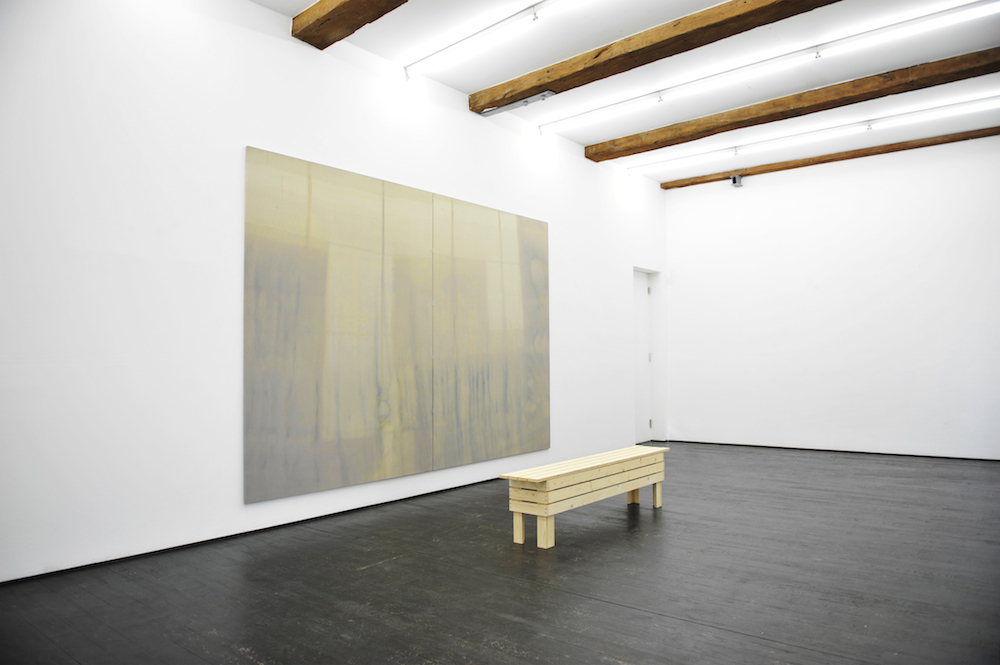 Amnesia DSCN1989
, 2015
Insolation on cotton
260 x 380cm
102.36 x 149.61 in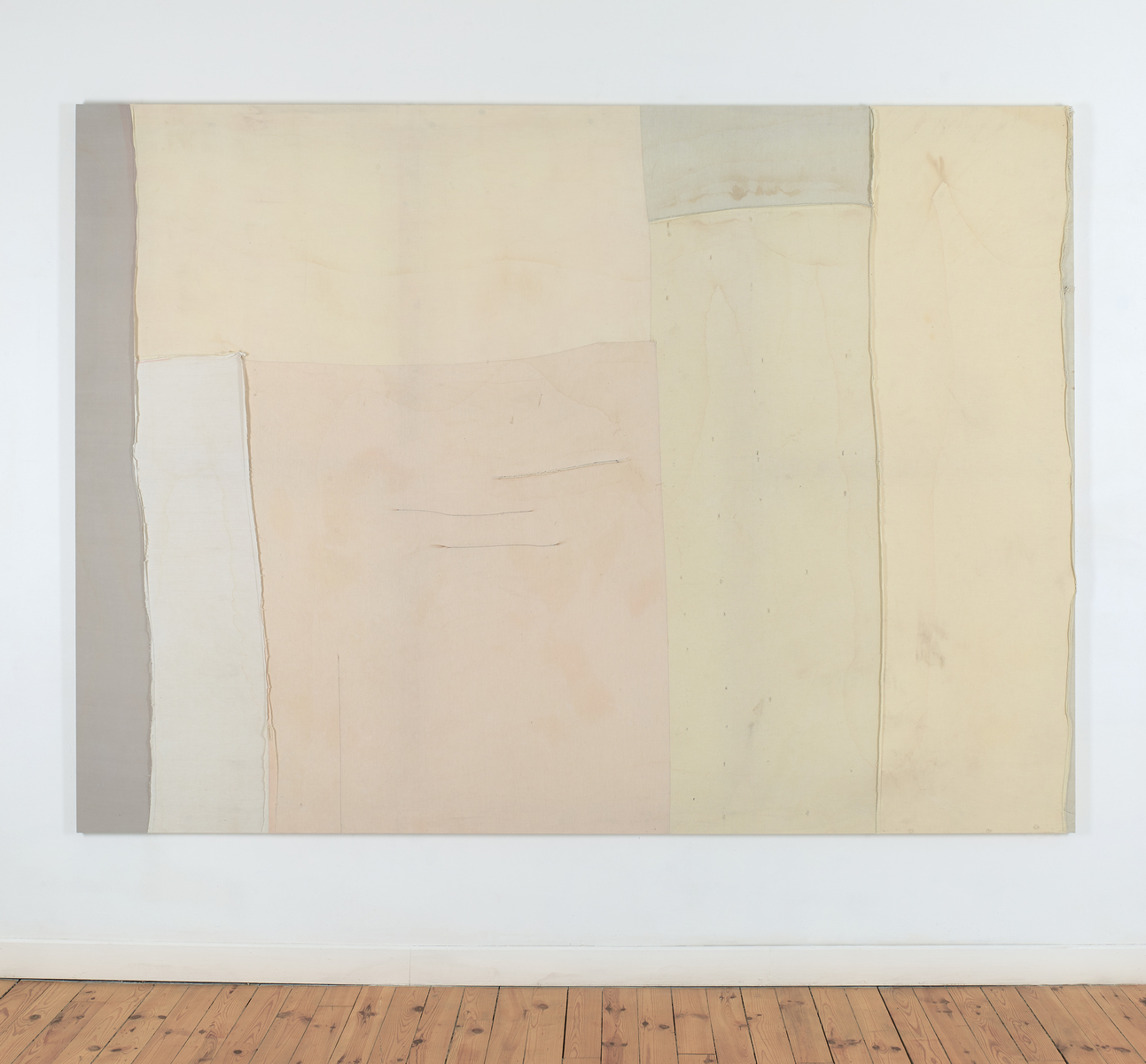 SEW COLORS DSCN3246
, 2016
Cotton textile, wood, sun-whitened
190 x 260cm
74.80 x 102.36 in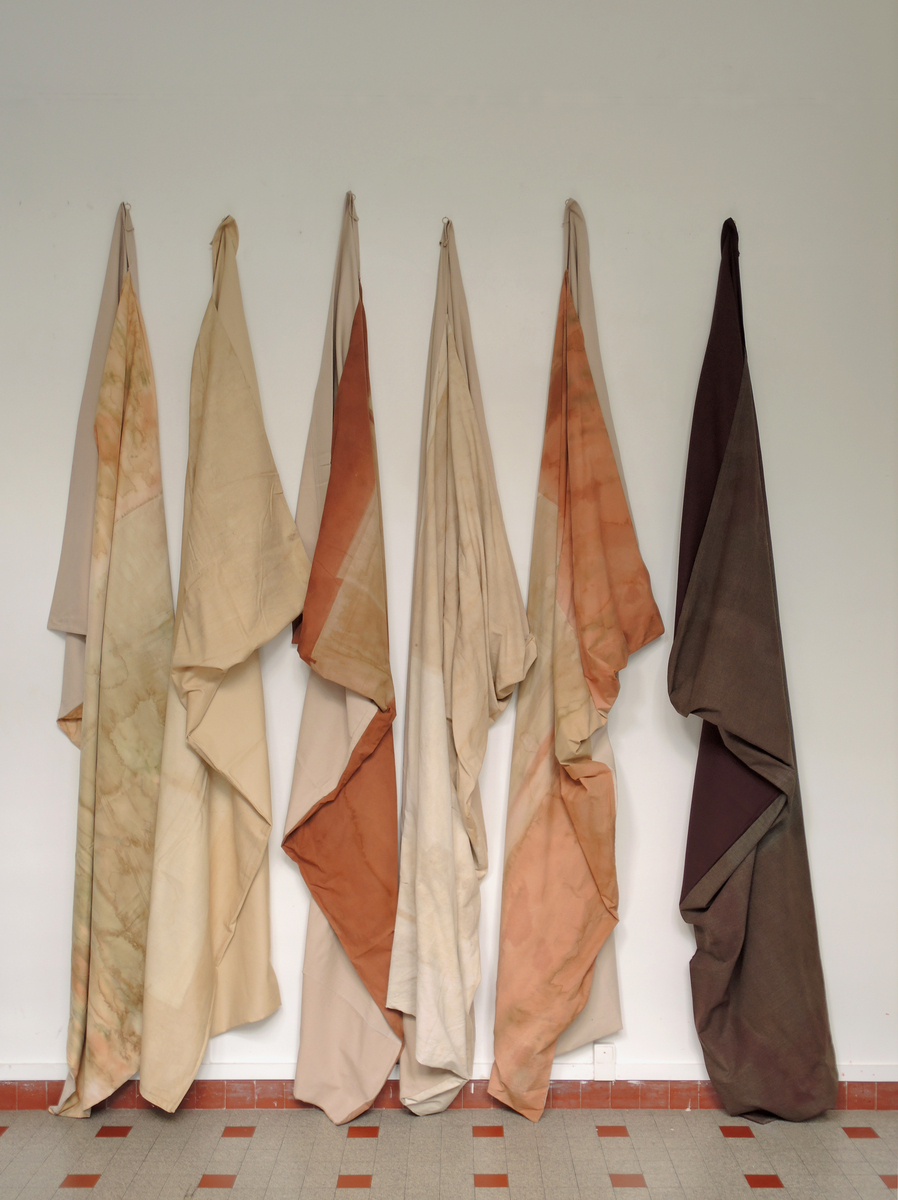 Lost Memory, All together
, 2016
Cotton textile, wood, vegetal dye, random dyed, sun-whitened
270 x 560cm
106.30 x 220.47 in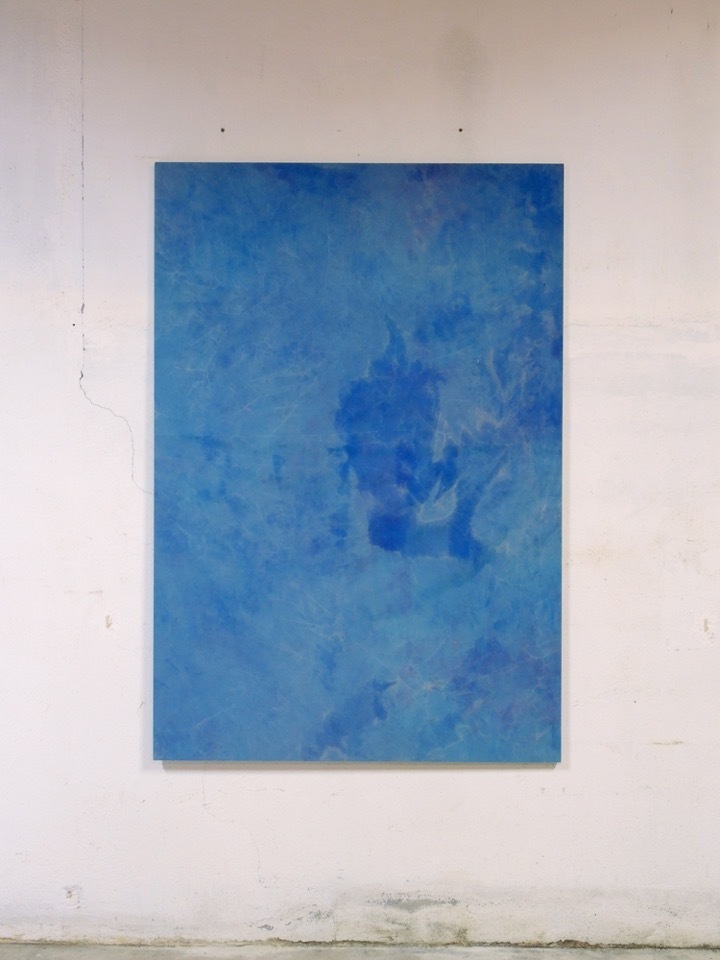 Amnesia DSCN2169
, 2015
Solarization and random coloring
190 x 130cm
74.80 x 51.18 in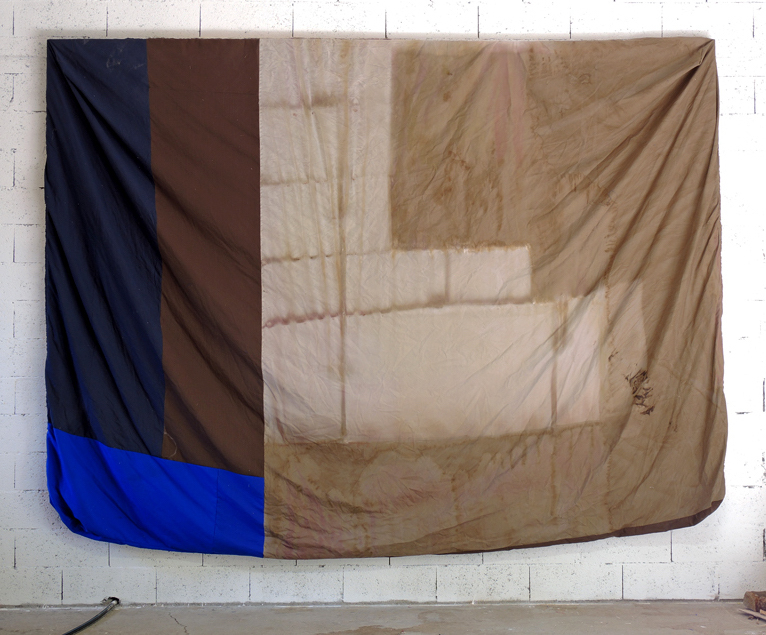 Spring DSCN3885
, 2016
Cotton textile, vegetal dye, random dyed, sun-whitened
244 x 354cm
96.06 x 139.37 in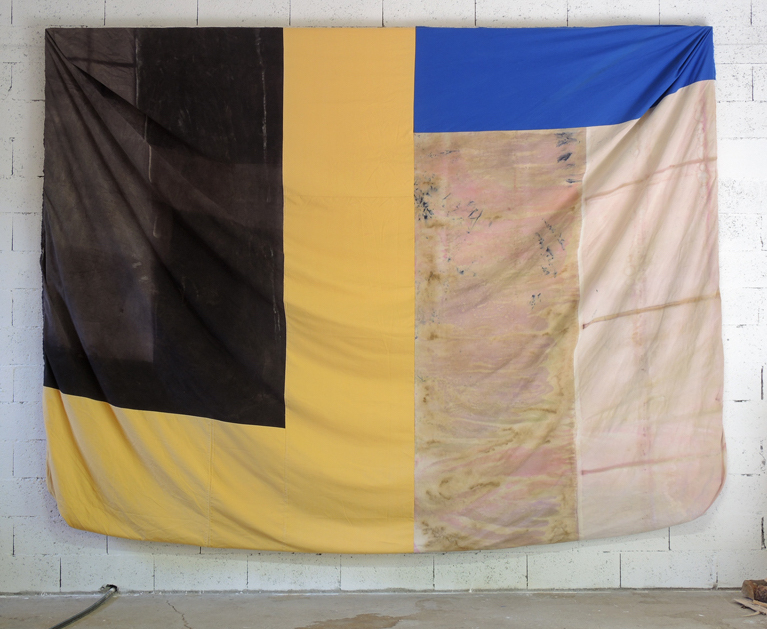 Spring DSCN3880
, 2016
Cotton textile, vegetal dye, random dyed, sun-whitened
244 x 354cm
96.06 x 139.37 in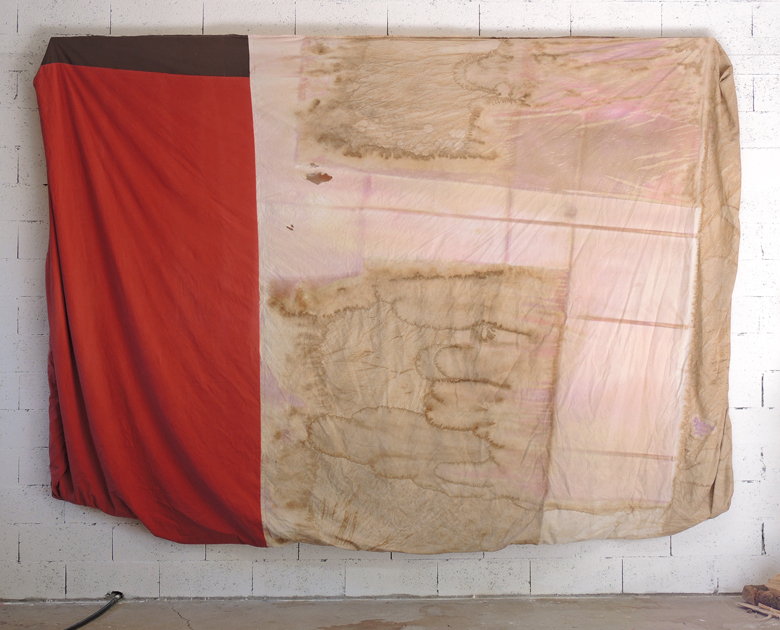 Spring DSCN3890
, 2016
Cotton textile, vegetal dye, random dyed, sun-whitened
244 x 354cm
96.06 x 139.37 in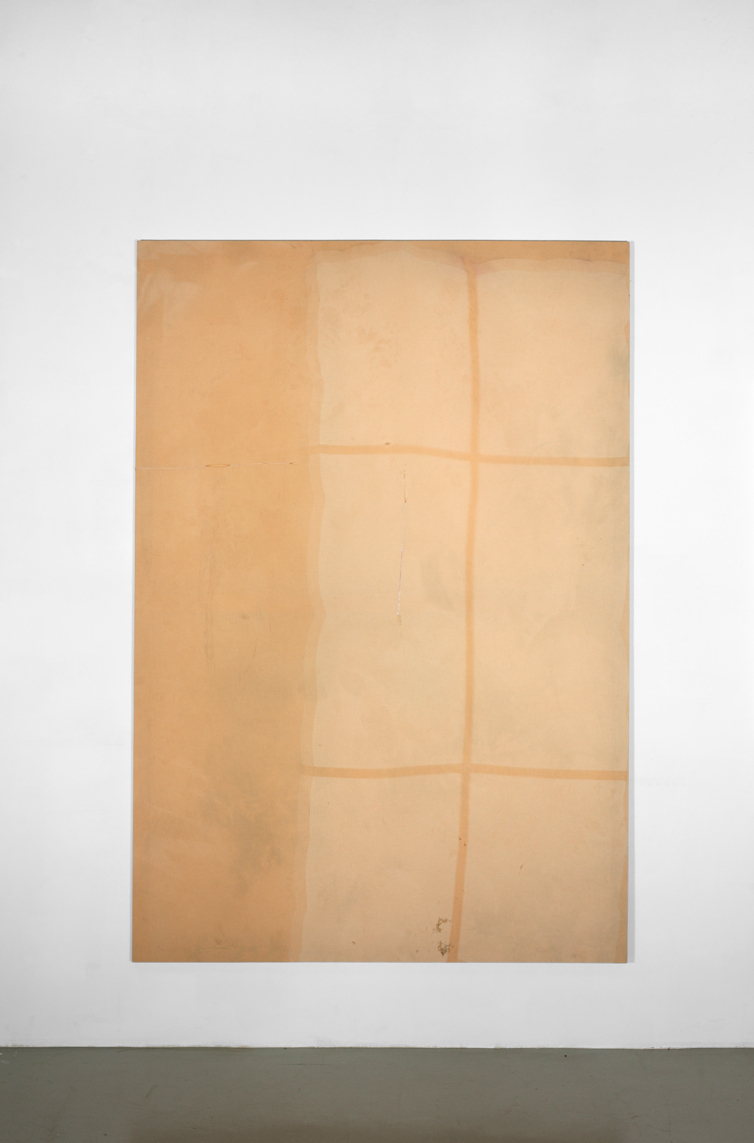 THROUGH, DSCN1662
, 2014
Solarization and random coloring
190 x 130cm
74.80 x 51.18 in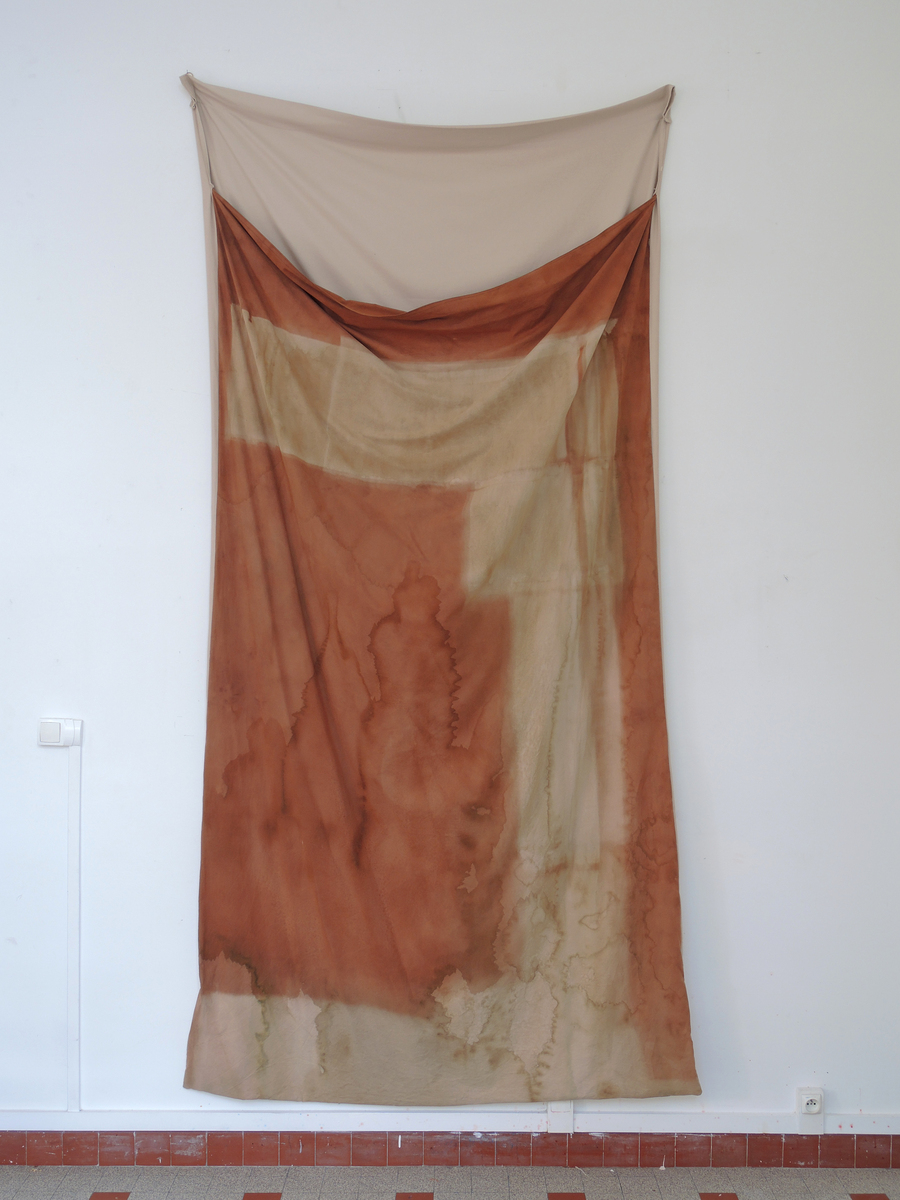 Lost Memory DSCN3448
, 2016
Cotton textile, wood, vegetal dye, random dyed, sun-whitened
260 x 140cm
102.36 x 55.12 in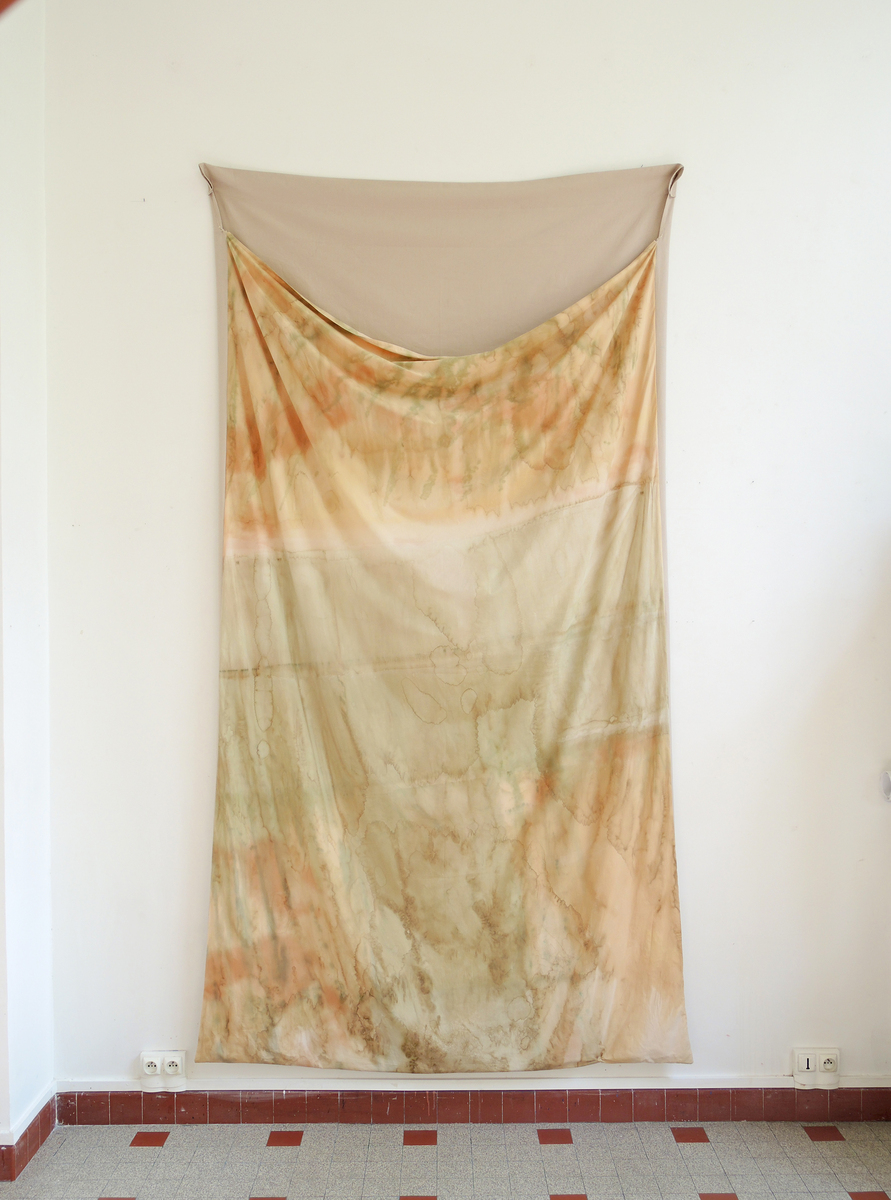 Lost Memory DSCN3430
, 2016
Cotton textile, wood, vegetal dye, random dyed, sun-whitened
266 x 150cm
104.72 x 59.06 in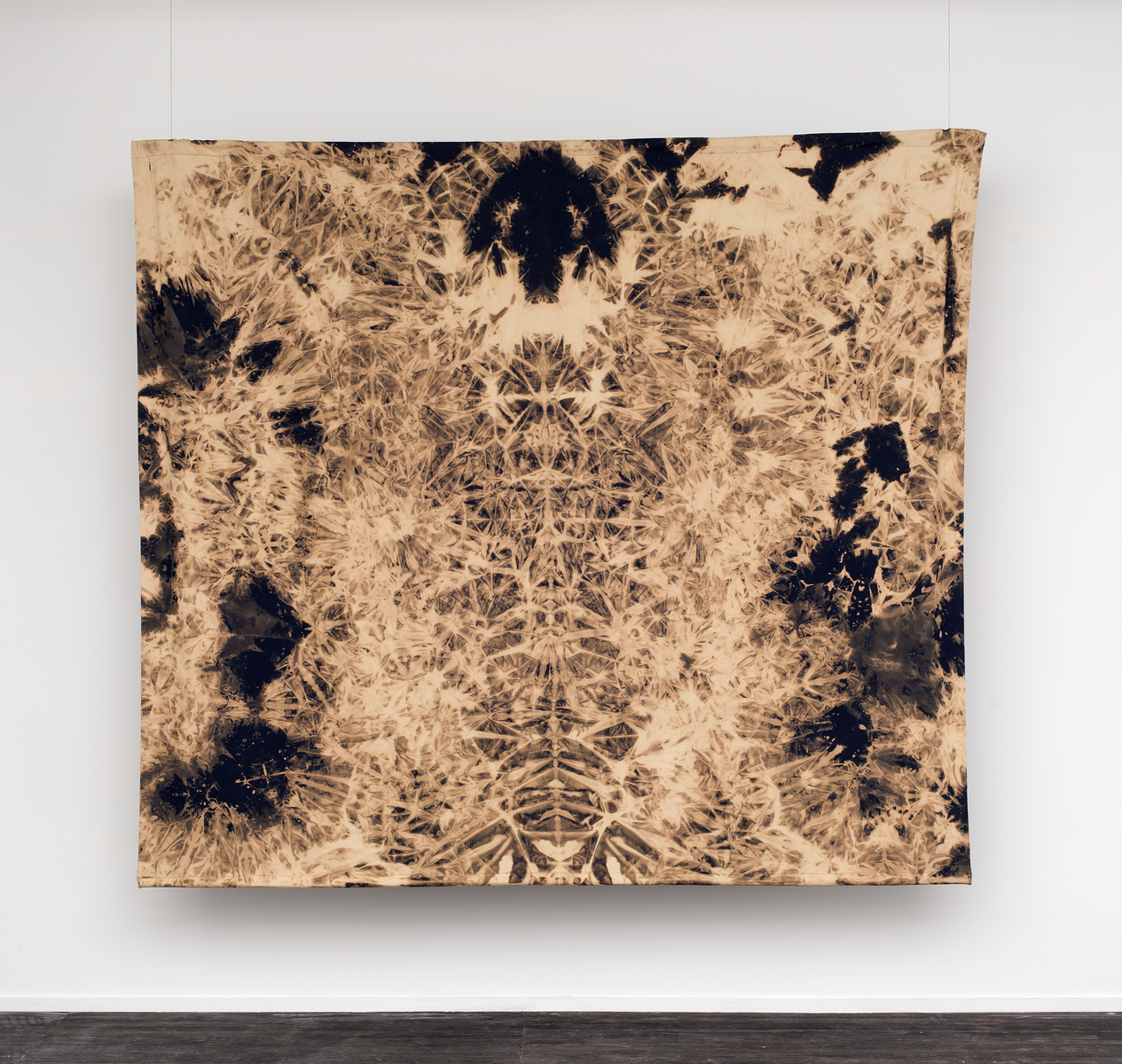 3D DSCN1801
, 2014
Tie and dye
222 x 247cm
87.40 x 97.24 in
Born in 1981.
Lives and works in Marseille, France.

Education

2006     DNSEP, École supérieure d'art de l'agglomération d'Annecy

Presentation

Adrien Vescovi makes paintings by exposing multiple fabrics to outdoor conditions; the weather then causes several processes on the textile: like Sun-whitening and ripping, and dye will drop and leak in between fabrics. Time makes paintings, or might the Earth have made the paintings? We are the new hippies is a nice way to say it. Vescovi crafts the stretcher for his paintings, that now include elements of carpentry, such as the hinges of a window or a door; there is a bench from where to look to the painting from. Hugs.
Vescovi's recent solo exhibitions include Tripode (Nantes), Glass Box (Paris) and Galerie TORRI (Paris). His work was featured in group shows at Galerie Jeanroch Dard (Brussels), Galerie Jean Fournier (Paris), Galerie Edouard Manet (Paris) and Performa (New York).

Residencies

2017   
  Le Cyclop, Milly la Forêt, France

2016    
Cité Internationale des Arts, Paris, France

2014
Summer Lake, Annecy, France

2009 Triangle France, Marseille, France
Some of the 20th century's more notable experimental and crossdisciplinary art movements make up the ne print of Adrien Vescovi's work; art's efforts to liberate itself from the pitfalls of figuration and lyrical abstraction, to foster works inscribed in reality itself. Stylistically, his work borrows from design, couture, industrial prototyping, and extreme sports clothing aesthetics.

In 2013, Vescovi began a long-term research on the grid as motif and as medium. As exiting the white cube's so called neutrality became an obvious necessity, he started working «on the motif itself»: the walls, roofs and palisades of his surrounding urban landscape. His works are formed outdoors, by direct exposure to the climate and the passing of time - a new relation to space resulting in an imbibition of time on the canvases. Climate itself becomes his pictorial tool; instability is added to the painting process. Akin to memory, which subdivides and animates, Vescovi's work is the site of organization and mobility. His paintings carry the stigmatas of climate and duration.

Putting together a spontaneous apparatus for the realization of collages, the artist allows a touch of exuberance to enter the work. Using monochromic inserts, he slides into the picture through profane gestures bordering on vandalism. Constantly referencing geometry, his paintings are reminiscent of Futurism and social science fiction. Each iteration of Amnesia momentarily holds our gaze on the transitory state of this work in perpetual evolution; until a new project takes the very elements that compose it and puts them back into play - until oblivion.

Text write for the show Amnésie, au Tripode, Nantes, 2015.
Solo shows at Ceysson Gallery
Adrien Vescovi , Saint-Etienne
January 19 - March 11, 2017
Group shows at Ceysson Gallery
Le grand détournement , Paris
June 27 - August 03, 2019
5+5, Saint-Etienne
May 08 - May 13, 2017
Solo shows
2019
Mnemosyne
, Galerie des Ponchettes - MAMAC Hors les murs , Nice, France
Adrien Vescovi
, Musée d'art contemporain de la Haute-Vienne - Château de Rochechouart, Rochechouart, France
Mens momentanea
, 7 Clous, Marseille, France
2017
Mnemonics
, Galerie Bernard Ceysson, Saint Étienne, France
For the Memory of A Live Time
, Néon, Lyon, France
Résidence and exhibition, Le Cyclop, Milly-la-Forêt, France
2016
Turn off the lights
, Casa de Francia - Institut français d'Amériques Latines, Mexico City, Mexico
2015
Amnesia
, Tripode, Espace Diderot, Rezé, France
3XL - DSCN1989
, Nosbaum Reding Project, Luxembourg
2014
Sugar and spice
, Galerie TORRI, Paris, France
2013
Afterwards
, Mosquito Coast Factory, Campbon, France
Brain Freeze
, Glassbox, Paris, France
Group show
2019
Accrochage dans la collection
, Musée d'Arts de Nantes, Nantes, France
Presque rien
, Geukens & Devil Gallery, Knokke, Belgium
ArtVilnius'19, Ceysson & Bénétière, Vilnius, Lithuania
2018
Biennale « IntoNature », Frederiksoord, Netherlands
Rapido Rapido, Collection N9
, Interior and the Collectors, Noirmoutier, France
Sometimes, however I am called to action by the siren song of the narrative faction
, Marseille, France
Norma
, Maison Pelgrims, Brussels, Belgium
2017
Back To The Peinture
, La Station, Nice, France
Group show, commissaire d'exposition : Marie de Gaulejac, Club Andalouse, Paris, France

Villa Datris, L'Isle-sur-la-Sorgue, France
2016
Don't read books
, Chez Néon, Lyon, France
In & Out
, Villa du Parc, Annemasse, France
30 ans déjà
, Villa du Parc, Annemasse, France
Art éphémère, Marseille, France
Galerie Praz-Delavallade, Paris, France
One thousand books
, Kunsthal Charlottenburg, Copenhagen, Denmark
Séquoia Dream
, La Galerie, Noisy le Sec, France
2015
My internet…
, Galerie Jean Rochdard, Brussels, Belgium
(IM)MATERIEL
, Galerie Jean Fournier, Paris, France
2014
Le corps invisible
, Galerie Edouard Manet, Gennevilliers, France
Crédac, Ivry-sur-Seine, France
Open Mind
, Cité internationale des Arts, Paris, France
Art is hope
, Palais de Tokyo, Paris, France
2013
Une nouvelle unité
, Les loges de la bastide Saint- Joseph, Marseille, France
Romantic duo
, Friche Belle de Mai, Marseille, France
Looking for Vidéo
, Galerie Claudine Papillon, Paris, France
Salle d'attente
, Galerie Laurent Muller, Paris, France
Workshop « La fabrique »
, MaC/VAL, Évry, France
2012
Keep me in suspense
, The Central House of Artists, Moscow, Russia
Karyan Central
, École nationale supérieure d'architecture de Paris, France
Bauhaus. Entretenir des choses matérielles
, Kunstforum, Essen, Germany
Désarchitecture
, Galerie Gourvennec Ogor, Marseille, France
L'enclave
, Hors-Les-Murs, Marseille, France
Centre Aéré
, Galerie de l'ENSAN, Nancy, France
Participation à l'édition Paper Jam, Paris, France ; Zurich, Switzerland ; Weimar, Germany
2011
Inauguration
, Galerie Gourvennec Ogor, Marseille, France
Vigoureuse Affection
, À l'atelier, Ivry-Sur-Seine, France
Participation à l'École alternative bAbA, Paris, France
Participation au Colloque
L'aire du Jeu
, INHA, Paris, France
Grand concours de tableaux monochromes
, Galerie Jean Brolly, Paris, France
2010
Aires de Jeux
, Micro Onde, Centre d'Art de l'Onde, Vélizy - Villacoublay, France
Ils chantent et ils jouent, les gens entrent
, Maison des Arts, Grand Quevilly, France
Collection Permanente
, Mains d'œuvres, Saint-Ouen, France
Loading…
, PM Galerie, Berlin, Allemagne
Access & Paradox
, Espace des Blancs Manteaux, Paris, France
55e Salon de Montrouge
, France
2009
Opération tonnerre
, Mains d'œuvres, Saint-Ouen, France
Ligne à ligne
, Galerie Nationale d'Indonésie, Jakarta, India
Déminage
, MAMAC, Liege, Belgium
2008
Playtime
, Béton - Salon, Paris - Mulhouse, France
Public collection
Musée des beaux arts de Nantes, France
FRAC PACA, Marseille, France
Conseil Général des Côtes d'Armor, Saint Brieuc, France
City of Montrouge, France
2016
Dorothée Dupuis, Amnesia, Crah magasine, 2016
Arlène Berceliot Courtin, La forêt à perdre la raison, may 2016
Emilie Renard, Adrien Vescovi le hamac, le livre et le festival, 2016

2014
Julie Portier, Adrien Vescovi : support, surface et Lune, Le Quotidien de l'art, December 2014
Adrien Vescovi - Le Cyclop
Le Parisien - Cécile Chevallier
March 29, 2017
Voir le fichier
Adrien Vescovi
Crash Magazine n°79 - Dorothée Dupuis
March 02, 2017
Voir le fichier
Adrien Vescovi - une démarche expérimentale à Saint Etienne
L'Essor - Daniel Brignon
January 28, 2017
Voir le fichier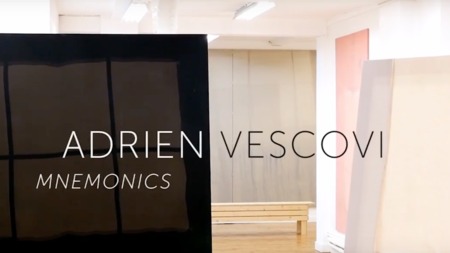 Adrien Vescovi - Mnemonics
February 20, 2017