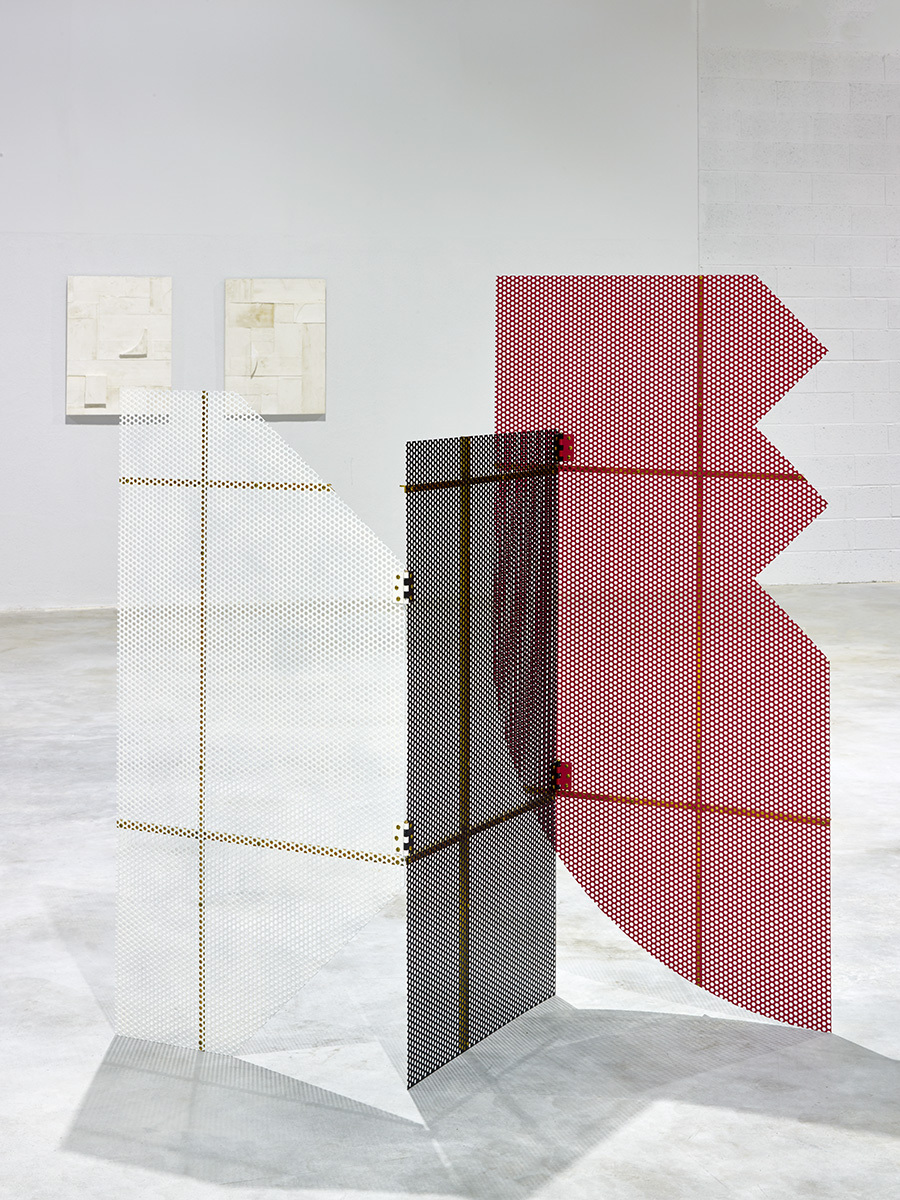 Untitled
, 2011
Steel, copper lacquer
165 x 145cm
64.96 x 57.09 in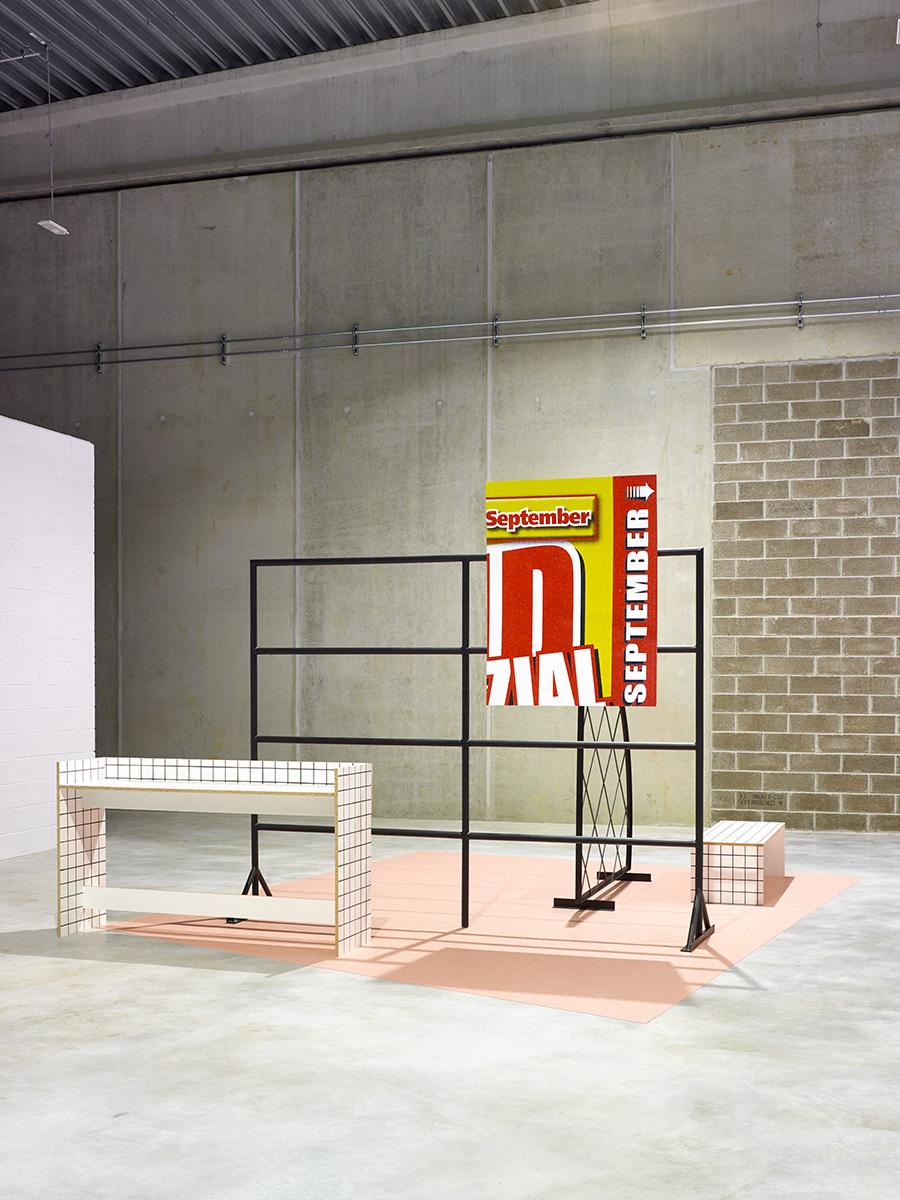 Untitled ( Supermarket )
, 2016
Steel, lacquer, pressboard, fine art print on hardboard, PVC flooring
220 x 380cm
86.61 x 149.61 in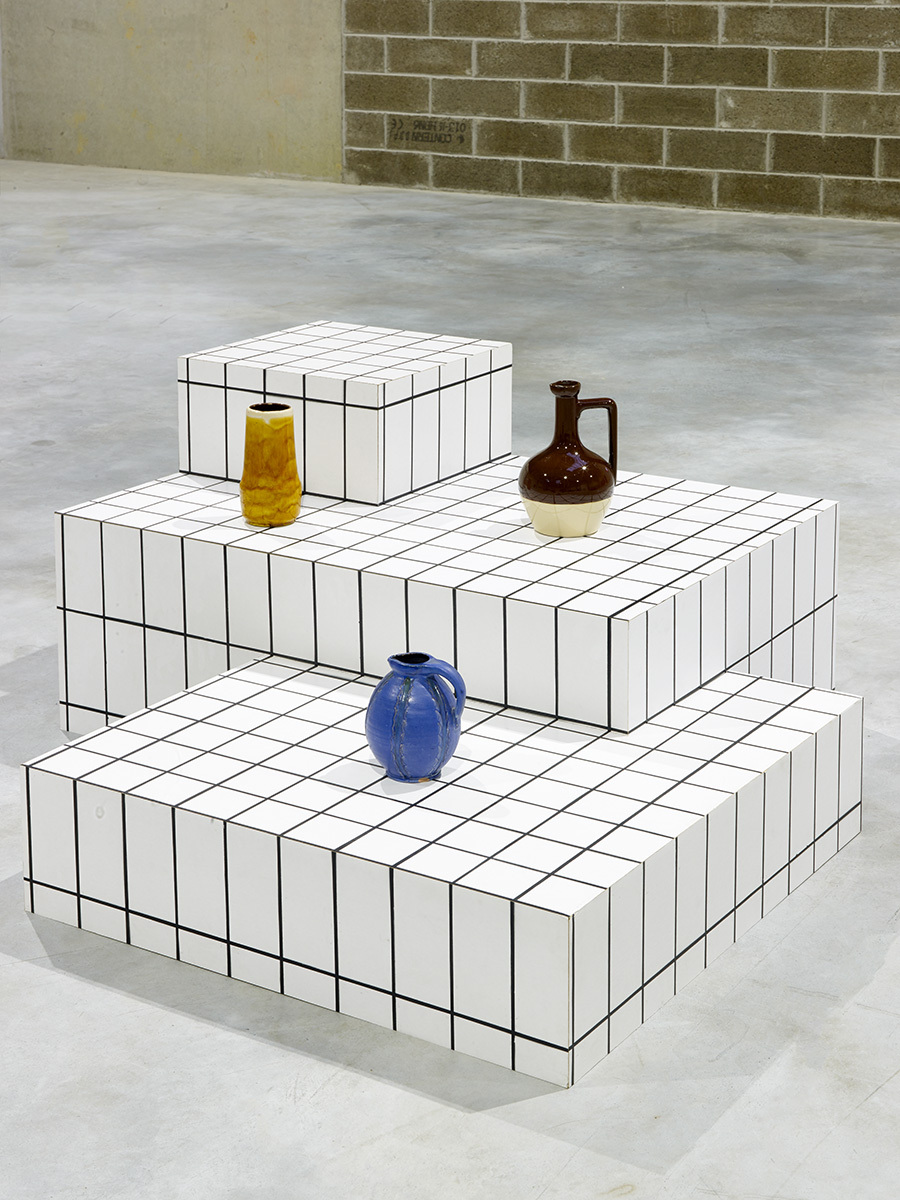 Untitled
, 2011
Cardboard, spraypaint, wood, primer, found ceramic objects
56 x 120cm
22.05 x 47.24 in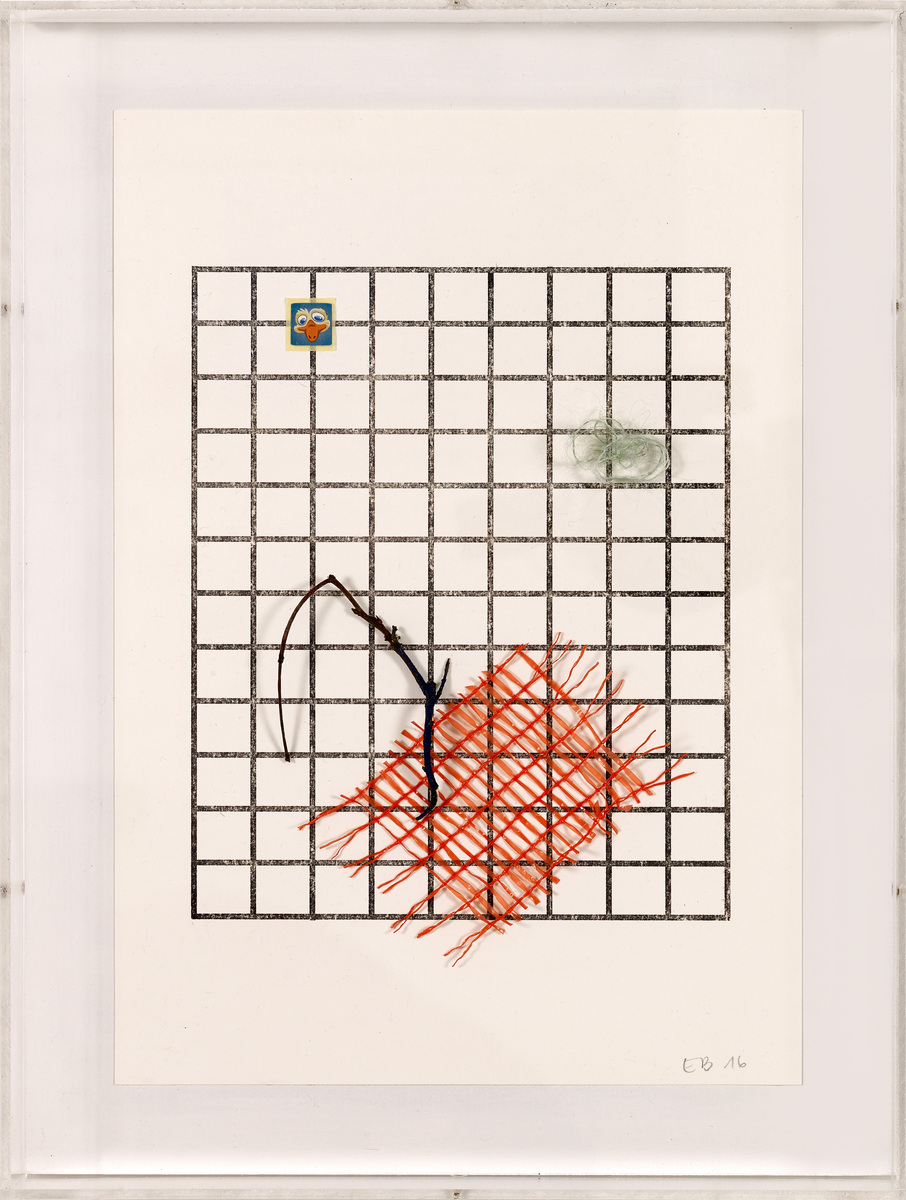 Collage a4 duck, s.D.
, 2014
Plaster casting
35.7 x 27cm
14.06 x 10.63 in
Born in 1974, in Bonn, Germany..
Lives and works in Berlin, Germany.

Formation

2001 - 2002
MFA, Chelsea College of Art and Design, London, United-Kingdom

1999 - 2001
Meisterschüler, Hochschule der Künste, Berlin, Germany

1995 - 1998
Akademie der Bildenden Künste, Munich, Germany

Résidences
2015
CCA Andratx, Spain

2009
Art Scope, Daimler Foundation, Tokyo, Japan

Grants
2014
Pollock-Krasner Foundation
Stiftung Kunstfonds

2011
Henry Moore Foundation

2008
Pollock-Krasner Foundation Grant

2006
Else-Heiliger-Fonds

2001
DAAD-scholarship for postgraduates
Painting in three dimensions while reframing art history

Given that she usually works in series of six or seven, it comes as no surprise that Eva Berendes' two most recent works are named after days of the week - Untitled (Monday & Tuesday, 2013. "I tend to do that number because it's just how long I can keep myself interested, and come up with that number of variations." She calls herself a painter "in the expanded sense", and it's clear from these two works that now sit in her studio space when Sleek visits are not what most people would immediately identify as paintings - being inspired by children's climbing frames. She cites her interest in the body's engagement with abstract shapes as a motivation for her work, and notes that it could herald a shift in her practice towards outdoor, public works - pieces standing in the rain just like the objects they've been inspired by. People in turn seem keen to get up close to Berendes' work, engaging in a physical, tactile way; often they involve layered, translucent elements and thus invite 360-degree viewing.

It was at the beginning of her career, in work for her MA show, that Berendes began engaging with the more physical aspects of abstract painting: "I had a tie-dyed canvas and I put it on the stretcher, but it didn't seem right to have that organic thing there - how do I know what is the right size and why is it in that position?" The relation to design is particularly relevant in considering her influences- most notably postmodern Memphis furniture and Russian Constructivism. In this way, she sees her work as contributing to and a modification of a shared language: "I'm not hiding myself in a very personal, hidden discourse, or influences that no one has ever heard of. I'm trying to participate in a bigger story. I am aware that I'm sharing a language with other people, which makes me feel more like I'm part of an ancestry."

Sleek asked Berendes how she feels about seeing elements of this design language used in other contemporary settings - the similarity between the metal grids used to show products on American Apparel's walls for example, and Berendes' "Grid" series, where an umbrella, a tennis racket and a gradient-dyed canvas are all displayed seemingly at random on steel frameworks. "I haven't noticed it so much. As soon as I start working on something I see it everywhere regardless. I could see that more as a sign that artists and designers and perhaps musicians and so on, all pick up on the same influences."

Nevertheless, there is clearly a reason why Berendes chooses older applied art and design language to reinterpret and put her own spin on. "If it's a bit older I find it easier to understand. I'm not so tied up in it and it's not changing so much. It ages at a different speed." While she's not convinced that movements she is influenced by, such as postmodernism, are truly "over" ("Has it really been recognised and appreciated for its good sides?"), she confesses her own desire to see something contemporary reappropriated in some way, taken through a development that shows the artist's hand. "You have to send it through some sort of process, it's not enough to just quote it."

Berendes feels like she is working to the same beat of the artistic community as a whole. She mentions the small nods and shrugs artists give each other at openings as an example of this mutual understanding. "You realise that you mean the same thing and you're not alone in what you do." What a comforting thought.

Josie Thaddeaus - Johns, in Sleek, Winter 2013.
Group shows at Ceysson Gallery
Sculptures, Matters, Materials, Textures..., Offsite
September 10 - October 16, 2016
Solo shows
2016
Casado Santapau, Madrid, Spain
2015
Kunstraum Düsseldorf, with Ralf Werner, Düsseldorf, Germany
Stations
, Sommer & Kohl, Berlin, Germany
2014
Screens & Reliefs
, Etage Projects, Copenhagen, Denmark
Norma
, with Andreas Bunte, Ancient & Modern, London, United-Kingdom
Spring/Summer
, CRG Gallery, New York, USA
2013
ABC, Art Berlin Contemporary
, with Jacky Strenz, Sommer & Kohl, Berlin, Germany
The Near Serendipitous Encounter
, Van Horn, Düsseldorf, Germany
Figures & Routines
, Jacky Strenz Galerie, Frankfurt, Germany
2012
Casado Santapau, Madrid, Spain
2011
The Somerset Curtain
, Elisa Platteau & Cie, Brussels, Belgium
New Reliefs
, Ancient & Modern, London, United-Kingdom
People and Events will be the Decoration
, S1 Artspace, Sheffield, United-Kingdom
2010
A veil, a shadow, a bloom
, Sommer & Kohl, Berlin, Germany
Eva Berendes & Michael Van den Abeele
, Elisa Platteau Gallery, Brussels, Belgium
2009
Silk, Grids & Souvenirs
, Jacky Strenz Galerie, Frankfurt /Main, Germany
The Armory Show, Jacky Strenz Galerie, New York, USA
2008
Eva Berendes / Günter Fruhtrunk
, Arndt & Partner, Zürich, Switzerland
New Schubert Pink
, Sommer & Kohl, Berlin, Germany
2007
Ancient & Modern, London, United-Kingdom
Chess
, with Florian Baudrexel, The Reliance, London, United-Kingdom
2006
Jasmine and Trellis
, Jacky Strenz, Frankfurt /Main, Germany
Chess
, with Florian Baudrexel, Adeline Morlon Art Direction, Düsseldorf, Germany
2005
Reliefs
, Center, Berlin, Germany
Goethe Institute, Dublin, Ireland
Group shows
2016
Sculptures, Matières, Matériaux, Textures…,
Hors les murs, Galerie Bernard Ceysson, Luxembourg
The transparent tortoise shell and the un-ripe umbrella
, curated by Louise Briggs, Glasgow Sculpture Studios, Glasgow, United-Kingdom
French Connection_Perspectives on Supports/Surfaces
, Kunstsaele, Berlin, Germany
Sculptures, matters, materials, textures…
, Galerie Bernard Ceysson, Wandhaff, Luxembourg
People looking at people looking at people
, with Sebastian Matthias and Liane Goodhue, Sophiesaele, Berlin, Germany
Less is a Bore, Memphis und die Folgen in der Kunst
, curated by Julia Höner, KAI 10 - Arthena Foundation, Düsseldorf, Germany
2015
Essai sur le don
, Kunstverein Schwerin, Germany
10 Picks, Representing Space
, CCA Andratx, Mallorca, Spain
Wo ist hier? #2: Raum und Gegenwart, Bildhauerei und Installation seit 2000
, Kunstverein Reutlingen, Germany
Inside the City, Public Space and Free Space
, Gesellschaft für aktuelle Kunst Bremen, Germany
L'oiseau Présente…: Be abstract
, Kunstverein Schwäbisch Hall, Germany
Formal Relations
, curated by Kamrooz Aram and Murtaza Vali, Taymour Grahne Gallery, New York, USA
Bild und Anpassung
, Städtische Galerie Waldkraiburg, Germany
Show Room
, curated by It's our playground, Glassbox, Paris, France
Neighbours
, Whatspace,Studio Grunewald, Gent, Belgium
Perpetuum Mobile
, Casado Santapau, Madrid, Spain
<< <    > >> (vol.2)
, Super Dakota, Brussels, Belgium
2014
Grids
, Gillmeier Rech, Berlin, Germany
Le temps de la rentrée
, Sommer & Kohl Berlin, Germany
Size Matters, Current Perspectives on Minimalism
, curated by Nathalie Zonnenberg, Kunstfort Vijfhuizen, The Netherlands
Conversations around Marlow Moss
, curated by Andrew Bick and Katrina Blannin, & Model, Leeds, United-Kingdom
Bild und Anpassung
, Palais für aktuelle Kunst, Glückstadt, Germany
Screen Play
, SWG 3 Gallery, Glasgow, United-Kingdom
Interrogation Marks in the Blurred Grid
, curated by Matyáš Chochola and Alexandr Puškin, Czech Gallery, Berlin, Germany
2013
One from None
, curated by Nils Emmerichs, Autocenter, Berlin, Germany
The Peacock
, Grazer Kunstverein, Austria
Cabinet of Threads
, Van Horn, Düsseldorf, Germany
Nur hier, Sammlung zeitgenössischer Kunst der Bundesrepublik Deutschland, Ankäufe von 2007 bis 2011
, Bundeskunsthalle, Bonn, Germany
2,3 - 3D
, Ballhaus Ost, Berlin, Germany
2012
Focus (mit M. Dornfeld und R.Polanszki)
, Ancient & Modern, Frieze Art Fair, London, United-Kingdom
Squat #1, by Nilufar
, Gallery Dimore Studio and Balice Hertling, Paris, France
Algebraic Topology
, Casado Santapau, Madrid, Spain
Berlin Non Objective
, SNO Centre, Sydney, Australia
Brot & Salz
, Sommer & Kohl, Berlin, Germany
Sculpture Summer Show
, CRG Gallery, New York, USA
A Stepping Stone
, curated by SALTS, Autocenter, Berlin, Germany
2011
Beyond the fragile geometry of sculpture
, curated by Lorenzo Benedetto, De Vleeshal, Middelburg, The Netherlands
Eva Berendes, Meiro Koizumi, Hiroe Saeki, Jan Scharrelmann
, Hara Museum of Contemporary Art, Tokyo, Japan
Beyond Gestaltung
, curated by Thomas Thiel, Bielefelder Kunstverein, Bielefeld, Germany
Bold Tendencies 5, sculpture commission
, Car Park Peckham, London, United-Kingdom
Modernism has two faces…
, curated by Sarah Staton and Simon Bill, Mount Stuart Trust, Isle of Bute, Scotland, United-Kingdom
Madame Realism
, curated by Lisette Smits, MARRES, Center for Contemporary Culture, Maastricht, The Netherlands
Der Menschen Klee
, curated by Cornelius Quabeck, KIT, Düsseldorf, Germany
Making is thinking
, curated by Zoe Gray and Witte de With, Rotterdam, The Netherlands
2010
Construction and its Shadow
, curated by Andrew Bick, Leeds Arts Gallery, Leeds, United-Kingdom
Between the lines
, Cass Sculpture Foundation, Goodwood, United-Kingdom
The Long Dark
, curated by Michelle Cotton and Kettle's Yard, Cambridge, United-Kingdom
Bilder über Bilder
, Museum Moderner Kunst Stiftung Ludwig, Wien, Austria
The Berlin Box
, curated by Friederike Nymphius, Kunsthalle Andratx /CCA, Mallorca, Spain
2009
Paper Moon
, Sommer & Kohl, Berlin, Germany
The Long Dark
, curated by Michelle Cotton, International 3, Manchester, United-Kingdom
travelled to Hatton Gallery
, Newcastle upon Tyne, United-Kingdom
Drawing Sculpture
, Daimler Contemporary Berlin, Germany
Les formes feminines
, Triangle, Marseille, France
From Yarn to Yucca- A Continuation of the Dialogue Between Abstraction and Figuration
, John Connelly Presents, New York, USA
All that is solid melts into air, Part II: The Thing
, curated by Dieter Roelstraete, MHKA Antwerp in collaboration with Cultuurcentrum Mechelen, Mechelen, Belgium
2008
rep'e.t'tion
, Sorcha Dallas, Glasgow, United-Kingdom
The Eternal Flame
, curated by Sabine Schaschl and Burkhard Melzer, Kunsthaus Baselland, Basel, Switzerland
minimal funktional, Highlights aus der Daimler Kunst Sammlung zum Verhältnis von Kunst und Design
, Museum im Kulturspeicher, Würzburg, Germany
Foreground 08: Intervention/Decoration
, Frome, Somerset, United-Kingdom
Hase, Krebs und Nachtigall
, Galerie Mezzanin, Wien, Austria
Module Play & Box Promenade, Eva Berendes, Susanne Kohler, Ursula Mayer
, Cell Project Space, London, United-Kingdom
2007
Eccentric Growth, Eva Berendes Aleana Egan, Anja Schwörer
, Galerie Sandra Bürgel, Berlin, Germany
Strange Weight
, curated by Rob Tufnell, Martos Gallery, New York, USA
Minimalism and Applied I
, Sammlung DaimlerChrysler, Berlin, Germany
Back and Forth 1: Otto Boll, Eva Berendes, Matthew Burbidge, Ali Kaaf
, Villa Grisebach Gallery, Berlin, Germany
2006
Friedrich
, curated by Bruce Haines, Doggerfisher, Edinburgh, United-Kingdom
2005
Liquid Crystal, Lothringer Dreizehn
, Space for Contemporary Art, Munich, Germany
Communism
, The Project Arts Center, Dublin, Ireland
2004
Free Energy
, curated by Patricia Kohl, Loop Guestroom, Berlin, Germany
Eva Berendes, Bernd Ribbeck, Claudia Wieser
, Bravo, Düsseldorf, Germany
2003
Put Out More Flags
, curated by Christabel Stewart, Sutton Lane, London, United-Kingdom
Reality Slides
, Kunstverein Kohlenhof, Nürnberg, Germany
Goshka Macuga´s Picture Room
, Gasworks, London, United-Kingdom
The Fragile Underground
, curated by David Thorpe, Bart Wells Institute, London, United-Kingdom
Reviews

Hannah Duguid, Plastic bags and Lucozade cast a magic spell, The Independent, p. 44, March 2016
Miki Kanai, BT (Bijutsu Techo), Japan, p. 160/1, May 2015
Screens & Reliefs, Domus, December 2014
Monika Khemsurov, Excerpt: Exhibition, Figures & Routines by Eva Berendes at Jacky Strenz Gallery, Sight Unseen, November 2013
Elin Himelfarb, 'Squat #1' by Nilufar Gallery, Dimore Studio and Balice Hertling, Paris, Wallpaper Magazine, October 2012
Critic's Pick: Simone Menegoi, Beyond the Fragile Geometry of Sculpture, Artforum, November 2011
Riccardo Previdi, Eva Berendes, Ornamento e Delitto, Flash Art, March 2010, p. 68-70- Christoph Schütte, Vasen und Krüge in Kunstlandschaft, Frankfurter Allgemeine Zeitung Nr. 302, Seite 39, December 2009
Martin Vincent, The Long Dark, Art Monthly No 332, December-January 2009-2010
Anna Catharina Gebbers, The NADA Emerging Artist Page, L-Magazine, New York, July 2009
Christiane Rekade, What do we do with it ?, Mousse Magazine, February 2009
Jack Mottram, When exhibitions hang together, The Herald, December 2008
Oliver Tepel, Halb/Zeit Half/Time, Checkpoint#6, September 2008
Oliver Tepel, Im schönen Nichts ist alles egal, Spex #316, September 2008
Colin Glen, Intervention / Decoration, Art Monthly, No 317, June 2008
Melissa Gronlund, Eva Berendes, Frieze 111, Review, November2007
Charlotte Bonham-Carter, Florian Baudrexel, Eva Berendes: Chess, Contemporary Magazine #92, p 69, June 2007
Catriona Black, Material benefits, Sunday Herald, January 2007
Jack Mottram, Peeking behind the curtain, The Herald, December 2006
Robert Clark, Friedrich Edinburgh, The Guardian Guide, December 2006
Tim Scott, Communism at Project, CIRCA 112, 2005
Robbie O'Halloran, Communism at Project, CIRCA 111, p110-111, 2005

Interviews

Tyler Mallison, Contemporary Reflections, COIO, June 2015
Eva Berendes and Doug Ashford, DURCH 12, edited by Maxine Kopsa, published by Grazer Kunstverein, 2014
Josie Thaddeaus-Johns, Eva Berendes studio visit, SLEEK Magazine, Winter 2013
Andrew Bick, The Conversation, VON BARTHA, Quarterly Report, p. 12 - 13, January 2011
David John, Folding Screens & Paravents, August 2010

Catalogues

Eva Berendes/Ralf Werner, Kunstraum Düsseldorf, 2015
Eva Berendes Figures & Routines, Jacky Strenz Galerie, 2013
Nur hier, Ch. Schröer GmbH, Sammlung zeitgenössischer Kunst der Bundesrepublik Deutschland Ankäufe von 2007 bis 2011, Bundeskunsthalle Bonn, Verlag DIE NEUE SACHLICHKEIT. Lindlar, 2013
Artscope 2009-2011, Hara Museum of Contemporary Art, Published by Daimler Foundation Japan, 2011
Eva Berendes, People and Events will be the decoration, S1 Artspace, 2011
Making is thinking, Witte de With, 2011
Making is Thinking, Andrew Maerkle, Art-iT, May 2011
The Long Dark, Kettle's Yard, Cambridge, 2010
Between the lines, Cass Sculpture Foundation, Goodwood, West SussexJacky Strenz Galerie, Elle, City Frankfurt, Kunst & Kultur, p. 41, June 2010
All that is solid melts into air, Five Reflections on Materialist Spirituality in Contemporary Art, MuHKA Antwerp, CultuurcentrumMechelen, 2009
Bart Wells Institute, Edited by Luke Gottelier and Francis Uprichard, Dent-de-Leone, 2009
Intervention/ Decoration, Foreground 08, text by Simon Morrissey, 2008
Minimalism and Applied I, Daimler Chrysler Contemporary, 2007
Minimalism and After, Tradition and Tendencies of Minimalism from 1950 to the Present, DaimlerChrysler Contemporary, Hatje Cantz Verlag Peter Abs & Oliver Tepel, Listing Best of 2006, Spex #306, January 2007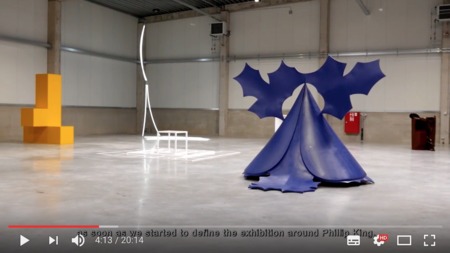 Sculptures, Matters, Materials, Textures... Foetz, Luxembourg
September 10, 2016