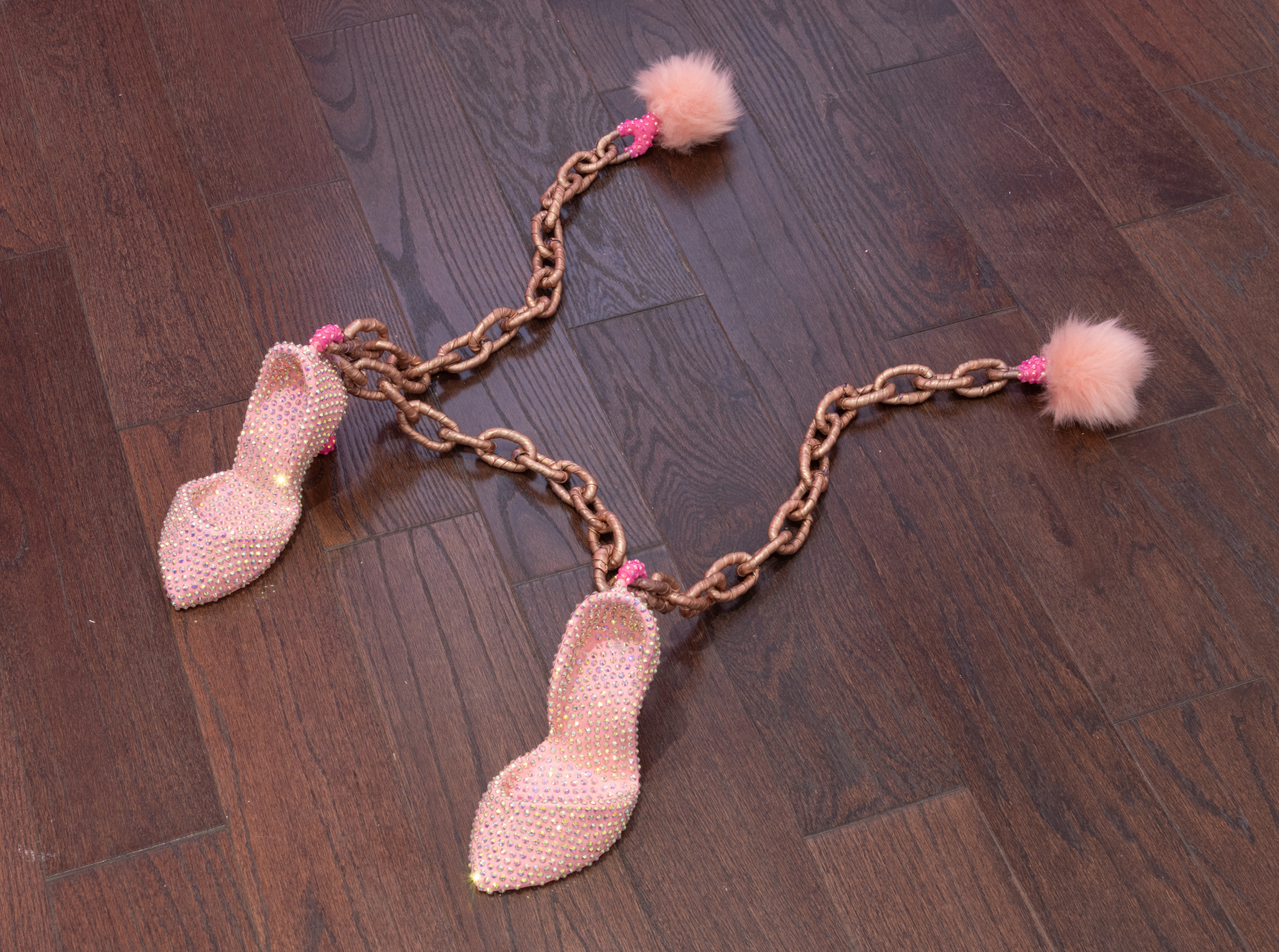 Stroke of Midnight
, 2022
Pompom hair ties, ceramic, fabric, rhinestones, and acrylic
0 x 0cm
0.00 x 0.00 in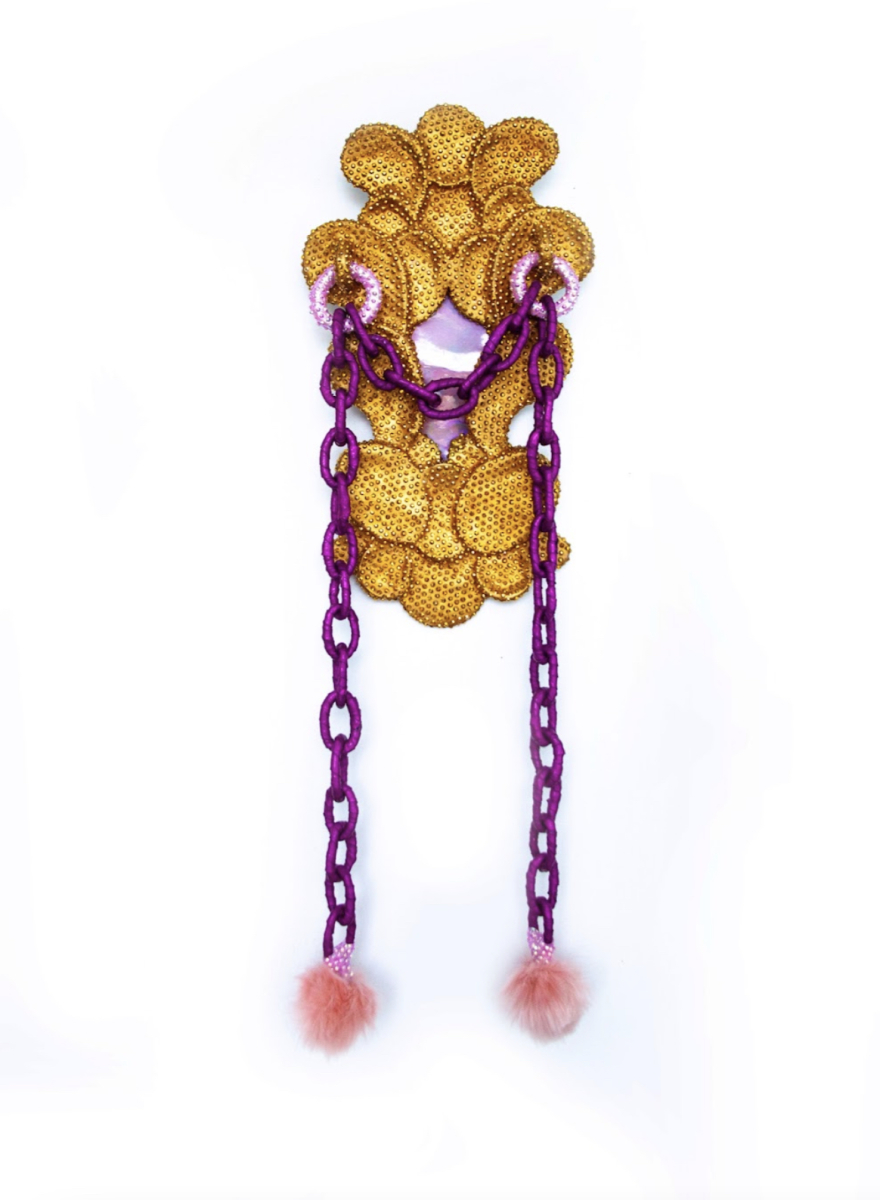 Southern Belle
, 2022
Ceramic, acrylic, rhinestones, fabric, holographic vinyl, holographic plastic wrap, pompom hair ties
71.12 x 25.4cm
28.00 x 10.00 in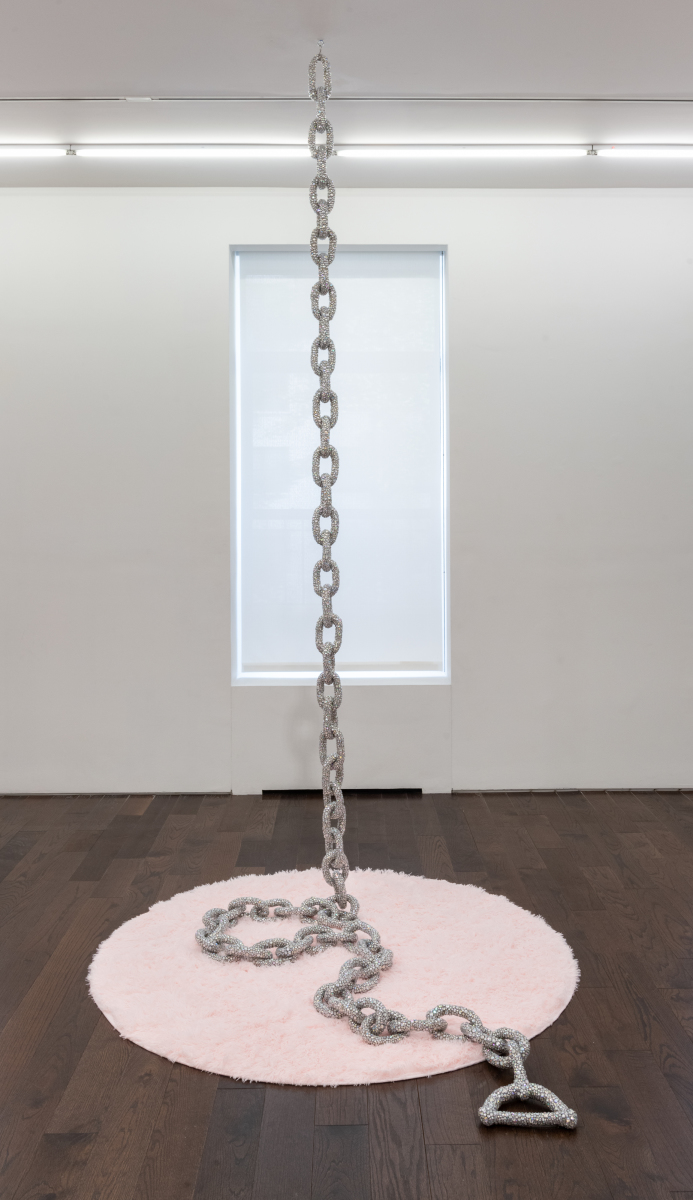 Rapunzel Chain
, 2019
Rhinestones, macrame, cotton piping, and wire
0 x 0cm
0.00 x 0.00 in
Ali Hval currently lives and works in Iowa City. In 2019, she received her MFA with Honors at the University of Iowa in Painting and Drawing with a minor concentration in Ceramics. Her work is interdisciplinary, combining painting, fabric, ceramic, sculpture, and installation.
In 2021, Ali received the Culture & Resilience Grant from the Iowa Arts Council. She was a 2020 resident at the Chautauqua School of Art in Chautauqua, New York. In 2015, she was chosen as one of ten recipients for the nationally competitive Windgate Fellowship by the Center of Creativity, Craft, and Design in Asheville, North Carolina. Ali graduated summa cum laude with Honors from the University of Alabama at Tuscaloosa in 2015 with a BFA in Painting and Drawing. She has had work in multiple exhibitions across the country, including Site: Brooklyn in New York, South Bay Contemporary in Los Angeles, and the Jackson Dinsdale Art Center at Hastings College curated by Kate Mothes.
An avid muralist, she has completed over 25 public murals and projects in various communities across the US.
My work is a balancing act: one between the sensuality of forms and the innocence and playfulness of the materials I use: sparkling rhinestones, oversized plastic gems, feathery pom-poms, sumptuous fabrics, glossy vinyl, and liquid latex. I am interested in how women collectively and individually discover their sexuality through clothing, experiences, and relationships. My work is an ongoing attempt to explore ways to embrace my sexuality in ways that are liberating opposed to limiting and based solely based on conditioned social and familial expectation. There is some in-between area that exists between these two extreme points on a spectrum, a balance I unearth in my work to understand the relationship to my body.
The sculptural wall pieces I make are an unconventional marriage between era-specific jewelry, bodily forms, objects of pleasure, and home decor. They embrace, highlight, and empower sensuality and femininity rather than hiding or denying it, as well as acknowledging the awkwardness, humor, and performance that can come with it. My pieces are interdisciplinary, joining the craft-based mediums of ceramics and fabric with painting and sculpture. I use ceramics in an unconventional way where I begin a piece by creating a high-fired ceramic component then add rhinestones, fabric, and eyeshadow mixed into paint to create a finished piece. The forms I use reflect my interest in adornment and the relentless critique and politicization of the body: they imply bodies, brooches, earrings, and nipple tassels, among other adornments.
-Ali Hval
Group shows at Ceysson Gallery
The Ecstasy of Saint Britney, New York
June 11 - July 29, 2022
Solo Exhibitions
2023
(forthcoming) Art Center of Burlington, Burlington, IA
(forthcoming) Gadsden Museum of Art, Gadsden, AL

2022
(forthcoming) Prim and Proper, Rosewood Gallery, Rosewood Arts Centre, Kattering, OH
(forthcoming) Twice Pierced, Walnut Gallery, Gadsden, AL

2021
Ali Hval: Recent Works, University of Iowa Hospitals and Clinics, Iowa City, IA

Cosmetic Justice, North Iowa Area Community College Gallery, Mason City, IA

2020
Guilt, Enamel, Bisignano Gallery, University of Dubuque, Dubuque, IA

2019
Ya'll That Glitters, Southeastern Community College, Burlington, IA
Nearly Symmetrical and Definitely Ostentatious: MFA Exhibition, University of Iowa, Iowa City, IA

2018
Tick, Snap, Smoke, University of Wisconsin-Madison, WI

2016
Containment II, Comer Museum and Arts Center, Sylacauga, AL

2015
Containment, The Walnut Gallery, Gadsden, AL

Group and Juried Exhibitions
2022
(forthcoming) Group Exhibition, Ceysson & Bénétière, New York, NY

(forthcoming) Exhibition with Melissa Airy, Rock Island Gallery, Moline, IL

2021
Exhibition with Julia J. Wolfe at Coe College, Cedar Rapids, IA

Osmotic Radiance, Group Exhibition, PS Won, Iowa City, IA

2020
American Contemporary Craft, Juried Exhibition, LHUCA, Lubbock, TX

2020 CVA Emerging Artists Exhibition, Group Exhibition, Strohl Art Center, Chautauqua, NY

Art During The Pandemic, University of Dubuque Heritage Center, Dubuque, IA
The Great Divide, Juried Exhibition, Morean Clay Center, St. Petersburg, FL

2019
Monochrome, Juried Exhibition, Site: Brooklyn, Brooklyn, NY

Clotheshorse, Juried Exhibition, Indianapolis Arts Center, Indianapolis, IN

DUMA Biennial, Juried Exhibition, Dubuque Museum of Art, Dubuque, IA

Persistence!, Juried Exhibition, d'Art Center, Norfolk, VA

Memory Space (juried by Kate Mothes), Jackson Dinsdale Art Center, Hastings, NE

Twisting Fibers, Juried Exhibition, Gallery 175, Pawtucket, Rhode Island

Fresh 2019 (juried by Steven Wong), South Bay Contemporary SoLA Gallery, Los Angeles, CA

Ritualisms, Juried Exhibition, Target Gallery, Torpedo Factory Art Center, Alexandria, VA

2017
Framework, Juried Exhibition, Gilded Pear Gallery, Cedar Rapids, IA

2015
BFA Juried Exhibition, The University Gallery, Tuscaloosa, AL
3

Contact, The Sella-Granata Gallery, Tuscaloosa, AL

Anthony Braxton Falling River Music Exhibition, The University Gallery, Tuscaloosa, AL

2014
BFA Juried Exhibition, Harrison Galleries, Tuscaloosa, AL
10 Years of Printmaking at the University of Alabama, Paperworkers Local, Birmingham, AL
Awards, Honors, and Residencies
2021
Iowa Arts & Culture Resilience Grant, Iowa Arts Council, IA
2020
Chautauqua School of Art Residency, Chautauqua, NY
2019
Grant Wood Public Art Residency, Iowa City, IA
2015
Windgate Fellowship Award, Center of Craft, Creativity, and Design, Asheville, NC
Publications
2021
New York City Jewelry Week, Cosmetic Justice: Exhibition Tour and Interview with Ali Hval
2020
Powerclash, All That Glitters: An Interview with Artist Ali Hval