Chris Hood
Bacchanal Blues
October 19 - December 09, 2017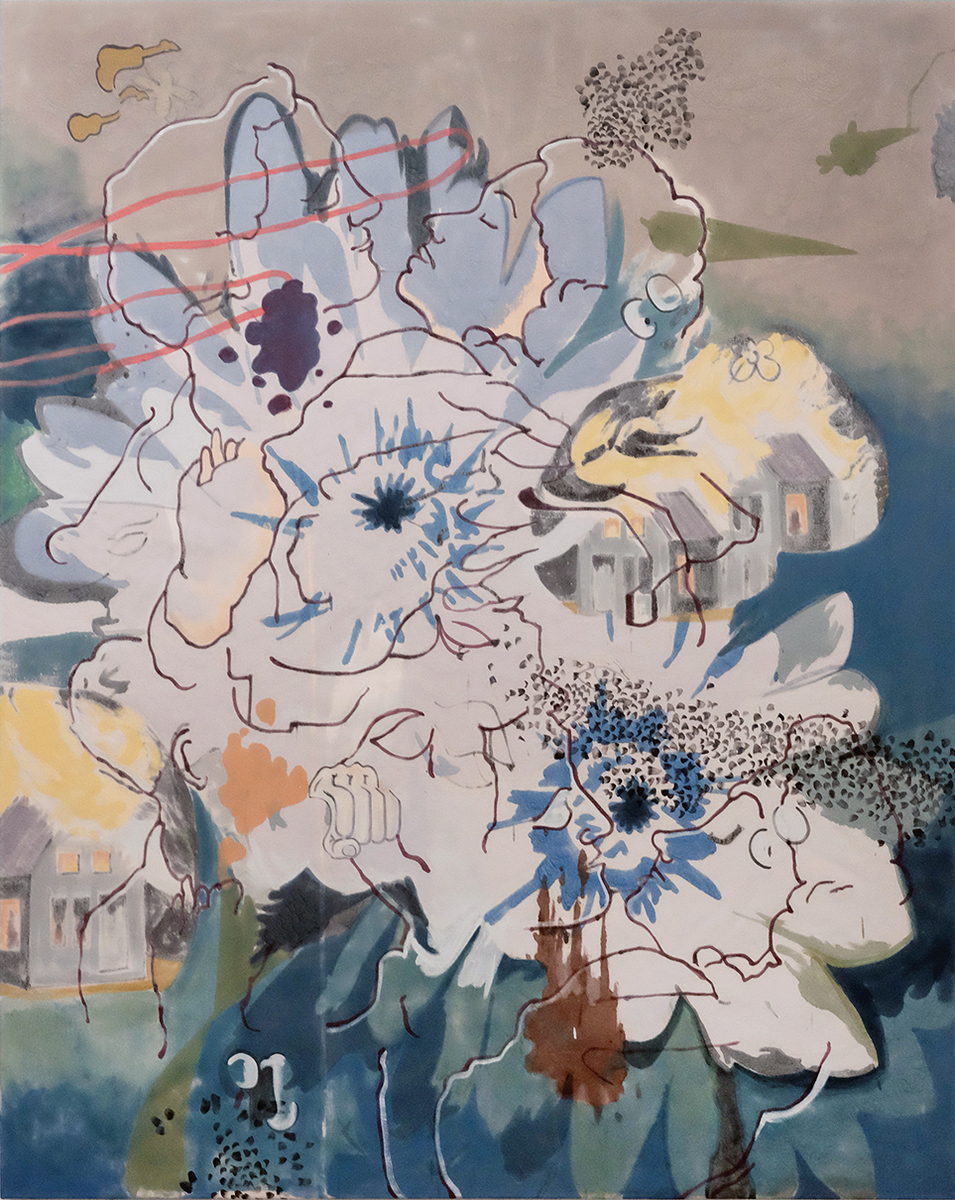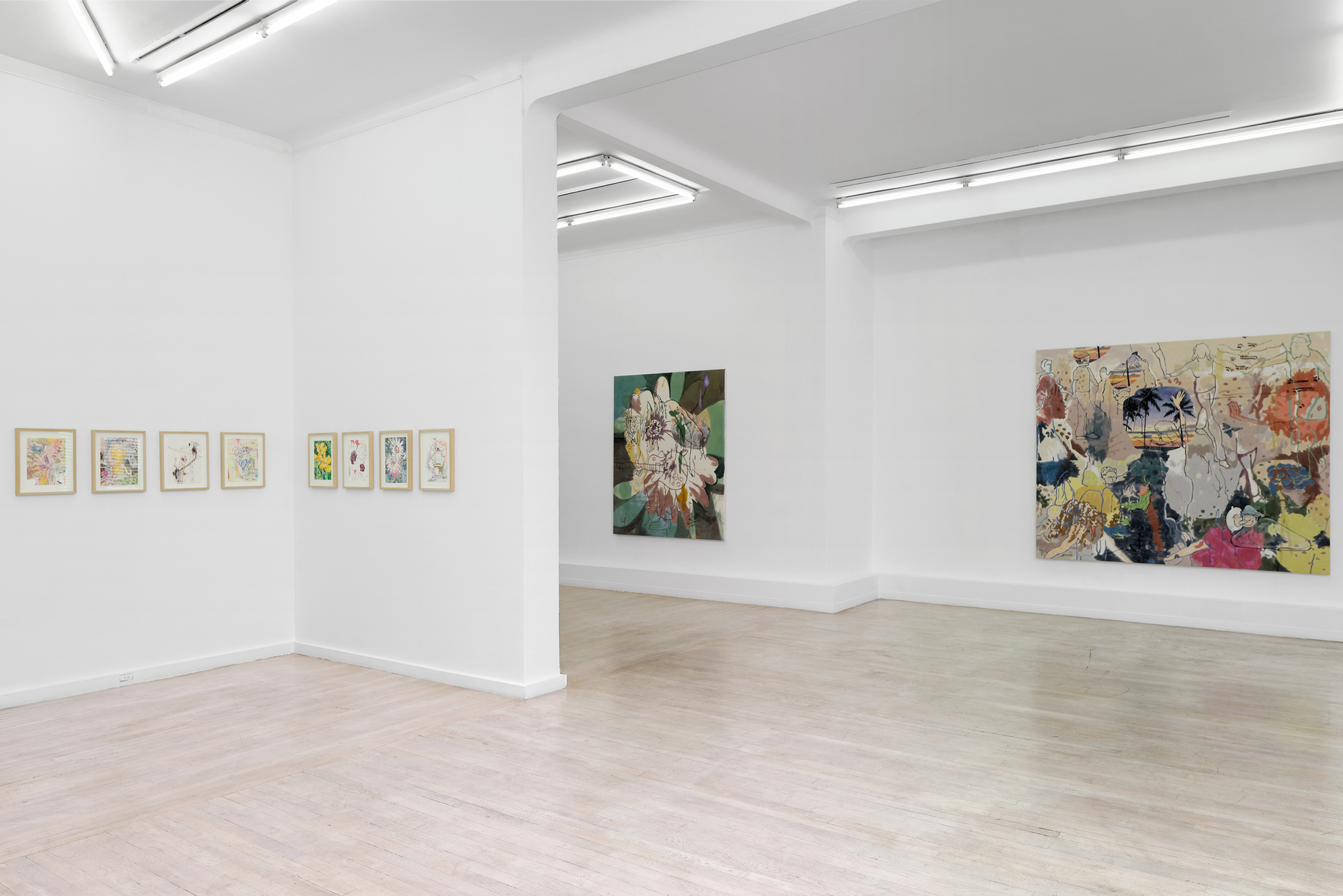 Chris Hood
Bacchanal Blues
October 19 - December 09, 2017
---
When Chris Hood did a residency at Ceysson & Bénétière in spring 2016, the Musée d'Orsay was holding an exhibition about Douanier Rousseau. It interested him all the more so as he had studied European art. In that regard, his own painting, rather on the side of abstraction –and therefore related to the great American history- can read as a bridge between the two continents, although it evolved toward a reflection around image and representation combining classical media and new technologies.

Let's have a look at this European history of art the artist often refers to. If he had to side with any "ism" team -of which we have so many-, it would be with that of surrealist unconscious. Drawing from various sources like photography, Internet, or his IPhone, Chris Hood combines images in drawings or collages that constitute the formal basis of his oil on canvas pieces: a composition work with lines and colors he does not like to interpret too much, yet without negating the presence of a subject matter. He generally tackles the same topics for several years. They include flower patterns, landscapes, interiors, or, like in this new series, refer to the love game in a sort of violent way that reflects the state of the world. But his main interest remains the question of representation itself, especially in 2017. He dug in 19th century art to explore it. "I even studied impressionists, who were almost proto-abstract. These artists made the transition between image reproduction and a more autonomous painting. I think I use history of art not only as a source but also as a game around which one can talk about painting." Using contemporary tools to take distance with an overly traditional framework, his works are rationally composed yet overwhelmed with intuitive virtuosity, letting spontaneity take a hold of his various visual spaces.

He also alludes to Roy Lichtenstein, a famous Pop artist. Did he want to criticize the American consumption society and the Vietnam War "or show his dexterity to reproduce what others had created and his skill to transform colors, lines, structures and scales as if turned into mere tools by his painting?" Chris Hood spends a lot of time in his studio elaborating and refining his pieces. He values "quality", a word that sometimes seems obsolete, while roaming through the streets of Los Angeles surrounded by an over-asserted modernity. This might show in the dynamism and organic feel of his canvases. Something he does not mention however, but that comes to mind when looking at them is the work of Arshile Gorky. This artist who greatly influenced abstract expressionists like Jackson Pollock and Willem de Kooning, tied a knot between the European avant-garde of the 1930s and what became the great American painting. He would himself create with a spontaneity that did not exclude a certain control of the image, and "deduce his art from art itself, which he considered a language to be learned", as Irving Sandler quoted in his Triumph of American Art. A brilliant way to feed on the past in order to build one's own cycle…

Marie Maertens, September 2017.
Artist :
Chris Hood
---
Visitor Information
Ceysson & Bénétière
23 rue du Renard
75004 Paris
Gallery hours:
Tuesday - Saturday
11am - 7pm
T: + 33 1 42 77 08 22