Relics
Nikita Gale, Tony Matelli, Sam Moyer, curated by Ellie Rines
September 06 - October 06, 2018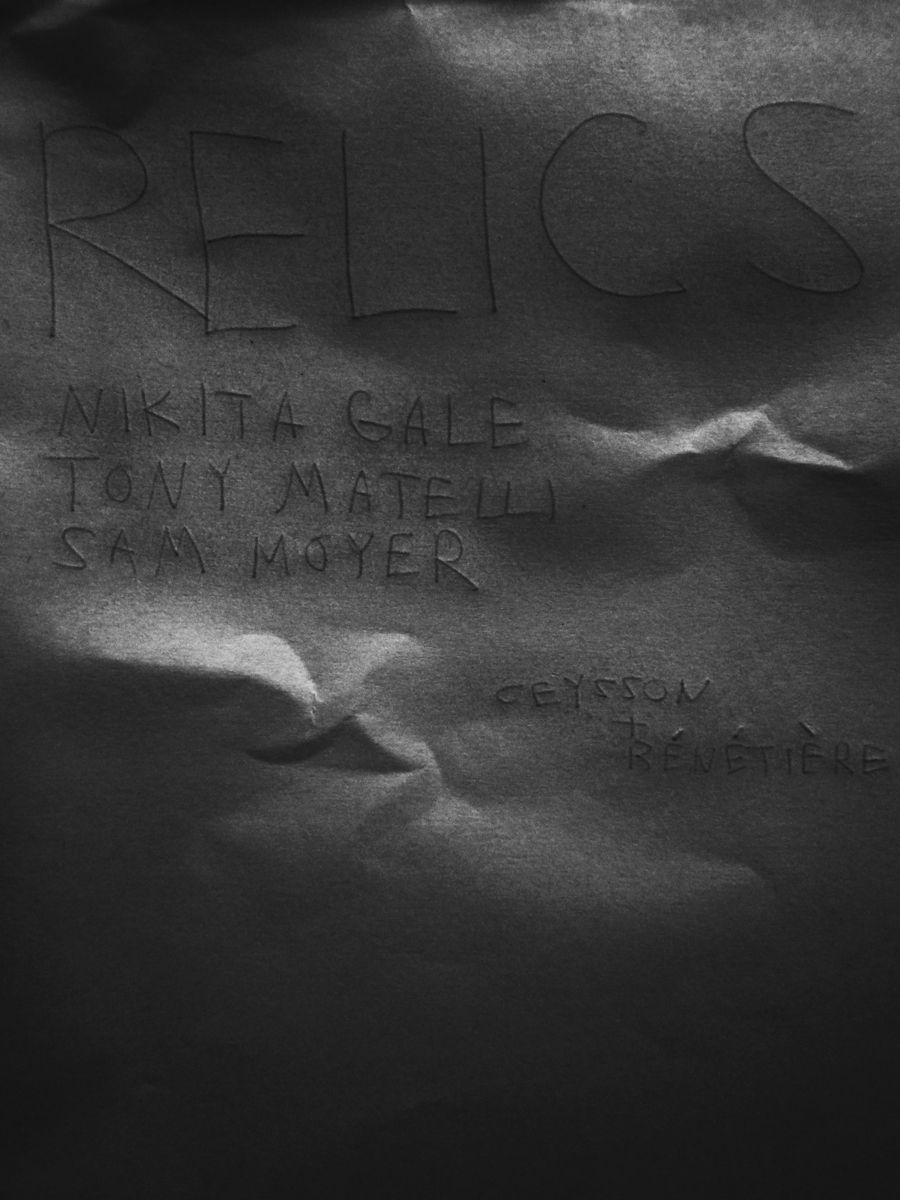 Relics
Nikita Gale, Tony Matelli, Sam Moyer, curated by Ellie Rines
September 06 - October 06, 2018
---
Taking the standpoint of an archeology of the future – and of creators using today's material to interrogate our projection of tomorrow- the exhibition Reliques gathers three American artists. For Ellie Rines, director of Ceysson & Bénétière in New York and exhibition curator, the concept of the old within the New World remains utterly paradoxical…  « In the United States, everything seems old, and of course way more than in Europe. A 50 year-old object immediately becomes an antiquity. It shows in the obsession of many Americans for mid-century modern architecture and design… ».

In her works, artist Sam Moyer investigates the fields of luxury and design. She creates very sculptural paintings from marbles collected on construction sites or remnants of architectural projects. By building frames from elements with their own history and therefore bringing chance into her process, Sam Moyer loosens up an overly rigorist minimal heritage and reintroduces « craftsmanship » into her practice. The time she spends in the studio elaborating a representation deliberately open to the viewer's feeling adds up to her time of wander and daydream. Her work can be likened to abstract art all the while referring to a more global history of the ready made as well as a reflection on the value of the object, turned into work of art or not.
Tony Matelli tackles the same issues through sculptures and installations that question temporality. Inspired by ancient statuary, his models are made in studio and cast in bronze before being given a "faded" look. While many plastic artists bargain-hunt, long handmade production processes can be seen as political, the layers of material being like the many possibilities of interpretation. As he drifted away from the hyper-realistic sculpture he was first known for, Tony Matelli's protagonists took on more and more absurd postures in order to go even further into the transformation process and the attention paid to material…
Meanwhile, Nikita Gale plays on the ambiguity of her corpus. In her most recent pieces, she gathered daily objects and printed on various mediums such as sponges and photographs she took during concerts or riots. Challenging the direct mental associations we build with things and images, she goes against overly literal connections. Her work appears to be politically committed –as she claims her feminism- yet linked with our omnipresent relationship to various types of technologies. Even though we live at the age of cyber-biology and over-industrialization, for Nikita Gale, it all comes down to the sense of touch as the extension of our flesh. From there the sexual and organic can emerge again.

With delicacy and sensibility, these three plastic artists praise a return to studio practice, to their own body and to an almost « crafty » artistic approach. They dispute the definition of the object and take a fresh look on the concept of luxury, sometime the kitsch, and those who want to live in bourgeois homes and take pride in their high sense of interior design. One could also sense a hint of dark humor behind the questioning of the value of the work of art at the time of its over-materialization. Nothing new though, since back in the 17th century, it was already of good form to have a still life by Pieter Claesz or Willem van Aelst to show off one's wealth as well as one's enlightened spirit, for the topic referred to vanitas and men's finitude…

Marie Maertens, June 2018.
Artists :
Nikita Gale
Tony Matelli
Sam Moyer
---
Visitor Information
Ceysson & Bénétière
23 rue du Renard
75004 Paris
Gallery hours:
Tuesday - Saturday
11am - 7pm
T: + 33 1 42 77 08 22