Alan Charlton
DIVIDED TRAPEZIUM PAINTINGS
May 04 - June 03, 2023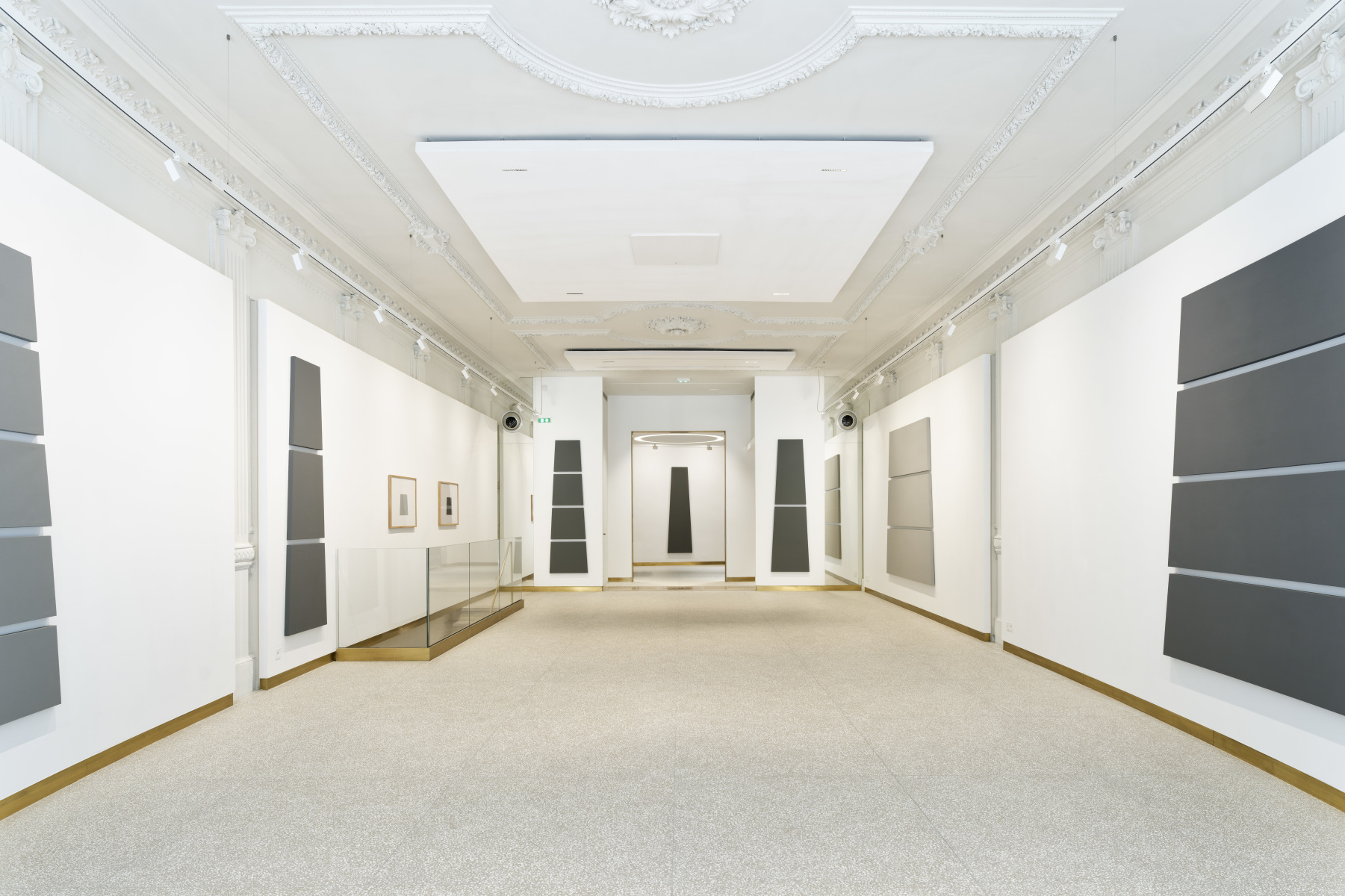 Alan Charlton
DIVIDED TRAPEZIUM PAINTINGS
May 04 - June 03, 2023
---
Ceysson & Bénétière Lyon is pleased to announce Divided Trapezium Paintings, the first solo exhibition of the English artist Alan Charlton at the gallery, from May 4 to June 3, 2023.  Opening on May 4, 2023 from 6pm.

Contrary to what we might think if we negligently look at Alan Charlton's works, their composition is not guided by the principle of radicality, far from it! Radicality is imperious, it demands to follow a rule and stick with it. But – I believe so after seeing many of his paintings- Alan Charlton is precisely opposed to such rigidity, and his main ambition is to get as close as possible to what can only be captured with the word "subtle", by repeatedly, patiently, and scrupulously asking the question raised by the surface of the painting: the unreachable. 
Thus, in a simple form, a trapezoid for example, color does not present itself the same if it is large or narrow, elongated or stocky. Depending on whether it is a large or narrow, elongated or stocky grey trapezoid, its proportions command and instruct a different way to read and grasp it, follow its contours, explore its surface, and be identified by a mind who knows the geometrical figure. 
Our eyes can perceive and observe the nuances of objects in space with great precision: for example, the various plans of a mountain stacking up in the distance with dark greyish tones on the first plan and brighter but still greyish ones as the eyes move further toward the horizon.  
If I may use an antinomy, I would say that Alan Charlton's hues are resolutely nuanced. 
They are a blend of various colors, some brighter, some darker: cloudy ochre-grey, misty bluish-grey… 
Both the dimensions and nuances of Charlton's works are constituted by the relationship between the form and the hues. The grey hue echoes the place occupied by the painting on the wall, the width of the frame imposing the physical presence of the painting. The subtle grey and our understanding of shadow find an echo in the colored surface of the painted canvas. 
One might remember that, in the 18th century, Hildegard of Bingen, "struck by light", looked at the world, the plants, the animals, men, minerals and the physics of the world, and patiently, punctiliously described its subtleties. 
Laurent Busine
Artist :
Alan Charlton
---
Visitor Information
Ceysson & Bénétière
21 rue Longue
69001 Lyon
Gallery hours:
Tuesday - Saturday
11am - 6pm
T: +33 4 27 02 55 20