Hemali Bhuta
and the epic did not happen ! Curated by : Anne Couillaud
September 08 - October 30, 2021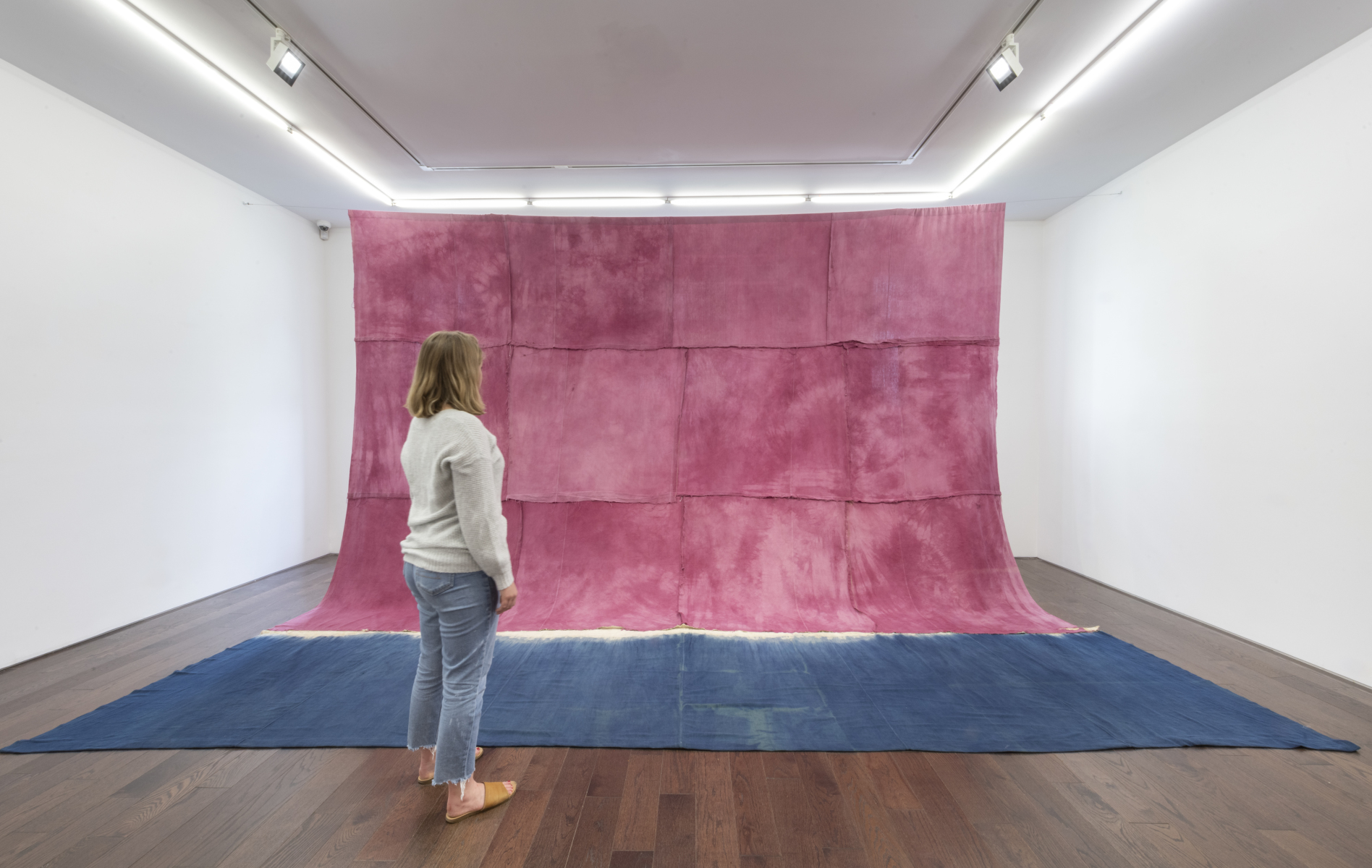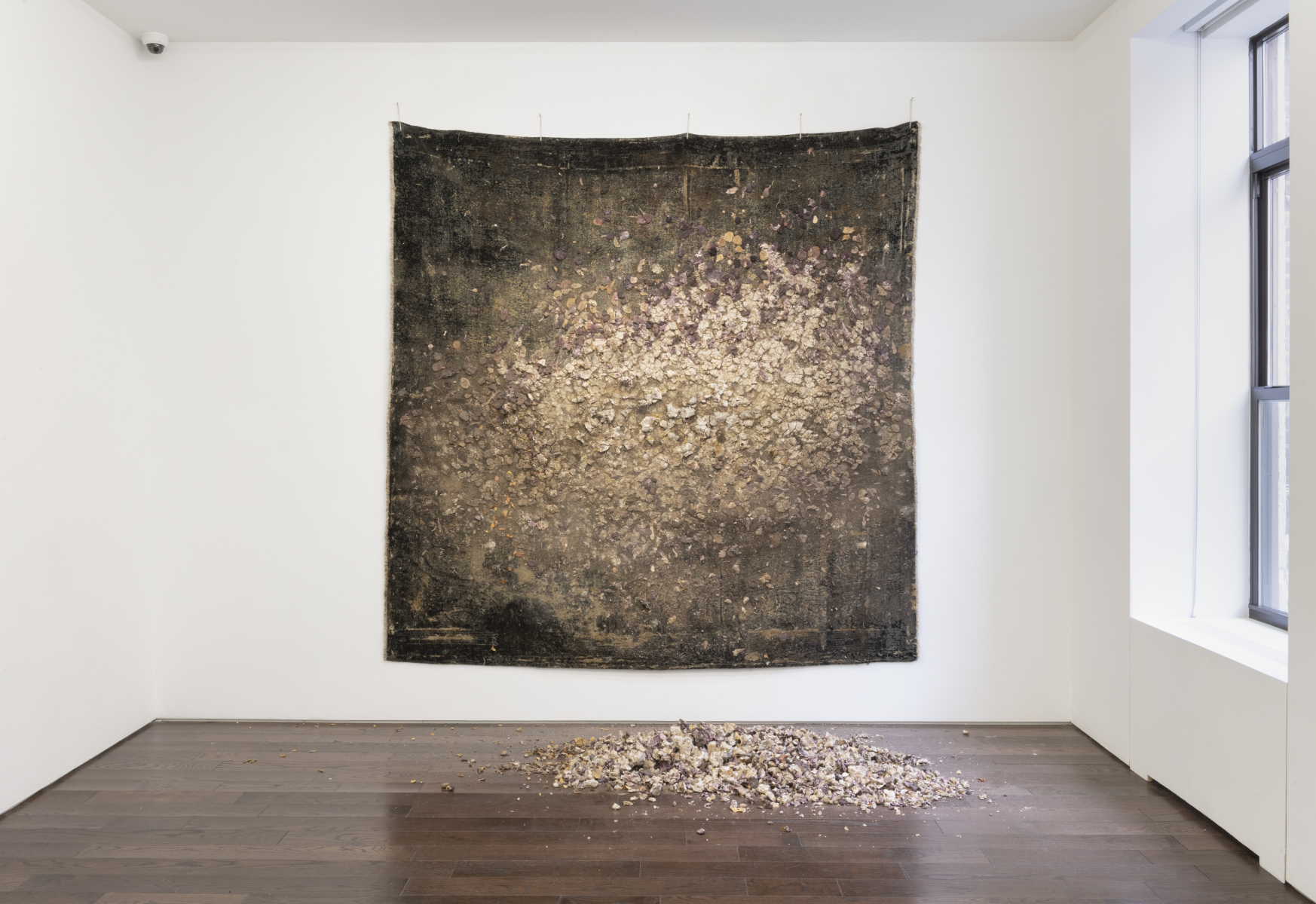 Hemali Bhuta
and the epic did not happen ! Curated by : Anne Couillaud
September 08 - October 30, 2021
---
Ceysson & Bénétière gallery is happy to announce Hemali Bhuta's solo exhibition, and the epic did not happen ! 
In her 'place specific' compositions, Hemali Bhuta assembles elements that are oftentimes altered works from her previous exhibitions, as well as reused or discarded materials. Interaction and process with the chosen materials are usually favored to create forms that carry the promise of transformation and disappearance, forms that become space through the artist's intervention. 
One of the works to be presented, Infinite time Rocks the earth, the ebb and flow of the tide The world turns is a vast piece of fabric made out of uneven light pink dye cotton strips sewn together. The pink dye comes from lac, a resin secreted by the female lac insect, that is employed in the manufacture of objects, sealants and varnishes. These strips were previously used to extract the resin in Jharkhand (India) where the artist traveled several times these past months. Underlying this gigantic resting piece is the hazardous and labor-intensive process of removing the stiff lac from the strips: these tangible stories merging here along mythological, artistic, ecological and commercial ones. This work challenges what is expected from a sewing activity in a domestic environment and reminds us that textile is a traditionalist space as well as a resistance one, especially in India, where the artist resides. Furthermore, Bhuta questions what an artwork can be — something she has been consistently doing in her practice — by presenting a work that seems in progress. However still, the cloth appears to embody both sedimentation of time and transience - nay flux-.  
Time and decay are also ideas present in My pulse is beating and my veins throbbing And in wonder, my song bursts forth, a handwoven carpet covered with splatters of lac wax, another grounding work in the gallery space. It is presented vertically together with the shed debris piled on the floor. In its previous iteration the carpet was exhibited at Jameel Arts Centre in Dubai, bearing impressions of wood made with henna by the artist. Here the gesture of wax throwing, witnessed in Jharkhand at the lac extraction facility, has been repeated, leaving the carpet studded with soft and solid blobs of wax whose shades go from white to beige to a range of purples, adding to the geology of the work. 
Multiple temporalities are exposed, remains become premises, premises become remains, as the works presented allow glimpses of their further stages. The meanings of these works, if any, result from their making, the intention and the configuration dictated by the materials. In other words, meaning and material can't be separated. They are not fetishized: their fragility appears both political and mystical. Matter carries invisible forces into the physical world: each work becomes a passage, a conduit for revelations and affects. This impression is accentuated by the fact that each work presented in the space is titled with a verse from Akash Bhora Surjo Tara, a Rabindranath Tagore's song included in Komal Gandhar, a film by Bengali director Ritwik Ghatak. 
Hemali Bhuta (b. 1978, Mumbai) lives and works in Goa, India. Bhuta has a diploma in painting from the L.S. Raheja School of Art, Mumbai (2003), and a postgraduate diploma from the Maharaja Sayajirao University, Vadodara (2009). She has had several solo exhibitions including: Artist's Rooms: Hemali Bhuta curated by Murtaza Vali at Jameel Art Centre (2019), Subarnarekha at the Centre international d'art et du paysage, île de Vassivière, France (2017). She has participated in numerous international exhibitions including: October Salon, Belgrade (2018), the 5th Singapore Biennale (2016), Darat Al Funun, Amman (2013-14), Yorkshire Sculpture Park (2012), the 9th Shanghai Biennale (2012).
Her practice has been covered in The New Yorker, The New York Times, Hyperallergic, Time Out New York, and Artcritical.
Bhuta is also the co-founder of CONA Foundation, an artist-run space in Goa, and is represented by Project 88, Mumbai
A publication with words by the artist, writer Aveek Sen and curator Anne Couillaud will accompany this exhibition.
Artist :
Hemali Bhuta
---
Visitor Information
Ceysson & Bénétière
956 Madison Avenue
10021 New York
T: +1 646 678 3717