Aurélie Pétrel
Tracks/repeat, curated by Alexandre Quoi
October 24 - December 14, 2019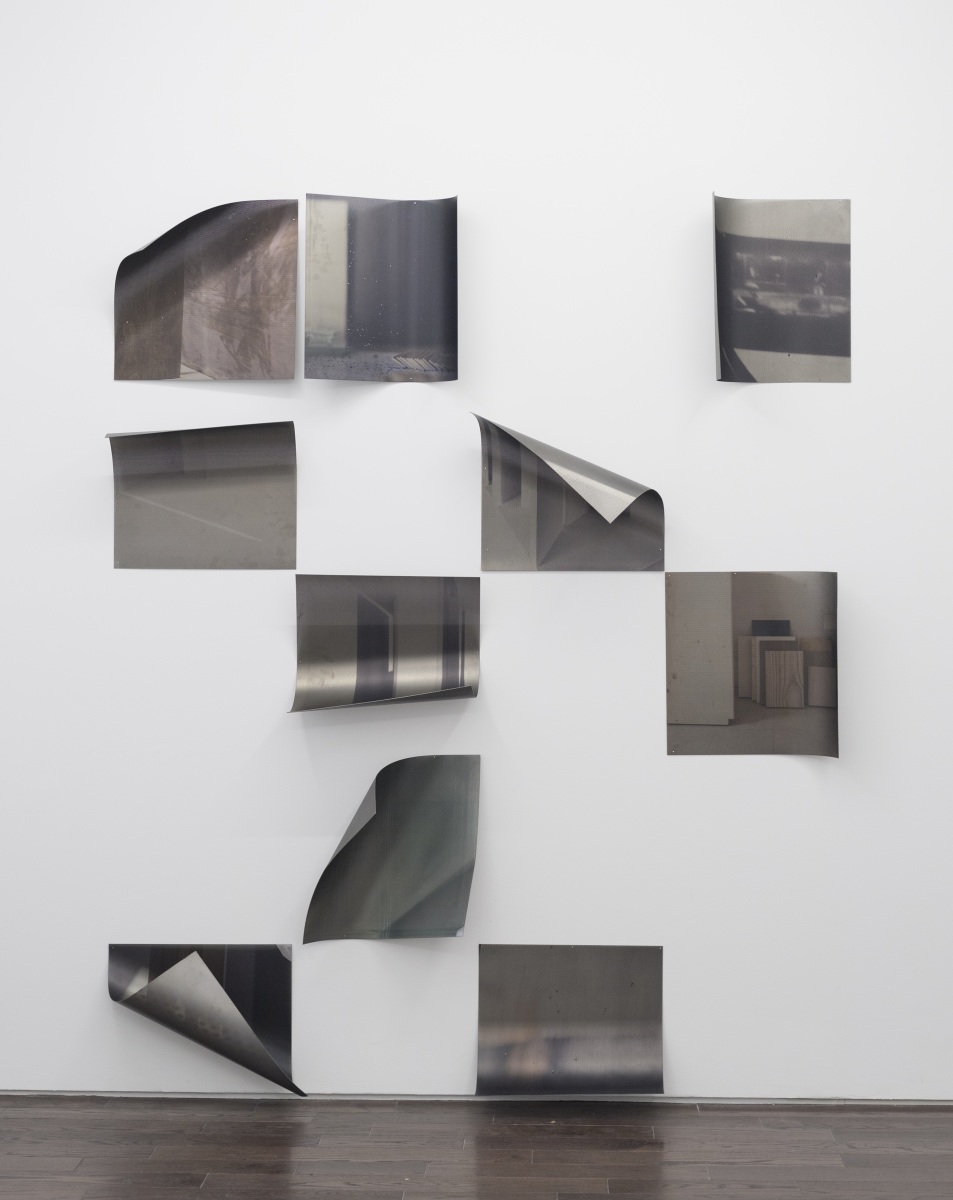 Aurélie Pétrel
Tracks/repeat, curated by Alexandre Quoi
October 24 - December 14, 2019
---
Tracks/Repeat originates in Tracks, an exhibition curated by Alexandre Quoi in December 2018 in New York. The presentation of this project in Saint-Etienne is therefore a reiteration of the New York exhibition, extended with the artist's latest productions.

The project consisted in recapturing Aurélie Petrel's artistic journey over the last ten years or so, exposing the various forms under which print and furrow have materialized in her photographic manipulations, and arranging her emblematic series of works with her new productions like tracks in a music album. This retrospective overview aims at shedding light on her singular approach focused on deconstructing the production process of photographic images.

The selection of about fifteen pieces among a larger body of work revolved around a work the artist made for the occasion entitled Process, which translates the procedures that frame her work in eight distinct schematic forms. This series of geometrical diagrams draw a mental cartography of the artist's operating modes, like a guide to walk us through petrel's rigorous and programmatic method. If we were to briefly list its main principles, we should start by highlighting that time and space, the constitutive elements of photographic process, are at the core of Petrel's rethinking of image production and its plastic potentialities.

Aurelie Petrel's researches unfold through cycles anchored in several geographic references points –the cities of Shanghai, Tokyo, Paris, Leipzig, Montreal, New York, and the village of Romme in the Alps-, each corresponding to in-depth photographic field trips focused on a particular theme or context. In this first phase, the artist uses photography as a typical mean of collecting gestures and situations, a tool for space-time measurement. After collecting these images, the artist engages in a long sorting process in order to gather photographic series she then standardly prints on baryta paper. Keptin a steel storage furniture, Aurelie Petrel calls them "latent images", borrowing the technical term referring to chemically-untreated images.

Then, this stash of pending photographs is activated through"photographic scores". This notion, coined by the artist to define her process, refers to the field of music and choreography to explain the way studio work and contexts of exhibition replay and reinterpret source images is if they were musical notes. To the characteristics of instantaneity and fixity usually associated with the photographic medium, the artist prefers transience and duration. Her moving and almost performative images are then put through an array of activation operations, transfers and transformations. This creative diversity is expressed through the multiform works gathered in this exhibition, which exposes the various materials and processes the artist uses to transfer and manipulate images, from printing on paper to glass, wood, metal or plaster.

Infused with the double heritage of analog and digital photography, Aurelie Petrel's generation shows a growing interest for multidisciplinary practice, thus opening the medium to fruitful hybridizations. Architecture, sculpture and installation have influenced her tridimensional treatment of images as well as their integration in installations that interact with the surrounding environment. To such an extent that one could talk about "extended photographs", to quote an expression used by artist and theoretician Peter Weibel about the experimental practices of the 70s. Heir of the analytical spirit that inspired the deep questioning of photographic conventions at that time, Aurelie Petrel is undoubtedly following a post-conceptual approach. She hasn't however confined herself to a self-reflexive practice. And neither does she aim at an autonomous formal language. Instead, her works invite the viewer's eyes and body to a phenomenological experience in the strictest etymological sense of the term, meaning the study of what appears.

As she plays with scales, enlargement, transparency and opacity, reflectionand parallax, mise-en-abymeand compression, cutting and fragmenting, her wide range of effects constantly impactsperceptive phenomena, up to the point of dissolving representation. If the works of the present exhibitionteach ussomething, as the guidelinesofthe artist's photographic quest, it is the necessity to see photography as an abstract process.

Alexandre Quoi, November 2018.
Artist :
Aurélie Pétrel
---
Visitor Information
Ceysson & Bénétière
8 rue des Creuses
42000 Saint-Étienne
Gallery hours:
Wednesday - Saturday
2pm - 6pm
T: + 33 4 77 33 28 93