Aurélie Pétrel
PVL curated by Étienne Hatt
June 05 - July 24, 2021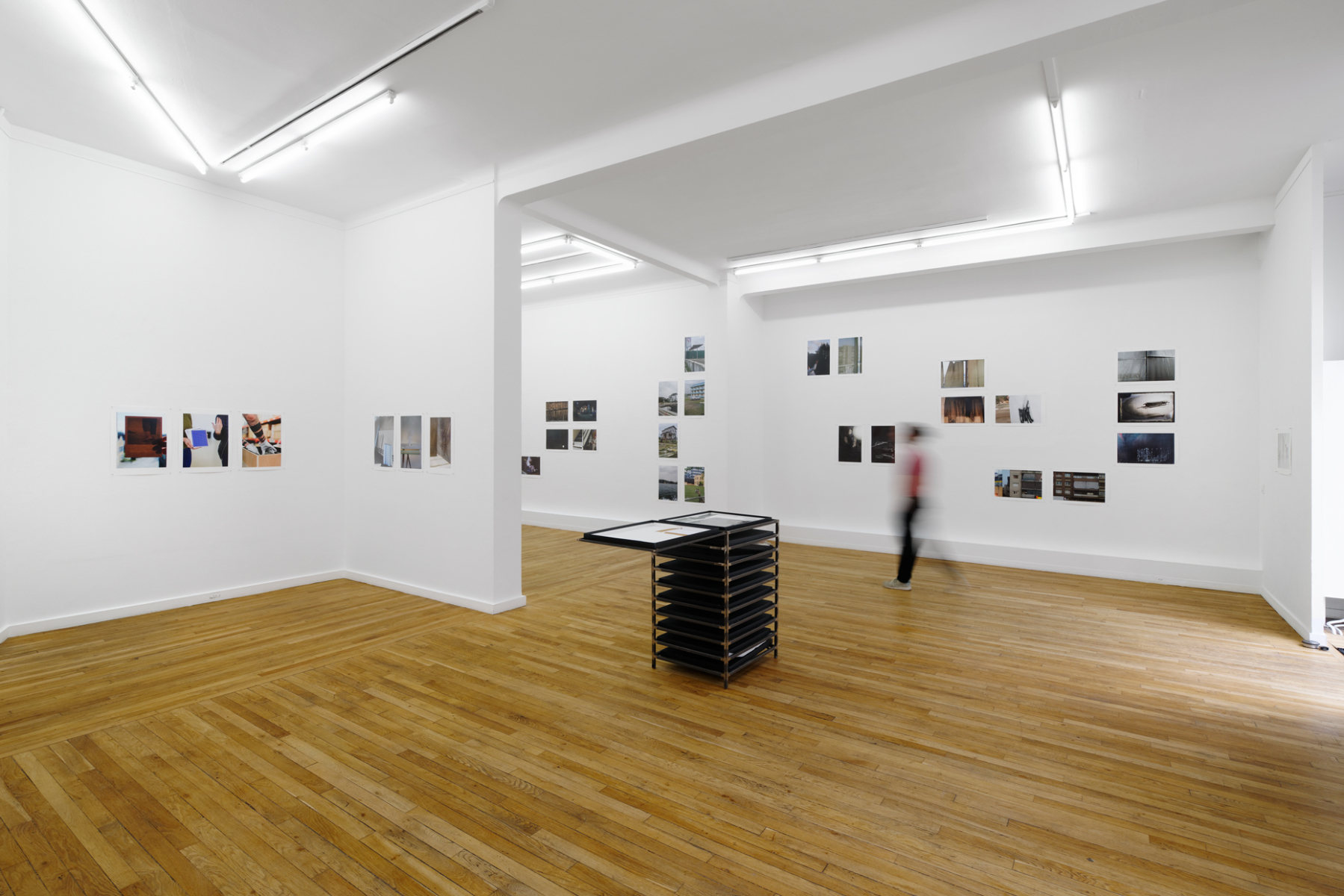 Aurélie Pétrel
PVL curated by Étienne Hatt
June 05 - July 24, 2021
---
Abroad and in our gallery, Aurélie Pétrel is known for her images projected into space, which are site and situation-specific sculptures and installations rather than photographs in the traditional sense of the term. These images are printed on unconventional media like wood, metal and glass, fragmented and reorganized in space. They go through a process of abstraction that undermines their representative power to such an extent that Aurélie Petrel could well appear iconoclast and photophobic. But it would be overlooking the deeply photographic foundation of her work. An honest mistake though, as it is the first time since her first solo show 10 years ago that the artist exhibits the photographic prints she calls latent shots, which, in the lexicon of her work, are the step prior to the activated images she has been exhibited until now. 
           To this day, Aurélie Petrel has produced over 1,000 latent shots, titled only by their order number and location. These are not all the shots she has taken since the beginning of her career 20 years ago, but only the ones that stood the test of the contact and then proof print. Once selected, her images are printed on baryta paper in standardized 40 x 50 cm format and placed in boxes inside a metallic storage cabinet - exhibited at the center of the exhibition- reserved to untreated images. These images sometimes come out of their latency when "activated", meaning - in a figurative sense- transformed, and – in a literal one- exposed. However, up until today, these prints were shown flat in layered and reflexive devices that complexified their reading.   
           Without questioning her on-site protocol, this exhibition looks to shed light on Aurélie Petrel's latent shots, but is not meant as a new "activation". It is an exhibition of photography, nothing more and nothing less. And it is what makes its value. Featuring a representative yet subjective selection of about a hundred latent shots, the exhibition is like a test. Now that her career is launched and that major institutions and acquisitions have sanctioned her work, Aurélie Pétrel has decided to reveal the origin of her images, taking the risk to raise many legitimate questions. What kind of photographer is she? Is a good latent shot a good photograph? Are her latent images as a whole one photographic work?   
           In that regard, the first thing we notice is the heterogeneous nature of Aurélie Petrel's images, of what they show and the way they show it. And for several reasons. The main one is less the temporality of these shots -taken over a 20-year period- than the diversity of their geographic origins. Aurélie Petrel used to travel a lot when she was younger. She ended up choosing eight reference points to which she frequently returns. These are eight cities - Berlin, Beirut, Montreal, Geneva, New York, Paris, Shanghai and Tokyo-, understood broadly, with exceptions like the Chilean deserts. She does not photograph the same things in each of those cities, or rather, not in the same way. A good example would be her sleeper motif: the expressive close shots of sleeping faces don't have the same social and political undertone as her larger frames.   
           Other recurrences appear more or less consciously in her heterogeneous collection of latent shots. The first one is gestural. Aurélie Petrel often takes pictures of hands and bodies engaged in actions, which aim escapes us. Some seem related to the artist's work and to the performative duo she forms with Vincent Roumagnac. Others refer to artisanal or industrial know-how. Her latent shots have built a repertoire of gestures reduced to a silent choreography. Another recurrence is that of images within images. Real images at first, like the artworks she photographed in storage. And then metaphorical ones, like her four still-lives humorously alluding to food photography, or the post-Fukushima landscapes alluding to the widespread contemporary genre of aftermath photography. There is something meta-photographical in her protocol photographs and latent shots. 
           These recurrences do not however constitute the subject matter of her works. Only the sleepers could be a body of works of its own. Aurélie Pétrel does not have a subject matter, which does not mean that her photographs are mere daily notes to be gathered in a diary. They don't fit in pre-established categories either. Aurélie Pétrel takes pictures of buildings, things and people without however being an architecture, a still life or a portrait photographer. She does not have a distinctive or recurring style either. What kind of photographer would put together an 18th-century protractor taken upfront and cut out and a Black Lives Matter protest she participated in? It is as if these latent shots had been taken by different people.  
           The reason is that Aurélie Petrel has a method, which precisely consists in opening herself up to chance by refusing to control her means. You would not suspect such a method given the control she seems to apply to her photographic sculptures and installations. Reporting on the ground, without prior scouting, sometimes in the midst of current events, Aurélie Petrel always has her camera with her, at hand, ready to shoot. And when she does not and wants to take a picture, she uses her cellphone. That is how she stumbles upon her images. She waits for them and also provokes them, especially in the studio, where she also recreates randomness, like when she photographs explosions or works with teams which interactions she cannot predict. 
           Each of her unique images is born out of her openness to diversity and chance, in a word, openness to the unknown. Taken individually, many of these images surprise us, in the strong sense of the word. This visual astonishment is reinforced by the global overview provided in this exhibition. 10 years after Aurélie Petrel's first solo show and 20 years after the beginning of her career, a great photographer is born. 
Étienne Hatt
Artist :
Aurélie Pétrel
---
Visitor Information
Ceysson & Bénétière
23 rue du Renard
75004 Paris
Gallery hours:
Tuesday - Saturday
11am - 7pm
T: + 33 1 42 77 08 22