Pierre Buraglio
...ça et là,
June 09 - July 23, 2022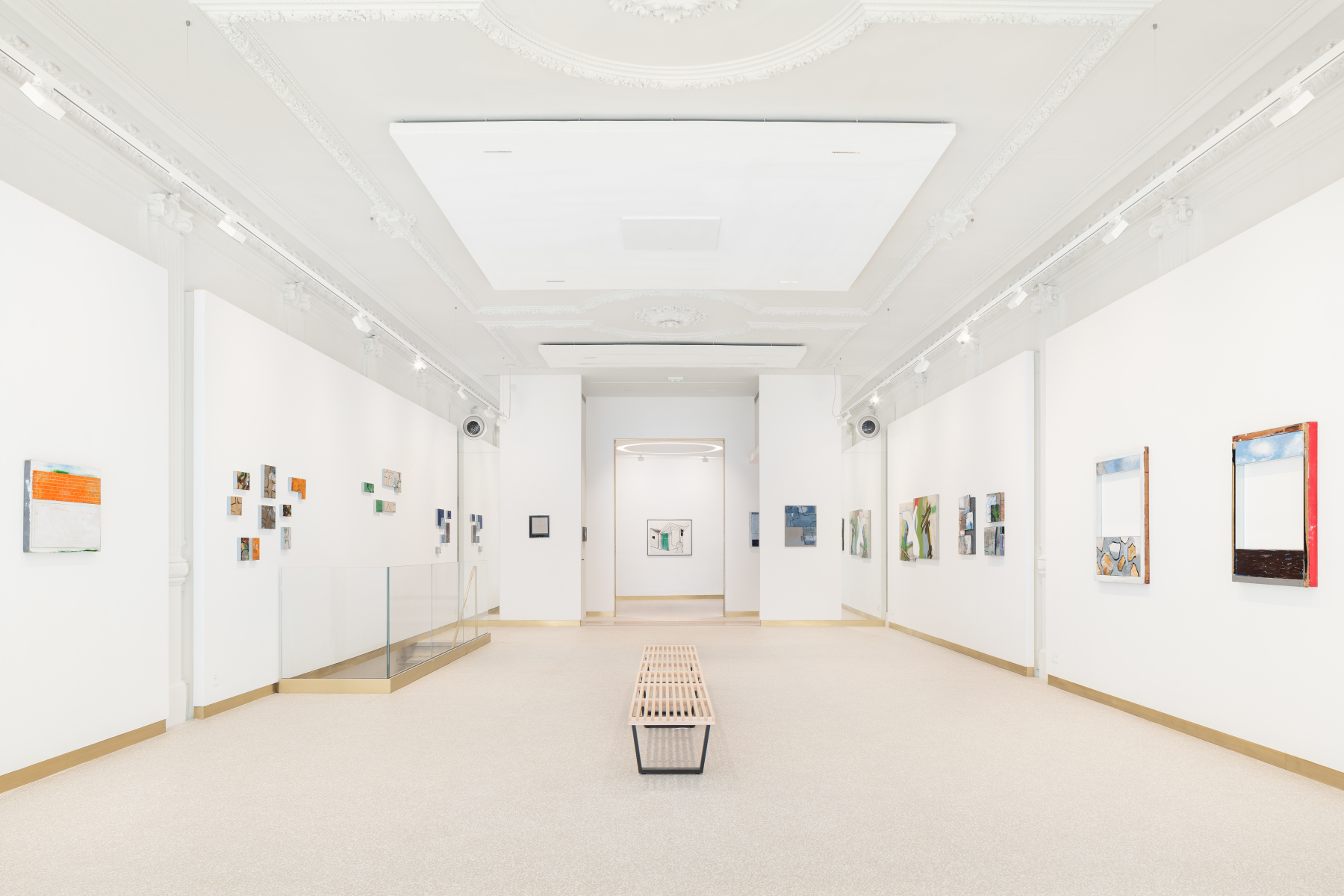 Pierre Buraglio
...ça et là,
June 09 - July 23, 2022
---
All the colors and materials Pierre Buraglio collects and exposes before our eyes will be familiar to those who have been following his work over the years. This "here-there". The blue we have crumpled in the palm of our hands and dumped in the gutter, that of Gauloise cigarette packs, of the inner side of envelopes and subway plates. The blue of Della Robbia, Giotto, Matisse and Hantai. A blue that existed before Buraglio turned it into an austere hue that grips us because it bears the marks of its dereliction, rejection, and discarding, like the materials used by the artist : bits and pieces of windows and screenprinting screens, the doors of social housing on which he painted swimmers after Cezanne and a Saint Jerome after Zurbaran, allowing himself to take distance with art history in his paintings and drawings inspired by the great masters. With Buraglio, standing balances between rise and fall. 
Over the years, something more - geographically and personally- intimate has emerged, or should we say "been freed", as is visible in his latest works, in relationship to the place where Buraglio has always lived and worked, the Charentonneau district of Maisons-Alfort, his island and the banks of the Marne where he walks every day.  

Buraglio continues to expose things in their materiality but in a more explicit, figural, and biographical way. In his recently published book à découvert, a real mirror of himself, Buraglio quotes Walter Benjamin: "The things of the past wait for us, and, as we grow old, topics related to infancy and adolescence come back and grip me. Isn't it with the stones of childhood that we build our work?" Talking about oneself, but always with distance. A distance that makes him entitle some of his works after jazzmen or famous communist figures from the Resistance; and rename the streets of his district, which were named after Gabriel Peri and Guy Moquet after 1945, and the "Rue de la Belle Image", which, coincidently, goes from his house to the Marne. Places from his life and childhood -this is what we are talking about- mingle. Grinding stones and brick walls, the cartographical trace of his house and the bunkers of Contentin where he lived as a child, with war in the background, a private war, the comeback of a father he never met at the age of six, like a sky opening above a wall. Buraglio wrote a page of his childhood on each of the screenprinting screens he recycled, …entre ciel et terre[1]… from the earth to the sky, like hopscotch.   
Why not insist on this time of our childhood that was so decisive for many of us? When we learned to hop and make church-like layouts with chalk in the school playground. When we hoped to leave the heavy ground under our feet to reach the infinite blue sky. Buraglio's …entre ciel et terre… upside down hopscotch echoes Chateaubriand's inversion at the end of Memoirs from Beyond the Grave: "It only remains for me to sit down at the edge of my grave; then I shall descend boldly, crucifix in hand, into eternity", from sky to earth with a square left empty in between the two, the square of Buraglio's life. A "Blackout Square", as he entitled another piece made of metal and cardboard. The artist doesn't want to let the private irrupt into the public sphere but to keep quiet, to "shut up", as Bram Van Velde would say. 
But this empty square contains other invisible images from Buraglio's childhood: his father coming to pick him up in his Vedette car at the Ecole Bossuet, his former high school, the sack races of the Cotentin fairs when only people's heads would come out, the blue of blue-jeans, Crépuscule with Nelly in tribute to Thelonious Monk, his variations and remakes, his female drawings, his surroundings, the here and there, his musical, esthetic and political emotions, his tributes to the great masters. In this empty square, there is also room for small flea market paintings, for the "take it out of my sight, anonymous paintings with scratched signatures, feeling partly guilty of reusing them… he says. Maybe I will end up at the flea market too. In my defense (sic): in "Assemblages", I juxtapose and combine my own paintings with fragments of these flea market paintings… To fragment, therefore to reframe and cut, the steps of my process." 
Buraglio paints. We can hear the light noise of his paintbrush on the undulating cardboard. A children reed carelessly carried along the brick walls of his district, listening to its sound, his eyes always on the surface of things, with the same attention children pay to details around them. Buraglio walks silently in his streets and along the Marne, on the slippery after-rain mud (I experienced it), but his eyes wide open. Invisible albatrosses fly in the changing skies, in memory of Baudelaire, Braque, and Saint-Exupéry. Elective affinities and presences in the here which is fully there, in time and in the passing of the months: cloudless May and June forever stabbed by Aragon in our memory. 

Buraglio doesn't talk. He keeps quiet. He shows the here and there. Revealing an intimate side that finds echoes in all of us because it touches upon something universal. Childhood and war, small autobiographical tales, the story of a life, like in the series he entitled Terre des hommes and Pilote de Guerre to remind us of the last words of Pilote de guerre, a forbidden book resistance fighters used to read in a clandestine edition in 1943: "Tomorrow, we won't have our say. Tomorrow, for the observers, we will be the losers. Losers have to keep quiet. Like seeds." 
Bernard Collet 
[1] between sky and earth…

Artist :
Pierre Buraglio
---
Visitor Information
Ceysson & Bénétière
21 rue Longue
69001 Lyon
Gallery hours:
Tuesday - Saturday
11am - 6pm
T: +33 4 27 02 55 20