Florian Pugnaire & David Raffini
Under pressure
January 22 - April 14, 2022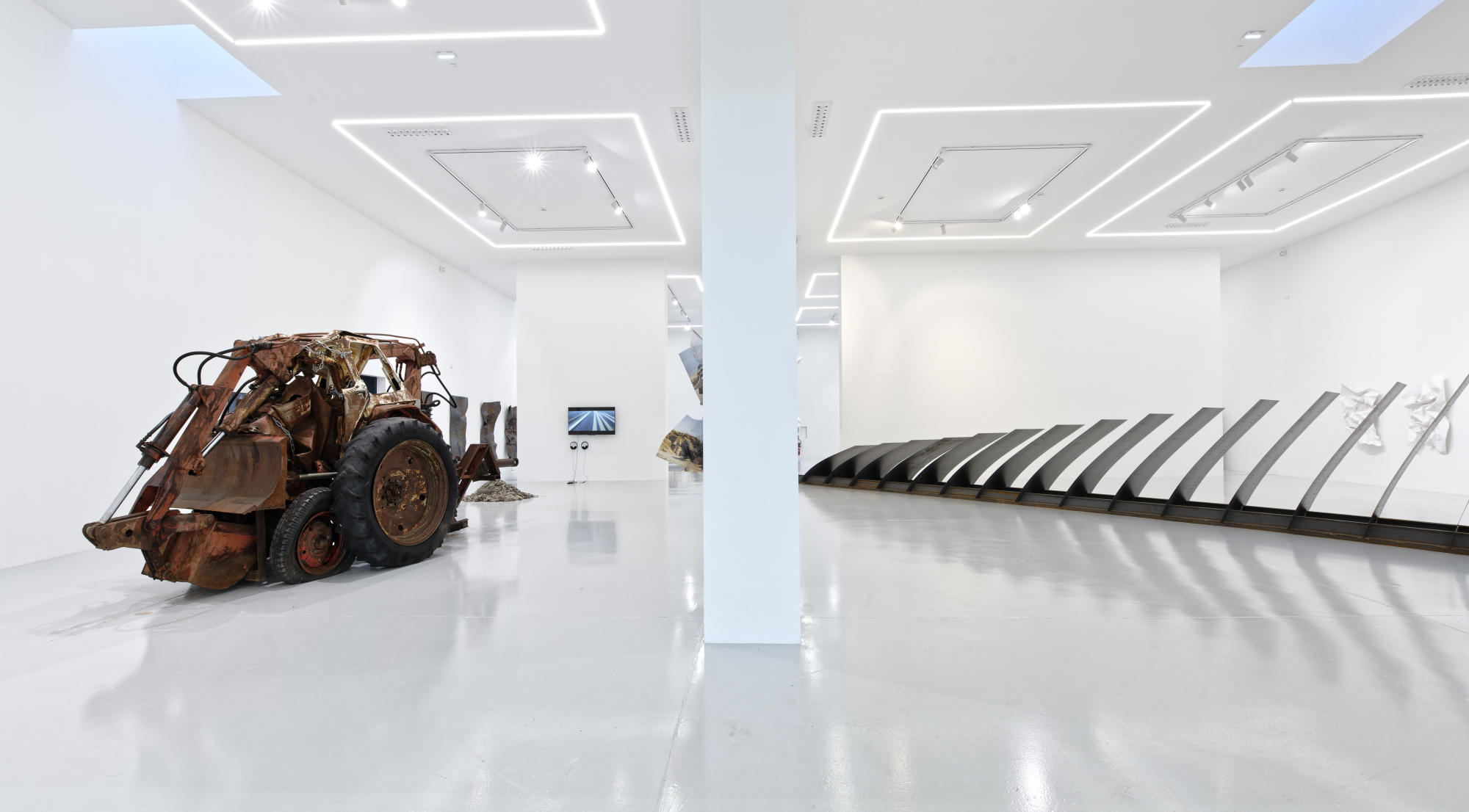 Florian Pugnaire & David Raffini
Under pressure
January 22 - April 14, 2022
---
Under pressure. Here, almost everything seems to have been subjected to a foreign and stressful physical force. The method is not explicit, but the marks left on the objects are tangible proofs of its action. Cars are lying on the floor, defeated, interspersed with metal residues. Sheet-metal plates are leaned against the wall, scarred but still standing, like sentinels watching over their lifeless counterparts. The car carcasses could be steaming, spewing out their last breath. In a white cube like a battlefield, a tireless duel between the works' medium and the devices that animate them seems ongoing.
A fight between the materials themselves, in which forces confront, contest, and clash. Pugnaire and Raffini then step aside to let the pure experience unfold, the adjustments and random accidents that give rise to the work.
This gradual transformation of the object seems like a cold and precise destructive process but the movies it produces are proof of the opposite. Whether fictional or archival, the films always reveal the careful attention the artists pay to matter, with the esthetic quality of their images radically contrasting with the roughness of the scenes they project. In them, protagonists face their destiny alone, surrounded by hydraulic cylinders and other pressure tools. Yet the story they are part of always transcends the visible dimension of a simplified demolition. Pugnaire & Raffini expose the duality between form and content up to the very display of their works, exhibiting both their sculptures and their fabrication process plainly. The exhibition, therefore, establishes overt parallels between elements, tightly connecting raw waste with shiny classically-inspired artworks. 
For this second exhibition at Ceysson & Bénétière, Pugnaire & Raffini present a picture of their ongoing research, sharing some emblematic works as well as recent projects in the gallery's monumental new showroom. The exhibition is about metal sheets and pressure, but also about time, a thwarted relationship to time, which is crucial in the making of Pugnaire & Raffini's works. Since their first collaboration, a Citroen 2CV contracting from the inside in very slowmotion, they have been playing around with the idea of snapshot, breaking it down image by image to eventually freeze it completely, as if on hold. Pugnaire & Raffini's works are freeze frames extracted from a vast and indistinct temporal space in which times meet and sometimes even overlap at the confines of reality, proposing viewers a fascinating exploration of the precise moment when an object is turning into a work of art.
Sarah Lanos, November 2021.