Marinella Senatore
Bodies in Alliance
February 09 - March 18, 2023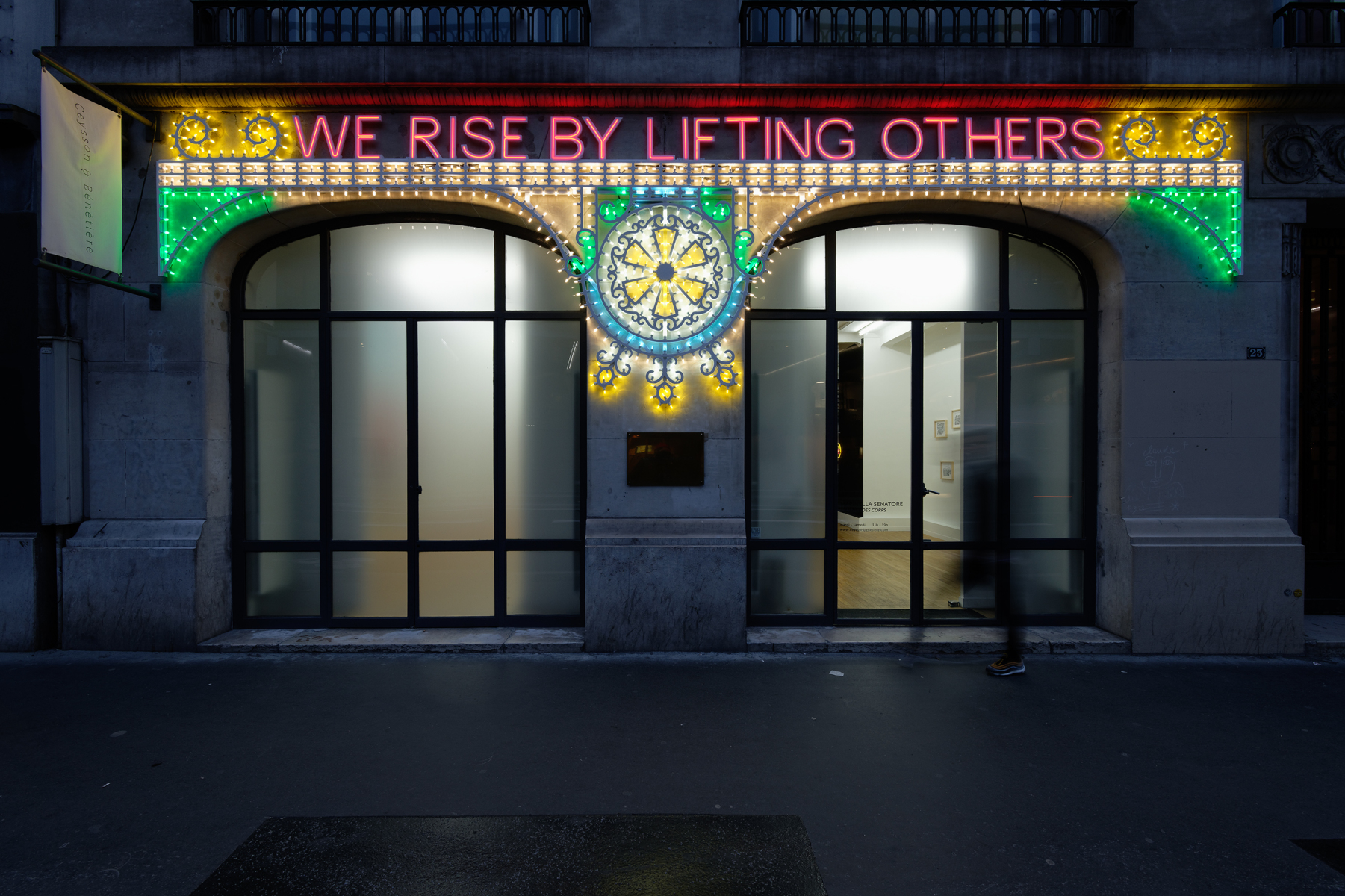 Marinella Senatore
Bodies in Alliance
February 09 - March 18, 2023
---
For her first exhibition at Ceysson & Bénétière Paris, Marinella Senatore (Cava de' Tirreni, Italy, 1977) will present fifteen new works, including one on the gallery's façade. 

Last September, at the Palais de Tokyo, through an approach that involves investigation and exchange and which is structured by documentary methods, Marinella Senatore worked to bring forth alternative systems of sociability: workshops, exhibition, debates, DJ set and performance with hundreds of participants. 

Building on this approach, Marinella Senatore has questioned the meaning of the 20th anniversary of the Palais de Tokyo after this past twenty years as well as the role of the art centre today, seeking to identify its social body in a in a post-pandemic world. It is a project that celebrates togetherness, social and political engagement, feminism and inclusivity, and which is built around personal fulfillment and non-hierarchical learning, self-teaching and the creation of forms of citizenship that can be activated through informal education. The show tittle Bodies in Alliance quote of Judith Butler, at Ceysson & Bénétière and will bring together the entire practice of the multidisciplinary artist (lighting sculptures, installation in situ, drawings and collages).
For her sculpture and lighting installation the artist draws inspiration from the luminarie traditionally used in Southern Italian cities during public festivities and celebrations. By adding quotes relating to empowerment and identity to her sculptures, Senatore creates a system that makes the public space politically active. Her artworks generate energy that spreads in the form of light beams inside or outside a space, changing it, modifying its structures and the people present in it. These works are reminiscent of Baroque architecture with their rose windows and portals and their structures catalyze energy and address it to society and communities, creating precious moments of togetherness and sharing. The wall-mounted light sculptures featured in the show include messages of empowerment, such as Dance First Think Later, a quote by Samuel Beckett, I Contain Multitudes, quoting Walt Whitman. These slogans call for emancipation and self- determination, acting as mantras for personal flourishing.
Besides the worldwide exhibited luminarie, Marinella Senatore is also known for her « School of Narrative Dance » (SOND), an itinerant, free, and non-hierarchical participatory project. With SOND, Marinella Senatore  proposes an alternative educational system based on emancipation, empowerment, and self-education. The artist interrogates our society, its empathy and its ability to create collective spaces of respiration. Here « participation » means not only collaborating or working together, but also forming part of a collective movement. 
Emerging from various contexts such as learning theatre, oral histories, vernacular forms, protest dance and music, public ceremonies, civil rituals and mass events, drawings and collages will also be part of the exhibition telling the story of The School of Narrative Dance around the world. Senatore questions the bio-politics of different communities and circumvents the traditional roles of artist and audience, extending the idea of "assembly", "community", and "rituals." For example, It's Time to Go Back to the Street is a continual series of drawings that explore the multifaceted forms, emancipation and rich legacies of protests in different countries.
This show is realized in collaboration with the Mazzoleni London - Torino.
Artist :
Marinella Senatore
---
Visitor Information
Ceysson & Bénétière
23 rue du Renard
75004 Paris
Gallery hours:
Tuesday - Saturday
11am - 7pm
T: + 33 1 42 77 08 22