ORLAN
saint orlan
September 12 - November 02, 2019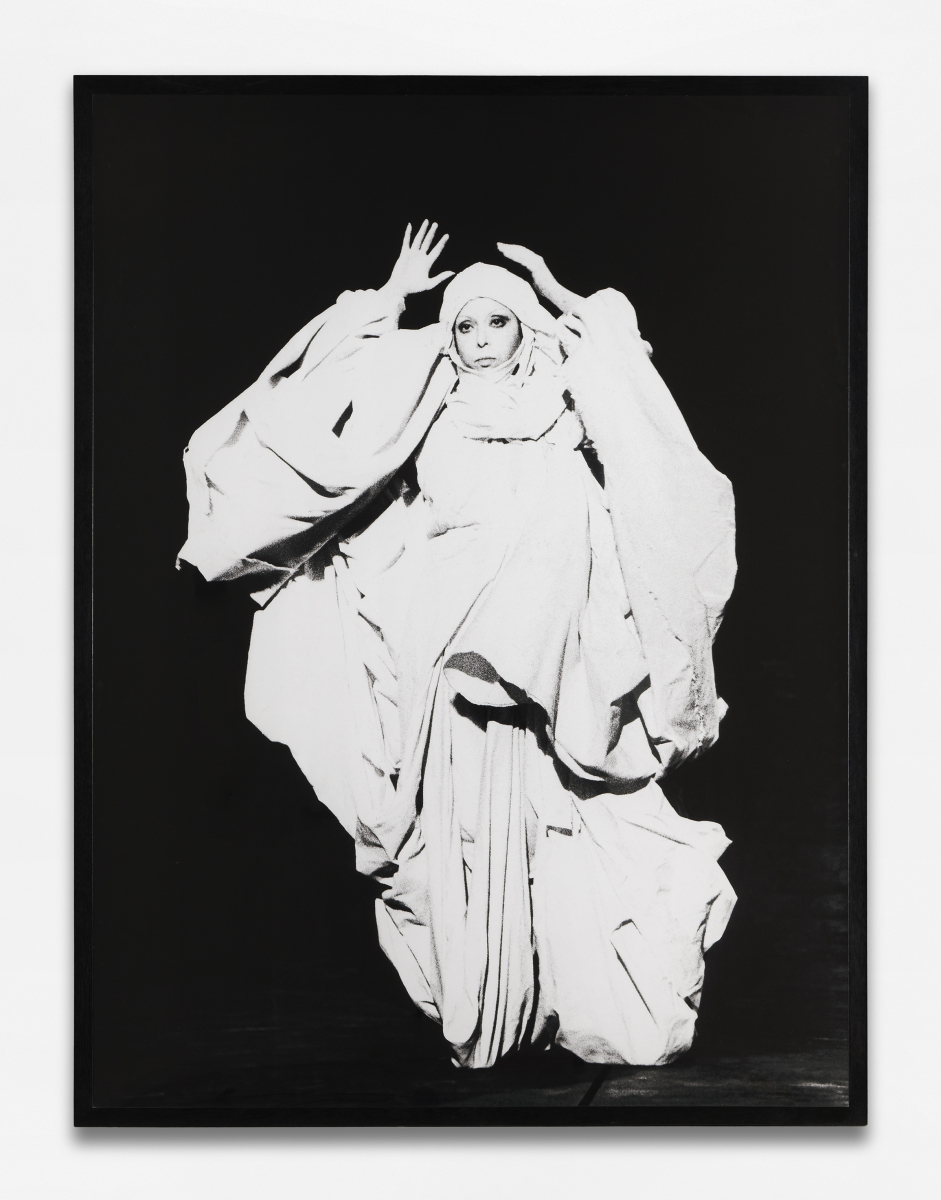 ORLAN
saint orlan
September 12 - November 02, 2019
---
Ceysson & Bénétière is pleased to present SAINT ORLAN, the first comprehensive solo exhibition of ORLAN's work in New York since 1995. Opening on September 12, 2019 and remaining on view until November 2, 2019. SAINT ORLAN comprises historical works by ORLAN.
ORLAN has been rattling the cage of selfhood and using her body to push back against the weight of the world for more than fifty years. It began with her 1964 photograph ORLAN Gives Birth to Her Beloved Self, the first of many works that function almost as manifestos of reinvention. Showing ORLAN as she gives birth to an androgynous mannequin, the image reads as a fierce declaration of autonomous dignity.
In the 70's, ORLAN produced a series of rarely-exhibited collages in which she combined the visual language of the Baroque with religious iconography and images of herself. The process involved photocopying marble which, not unlike body modification, can be seen as desanctifying a revered material. In the collages, lush folds of fabric recall classical sculpture, but just as quickly bring to mind the folds of Hannah Wilke's gum, chewed into the likeness of a vulva. In the collages, ORLAN is seen draped in fabric, and comparisons are often made between these images and Bernini's 17th-century Ecstasy of St. Theresa. Bernini's sculpture shows St. Theresa at the moment an angel is piercing her heart with a spear, and the work was canonized because of St. Theresa's inarguably orgasmic demeanor and the pain/pleasure contradictions that it conjures. ORLAN, in her channeling of the body as subject and object, self and other, brings about similar paradoxes.
In her 1979 performance The Draping, The Baroque, ORLAN, adorned in her unabashedly saint-like drapery, was carried by four men, as if in a funeral procession, into Venice's Palazzo Grassi. There, she performed slowly and over a period of hours, enfolding and unfurling her fabric, at times partially disrobing to expose one breast (again, the saintly and the sexual, she welcomes the contradiction), crawling on the floor in flour, and eventually withdrawing a small bundle resembling a child.
From 1990-1993, ORLAN embarked on what's become her most famous project—a series of nine plastic surgeries that have collectively come to be known as The Reincarnation of Saint ORLAN. The surgeries were filmed and broadcast live to various art institutions, including the Centre Pompidou in Paris. ORLAN elected only to receive topical anesthesia, and so not only did she remain conscious throughout each procedure, but she read aloud to the viewer during them. The most well-known of such surgeries was one in which ORLAN had two implants—typically used to enhance cheekbones—inserted on either side of her forehead. (These days she often accents these implants with glitter and other eye-catching adornments.) The healing process was also documented, and these images were shown in a work titled Omnipresence. Once again, ORLAN refuses to be stagnant in a dynamic world.

Wallace Ludel, July 2019.

Artist :
ORLAN
---
Visitor Information
Ceysson & Bénétière
956 Madison Avenue
10021 New York
T: +1 646 678 3717