Rémy Jacquier
Artifices
February 20 - June 06, 2020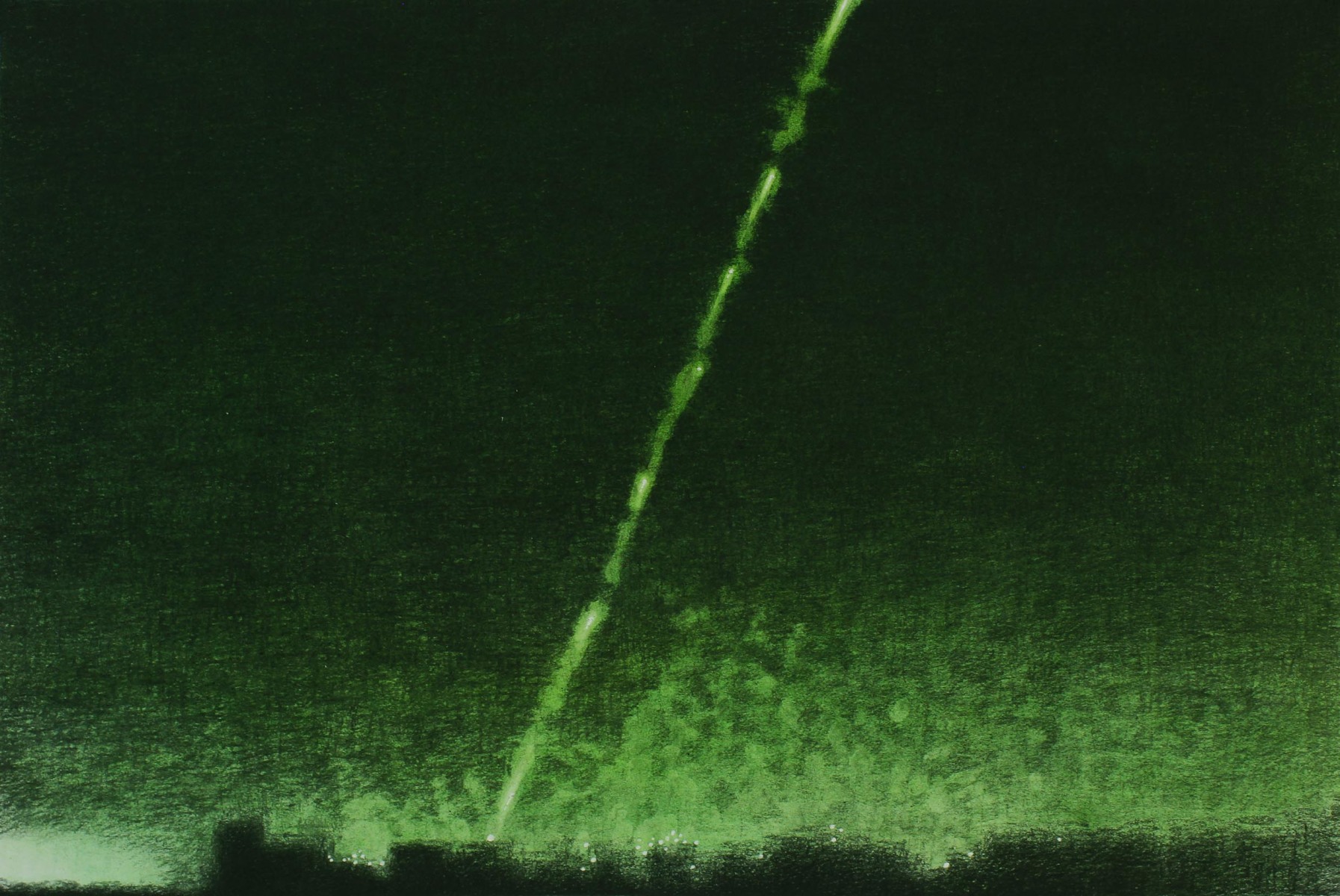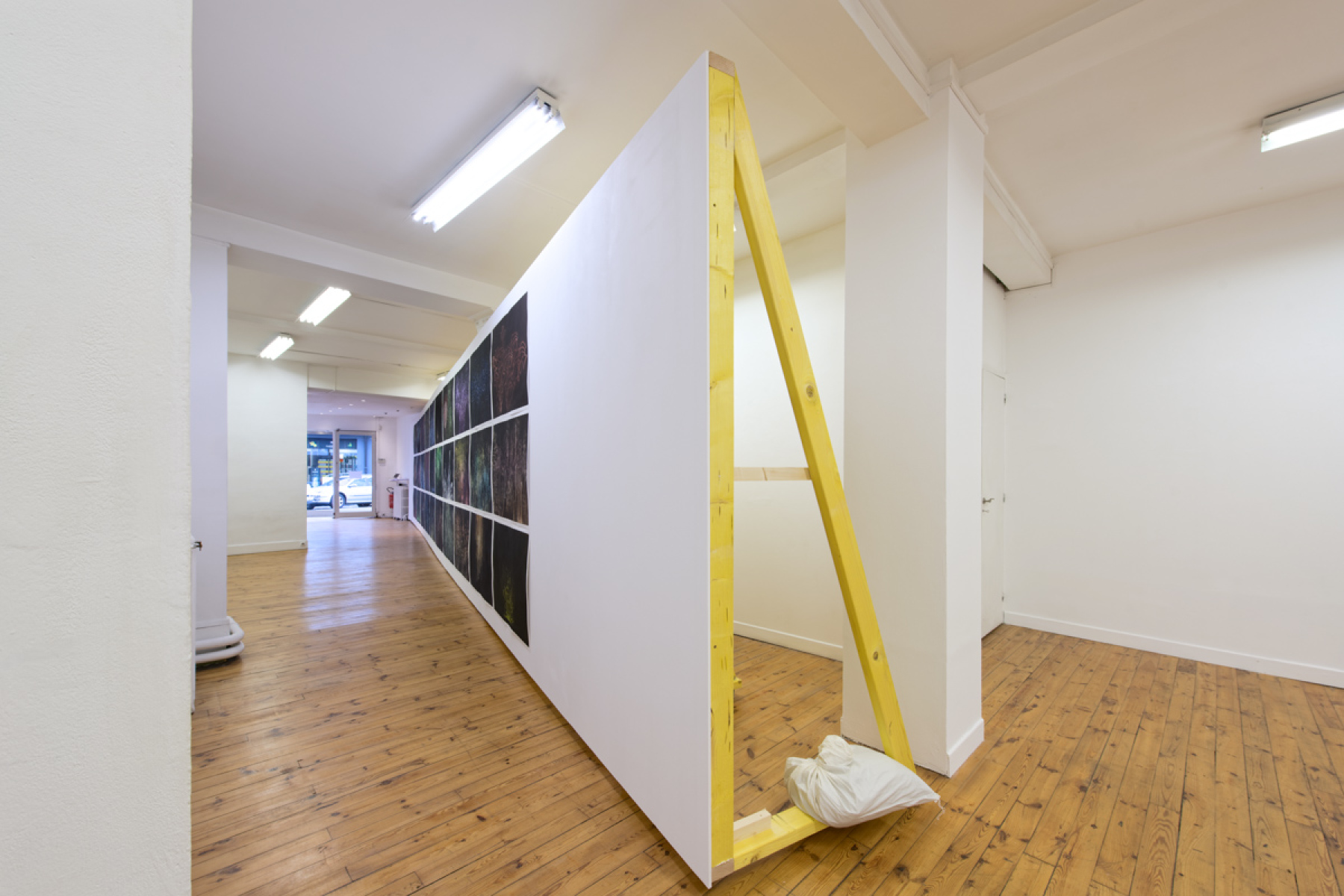 Rémy Jacquier
Artifices
February 20 - June 06, 2020
---
Fruit of the artist's last two years of patient work and exclusively shown at Galerie Ceysson & Bénétière, the Artifices series -which consists of thirty charcoal and pigment drawings- is reconfiguring the exhibition space.
Split by a large diagonal picture rail, the gallery space is undergoing architectural remodeling for the occasion. The prop is covered with three levels of drawings forming a seamless panorama, which format exceeds the viewer's visual field, paralleling the poietic protocol of the series- since the artist produced as many drawings as was necessary to entirely cover the back wall of his studio.
With little material – a few grams of brightly-colored or calcinated pigment powder- and means – hand work and no graphic tools-, Rémy Jacquier manages to dazzle us right away. Yet, it is merely smoke and powder: "works of fireworks" as he says himself. Meaning iconic illusions shining through chiaroscuro effects, imbued with the fascinating power of imaginary pyrotechnical shows.

These fireworks hesitantly drawn, stumble in the depth of a dark surface, a charcoal background that covers the vividly colored skin of a paper previously rubbed with pigments. It bears the traces of the artist's finger dance on it, puncturing the weave of charcoal and exposing sparks of underlying variations of color. Thus layered, the drawing acquires an ambiguous quality. This process of "excavation" of color muted by a dark veil also brings to mind the artist's previous series Phosphènes (2011). For Artifices, Rémy Jacquier has hand-drawn flaming fires in the distance, unevenly piercing through a smoke screen into gleaming volutes, pastel precipitations, phosphorescent trails, mute eruptions, flickering blazes… Like fireflies, tiny white dots glimmer: stars that reveal the skin of the paper carved with a drypoint.
But among these alluring fireworks, some are blasts from archival documents. On the flip side of their glare: Palestine, Germany, Iraq, Israel or Syria. Different powdered fireworks shot on big scale stages, both fascinating and frightening, colorful eruptions sometimes broadcasted live on TV (Desert Storm, Bagdad, 1991). Incandescent flames then turn into devastating strikes, and what appeals to us might be the pyrophoric¹ quality of Syrian phosphorous bombings at night.
Unbearable ambiguity: destructive beauties bursting out of dark depths, a few feeble flickers illuminating apocalyptic splendors from the tips of the artist's fingers.
Like backlit videograms, Rémy Jacquier's drawings are displayed as one big sequence activated by the audience circulating in the room. We might think of kinetic devices such as Carmontelle's 18th century transparent drawings, magic lanterns or Apocalypse Tapestry (14th century).

Rémy Jacquier's Artifices series is sumptuously melancholic. The delicate prints of the artist's hands full of pigments reveal the origin of creation, but turn into sights of destruction: "this is the end²".

Anne Favier, January 2020.






¹ Pyrotechnical researches for entertainment purposes was made possible by military use.
² This is the end is the title of the artist book published on the Artifices series of drawings. The book was published in 100 copies, among which 10 deluxe editions signed and numbered with an original drawing.

Artist :
Rémy Jacquier
---
Visitor Information
Ceysson & Bénétière
8 rue des Creuses
42000 Saint-Étienne
Gallery hours:
Wednesday - Saturday
2pm - 6pm
T: + 33 4 77 33 28 93