Art Basel Hong Kong 2022
May 27 - May 29, 2022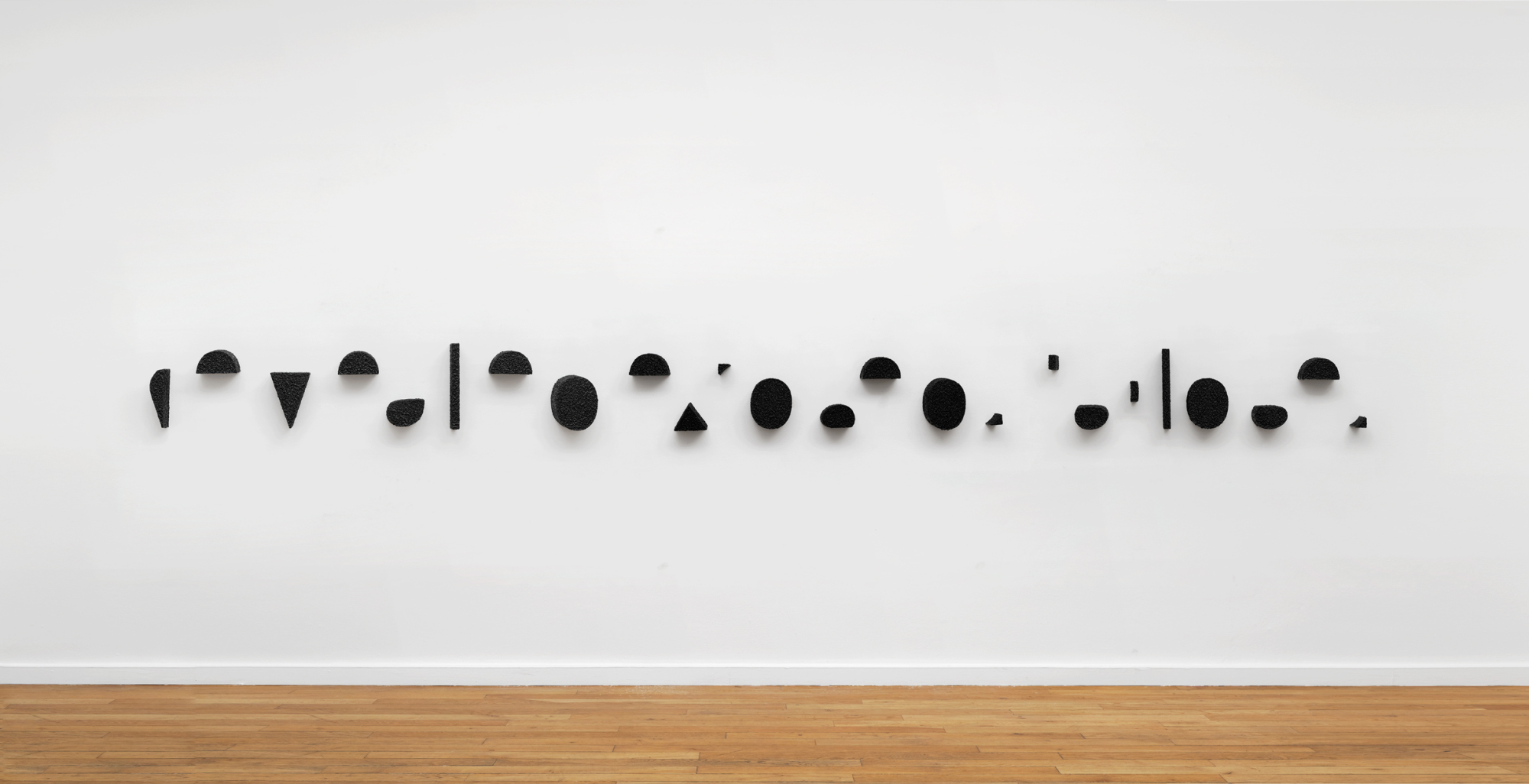 Art Basel Hong Kong 2022
May 27 - May 29, 2022
---
The gallery is delighted to participate to Art Basel Hong Kong, with a solo show of Tania Mouraud, stand 1B25.
When printing the photographs she took to document her NI series for City Performance n°1, Tania Mouraud became aware of the persistence and power of words in the reversal of positive/negative values. It was at that time that she went back to painting - which she had put aside since her burning ceremony of 1968 - and created the WORDS series. Displayed directly on the wall or black canvases, her white letters were formed by the wall itself, forcing the viewer to invert the usual deciphering process.
Followed the BLACK POWER series, which ambiguous title referred to the prevalence of the color black in printing, among other things. The shapes displayed on the wall represented the counter-forms of words written in uppercase letters, thus creating a readable text. The wall itself then became a word, virtually stamped on the viewer's retina to better reveal its role as an active agent of painting. There, Tania Mouraud used daily tools like roughcast rollers from hardware stores. By applying several layers of extremely textured paint, she arrived at a very distinct decorative style she called "pizzeria aesthetics". Her WORDS and BLACK POWER series represented pronouns and adverbs (IT, IN, CECI, CELA), which play a central role in the building of sentences but become meaningless when isolated. They however direct our attention toward the place where they are displayed, inviting us to scan it. In 1991, the artist started a new series entitled BLACK CONTINENT, which introduced curves into her composition through mounted canvases that represented the counter-forms of words written in lowercase letters.
Over the years, her canvases gradually thickened, going from five centimeters for the WORDS series to twelve centimeters for BLACK CONTINENT or the Frises series. In the latter, words are loosely displayed on the wall, their outlines no longer discernible, the absence of angles making the words harder to decipher. Sometimes floating along nearly ten meters, the words have become totally abstract forms, but not merely self-referential as they continue to convey a message.

Artist :
---