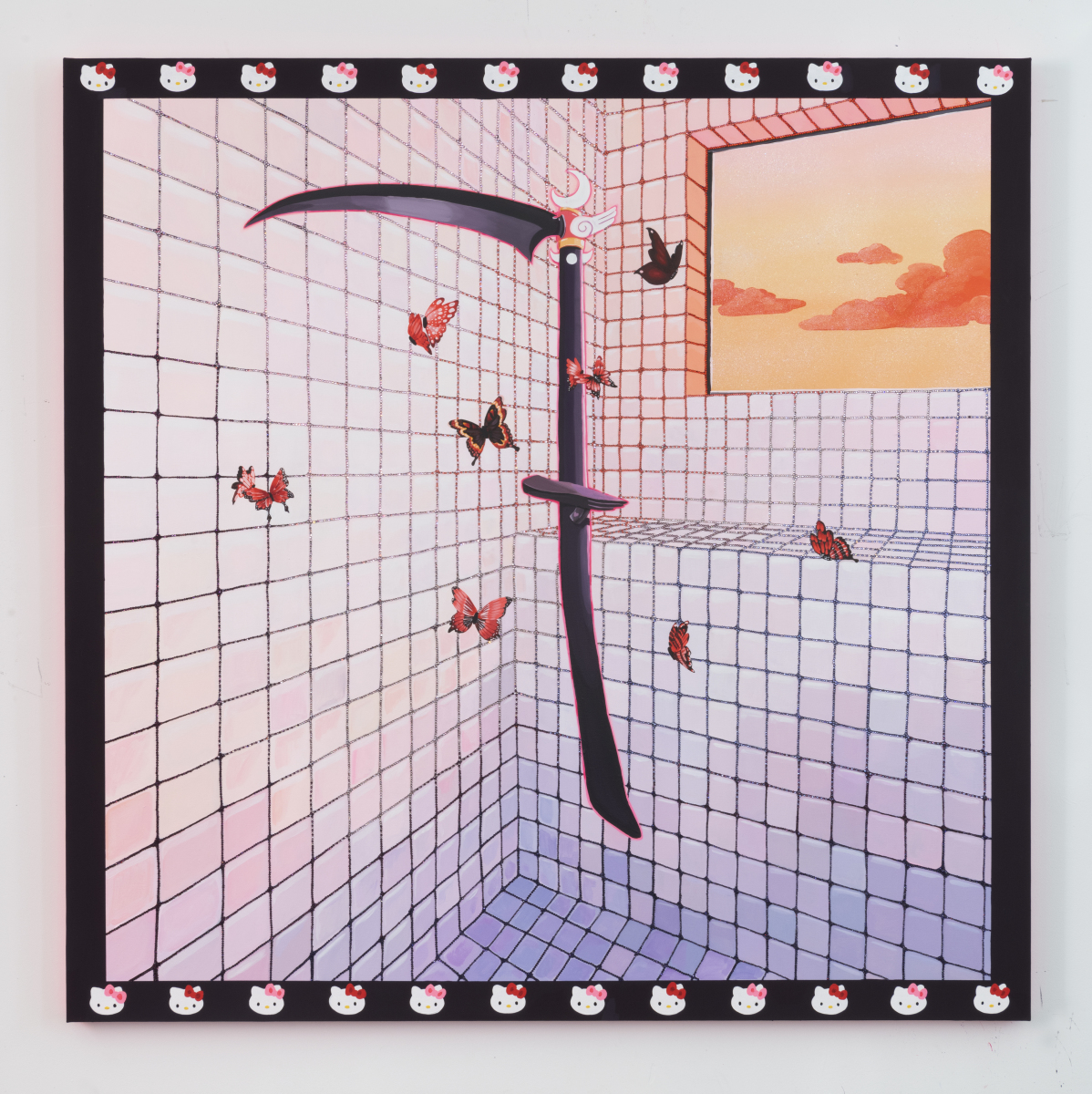 Soul Seeker
, 2023
Acrylic, glitter, Preciosa and Dreamtime rhinestones on linen
121.92 x 121.92cm
48.00 x 48.00 in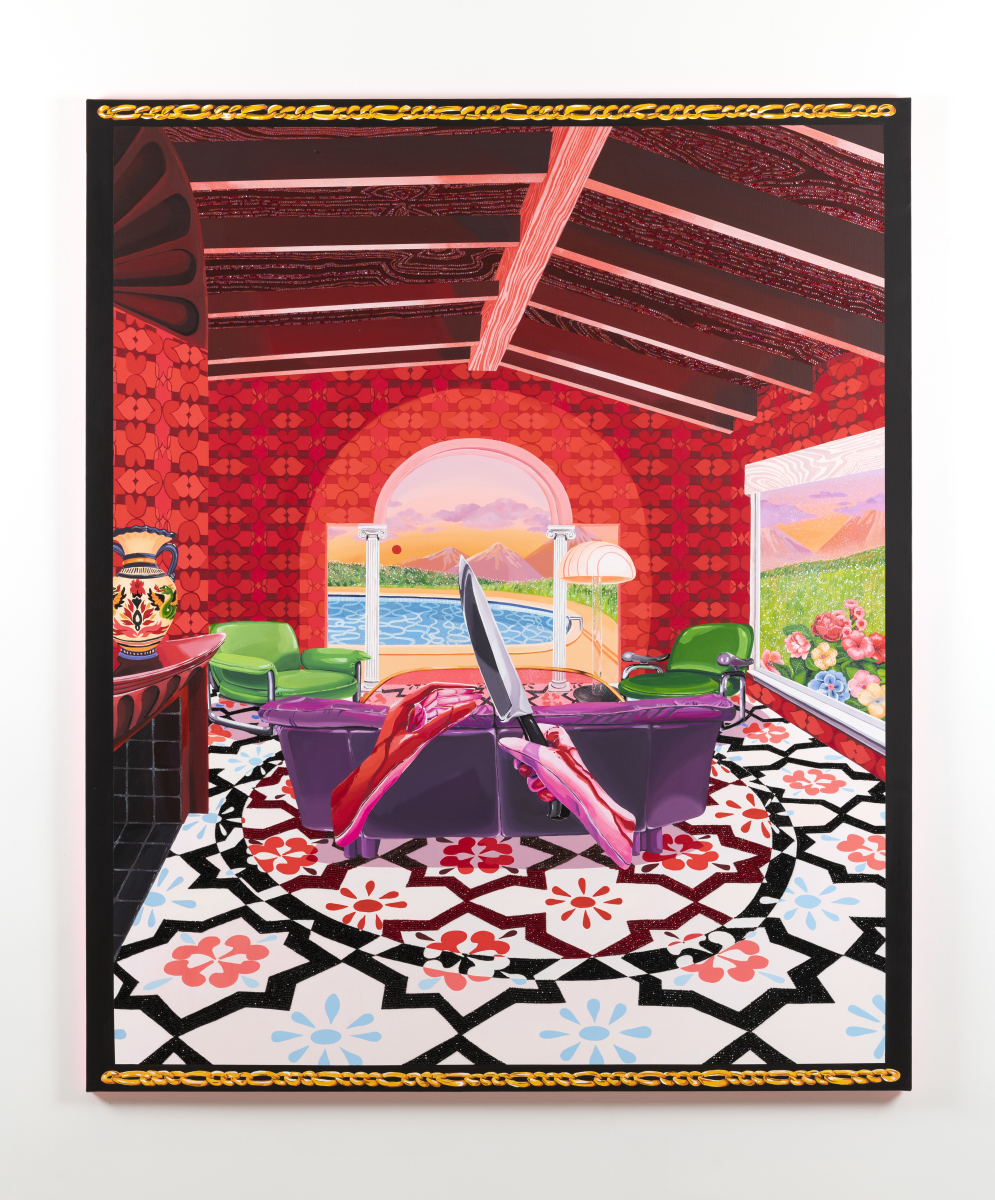 Hysteria
, 2023
Acrylic, glitter, and Dreamtime rhinestones on linen
182.88 x 152.4cm
72.00 x 60.00 in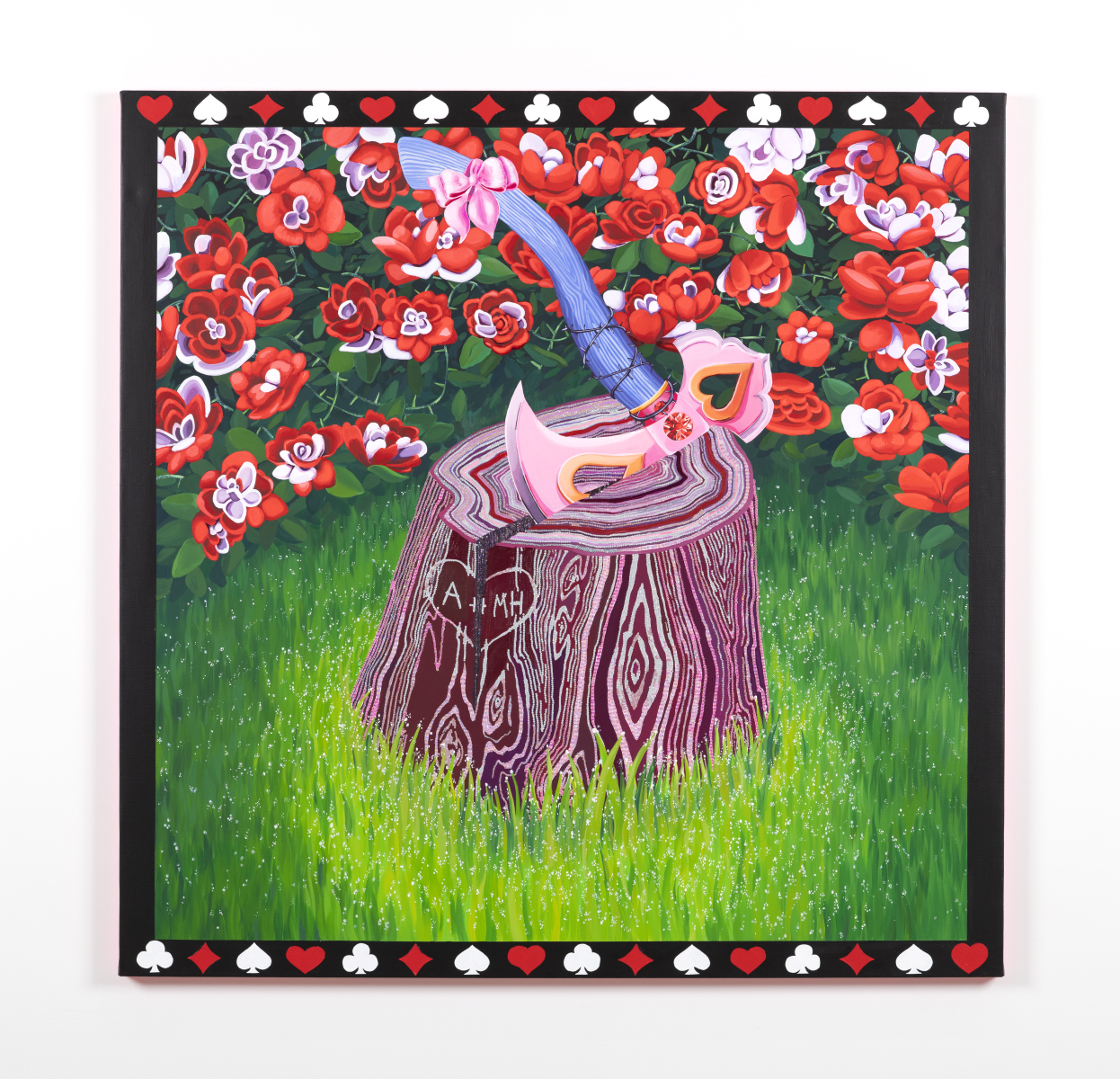 Forget Me Knot
, 2023
Acrylic, glitter, and Dreamtime rhinestones on linen
121.92 x 121.92cm
48.00 x 48.00 in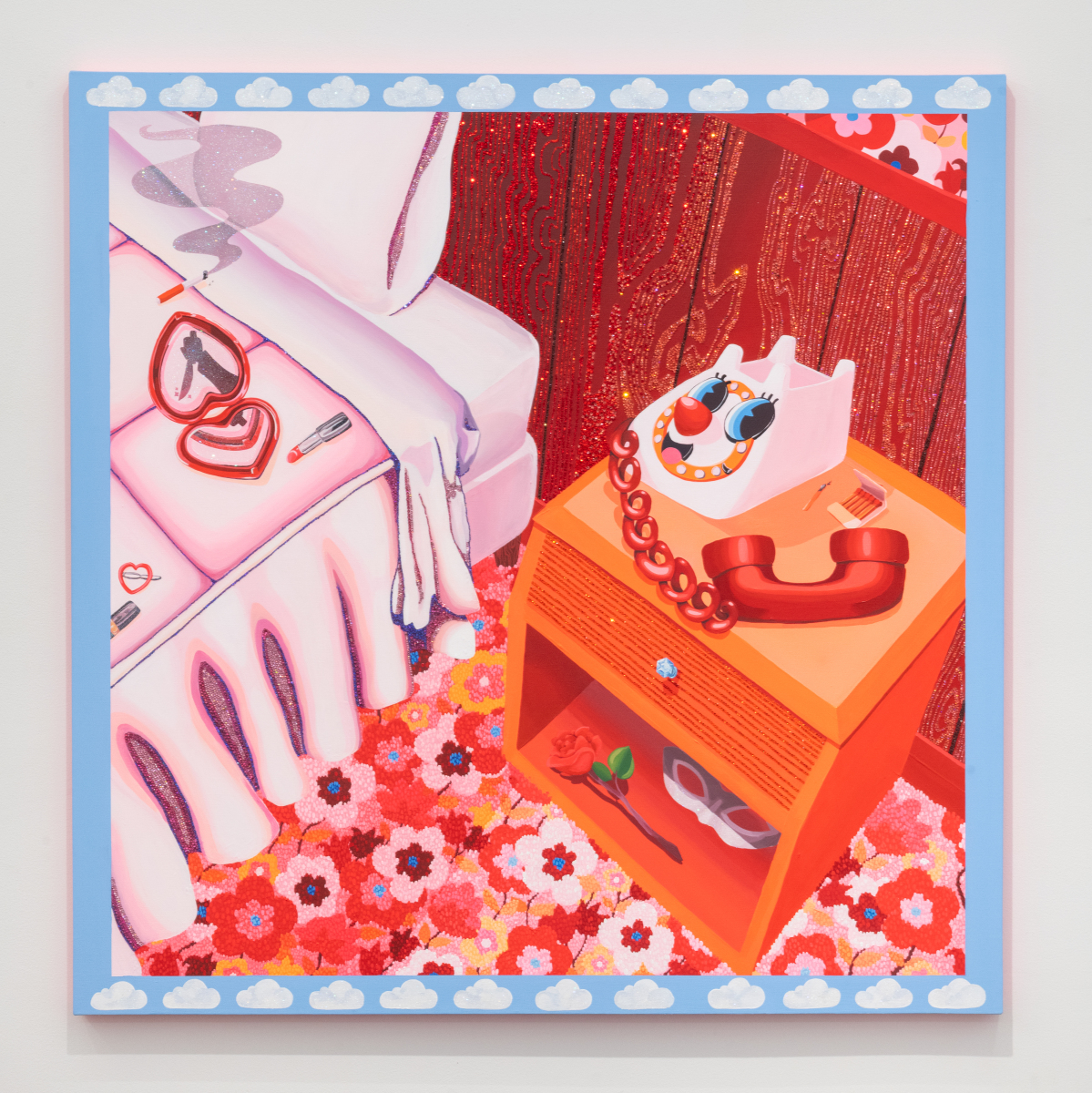 Sugar, Spice and Professor Utonium with a Carving Knife
, 2022
Acrylic, rhinestones, and glitter on canvas
121.92 x 121.92cm
48.00 x 48.00 in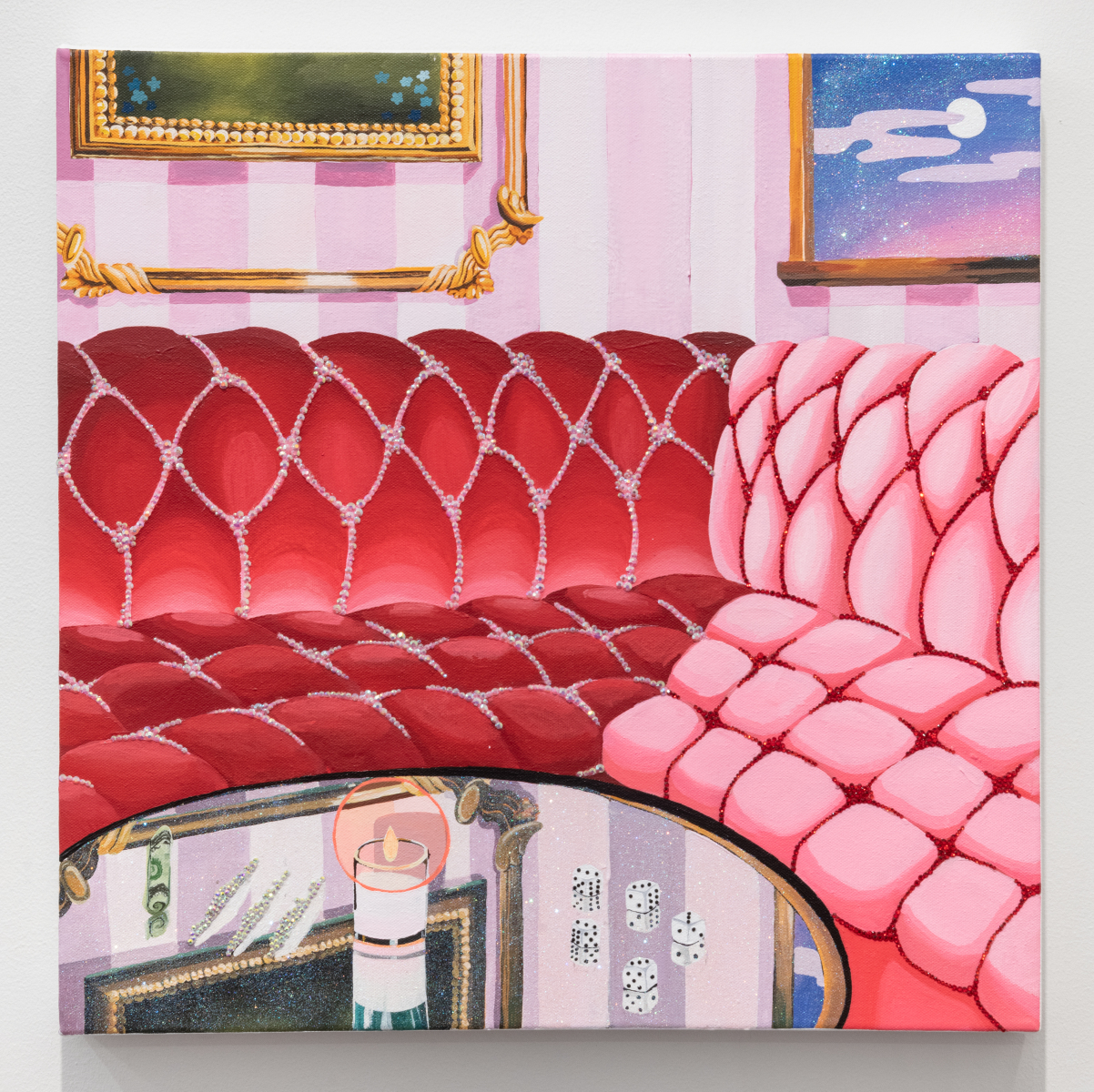 Good Things Come in Threes
, 2022
Acrylic, rhinestones, and glitter on canvas
50.8 x 50.8cm
20.00 x 20.00 in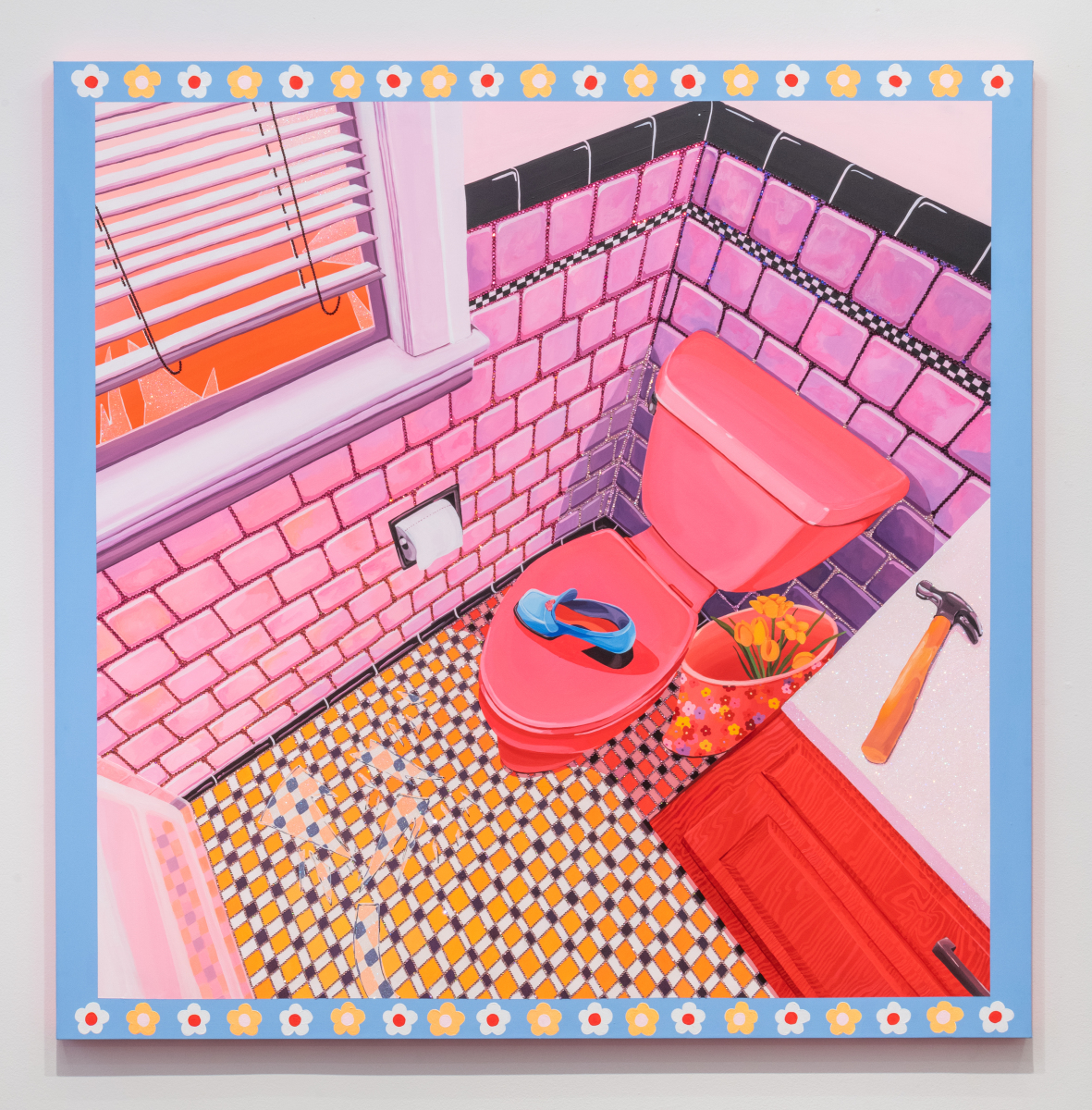 When The Shoe Doesn't Fit
, 2022
Acrylic, glitter, and rhinestones on canvas
121.92 x 121.92cm
48.00 x 48.00 in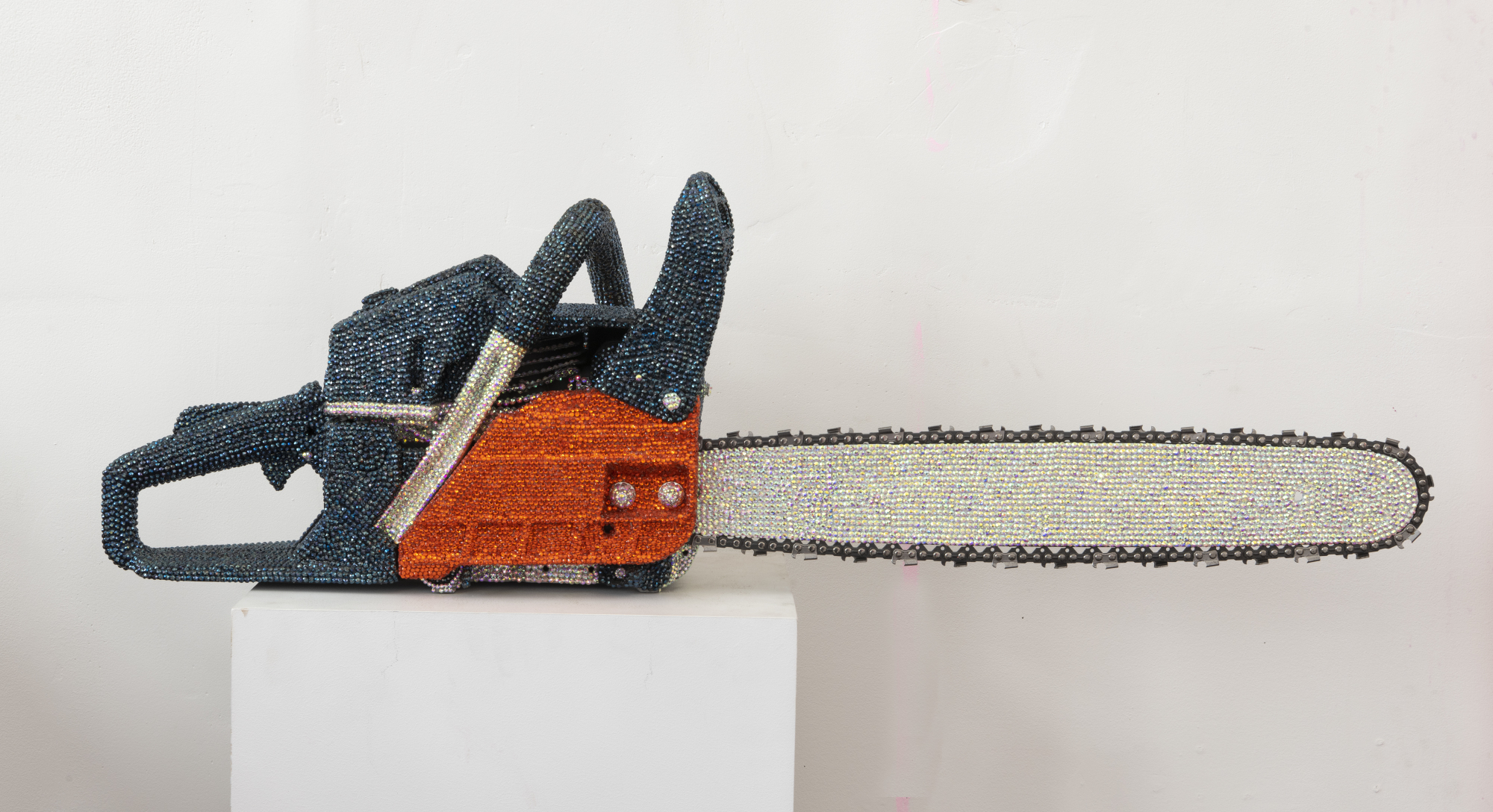 The Sawyers
, 2022
Chainsaw and rhinestones
28.55 x 88.9cm
11.24 x 35.00 in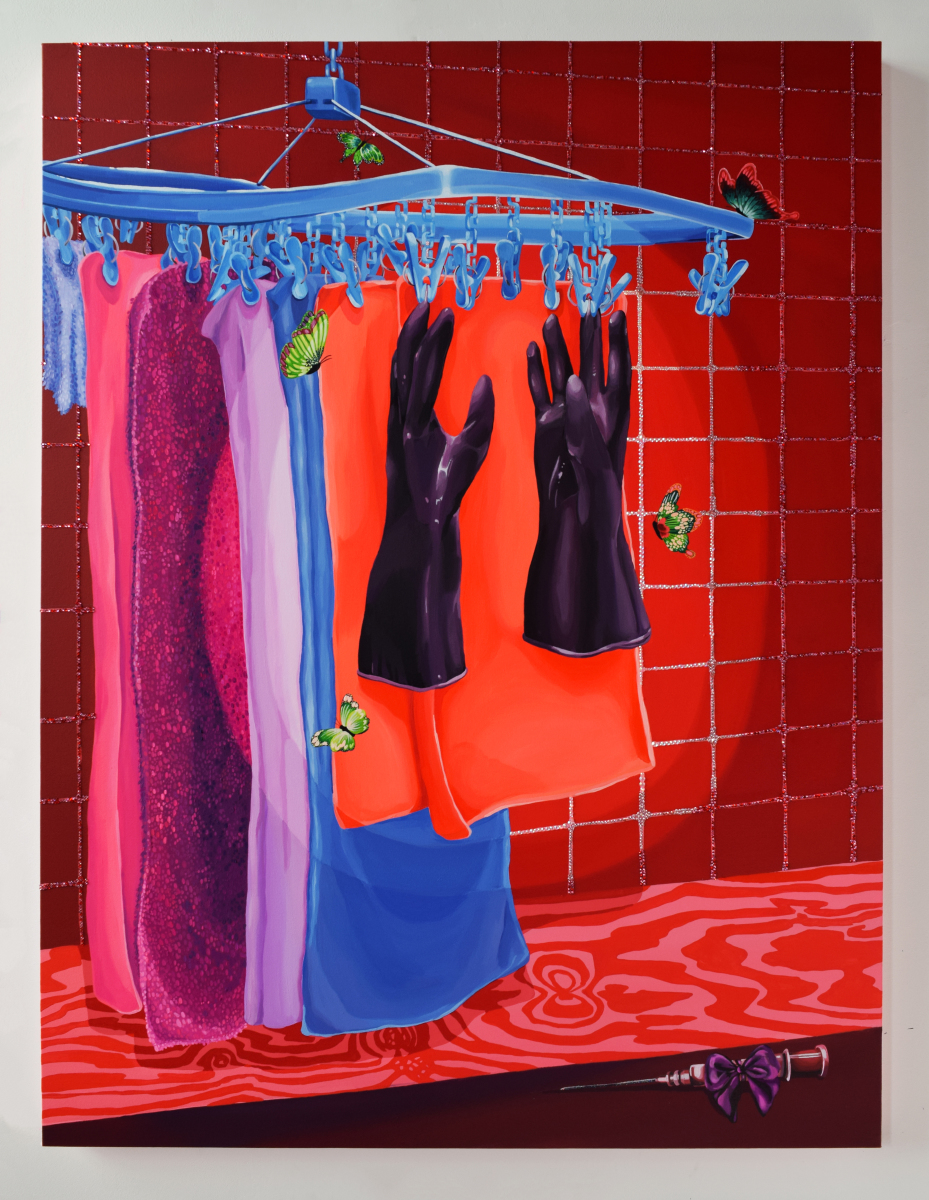 Kiri Kiri Kiri
, 2022
Acrylic, glitter, and rhinestones on canvas
121.92 x 91.44cm
48.00 x 36.00 in
Rachael Tarravechia (b. 1995, UnitedStates) received a B.F.A. in painting from The Savannah College of Art andDesign, Savannah, Georgia in the spring of 2018. She has exhibited her work internationally in the United States, Hong Kong, and France. Her work investigates the threshold of private versus public, and aim to capture fleeting, intimate moments.  Moments where the room was just previously occupied, and now there are no people, no phones, no cameras, yet the aura of humanity still lingers. Tarravechia lives and works in Brooklyn, New York.  

Originally from Charlotte in North Carolina, Brooklyn-based Rachael Tarravechia pursued a BFA in painting from Savannah College of Art and Design. Post-graduation and she moved to New York to work as a studio assistant for various artists before eventually finding her feet in the industry and going out on her own. Now working as a full-time artist, Rachael has exhibited her works internationally across the US, Hong Kong and France, with a current show entitled Wish You Were Here held at LAUNCH F18 in the city. She's also currently represented by the female-run Tchotchke Gallery – with her second solo exhibition in New York taking place in January next year.

Rachael's creations are both bountiful and meticulous as they depict the intricate details of the home. However, these interior scenes appear slightly off; they're warped, weird and impossibly colourful. The bathroom tiles, towels and lipsticks are lined up in abundance as they're sprinkled with vibrancy, glitter, patterns, luxury goods and a surrealist sense of perspective. "I find a lot of my inspiration through viewing old homes – whether I'm physically in the space taking photos or looking through vintage Architectural Digest magazines from the '80s," she tells us. "I also draw inspiration from disco, love songs, horror moves and quirky little items in the dollar store."
-Ayla Angelos, "Rachael Tarravechia's paintings are uneasy, sinister and satisfying", Creative Boom (2021)
Solo shows at Ceysson Gallery
Rachael Tarravechia, Lyon
March 29 - April 29, 2023
Group shows at Ceysson Gallery
The Ecstasy of Saint Britney, New York
June 11 - July 29, 2022
Solo Shows
2023
Fever Dream, Ceysson & Bénétière, Lyon, FR
2022
Salvation in a Dogwood Bloom, Tchotchke Gallery, New York
2021
Wish You Were Here, Launch F18, New York

2020
The Viewing Room, Online Show, Launch F18, New York
2018
All That Glitters, Chinatown Soup, New York
2017
Thank You!!, Chinatown Soup, New York
Two Person and Group Shows
2022
The Ecstasy of Saint Britney, Ceysson & Bénétière, New York
What's Your Dream?, Galerie Zberro, Paris, FR
2021
If These Walls Could Talk, Rachael Tarravechia and Julia Jo, Dinner Gallery, New York
New York Isn't F*cking Dead, Tchotchke Gallery, New York
Of Decadence and decay, Marley Smit SVA Thesis, New York
Launch F18 10 Years, Launch F18, New York
2020
The Secret Garden, Bobblehaus, New York
Spring/Break In Excess, Spring/Break Art Fair, New York
2019
My Hollywood Mirror, Launch F18, New York
WEAVE: Pattern in Three Dimensions, Arts Brookfield, New York
Got It for Cheap, The Hole, New York
Ultralight Beams, The Mount Analogue, Seattle, WA
Sublime Banality, Here/There Gallery, Portland, OR
2018
The Shadowman meets The Feminine, Contra Gallery, New York

Speed Dating, Bomb Pop!Up, New York
SCAD BFA Painting Showcase, Alexander Hall Gallery, Savannah, GA
FIX, Welmont Venues, Savannah, GA
Alexander Collective Salon Show, Non-Fiction Gallery, Savannah, GA
Port City Review Exhibition, Alexander Hall Gallery, Savannah, GA
Winter Student Showcase, Alexander Hall Gallery, Savannah, GA
2017
Open Studio Exhibition, Alexander Hall Gallery, Savannah, GA
SCAD DeFINE Art Winter Showcase, Alexander Hall Gallery, Savannah, GA
2016
International Group Open Studio, SCAD Lacoste, Lacoste, France
SCAD Student Showcase, SCAD Hong Kong, Sham SHui Po, HK
Awards
2018
Summa Cum Laud, Savannah College of Art and Design
BFA Painting Showcase Best in Show, Savannah College of Art and Design
Winter Painting Showcase Honorable Mention, Savannah College of Art and Design
2014-2018
Deans List, Savannah College of Art and Design
Achievement Scholarship, Savannah College of Art and Design
Academic Scholarship, Savannah College of Art and Design
Publications
2020

Art Plugged Magazine
Under The Bridge Zine
2019
Launch F18
The Stranger Newspaper
Art and About PDX
2017
Accidental Discharge Magazine
Curated by Girls
2016`
Crybaby Zine
Conscious Magazine
High In Style Magazine