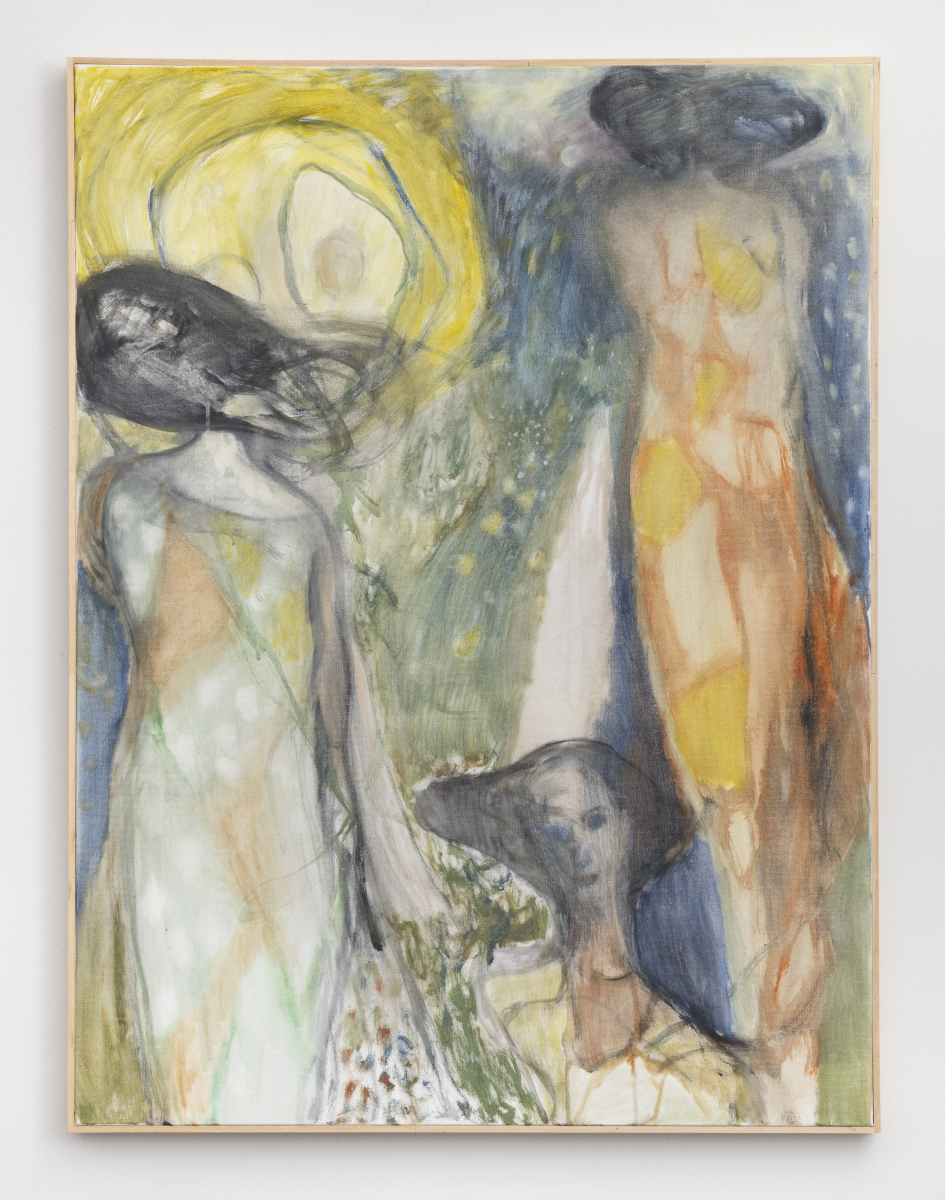 Uptown Girls
, 2023
Acrylic, graphite, and colored pencil on canvas in artist's frame
101.6 x 76.2cm
40.00 x 30.00 in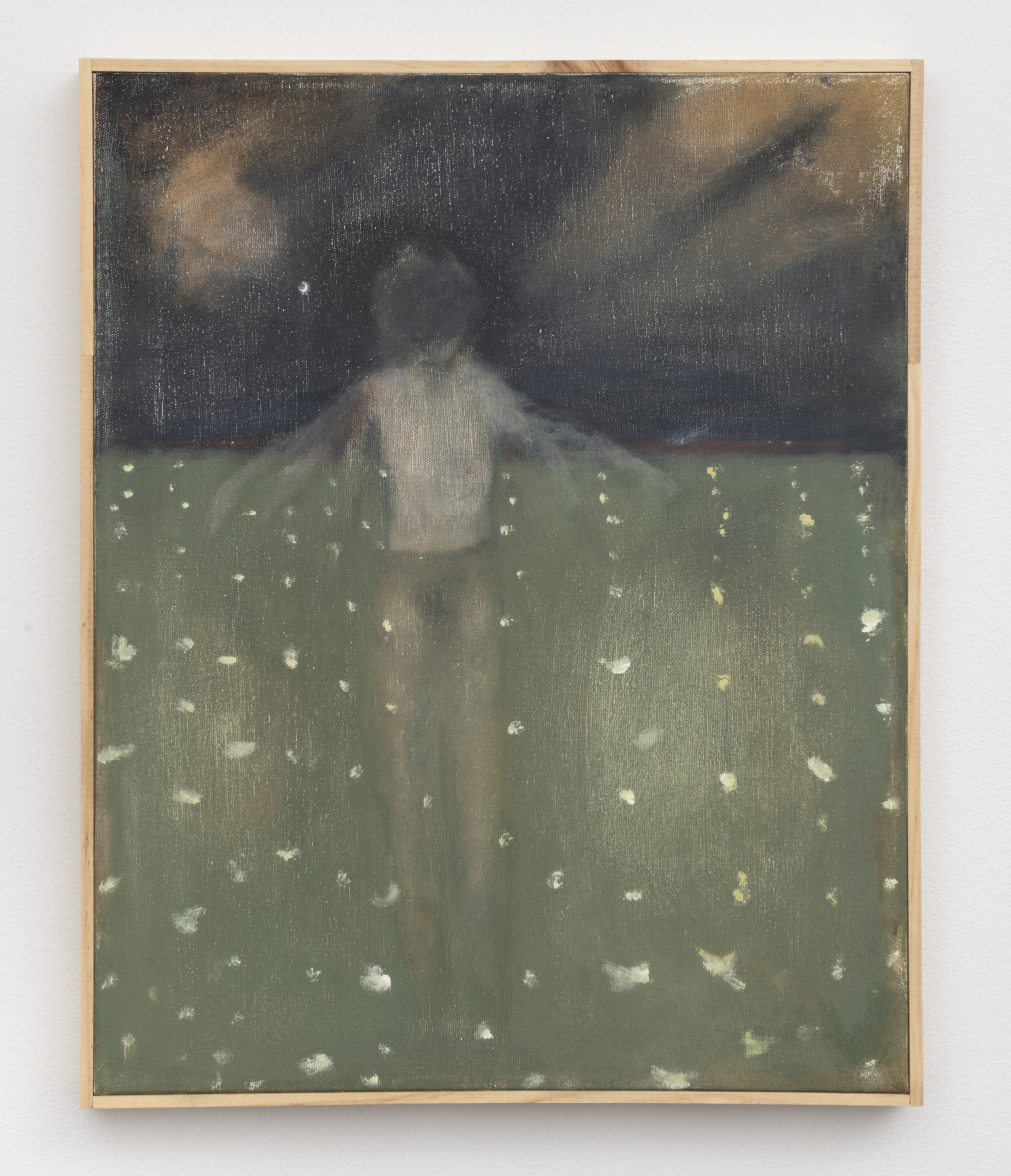 Wader
, 2023
Acrylic, graphite, and colored pencil on canvas in artist's frame
50.8 x 40.64cm
20.00 x 16.00 in
Born in 1983 in New Haven, CT
Lives and works in Brooklyn, NY
Education
2010          M.F.A. Rhode Island School of Design, Providence, Rhode Island
2006          B.F.A. Pratt Institute, Brooklyn, New York

Nothing if not eclectic, Ted Gahl's painting practice is nonetheless united by a reverence for art history and a humorous treatment of subject and material. In his large, bold paintings and mixed-media canvases, colored wood and found objects jut out at odd angles, scrawled text and aggressive figuration clash and merge, and compositions dissolve into pure abstraction. Gahl asserts that at the core of his practice is an interest in painting, and he is unconcerned with a definitive style. "I've always been a fan of minimal and monochrome painting, but at the same time love elements of figuration and drawing in work," he says. "My goal was to create paintings that, from afar, read as relatively flat, but when you get closer, include elements of subtle color and form."

Group shows at Ceysson Gallery
Body Full of Stars , New York
June 21 - July 28, 2023
Solo Exhibitions
2021 
March Pictures, Halsey McKay Gallery, East Hampton, NY
Metro-North, Massif Central, Brussels, Belgium
2020 
Paintings, Alexander Berggruen, New York, NY
Suet Paintings/Smoker By Window, Y2k Group, New York, NY
Zen Paintings, Vicki, Newburgh, NY

2019 
Lamu, Halsey McKay Gallery, East Hampton, NY
2017 
Towers, Romer Young Gallery, San Francisco, CA
Mind Reels, Halsey McKay Gallery, New York, NY
Beaumont Sur Mer, Halsey McKay Gallery, East Hampton, NY
Lights, Towards Gallery, Toronto, ON, Canada

2016 
Ted Gahl, Galleri Jacob Bjorne, Aarhus, Denmark
New Jersey Devils, One River School, Englewood, NJ
Hibernation Anxiety, Retrospective, Hudson, NY

2015 
Ted Gahl, Halsey McKay at NADA, New York, NY
The Commuter, Mier Gallery, Los Angeles, CA

2014 
Three Twains, Roads, A Beauty, Zach Feuer Gallery, New York, NY
Norfolk Road, Halsey McKay Gallery, East Hampton, New York
Sundays (Like the Brightest Light in the Theatre Shining on an Empty Stage), Dodge Gallery, New York, NY
La Brosse du Peintre, Cooper Cole Gallery, Toronto, Canada
Poignancy Point, CALENDAR CALENDAR, Albuquerque, NM

2013 
Gin Blossoms, Halsey McKay Gallery, East Hampton, New York

2011 
Ted Gahl, Halsey McKay Gallery, East Hampton, New York
Night Painter, Dodge Gallery, New York, NY
Ted Gahl, Curated by 62nd Dimension, Green Gallery West, Milwaukee, Wisconsin
2010 
New Painthings, Ted Gahl/Tatiana Berg, Nudashank, Baltimore, Maryland
2008 
Ted Gahl: Winner By Default, Farmington Valley Arts Center, Avon, Connecticut
Group Exhibitions 
2021 
Ten Years, Halsey McKay Gallery, East Hampton, NY

dal segno, Y2k Group, New York, NY
Drawing in Lockdown, S.M.A.K., Ghent, Belgium
Kindred Spirits, Bjorn Gundorph Gallery, Copenhagen, Denmark
2020 
Woof of the Sun, Ethereal Gauze, Halsey McKay Gallery, East Hampton, NY
2019 
Nostos, Matthew Brown Gallery, Los Angeles, CA
Freddy's World, Fisher Parrish Gallery, Brooklyn, NY
Wildernesses, Peninsula Art Space, Brooklyn, NY
A Tinkling Sound, curated by Bradford Kessler, Kunsthalle Wichita, Wichita, KS
The Burn Show, Safe Gallery at Folly Tree Arboretum, East Hampton, NY
Ramblin' Round, Stonehouse Art Projects, Cortland, NY
Highlight/The Highline, organized by Paul Efstathiou, Hollis Taggart, New York, NY
The Crystal Ship, organized by Jessica Williams, INSECT, Los Angeles,CA

2018 
Oyster, Galerie Jacob Bjorn, Aarhus, Denmark
From Out Under, curated by Matthew Brown and Lucien Smith, Appointment Only, Los Angeles, CA
As If A Field Could Become Some Dream, curated by Brian Scott Campbell, No Place Gallery/Wexner Center for the Arts, Columbus, OH
After Exit, organized by Chadwick Gibson and Derek Paul Jack Boyle, Smart Objects, Landers, CA
Bech Risvig Collection, Vestjyllands Kunstpavillion, Videbaek, Denmark
Set Adrift on Memory Bliss, curated by Tessa Perutz, Pablo's Birthday, New York, NY
WunderKammer, curated by Kristian Touborg and Soren Serj, KH7 Artspace, Aaarhus, Denmark

2017 
FFFFFiguration, curated by Jonathan Chapline, Never Gallery, Gothenburg, Sweden
For Lack of Better Words, curated by Zeb Mayer, Washington Art Association, Washington, CT
We Are the Ones, Curated by Galina Munroe, Simon Ganshorn and Jordan Kerwick, Carlsberg Byrons Galleri, Copenhagen, Denmark

2016 
Bill & Ted, Bill Adams & Ted Gahl, Freddy, Harris, NY
Character, V1 Gallery, Copenhagen, Denmark
Flat Fix curated by Ryan Steadman and Ryan Wallace, CODE, Copenhagen, Denmark
The Fool, curated by Westminster Waste, Rod Barton, London, England
Feedback of Desire, Romer Young Gallery, San Francisco, CA
Hightight: Summer One, curated by Paul Efstathio, Hollis Taggart Gallery, New York, NY

2015 
Just a Snootful: Katherine Bradford and Ted Gahl, curated by Brad Hadjak, TB Projects, Provincetown, MA
Baudrillard's America, Andrew Rafacz Gallery, Chicago, IL
Suddently Last Summer, Longhouse Projects, New York, NY
The Negative Hand, Anonymous Gallery, Ciudad de México, D.F.
New Digs, Ober, Kent, CT
Freedom Culture, curated by Graham Collins, The Journal, Brooklyn, NY
; – ), V1 Gallery, Copenhagen, Denmark
Works on Paper, Hunted Projects, Tilburg, Netherlands

2014 
Ghost Current, curated by Ryan Wallace, V1 Gallery, Copenhagen, Denmark
Lines Like Legs: Ted Gahl/Gregory Kalliche, FJORD, Philadelphia, Pennsylvania
All A Tremulous Heart Requires, curated by Brad Hajzak, Zieher Smith Gallery, New York, NY
Volatile, Galleri Jacob Bjørn, Aarhus, Denmark
Brushcrusher, 353 West 48th Street, New York, New York
Mental Furniture, organized by Petrella's Imports, Night Gallery, Los Angeles, CA
Your General Store, organized by Jason Middlebrook, Santa Fe Biennial, Santa Fe, NM
Marquee Moon, Thierry Goldberg, New York, NY
Positivilly Marvillanous, Eric Firestone Gallery, East Hampton, NY
Don't Look Now, curated by 247365, Zach Feuer, New York, NY
That's the Neighbor, Always Dressing These Boulders in the Yard, curated by Torey Thornton, Suzanne Geiss Company, New York, NY
Dazed and Confused, Eric Firestone Gallery, East Hampton, New York
Collection Gilles Balmet, Centre d'art contemporain de la ville de Fontaine/ École Supérieure d'Art et Design, Grenoble/Valence, France (catalogue)
I'm Jealous of Your Failures, curated by Trew Schriefer, UIS Galleries, Springfield, IL
The Age of Small Things, curated by Chuck Webster, Dodge Gallery, New York, NY

2013 
Multiple/Universal, Storefront Bushwick, Brooklyn, NY
Bathers, curated by Ryan Schneider, Morgan Lehman Gallery, New York, NY
Storytellers and Mystics, ACNY, Brooklyn, NY
Space Whole Karaoke, Middlemarch, Brussels, Belgium
Ciudad Saudade, Architectures of Memory, Reverse, Brooklyn, NY
Common Objects, David Shelton Gallery, Houston TX

2012
Habeas Corpus, Halsey McKay Gallery, East Hampton, New York
Temperature, Projekt 722, Brookklyn, NY
Caravan, CBG, Cornwall Bridge, CT
Epiphanic Glow, Geoffrey Young Gallery, Great Barrington, NY
Where My Cones At?, curated by Ryan Travis Christian, Double Break, San Diego, CA
Black Foliage, curated by Matthew Craven, 48 Bowery, New York, NY
Daphne, curated by Liam Thomas Holding, Fjord Space, Philadelphia, PA
Size Matters, Dodge Gallery, New York, NY
The Final Frontier, curated by Matt Jones, The Atlantic Conference, Brooklyn, NY
These Friends Three, THIS, Los Angeles, CA
Once Emerging, Now Emerging: The Vistation, Pacific Standard Time: Art in LA 1945-1980, curated by Aaron Wrinkle and Jean Milant, Cirrus Gallery, Los Angeles, CA
Gucci, Center, Milaukee, WI

2011 
Paper Chasers, Nudashank, Baltimore, MD
Collaborations, curated by Ryan Travis Chrisitan, Western Projects, Chicago, IL
Chain Letter, Samson, Boston, MA
Word Problem, Active Space, Brooklyn, NY
Shakedown, Dodge Gallery, New York, New York
Directional Float, Curated by Brian Maller and Ashley Zelinskie, Curbs and Stoops, Brooklyn, New York
Out of Practice, Curated by Nudashank, Presented by Art Blog Art Blog, New York, New York
Not The Way You Remembered, Curated by Jamillah James, Queens Museum of Art, Queens, New York
West, Wester, Westest, Pt.2, Curated by Ryan Travis Christian, FFDG, San Francisco, California
Color Me Bad: Joshua Abelow, Brian Michael Dunn, Ted Gahl, and Hugh Scott Douglas, Nudashank, Baltimore, Maryland
An Exchange with Sol LeWitt, Curated by Regine Basha, Mass MOCA, North Adams, Massachusetts
Tompkins Projects West: Works on Paper, Dan Graham Gallery in collaboration with Tompkins Projects, NYC, Los Angeles, Californi
2020, Curated by May Wong, Above Second Gallery, Hong Kong, China

2010 
The Power of Selection 3, Curated by Ryan Travis Christian, Western Exhibitions, Chicago, Illinois
Class Projects/Absolute Sellout, Partners and Spade, New York, New York
If I Jump Off A Bridge, Will You Follow Me?, Collaborative Magazine, Edinburgh Arts Festival, Edinburgh, Scotland
Ten Years Hunting, Parker's Box Gallery, Brooklyn, New York
Power to the People, Feature Inc., New York, New York
Face on the Bar Room Floor, Curated by Laura Swanson and Colin Williams, Gelman Gallery, Chace Center, Rhode Island School of Design Museum of Art, Providence, Rhode Island
Untitled, Curated by Kristen Dodge , Black Sheep Projects, Providence, Rhode Island
Postcards From the Edge, Visual AIDS Benefit, Zieher Smith, New York

2009 
OutAuction, GLAAD Benefit , Metropolitan Pavilion, New York
NotAbstract 1, Parker's Box Gallery, Brooklyn, New York
FamJam, Group magazine show Curated by Lauren Mackler, In collaboration w/ Waiting Room gallery, Artfair ULTRA002, Omotesando, Tokyo
New Goth Paintings, Zuriel Waters, Jennifer Lee, Ted Gahl, Art Johnson Projects, Providence, Rhode Island
Impossible Exchange, Organized by Brina Thurston, Curated by Filipa Oliveira and Miguel Amado. Frieze Art Fair, London, England
Chromatose, Curated by Erik Parker, Nudashank, Baltimore, Maryland
Crit 4, Curated by Holly Hughes w/ guest speaker Robert Bordo, The Spencertown Academy, Spencertown, NY ONE NATION (UNDERGOD?), Curated by Sara E. E. Young, Gelman gallery, Chace Center, Rhode Island School of Design Museum of Art, Providence, Rhode Island

2008 
Painting Department Group Show, Rhode Island School of Design, Sol Koffler Gallery, Providence, Rhode IslandReal Party, Real Art Ways ,Hartford, Connecticut
BPF 2, Transmissions Gallery, Berkeley, California

2006 
Big Paper Faces, Curator, participating artist, and builder, 2232, Oakland, California
Pratt Senior Show, Hammerstein Ballroom, New York, New York

2005 
Food Chain
2021

Staff Editorial, Ted Gahl March Pictures at Halsey McKay, The Guide.Art, 8.12.21
2019

Pillardy, Piotr, "Getting Lost In the Wildernesses at Peninsula Art Space", Red Hook Star Review, August 3, 2019

2015
Steadman, Ryan, "The Body Is Back at the 2015 NADA Art Fair", NY Observer, 5.15.2015
Indrisek, Scott, "Delusional Shopping at NADA NY", Artinfo, 5.14.2015
Freeman, Nate, "NADA Art Fair: A Debate", Vulture, 5.15.2015
Gottschalk, Molly, "Emerging Artists Hang With Top Collectors at NADA's Best Edition Yet", ARTSY 5.15.2015

2014
Bell, Joshua, "Lines Like Legs – Ted Gahl and Gregory Kalliche at FJORD", theartblog.org, August
Indrisek, Scott, "5 Must-See Gallery Shows", Artinfo, July
Indrisek, Scott, "10 Must-See Summer Group Shows", Artinfo, July
Hassell, Matthew, "One Burning Question with Ted Gahl", NYARTS, July
Artspace Editors,"Our Guide to New York City's Hottest Summer Shows", Artspace, July
Indrisek, Scott, "Ted Gahl Offers Further Proof That Painting Ain't Dead Yet," BlackBook, February
Micchelli, Thomas, "Points of Contact: Small Works, Giant Steps," Hyperallergic, February
Ebstein, Alex, "What Alex Saw: Bad Fog at Martos Gallery in Chelsea and Highlights from the Lower East Side." bmore , January
Cowansage, Corydon, "Interview: Ted Gahl," ART HAPS, January
Mair, Moray, "Ted Gahl's Paintings Draw From Memories And Dreams," Mutantspace, January


2013
Stevenson, Jonathan. "By Any Other Name: Casualism at DODGE," Two Coats of Paint, October.
Burgett, Misha. "Common Objects: Artists Take on the Familiar," Gulf Coast Mag, April.
Hooper, Rachel. "Painters' Painters," Glasstire, February.
Deliso, Meredith. "Common Objects" at David Shelton gallery," Houston Press, January.


2012
Chapline, Jonathan. "Ted Gahl-Connecticut (Interview)," FFFFFFWalls, September.
Brennan, Valerie. "Ted Gahl (Interview)," Studio Critical, September.
Schwartz, Chip. "Fjord's "Daphne" is Daft and Delightful," The Art Blog, July.
Kimball, Whitney. "Road Trip: AFC Goes to Philly," Art Fag City, July.
Abelow, Joshua. "In Conversation: Joshua Abelow Interviews Ted Gahl," NYARTS, June.


2011
Stopa, Jason, "Of This Time Of That Place: Ted Gahl Paintings @ DODGEgallery," WHITEHOT magazine, November
Rifkin, Mark, "Night Painter: Ted Gahl," This Week in New York, November
Ebstein, Alex, "Up All Night: Q & A with Ted Gahl," New American Paintings Blog, October
Halle, Howard, "Critic's Pick: Top 5 Shows," Time Out NY, October
Donovan, Bill, "Go Figure and Ted Gahl on the Lower East Side," Beautiful/Decay, October
Chayka, Kyle, Martinez, Alanna, "Top 9 Shows to see this Week," Artinfo, October
Kimball, Whitney, "October Gallery Preview," Art Fag City, October
Yeldezian, Alexi, "Everything you need to know this week on New York's Art Scene," Guest of a Guest, October
Mielke, Brad, "Your October Art Walk," Joonbug.com, October
Nathan, Emily, "New Art GALLERY RAMBLE," Artnet, October
Miranda, Carolina, "This Week: Must-See Arts in the City," WNYC, October
Ioli, Allison. "Not The Way You Remembered @ Queens Museum of Art," WHITEHOT magazine, September
Rifkin, Mark, "Lower East Side Group Shows Summer 2011," This Week in New York, July
Mak, Gerry, "New Art/Ted Gahl." Lost At E Minor, April


2010
"Ted Gahl's Paired Down," Beautiful Decay, November
Ted Gahl, Queens Museum of Art, Online Publication
Butler, Sharon, "Gahl and Berg @ Nudashank in Baltimore," Two Coats of Paint, February