David Raffini
Matières primaires
September 13 - October 20, 2018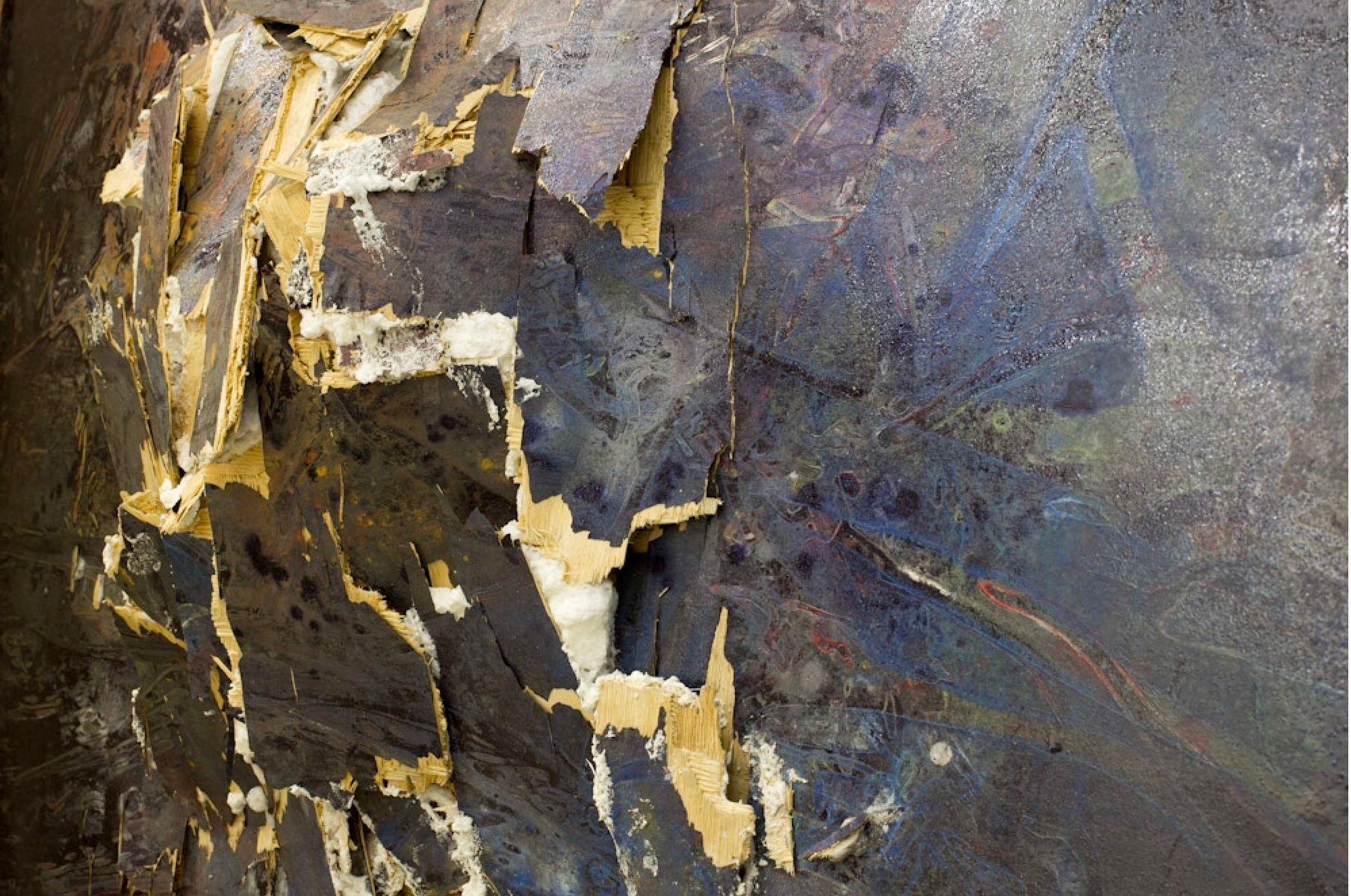 David Raffini
Matières primaires
September 13 - October 20, 2018
---
GRUND 0. Four paintings, almost literally, from the ground. They lied on the studio floor for a time, receiving and accumulating the spurts of everything produced around. Impression of living sea depth brought back to the surface when hung on the wall, transformed and charged with history.
David Raffini first lets heterogeneous materials layer up on his mediums. After maturation, he unearths them with explosive touch of colors or irruptive splits. Planes and lines emerge, giving shape to rugged terrains where the once imagined crests now rise up and sometimes erupt out of the delimited canvas space. Through a range of sculpting rather than painting tools, the raw matter surfaces, and, simultaneously, the works transforms into the vestige of itself.
By preserving these successive states, David Raffini highlights the autonomy of his works and the marks they leave, so much that it ends up difficult to distinguish which of the work or the marks is the memory.
Whether out of duty or desire to remember, David Raffini serves painting with the utmost attention, highlighting the trace, the discreet mark of an experience in time he thinks essential to the existence of the whole work. His interventions reveal the various stratums present within his paintings, often under the form of big landscapes and captured pour l'eternit*. Yet, these painting fossils or ghosts in other cases, are what gives his work its undeniable timelessness quality. By combining techniques and accumulating marks and stories, David Raffini precisely looks thwart a conventional approach of time and awaken the possible mutations of matter over time as well as the inevitable correspondences between what we see and what we guess. Like an endless journey from the bottom to the surface, from vestige to living matter.

Sarah Lanos, July 2018.
Artist :
David Raffini
---
Visitor Information
Ceysson & Bénétière
8 rue des Creuses
42000 Saint-Étienne
Gallery hours:
Wednesday - Saturday
2pm - 6pm
T: + 33 4 77 33 28 93