FIND / FUSE
Stephané E Conradie & Elise Thompson - Curated by Maëlle Ebelle & Francesca Pessarelli
January 26 - March 11, 2023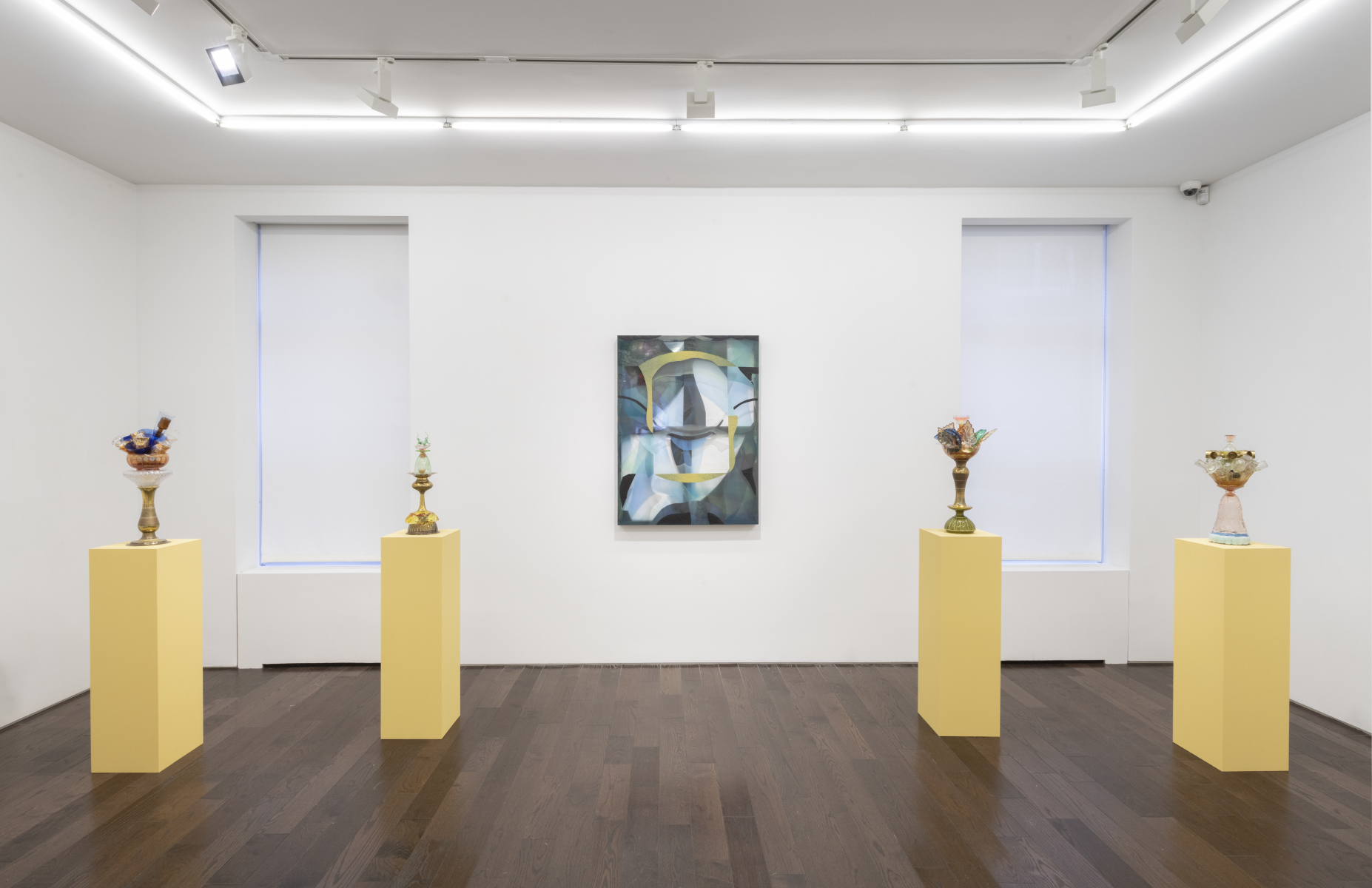 FIND / FUSE
Stephané E Conradie & Elise Thompson - Curated by Maëlle Ebelle & Francesca Pessarelli
January 26 - March 11, 2023
---
Ceysson & Bénétière New York is pleased to present Find / Fuse, a two-person exhibition of works by Cape Town based artist Stephané Edith Conradie and Brooklyn based Elise Thompson. This exhibition will be on view through March 11th, 2023. Find / Fuse is a process of perception, collection, withholding, joining. But also, probably, a critique of the unseen. Conradie and Thompson are alchemists of sorts—their material exploration and use of transparency calling the viewer to question what is visible versus what is known, acknowledging that the two do not always converge. 
Conradie's sculptures bring together found glass objects which have been taken out of their context of utility and suspended in a space outside of the routines of daily life. The tree structure of these assemblages leads the viewer to look beyond the history and reconsider the object as a sculpture, as an accumulation of diverse memories. Colors and shapes blur the objects' origins and question the dimensions of the work's perception as a piece of art. But these objects are also remains of a fraught past. They melt together to form totem-like  arrangements whose layered surfaces shift between revealing and concealing the significance of each item she uses. Through their fusion, objects that initially appear cheap or commonplace become precious and even sacred. In doing so, Condradie explores the potential of meaning-making within commonplace household items and the unknowns we surround ourselves in.
Thompson, too, explores what can result from strategic obstruction, layering, and visibility. Her glossy vinyl surfaces seem to melt and bubble over layers of architectural, organic, and translucent forms. There is a sense of play with what constitutes the surface of the work versus what is within or behind the almost skeletal structures. Gestures seem to disappear beneath one another and re-emerge elsewhere, like a memory. Shapes appear suspended mid-air, the physics of their construction eluding the viewer. This calculated censorship allows for questioning of what is known, seen, and purposefully hidden. Literal translucence does not always result in the revelation of truth or meaning. The paintings' structures suggest a desire for control which Thompson does not grant the viewer. The answers remain hidden in plain sight.
The question of whether transparency begets clarity remains. Do we find meanings or do we fuse them? 
Maëlle Ebelle & Francesca Pessarelli, January 2023