Jean Messagier
La Belle Lumière, Paintings 1980-1993
March 16 - April 29, 2023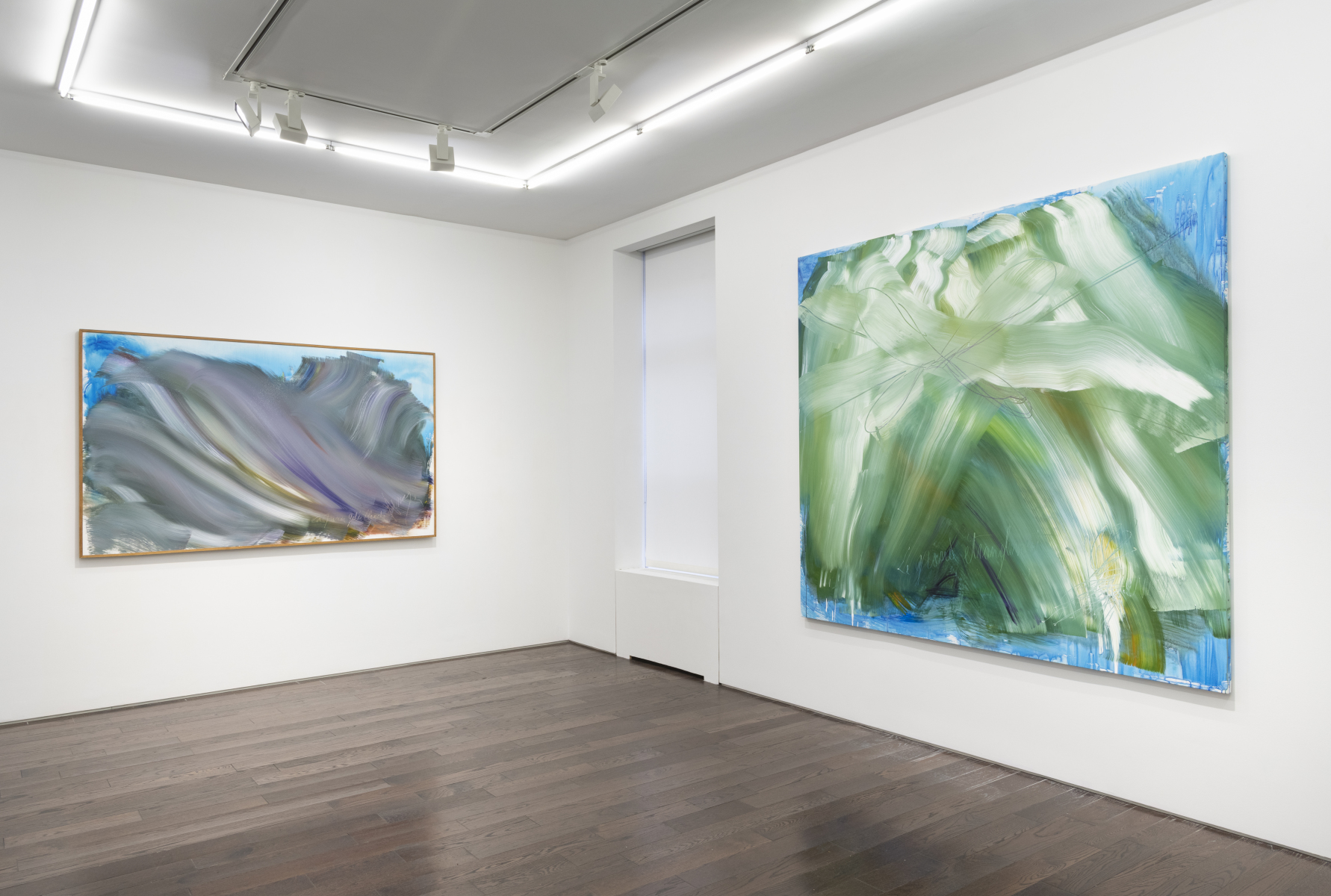 Jean Messagier
La Belle Lumière, Paintings 1980-1993
March 16 - April 29, 2023
---
Jean Messagier is Back

In 1953 when James Johnson Sweeney was the director of the Solomon R. Guggenheim Museum, the young Jean Messagier was considered a protagonist of such hot movements as the second School of Paris, Lyrical abstraction and Art informel. Messagier refused those labels, of course; but they did get him invited to participate in the exhibition Younger European Painters, which travelled to Minneapolis, Portland and San Francisco after its debut in New York. Thirty years later, a solo show in Chicago in 1982 marks the last time Messagier encountered his American audience on their turf.

In France and in Europe, Messagier's reputation is long established and immense. He represented France at the 1967 Salón de Mayo in Havana, the 31st Venice Biennale, the 8th São Paulo Biennial. A first catalogue raisonné of his prints and sculpture was published in 1975. The French state commissioned him to create postage stamps, commerative medals and tapestries for the Gobelins Manufactory. He was in demand to design stage sets, posters, wine labels, biscuit tins, floats for carnival parades, ephemeral sculptures. The events and festivities he organized would be called happenings now, and he is famously remembered for the aggressive forward position he played in the artist Vs art dealer soccer matches he delighted in organizing.
Entering the École nationale supérieure des arts décoratifs in Paris in 1942, Messagier came of age as an artist when abstract painting still implied esthetic conversion, or at least repudiation of the figurative. Throughout his career, Messagier roamed fearlessly between figurative and abstract imagery. Nonetheless, a foundation of meaningful abstraction underlies all the immediate gestural energy of his compositions. His buyant brushstrokes strive to express the sensations he perceives in the phenomenal universe. Hence his lifelong engagement in painting from nature. This includes both painting with nature and in nature. Messagier executed sand drawings in Sardinia in 1957 and in Paris in 1967, snow drawings at his property in Lougres in 1965, and later spray paintings on snow in 1976. Most remarkable are the various "frost" series, the earliest from 1969, compositions in which he substitutes nature's processes such as decomposition, condensation or change in temperature for his own action on pigments and surfaces.
Not content to challenge pictorial conventions through radical experiments with nature as media, Messagier is also an aggressive humorist, deploying both burlesque and ironic modes with equal maestria. His "œuf au plat" (fried egg) series questions the ideal of artistic masterpiece by throwing egg on its face. Sardanapalus in the shadow of eggs sunnyside up (1979) takes Delacroix's monumental history painting down a notch by conflating it with the most mundane meal. In a similar mode, Greta Garbo and Toulouse Lautrec in Borneo (1986) is a deliberately messy painting whose title becomes an enigmatic message as it is scratched on the canvas with the back of the painter's brush.
The ten major works brought over from France by Ceysson & Bénétière were produced during the last two decades of Messagier's prolific life. These mature works continue to manifest the tense serenity that was already appreciated by the American critic, Annette Michelson, in 1964. In a catalogue for NewYork's Lefebvre Gallery, she admires Messagier's lack of pathos, and compares his brushwork to respiration: "These landscapes have a unique immediacy, as if breathed into existence : they dispel the notion of a gesture's duration." Michelson found Messagier's work both pardoxical and praiseworthy, concluding that it was "an essentially unhistoric art which relates directly to what is dynamic and most precious in the painting of the past." Had she continued to follow Messagier's career when he returned to Europe, she would have seen in such lighthearted and disruptive paintings as Picasso, No (1977) or Watteau and Fragonard on a Stroll (1990) a mordant response to the question of historicity.
In 1982, the Galerie d'Art International in Chicago published an essay by Dore Ashton concerning Messagier's work of the 1950s and 1960's. Presumably she had not seen paintings such as Betty Boop on the lap of the Doubs river (1980), Portrait of Summer (1980), or Springtime for the Pink Panther (1982) , as they were not shown in Chicago. Nonetheless, Ashton already discerned the premisses of the cheekiness which was to become one of the hallmarks of Messagier's later work. She attributed this disinhibition partly to his 1960 visit to New York, where he had a significant encounter with Mark Rothko. According to her, "the audacity of Rothko's great, brimming voids that required the viewer's submission to immersion in fields of light struck Messagier forcefully. After his return to Paris he felt emboldened by the memory of Rothko's large surfaces. His gesture became even more spontaneous, and enlarged itself until his canvases, with minimal surface matter, became huge, self-referring arabesques."
Welcome back to New York, Jean Messagier!
Rachel Stella

Paris, January 2023
Artist :
Jean Messagier
---
Visitor Information
Ceysson & Bénétière
956 Madison Avenue
10021 New York
T: +1 646 678 3717