Maurice Estève
Works on canvas and papers 1980-1994
September 14 - October 21, 2023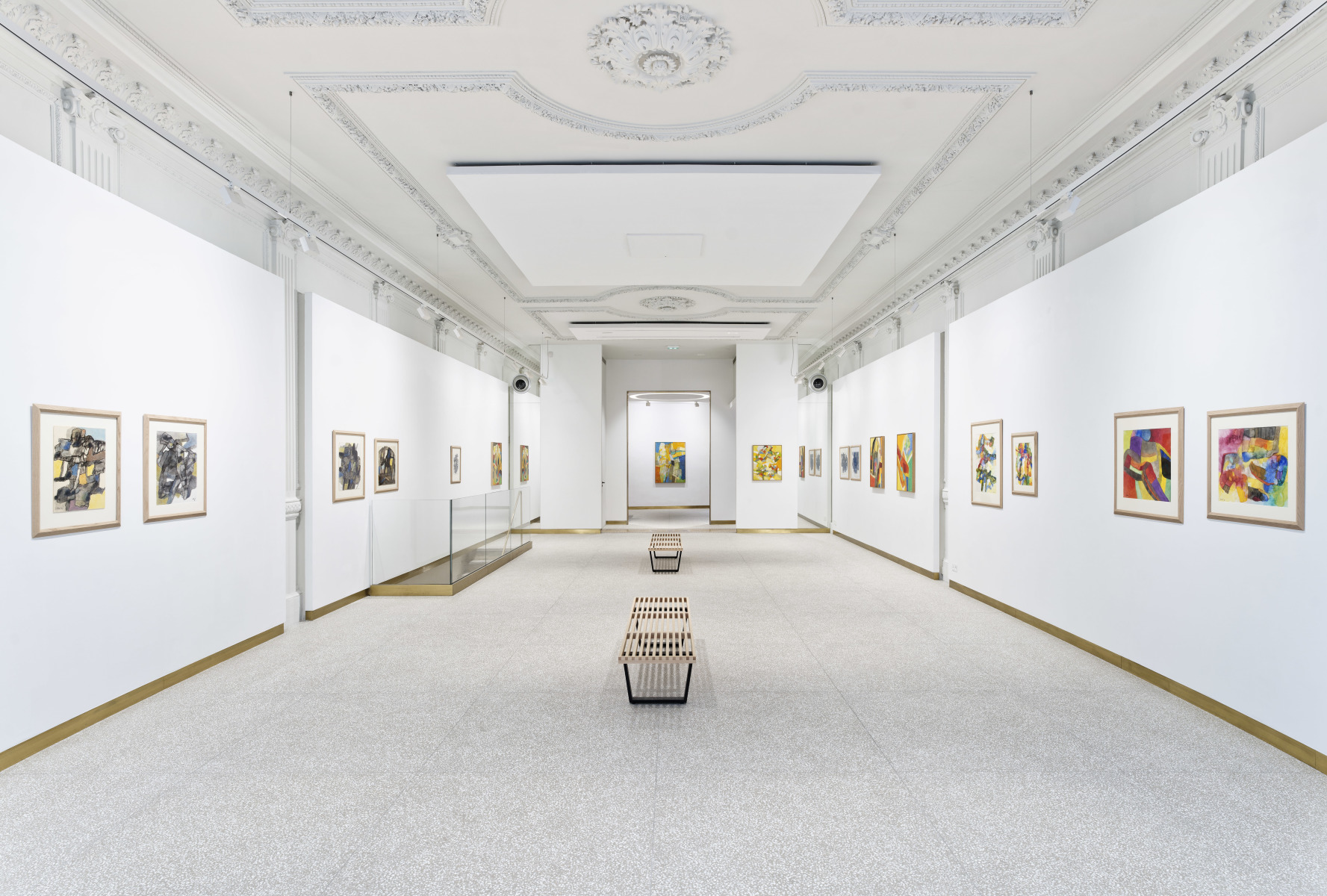 Maurice Estève
Works on canvas and papers 1980-1994
September 14 - October 21, 2023
---
Maurice Estève was a self-taught artist who built his universal knowledge from his constant and diverse reading.
Also self-taught in the art of painting, his long career reflects his desire to understand and grasp the language of images; a language that, from his early years, imposed itself as the most suitable way to convey his vision of the sensitive world around him.
His interest in artistic creation knew no boundaries or temporal constraints. Estève practiced numerous techniques, depending on opportunities and his very personal relationship with time.
The charcoal and colored pencil drawings he made at dusk were not done in one go. From the early years, as mere memory notes in the midst of a hectic daily life, his drawings revealed a remarkable gift for observation, but rarely served as sketches for future paintings. Watercolor only made occasional appearances. It wasn't until the '40s that the artist revealed himself as a fine drawer and a brilliant watercolorist.
Estève saw the creation of his collage papers as playtime. On a table cluttered with colored papers, various newspapers and wrapping papers, he would cut, assemble, pin, and glue elements which his imagination as well as random shapes inspired him. Chaos was therefore subsumed in a composition imbued with magical balance. Estève was quite fond of the collage technique, which was free of all time constraints and gave him great creative liberty, both in form and spirit, allowing references to his sense of humor as well as his historical, and literary knowledge.
Estève used to call himself the "slowest painter on earth," yet he devoted most of his attention and the majority of his time to oil paintings. He would simultaneously work on several canvases for three, sometimes four years. His works on paper were like sediments, which settled with the artist's deep, constant, and jealously guarded thought process. His long-term approach allowed his pictorial work to achieve full maturity, and his color palette to evolve with greater freedom.
His rare titles served as winks to invite viewers to peek into the artist's thoughts. Far from the autumn mists of Breunales, Estève gives us a change of scenery with the fragmented radiance of Solstice d'été. 
With this last act, the exhibition at Ceysson & Bénétière in Lyon proposes a retrospective of Maurice Estève's last decade of creation.


Monique Prudhomme-Estève, July 2023.
Artist :
Maurice Estève
---
Visitor Information
Ceysson & Bénétière
21 rue Longue
69001 Lyon
Gallery hours:
Tuesday - Saturday
11am - 6pm
T: +33 4 27 02 55 20