NICOLAS MOMEIN
TERRE-PLEIN
March 25 - May 29, 2021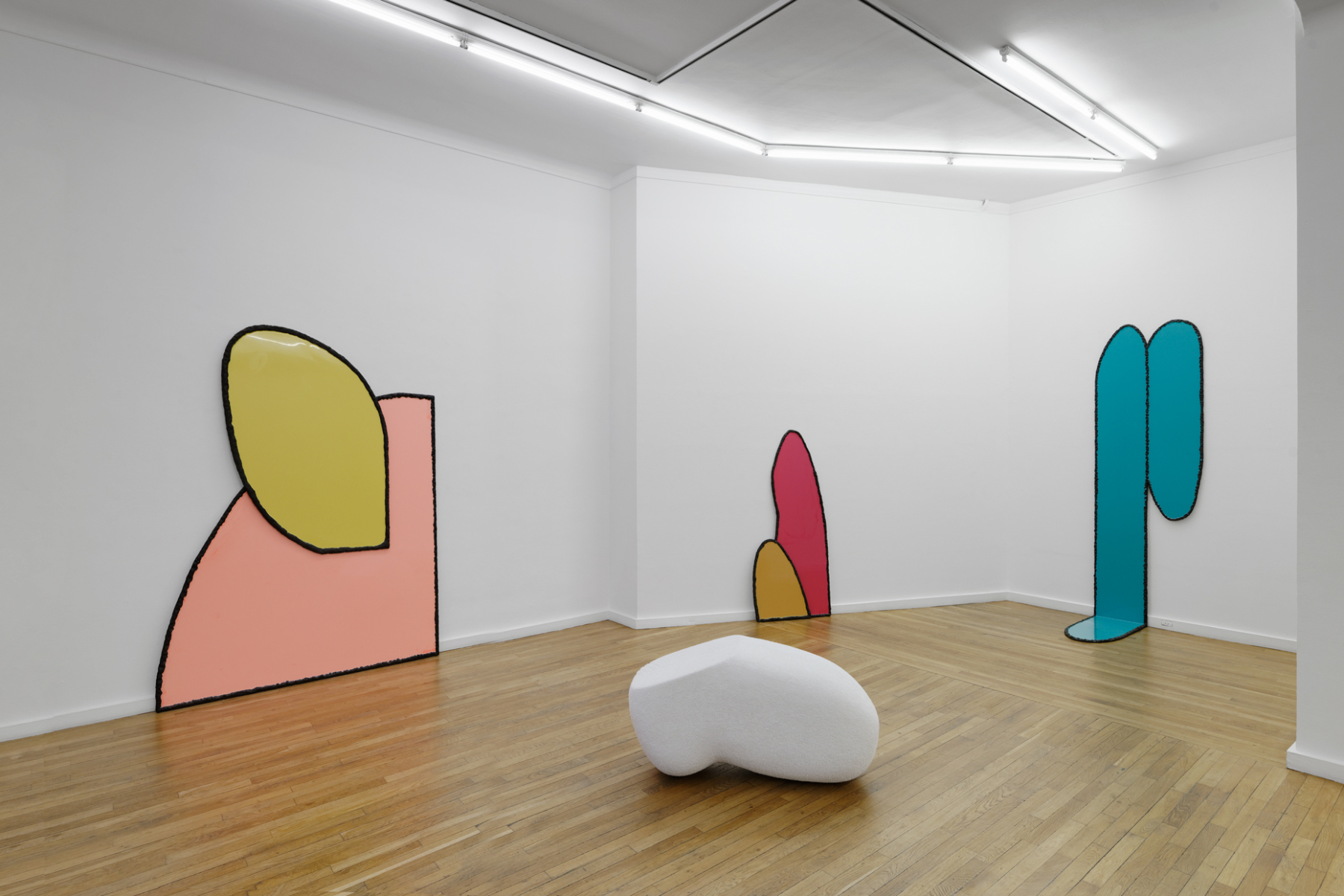 NICOLAS MOMEIN
TERRE-PLEIN
March 25 - May 29, 2021
---
Nicolas Momein's main interventions consist of identifying industrial or handicraft processes and techniques, undoing and re-enacting them while disconnecting them from their initial purpose. The results are work-objects deprived of their functionality that remain highly technical however, like obstacles on the production chain that would have retained their serial and repetitive dimension. But Momein's works rarely stand on their own: they belong to series for which the same gestures have been patiently reiterated with palpable care and love. It also seems obvious that, although the works belong to the same series, they are all different from one another. They are part of an open web of similes, with no beginning or end, ruled by neither model nor hierarchy, propagating one slight change after another.  
It is the case with the Terre-plein series: sculpture-paintings hung on the walls or placed at the intersection with the floor, like shiny colored stickers outlined by a sort of brownish or pale pink rounded shape. Made of materials used in the manufacturing of plastic figurines and industrial prototyping among others, these works seem to undermine the very idea of a mold or a pattern to reproduce. With their both manufactured and hand-made appearance, their rectilinear or rounded outlines, they seem in between two material states, liquid and solid, as if their edges prevented the dripping of some unpredictable fluid, prone to ever-changing shapes. The materiality of their surfaces, the movements of their synthetic medium visible here and there, the deeps and bumps of their edges are visually pleasing, everything that makes them unique artifacts, or what we might call "specific objects", in the sense of an object with unique characteristics. 
It is as if these artifacts were re-enacting the biological law of endless generations of forms irreducible to their functionality. The same goes with the Botoù koat series, which consists of clogs with cropped and painted toe caps made in collaboration with a craftsman from Brittany and exhibited in pairs on the floor. Here, the mere act of cropping shifts the sculptural dimension of these objects toward painting, colliding horizontal volume and vertical pictural plan. There are slight variations from one clog to another in the veins of the wood, but also in their cropping and collar style. Exterior and interior seem to blend, as is the case with the works of Gaines, a series of awkward semi-erectile semi-sloppy sculptures, between furniture and sculpture, presenting a mysterious content wrapped in terry cloth. Sewed together like patchworks, the terry clothes have all sorts of patterns that evoke past fashions, fragments of individual stories, as well as the tactile sensations associated with their fibers. Like in the Terre-plein and Botoù koat series, the works from Gaines hesitate between flat surface and volume in a reversible game where multiple virtual states are actualized, turning differences into an absolute potential.
Sarah Ihler-Meyer, February 2021.

1.
Inspired by « This is not a pipe » by Michel Foucault, published by the Fata Morgana editions in 2010. 
2. 
The concept of "specific object" was coined in 1965 by American minimalist artist Donald Judd to describe works that evade the traditional distinction between painting and sculpture. It is especially relevant to Nicolas Momein's work, which precisely stands between painting and sculpture, two-dimensional surfaces and tridimensional objects.
Artist :
Nicolas Momein
---
Visitor Information
Ceysson & Bénétière
23 rue du Renard
75004 Paris
Gallery hours:
Tuesday - Saturday
11am - 7pm
T: + 33 1 42 77 08 22