Daniel Firman
Put on your red shoes and dance the blues
October 21 - December 04, 2021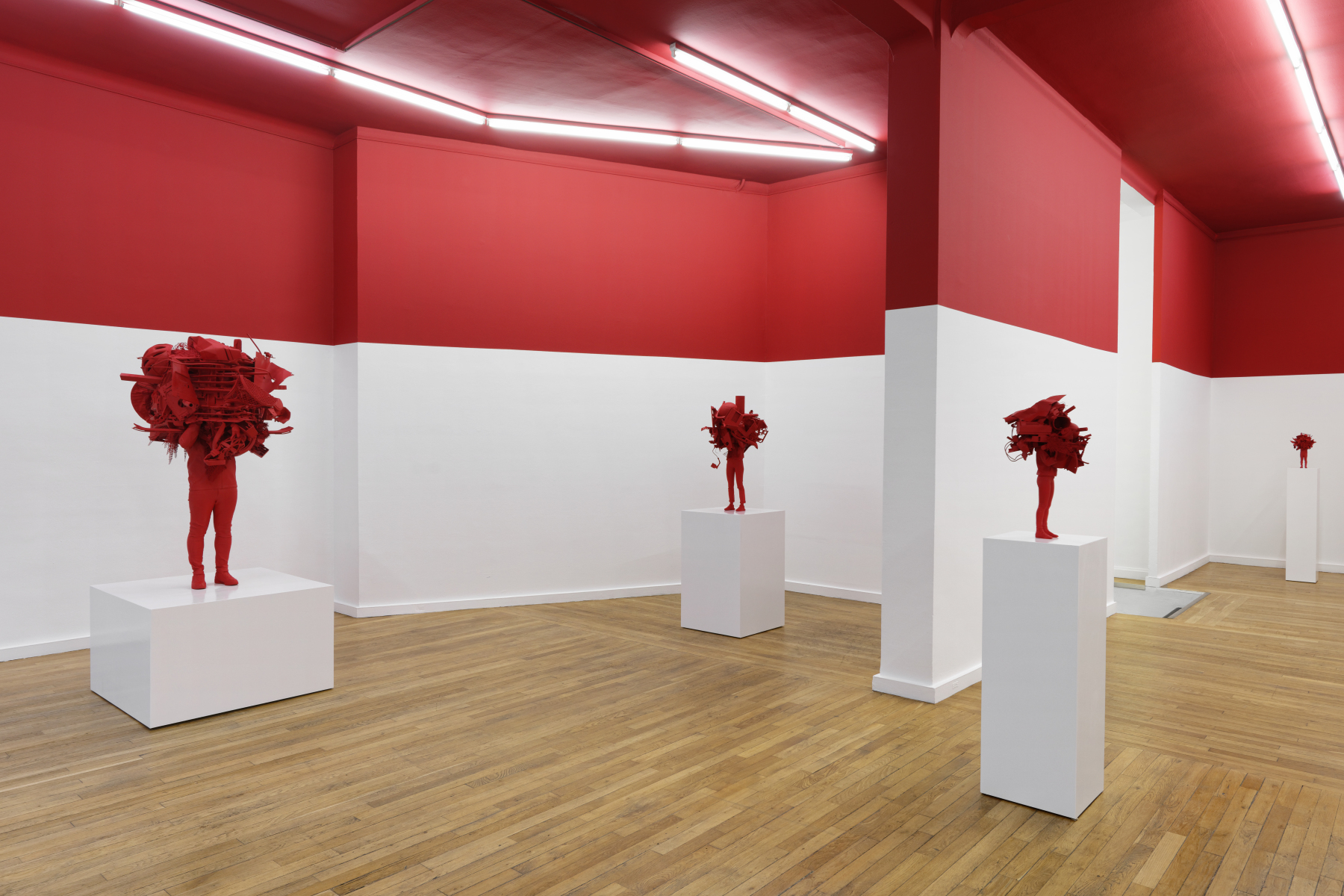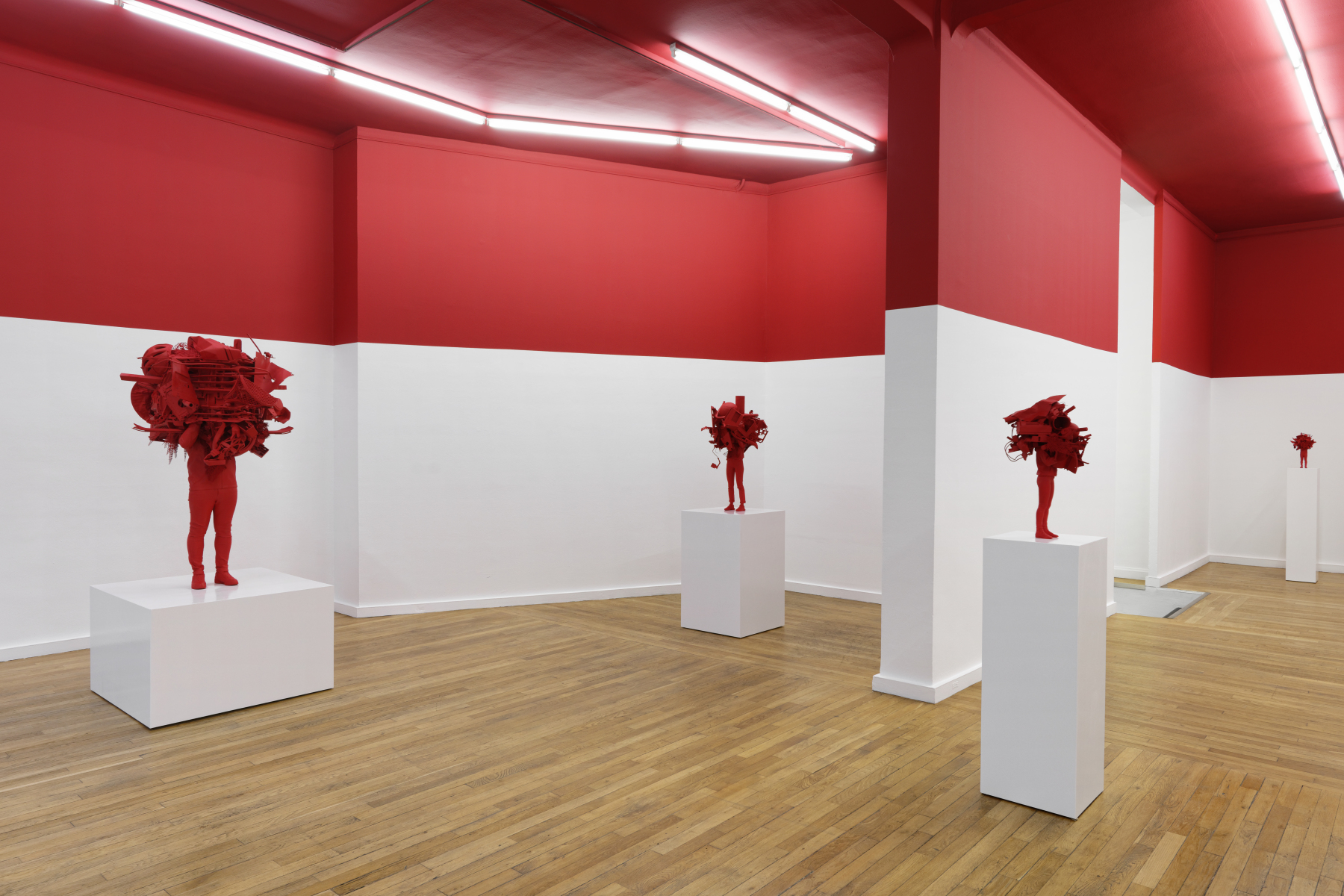 Daniel Firman
Put on your red shoes and dance the blues
October 21 - December 04, 2021
---
We don't want to reveal too much of Daniel Firman's upcoming exhibition, but one thing we can say is that visitors will be immersed in red and that their retina will remember it for a long time. Everything will be red! After years of working with this color, among others, Daniel Firman wanted to explore its unique power and vibrancy through an entire series. Out of all colors, red has been interpreted in the most diverse and paradoxical ways. For a long time, it was the color of popes and associated with power. Red is the color of seduction, passion, and anger, the color of blood. But it also symbolizes luck, happiness, fire, and, specifically in China, joy and good fortune. Daniel Firman studied it in length and discovered that this pigment was the oldest in the history of the arts, and from the beginning tied to subversion. "Red is the first tint humanity ever used in dyes and paints. Red pigments came from cinnabar, a ground quartz stone that produced an exceptionally vibrant red, which synthetic version became vermilion. It was a natural stone mostly found in Spain and Turkey, but it contained a lot of mercury and proved to be highly toxic. However, we know that the frescoes of patrician dwellings in Pompei were all made with cinnabar. Its toxicity was already known but the beauty of the pigment prevailed. People would take the risk of poisoning themselves only to enjoy the vibrancy of this pigment, which was considered more precious than gold." According to the artist, red used to be associated with the image of a delicious and irresistible poison.
For Daniel Firman, this aesthetic confrontation goes along with an ever-changing reflection around sculpture. Years ago, we met the protagonists of his Attitude and Gathering series. The artist is now adding a new dimension to this line of work. Two models, one female model and the artist himself, are shrunk to 50 cm, and represented carrying untransformed life-size objects. By integrating objects taken from society into his artworks while raising questions specific to the medium, Daniel Firman is exploring his intellectual affinities with New Realism and Pop Art. How does one hold an object? What is our physical memory of it? How do we define clutter?
"In sculpture, the reduction process is a way to perceive reality through different scales and disrupt our perception. Objects take on a new dimension due to the reduction of the model's body, which, here, serves as a yardstick. An inverted phenomenon takes place." The interpretation of these artworks is made all the more confused when they are shown as spare parts reassembled. In 2019, on the occasion of his exhibition Plastic Confetti at Ceysson & Bénétière in New York, Daniel Firman already experimented with a testimonial presentation of the Upper East Side through objects that residents and passers-by had left in the street. For this new solo show, the artist brings us to Turkey, where he leaves parts of the year. Over there, waste sorting is very different than in Europe or the United States. Waste pickers come to collect all the wastes and bring them to warehouses where they sort them out looking for any electrical and electronic components. "For a sculptor, it is totally fascinating to have access to these raw materials and formal matrices. They are the starting point of incredible stories. After carving complex structures out of matter to give shape to sculptural forms, it is a new language to me. These objects are testament to our society. But, by interconnecting these forms, I also want the viewer to daydream. These stories will also grow from the physical aura of the works and the feel for space and bodies."
Going beyond a classical aesthetic quest or the mere highlight of daily objects and contemporary behaviors, Daniel Firman has always been interested in sounds and breathe, in the things that take an implicit part in the creation of a work. In that regard, he often collaborated with dancers, analyzing the position and definition of the body at every movement, integrating invisible elements, sometimes using the word "tracing", meaning the residual form of a gesture. Even when apparently only focusing on objects, Daniel Firman would conceive them in a humanized manner, seeing endless possibilities to reverse positions in sculpture. As we all experienced, the lockdowns were periods of break and reflection, which the artist used to go back to his own foundations and develop new narratives. Of course, Daniel Firman continues to be involved in the world's current affairs and tackle topics -indirectly- related to the environment, upcycling and even geopolitics –Turkey being the destination of all of Europe's plastic wastes.
Besides, it might be useful to recall that Daniel Firman studied art at the time when the relational aesthetic emerged. The frontier of each medium suddenly blurred, and the necessity of the interaction with the audience arose, even in the ancestral and static practice of sculpture. Operating a switch-over or a sort of about-face assisted by the power of color, Daniel Firman is reconnecting with a more formal approach to his work to unfold new narratives. He developed a fascination for discarded objects, considered useless today, which he calls "unplug", and sees as entering a state of blissful happiness. By doing so, Daniel Firman pays a tribute to objects that are simply cumbersome, without meaning or purpose in the world... but that can be repurposed. In the end, the artist praises a sort of redeeming vacuity, which is fully revivified by the intensity and the obsessive presence of the red color.
Marie Maertens

Artist :
Daniel Firman
---
Visitor Information
Ceysson & Bénétière
23 rue du Renard
75004 Paris
Gallery hours:
Tuesday - Saturday
11am - 7pm
T: + 33 1 42 77 08 22