Wilfrid Almendra
Labor trouble
October 19 - December 02, 2023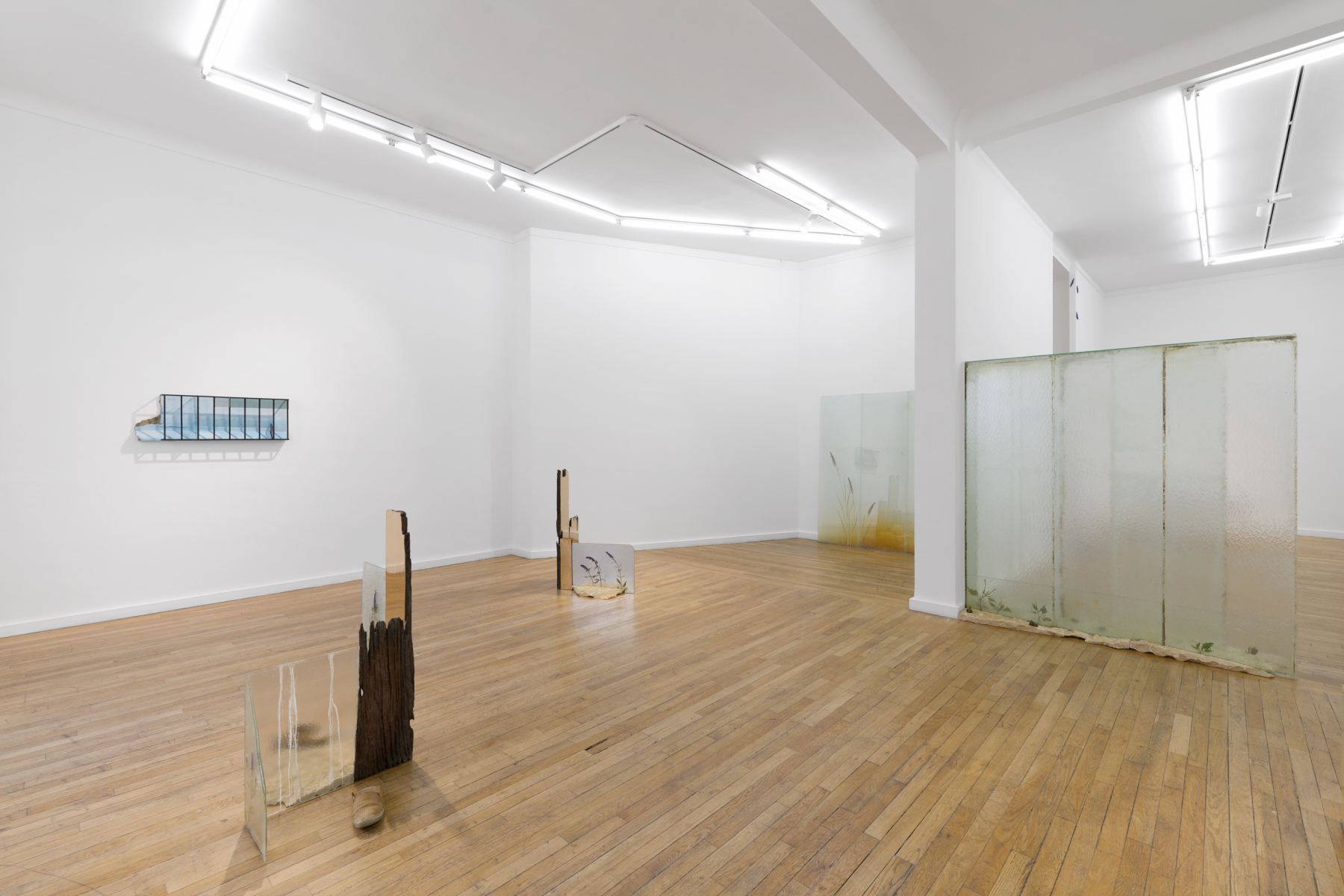 Wilfrid Almendra
Labor trouble
October 19 - December 02, 2023
---
Recently, Wilfrid Almendra's exhibitions have been confronting the audience with scenes that conjure up memories of movies, theater pieces, or opera - familiar reminiscences yet inexplicably frozen in action. Here, a rustic chair on which a gray work pants is folded, in turn piled under a crumpled, faded T-shirt after a day spent at the Rose workshop in Marseille. An intimate diorama sketching an everyday landscape encapsulated. There, another sturdy piece of furniture, an emptied shelf with a discarded sock whose softness is echoed by a sweatshirt lying flat on the floor. There is a powerful contraction effect here: the flattening of the heap. Indeed, the usual softness of these clothing items plays with our perception, since, in real life, it is all stiff, solid, and material. The bronze sculptures are playing with their academic history, , as we understand afterwards, but not only... 
Everything in these two scenes is a reference to the production and assembly moves inherent to Wilfrid Almendra's repeated tasks. On the other hand, we have a feeling of freeze-frame, of pause. A kind of underlying naturalism emerges from these environments, a raw hyperrealistic effect - far from ornamentation – attached to this deprived setting. This mysterious atmosphere brings about a sort of cognitive confusion between pleasure and unrest. This general feeling of dizziness could be provoked by a fleeting event, a family drama, or a small theft that could have occurred just before our arrival. What about pleasure? It could result from a controlled universe where everything could be minutely observed and scrutinized without shame. This voyeurism is permitted by this hyperrealistic object worn on the artist's body at work, marked and molded by the repetition of its wearing. Memory without emotion, modeled and shaped by a use of convenience.  
A sort of sensuality persists despite the disturbing discarding of these objects used for the completion of the artist's tasks or chores - gloves, garden shoes, undershirts, caps... The eroticism of the labor value exudes from the scattered figs on the ground. As they are ripe, crushed, and reveal their enticing pulp, they connect this libidinal flow with a sensory history of the labor force on construction sites and farms: the forgotten heroes of a working-class history, perhaps predominantly white. A counter-history of the history of art shaped by the heritage of the ready-made unfolds in front of our eyes. 
From construction sites on the outskirts where collective housing zones are being destroyed and built to... Wilfrid Almendra's studio, there is only a step. Not far from the family pavilion in Cholet where the artist grew up was the immense realm of possibilities provided by a landfill. An environment on the margins of city centers where allotment gardens, makeshift camps, and vegetable plots coexisted. Daily, this proximity bore witness to a possible urban reconfiguration, hand in hand with the perpetual dance of destruction before reconstruction. If our cultural history is marked by these "heroic" building episodes, especially after the war, we have few narratives recounting the history of architectural destruction or, more modestly, of dwellings. Between a sense of impermanence created by the repetition of building history and the duty to remember the ways of life of neglected territories - which generates improvised exchanges among people - Wilfrid Almendra's sculpture is shaped by his practice. 
This vulnerability mindset cares for materials discarded by the habits inherited from the grand narrative of progress and its corollary, modernization. Ultimately, the images associated with domesticity like herbariums, embroidery, cleansing and polishing baths are more familiar than the sovereign gesture that gives way to an erect object. Purple flowers and butterfly trees characteristic of abandoned areas gradually emerge, trapped at the base of Almendra's assembled cathedral glass plates and evoking remnants of makeshift greenhouses or unauthorized garden huts. Blue Klein slugs seem to have escaped from them, oozing songs of the world on the walls of the gallery's office where the upheaval of ecosystems seems imminent and terrifying.
Between the both lush and fantastic compositions of Henri Rousseau and the eerie phantom memories of Apichatpong Weerasethakul's Uncle Boonmee, Labor Trouble, Wilfrid Almendra's first exhibition at Ceysson-Bénétière, promises to be a turning point in our social consideration of the working-class and agricultural world, as well as for its implications in the realm of the living and the land of the living. 
Géraldine Gourbe, August 2023.
Artist :
Wilfrid Almendra
---
Visitor Information
Ceysson & Bénétière
23 rue du Renard
75004 Paris
Gallery hours:
Tuesday - Saturday
11am - 7pm
T: + 33 1 42 77 08 22