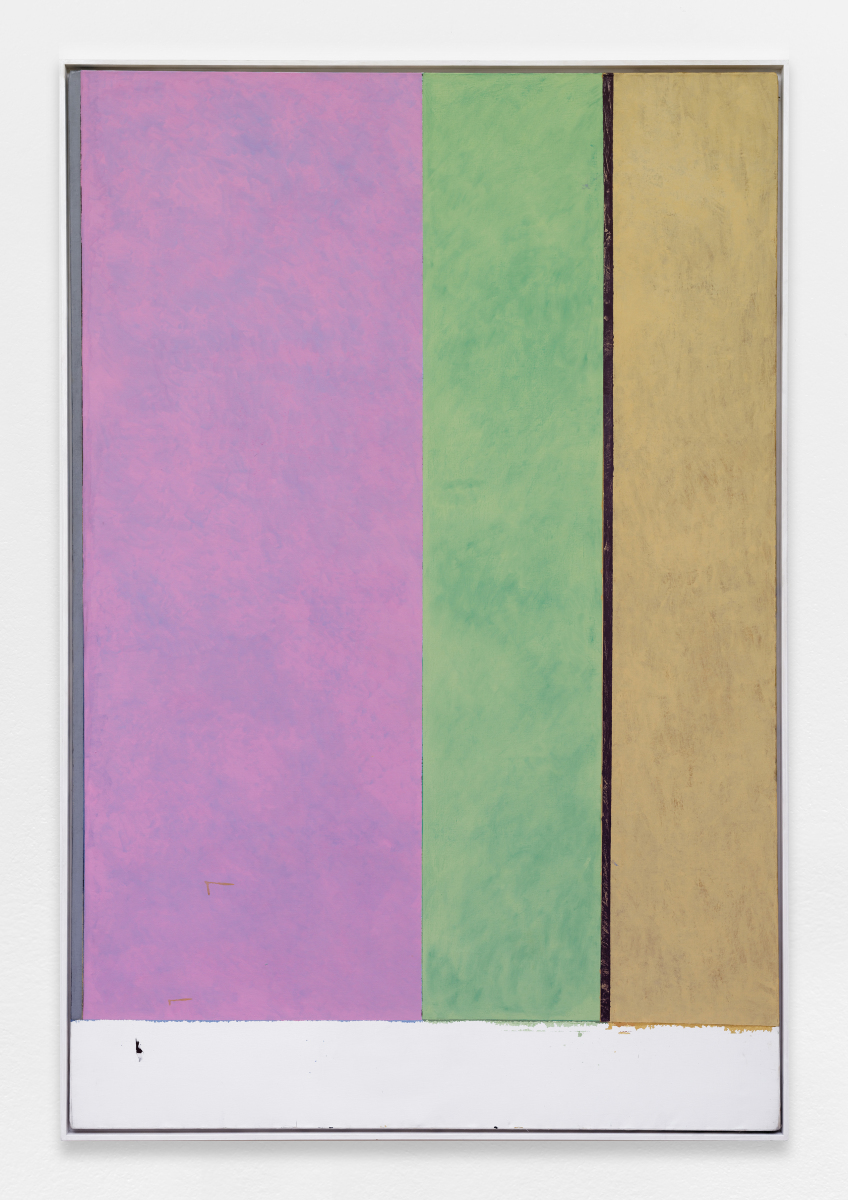 Sans titre
, 1973
Oil on canvas
195 x 130cm
76.77 x 51.18 in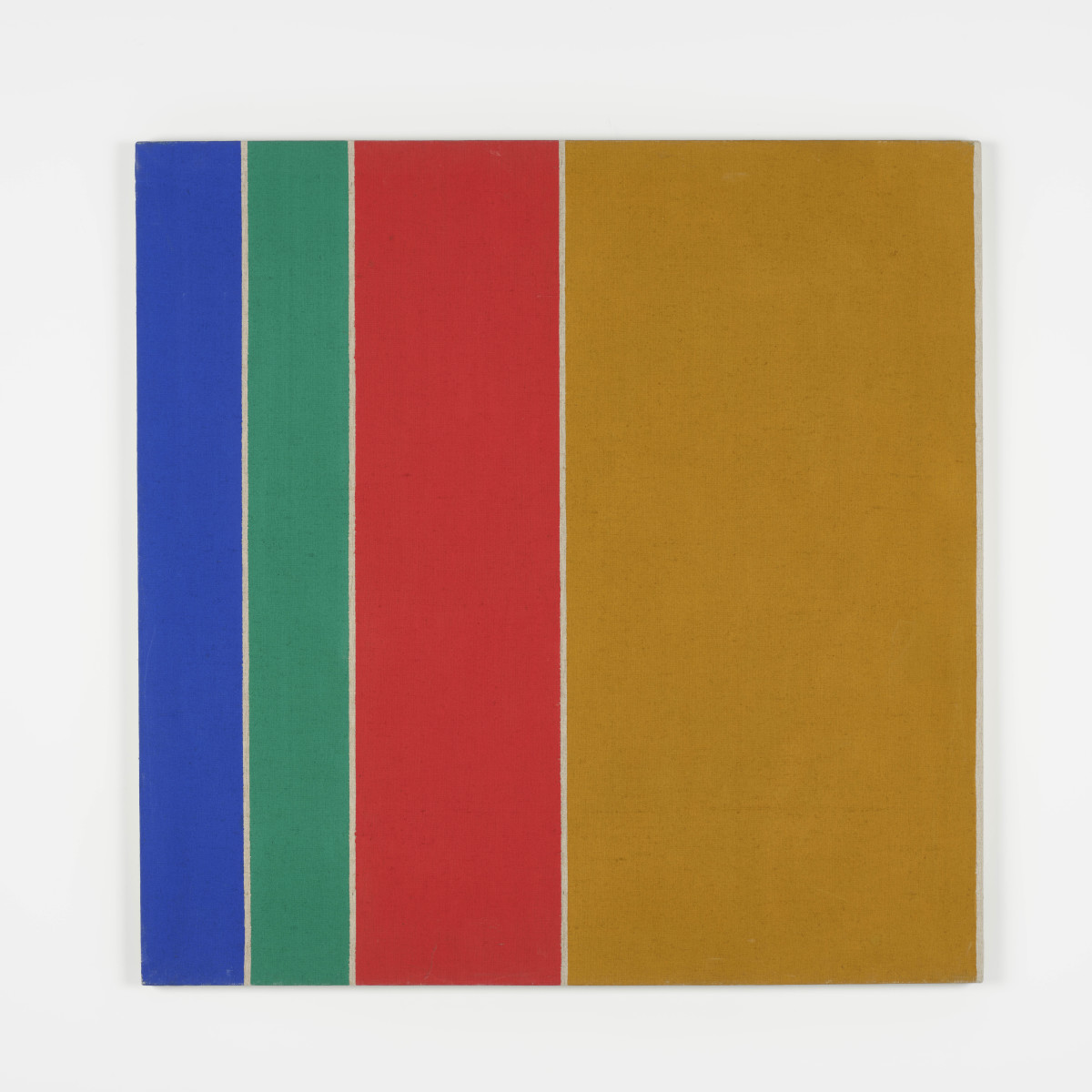 N°5
, 1971
Acrylic on canvas
100 x 100cm
39.37 x 39.37 in
Born in 1938, lives and works in Montpellier
Presentation
A founding member of the Supports-Surfaces movement with Jean-Pierre Pincemin and Claude Viallat, among others, he moved away from it in the mid-1970s to return to figurative painting. The deep imprint of the abstract years is always felt in the rigour of the compositions and the virtuoso arrangement of the colours.
Vincent Bioulès, unlike Daniel Dezeuze, Patrick Saytour or Claude Viallat, shares with Marc Devade the particularity of never having renounced stretched canvas. But he does not stick to such painterly conventions for tradition's sake. His concern is to work the surface and accentuate the notion of its extent rather than its materiality. In his work, the surface of color is merely a veil, a colored emanation of light, similar to Newman, Rothko, or Noland. Bioules' reference owes much to Clement Greenberg's notion of the painterly.
-Initially influenced by a painter such as Boron, it is inspired then by the pictorial work of Hantaî and Sam Francis. In April 1965, Bioulès produces a very impregnated table of the work of Matisse. By 1966, with the Biennale de Venise, he discovers American painting. In the middle of the Seventies, Vincent Bioulès ceases producing abstraction, and turns again to figurative painting, portrait and landscape. The production of a series of tables illustrating a fountain and a place of Aix in Provence are the proof of its return to the figuration (1976-1978). The fabrics of 1972-1973 will be windows, because it is through them that Bioulès proposes to explore the world. Starting from 1976, Bioulès reinvests the subject as he traverses the world. He questions painting, his function, the place of his development. Encumbered space gave way to the vacuum: the workshop is a cell removed from the accessories. Bioulès does not occupy the explicit place of manner; the tools, the portfolio and one or two small fabrics suggest simply the activity. It is at the end of years 78 that Bioulès is interested in the human figure. In a kind of logic of the hierarchy of the kinds and pictorial speculations, it paints portraits.
Public collections 
Centre national des arts plastiques, Paris, France
Musée d'art moderne de Céret, France
Frac Occitanie, Montpellier, France
Musée national d'art moderne - centre Pompidou, Paris, France
Centre communal d'art contemporain, Marseille, France
Musée d'Art moderne et d'Art contemporain de Nice, France
Les Abattoirs, Toulouse, France
Musée Picasso, Antibes, France
Musée d'art moderne et contemporain, Saint-Etienne, France
Frac Ile de France, Paris, France
CAPC Musée d'art contemporain de Bordeaux, France
Frac Franche-Comté, Besançon, France
Frac Provence-Alpes- Côtes d'Azur : Collection, Marseille
Collection Institut d'Art contemporain, Rhône-Alpes, Villeurbanne, France
Musée des Beaux Arts de Rennes, France
Musée d'art Moderne et contemporain, Strasbourg, France
Solo shows at Ceysson Gallery
Vincent Bioulès, Paris
June 02 - July 24, 2010
Group shows at Ceysson Gallery
Unfurled: Supports/Surfaces 1966-1976, Offsite
February 01 - April 21, 2019
Jacques Lepage. Dossier Supports/Surfaces, Paris
December 19, 2018 - January 26, 2019
SUPPORTS / SURFACES, Saint-Etienne
May 30 - August 30, 2008
Solo Shows
2019
Rétrospective
, Musée Fabre, Montpellier, France
2018
Au dedans/Audehors
, Galerie La Forest Divonne, Paris, France
2016
La lumière et le motif
, Galerie La Forest Divonne, Bruxelles, Belgique
2015
Peintures et dessins
, Galerie La Forest Divonne, Paris, France
Vincent Bioulès en vacances, la Lozère aux sources de l'inspiration
, Maison Consulaire, Mende, France
2014
David et Vincent Bioulès
, Commissaire : Régine de Boussac, Château de Jau, Cases de Penes, Pyrénées Orientales, France
Le débarquement à Cythère
, Musée des beaux-arts de Caen Auditorium Angèle et Roger Tribouilloy, Bondy, France
2013
Galerie Vieille du Temple, Paris, France
2012
Maguelone
, Galerie Hélène Trintignan, Montpellier, France
Musée Ingres, Chemins de Rome à Montauban, Montauban, France
Musée Fabre, Montpellier, France
2011
Roma
, Cabinet de dessins Jean Bonna, École Nationale Supérieure des Beaux-Arts de Paris, Paris, France
2010
Galerie Vieille du Temple, Paris, France
Galerie Ceysson & Bénétière, Paris, France
2009
Face Nord
, Galerie Alain Paire, Aix-en-Provence, France
Vincent Bioulès et la Villa Médicis, Les dessins romains
, Hôtel Estrine, Saint-Rémy-de-Provence, France
Chapelle des Gobelins, Paris, France
2008
Choses vues
, Galerie Hélène Trintiqnan, Montpellier, France
2006
D'Orcival à Aigues-Mortes
, Galerie Vidal-Saint Phalle, Paris, France
Espace et Paysage, 1966-2006
, Musée d'Art Moderne de Céret, Céret, France
L'Atelier gris
, Musée des Tapisseries, Aix-en-Provence, France
Pas à pas à travers l'Atelier Gris
, Galerie Alain Paire, Aix-en-Provence, France
2005
Figures
, Galerie Athanor, Marseille, France
2004
Approche d'Aigues-Mortes
, Chapelle des Capucins, Aigues-Mortes, France
Galerie Hélène Trintignan, Montpellier, France
2003
Le Pic Saint-Loup, l'autre montagne
, Galerie Alain Paire, Atelier Cézanne, Aix-en-Provence, France
Le Pic Saint-Loup
, Galerie Hélène Trintignan, Montpellier, France
2002
Un autre Bioulès
, Château Borély, Marseille, France
Nus, paysages et mythologies
, Villa Tamaris, La Seyne-sur-Mer, France
A l'intérieur des terres
, Galerie Hélène Trintignan, Montpellier, France
Galerie Vidal Saint-Phalle, Paris, France
Fondation Regards de Provence, Marseille, France
2001
Portraits, nus, paysages et mythologies
, Musée d'Art Roger-Quilliot, Clermont-Ferrand, France
Autour de Vincent Bioulès : Vincent Bioulès avant Supports /Surfaces, 1958-1970
, Chapelle Ursulines, Quimperlé, France
Œuvres graphiques, parcours, 1955-2000
, Galerie Tal-Coat, Hennebont, France
Le paysage à Marseille dans les années 1990
, École Supérieure d'Art, Lorient, France
Portraits, nus, paysages et mythologies
, Musée d'Art Roger-Quilliot, Clermont-Ferrand, France
2000
Paris Nus, paysages et mythologies
, Espace Ecureuil, Toulouse, France
Au fil de l'eau, Les Fontaines d'Aix
, Musée des Tapisseries, Aix-en Provence, France
Mythologies
, Galerie Vidal Saint Phalle, Paris, France
1999
Landscapes, seaside views
, Thibault et Mariana de Saint Phalle, Alliance Française de Napoli,Florida, United-States
Vincent Bioulès, jalons, 40 ans de peinture
, Centre Rhénan d'Art Contemporain Altkirch, Alsace, France
1998
Dessins sur le temps liturgique de l'Avent et Noël, Pâques, Pentecôte, La Toussaint
, Galerie Saint-Séverein, Paris, France
Les Années Supports/Surfaces dans les collections du Centre Georges Pompidou
, Musée du Jeu de Paume, Paris, France
Galerie Charlotte Moser, Genève, Switzerland
1997
Sur le motif II ou le Port de Carnon
, Galerie Hélène Trintignan, Montpellier, France
1996
La Mer, Vacances bleues
, Marseille
Peintures et dessins, 1966-1995
, Institut d'Arts et Techniques de Bretagne, Occidentale, Brest, France
Sur le Motif I
, Galerie Vidal Saint Phalle, Paris, France
1995
Le paysage à Marseille dans les années 90
Galerie Athanor, Marseille, France
Vincent Bioulès : Parcours 1965-1995
, Musée de Toulon, France
La peinture en vacances
, Galerie Hélène Trintignan, Montpellier, France
Vincent Bioulès : Parcours , 1965-1995
, Pavillon du Musée Fabre, Montpellier, France
1994
Dessins-Peintures
, École Régionale des beaux Arts, Valence, France
1993
Nues
, Galerie Vidal-Saint Phalle, Paris, France
Espaces et Figures
, Galerie l'Oeil écoute, Lyon, France
1992
Nues
, Musée d'Art Moderne, Saint-Etienne, France
1991
Peintures 1958-1991 - Le tableau, la fenêtre … -
Centre d'Art Contemporain, Saint-Priest, France
Musée Picasso, Antibes, France
Galerie Hélène Trintignan, France
1990
Vincent Bioulès, rétrospective de l'œuvre graphique, 1957-1990
, Musée de l'Abbaye Sainte-Croix, Les Sables-d'Olonne, France
Portraits, nus et paysages (œuvre graphique)
, Galerie de l'école nationale supérieure des Baeux-Arts, Paris, France
1988
Galerie Daniel Templon, Paris, France
Portraits
, Galerie d'Art Contemporain Saint Ravy-Demangel, Montpellier, France
Peintures-Dessins
, Galerie Hélène Trintignan, Montpellier, France
1987
Maison des Arts, Evreux, France
Bioulès au quotidien, Musée de Collioure, France
1986
Théâtre Municipal, Brive-la-Gaillarde, France
1985
Galerie Daniel Templon, Paris, France
1984
Galerie Medamothi, Montpellier, France
Institut français, Saragosse, Spain
Galerie d'Art Contemporain des Musées de Nice, Nice, France
1982
Galerie Robert Miller, New York, United-States
1981
Galerie Daniel Templon, Paris, France
1979
Galerie Daniel Templon, Paris, France
Neue Werke, Galerie Bruno Bischofberger, Zürich, Switzerland
1978
Galerie Daniel Templon, Paris, France
Galerie Pierre Dainat, Montpellier, France
1977
Musée Fabre, Montpellier, France
Galerie Pierre Dainat, Montpellier, France
Galerie Daniel Templon, Paris, France
1976
Galerie Adda, Marseille, France
1975
Galerie Aarp, Paris, France
La peinture en vacances
Galerie Pierre Dainat, Montpellier, France
1974
Galerie Rencontres, Paris, France
Galerie Flux, Perpignan, France
1972
Pages de carnets
, Galerie Pierre Dainat, Montpellier, France
1967
, Montpellier, France


Group Shows (sélection)

2019
Back To Simple Radical Gestures - The Supports/Surfaces Movement: Within And Around, Tsinghua University Art Museum, Beijing, China
Unfurled: Supports/ Surfaces 1966-1976, curated by Wallace Whitney, MOCAD, Detroit, USA

2018
ART PARIS ART FAIR, Grand Palais, Paris, France

2017
Tout balayer, tout assimiler / Autour de Supports/Surfaces, Galerie La Forest Divonne, Paris, France
Exposition de groupe, Galerie La Forest Divonne, Paris, France
ART PARIS ART FAIR, Grand Palais, Paris, France
1 an déjà!, Galerie La Forest Divonne, Bruxelles, Belgium
Biennale d'Issy Les Moulineaux, France

2016
Passion Partagée, Galerie La Forest Divonne, Bruxelles
ART PARIS ART FAIR, Grand Palais, Paris, France

2014
Mythologies, Commissaire : Caroline Joubert, Musée de Caen, Normandie, France
Frontalité, approches du paysage (suite), Centre d'art du Château de Poncé, Poncé sur le loir, France
ART PARIS ART FAIR, Grand Palais, Galerie Vieille du Temple, Paris, France

2013
Frontalité, approches du paysage, Galerie Vieille du Temple, Paris, France
ART PARIS ART FAIR, Grand Palais, Galerie Vieille du Temple, Paris, France

2011
Salon du Dessin Contemporain, Carrousel du Louvre, Galerie Vieille du Temple, Paris, France
Papier ! Galerie Vieille du Temple, Paris, France

2010
FIAC, Ceysson & Bénétière, Paris, France

2008
Supports / Surfaces, Ceysson & Bénétière, Saint-Etienne, France

1998-2000
Les Années Supports / Surfaces dans les collections du centre Georges Pompidou, Musée du Jeu de Paume, Paris, France
Maison de la culture, Namur, Belgium
Musée Sztuki, Lodz, Poland
Palazzo delle Esposizioni, Roma
Musée d'art contemporain, Tokyo, Japan
Centro Cultural Banco do Brasil, Rio de Janeiro, Brazil

1978
10 ans, Galerie Daniel Templon, Paris, France

1974
Marginale 74, Vielle Charité, Marseille, France.
Nouvelle Peinture en France pratiques/théories, musée d'Art et d'Industrie, Saint-Etienne, France.
Peindre: Bilan-Projets, galerie Rencontres, Paris, France.
Musée d'Art et d'Histoire, Chambery; Kunstmuseum Luzern, Lucerne. L'exposition poursuivra son itinérance jusqu'en 1976, France.

1973
Le Support, galerie AARP, Paris, France.

1972
Mostra del Larzac, La Couvertoirade, Larzac, France.
Supports/Surfaces, Centre Lacordaire, chapelle des Dominicains, Montpellier, France.

1971
VIIe Biennale de Paris, Parc floral, Vincennes: Supports/Surfaces -Peintures cahiers théoriques, France
Supports-Surface, exposition et animation, Théâtre de Nice, France.
Lancement de Peinture cahiers théoriques n°1, galerie Yvon Lambert, Paris, France.
Art et Prospective, groupe Supports/Surface, Théâtre de la Cité universitaire, Paris, France.

1970
Support(s)-Surface(s), ARC, musée d'Art moderne de la Ville de Paris, France
Rencontres poétiques, ABC Production, expositions en plein air, Coaraze, France
Vision 70, Perpignan, France
Rencontres, divers lieux, Limoges, France.
Environ 2 - Aux arts citoyens!, bibliothèque municipale, Tours, France.
100 artistes dans la ville, exposition en plein air et en salle, Montpellier, France.
Action poétique, ABC Productions, Foyer du théâtre, Perpignan.
De l'unité à la détérioration, galerie Ben doute de tout, Nice, France.

1969
Exposition en plein air au square de Palavas, ABC Productions, Montpellier, France.

1968
Ve Festival des arts plastiques de la Cote d'Azur, Antibes et Nice, France.
Jeune peinture, galerie La Gerbe, Montpellier , France.

1966
Jeunes peintres de l'école de Montpellier, musée Fabre, Montpellier, France.
IMPCAT I, musée d'Art moderne, Céret, France.

Public Collections

Centre Georges Pompidou, Paris, France
CAPC, Bordeaux, France
Musée Cantini, Marseille, France
Musée Fabre, Montpellier, France
Musée d'Art Moderne, Céret, France
Musée d'Art Moderne, Saint Étienne, France
Musée de Toulon, France
MAMAC, Nice, France
Musée Picasso, Antibes, France
Musée d'Art Moderne et Contemporain, Strasbourg, France
Musée des Beaux-Arts de Strasbourg, France
CNAP, Paris, France
MAMAC, Nice, France
Frac Auvergne, Clermont-Ferrand, France
Frac Rhône-Alpes, Villeurbanne, France
Frac Franche-Comté, Besançon, France
Frac Île-de-France, Paris, France
Frac Occitanie, Montpellier, France
Frac Paca, Marseille, France
1981
Marcelin Pleynet, Galerie Templon, Paris

1986
Philippe Dagen, Théâtre, Brive-la-Gaillarde

1987
Didier Ottinger, Musée de Collioure

1990
Catherine et Stéphane Guégan, Rétrospective de l'œuvre graphique 1957-1990, Musée des Sables d'Olonne

1991
Didier Ottinger, Peintures 1958-1991, Centre d'Art Contemporain de Saint-Priest et Musée Picasso d'Antibes

1992-93
Bernard Ceysson, Jacques Bauffet, Musée d'Art Moderne de Saint-Etienne

1995
Nathalie Bertrand, Bernard Ceysson, Yves Michaud, Jean-Roger Soubiran, Musée de Toulon
Vincent Bioulès, "Peindre entre les lignes", Collection Ecrits d'artistes (énsp-a), Paris
Supports/Surfaces au delà de la peinture
Connaissance des arts - Jean-François Lasnier
November 23, 2017
Voir le fichier
Déconstruire disent-ils
Les Inrockuptibles - Ingrid Luquet-Gad
October 25, 2017
Voir le fichier