Franck Chalendard
Furtives. Peintures 2016-2023
September 15 - November 25, 2023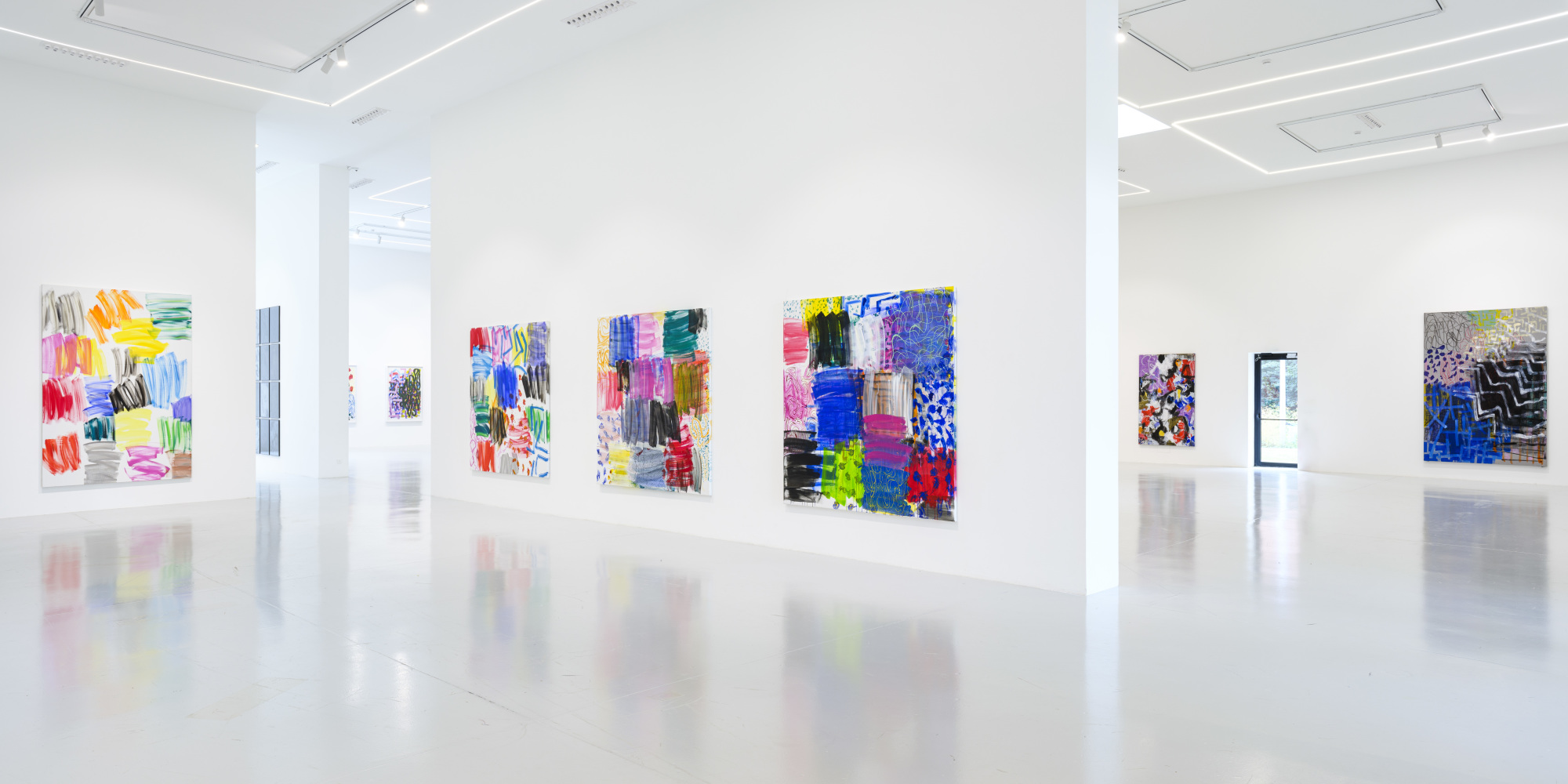 Franck Chalendard
Furtives. Peintures 2016-2023
September 15 - November 25, 2023
---
Franck Chalendard: hard-hitting abstraction lives on

Committed to pure abstraction, Chalendard has never wavered from it. From decade to decade, his work continues to renew itself. It is his perseverance in experimentation that gives him this grace, or perhaps the impertinence of his significance. Chalendard succeeds in ruthlessly exploiting the ornamental regime – repetition, variation, colour – without his compositions becoming mere decorative motifs. On the contrary, for a whole period, when he used the upholstery fabrics produced by Thévenon as a support, he took great delight in destroying the motif. Chic prints, sophisticated jacquards, revisited Jouy prints: it was in this luxurious repertoire that Chalendard attacked prettiness and the conventions of pleasing the eye. Among his most successful experiments were a number of paintings on a jacquard fabric called "Baby". Not at all intended for nursery use, this high-relief terry-loop weave on a tweed-like canvas background features a discreet black labyrinth motif.

The artist boldly renders inoperative the decorative purpose of this motif and all the other materials he uses, diverted from their vocation as furnishing textiles. To counteract any ornamental potential of the "Baby" fabric, Chalendard makes an almost languorous use of patches of colour and lines that are not quite straight. In this way, the canvas is transformed into a painting.

Among the recent series, Wax and Batik also bear titles that evoke textiles, but from other continents, as already with the Madras of 2011. Both Indonesian batik and African wax fabrics use a wax-dyeing technique to create their intricate patterns and designs. Batik often features traditional Javanese motifs made up of geometric shapes such as diamonds, triangles and stars, as well as stylised plant and animal motifs. African wax fabrics range from traditional African symbols and motifs to more modern, abstract designs.

In fact, the ambitious Wax paintings bear only a distant relationship with African textiles. It would take a connoisseur's culture, not a tourist's, to discern the similarities between Chalendard's forms and the loincloth motifs. In the case of batiks, the distance is even greater: there is no congruence of form, and no possible comparison between the bright, contrasting colours of Chalendard and the monochromatic tendency of Javanese fabrics. With all these cultural and geographical evocations, there is a danger of being overwhelmed by this kind of decorative inspiration. But this is not the case: Chalendard's titles are a pretext, even a good joke. He knows nothing about warp or weft, bogolan or kente fabrics. For him, titles are not clues to guide the eye; they simply function as filing cabinets. Haunted by the ambiguity of the picture space, a glutton for visual experiences, a sensualist in his workmanship, Chalendard is not a talker, but a painter.

Rachel Stella

Artist :
Franck Chalendard
---
Visitor Information
Ceysson & Bénétière
10 rue des Aciéries
42000 Saint-Étienne
T: +33 4 77 33 28 93