Sandra Lieners
Interlude
December 11, 2021 - February 19, 2022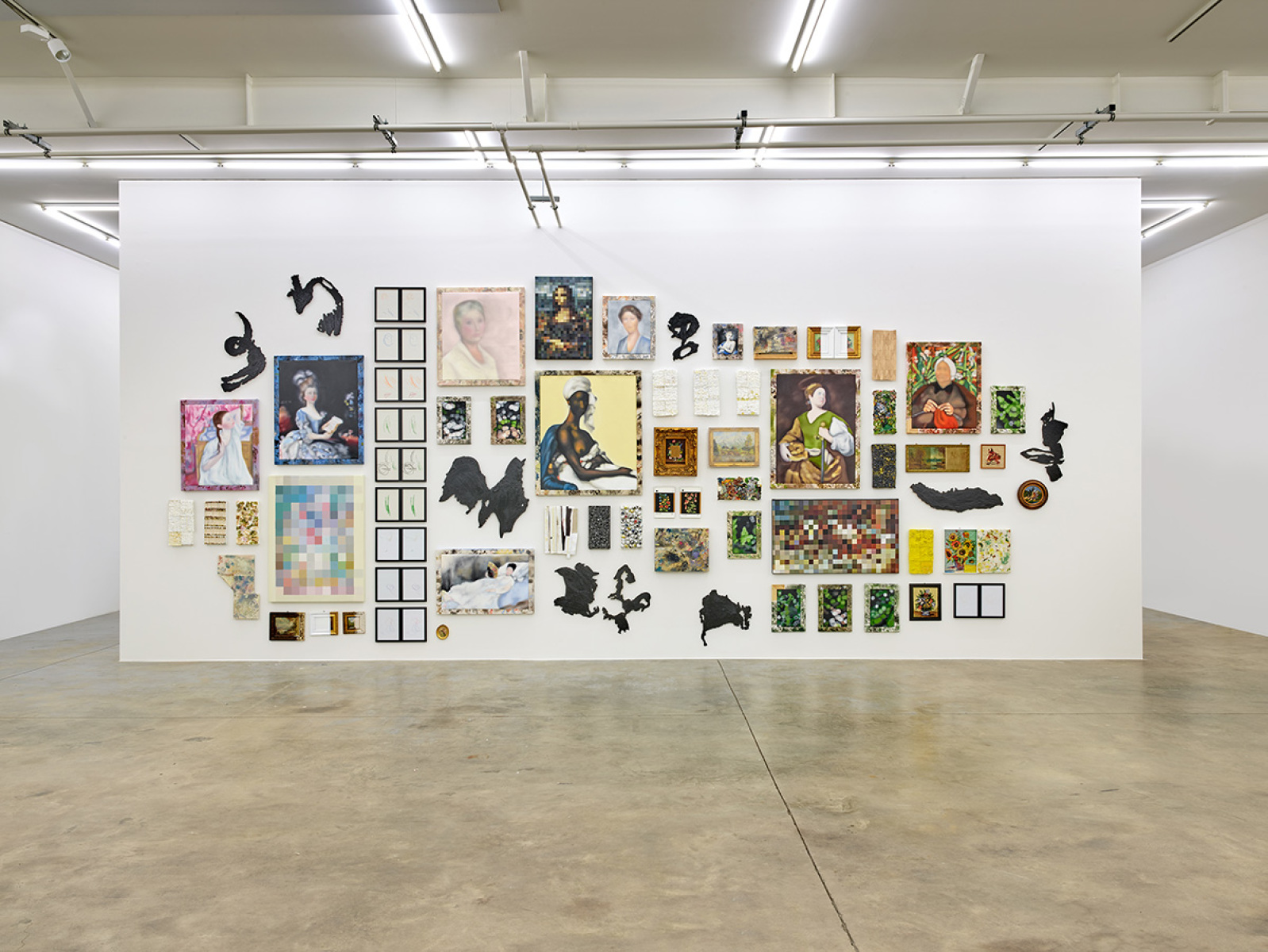 Sandra Lieners
Interlude
December 11, 2021 - February 19, 2022
---
Le pouvoir mémoriel de la peinture

Sandra Lieners's technique is central to her practice, oil painting used as a noble and traditional reference to art history. But her aesthetic as well as the content of her works counterweight these connotations by evoking digitalization, kitsch, and the context of their production. Her work develops a critical approach to the role of analogy and painting in our contemporary societies, erasing the frontier between figuration and abstraction through a play on blurriness, framing, and pixelization.
Sandra Lieners teaches us to question and test our visual certainties when looking at a figurative painting and to seek out abstraction. Referring to street art and urban collages -with her torn posters (or so it seems)-, Sandra surprised us by her pictorial mastery, challenging the veracity of visual instantaneity. Viewers revel in scrutinizing every detail of her works, endeavouring to distinguish the true from the false, collages from their faithful reproductions, photographs from blurred landscapes, virtual imagery from fine portrait work. Without forgetting the abstract elements that appear as the final touch of the paintings. And this is no surprise when we are aware of the fastidious preparatory work the artist undertakes for each new creation. Today, it seems obvious that these "Witnesses" from her preparatory phase would become a new form of artistic expression. Since 2012, Lieners has integrated these "Witnesses" into her practice -sometimes isolated, suspended in the centre of the exhibition space, as diptychs or polyptychs, and most recently as framings. The series "The rest is history" furthers this approach by providing a uniform framework for these random remains. Rhythm, repetition, and accumulation impact our formal relationship to them. Here, both the pictorial matter and the artist's gesture become visible.
The series "The attic" reactivates the lost aesthetic of past generations. These mementos are either anonymous or personal, drawing from the artist's family history, and revamped with contemporary references to digitalization, social media, and our relationship to images in general. They are thus paradoxically revived thanks to their peculiarity and stigmas, hybridized with the history of art. The contrast between high and low art is emphasized through their presentation in a white cube setting. Lieners introduces these contrasts into the art world through works imbued with a calm, obvious, and sometimes ironical radicality. Narrative readymades, spectral paintings, abstraction, figuration… Lieners's works result from the impact of reality on representational space, as is shown by her "Witnesses" and recent "supersize" works (which enlarge details of the "Witnesses"). Accident and premeditation, speed and slowness, flexibility and rigidity are therefore set in opposition – a detail becoming monumental through the means of various interventions while being returned to its initial pictorial form.
In the new series we wished to showcase in the Interlude exhibition, Sandra Lieners puts aside her usual abstraction in favour of something resembling figuration. We have the impression there is a narrative thread in the selection of paintings featured. There is a connection between the various phases in the artistic career of this young artist that brought her to where she is now, namely her blurred portraits – inspired by the works of overlooked female artists who painted women in the portraitist vein of their time. The "Women painting women" series reflects on the representation of women in the history of art. These artworks appear to be figurative while remaining somewhat abstract, revealing the memorial power of paintings, the pictorial gesture, and the value we place on original artworks.
One question arises: why engage in painting in an era saturated with digital images? Because it is subjective and emotional. Because it requires time. Because it has depth, and because it establishes non-verbal communication with the viewer. It is proof of a haptic creative gesture evoking an interval between action and reaction.
This is both an exhibition and a confrontation with Sandra Lieners who proposes a straightforward display of her works articulated around defining moments of her practice.
Maëlle Ebelle & Sandra Lieners
English proofreading: Simon Welch