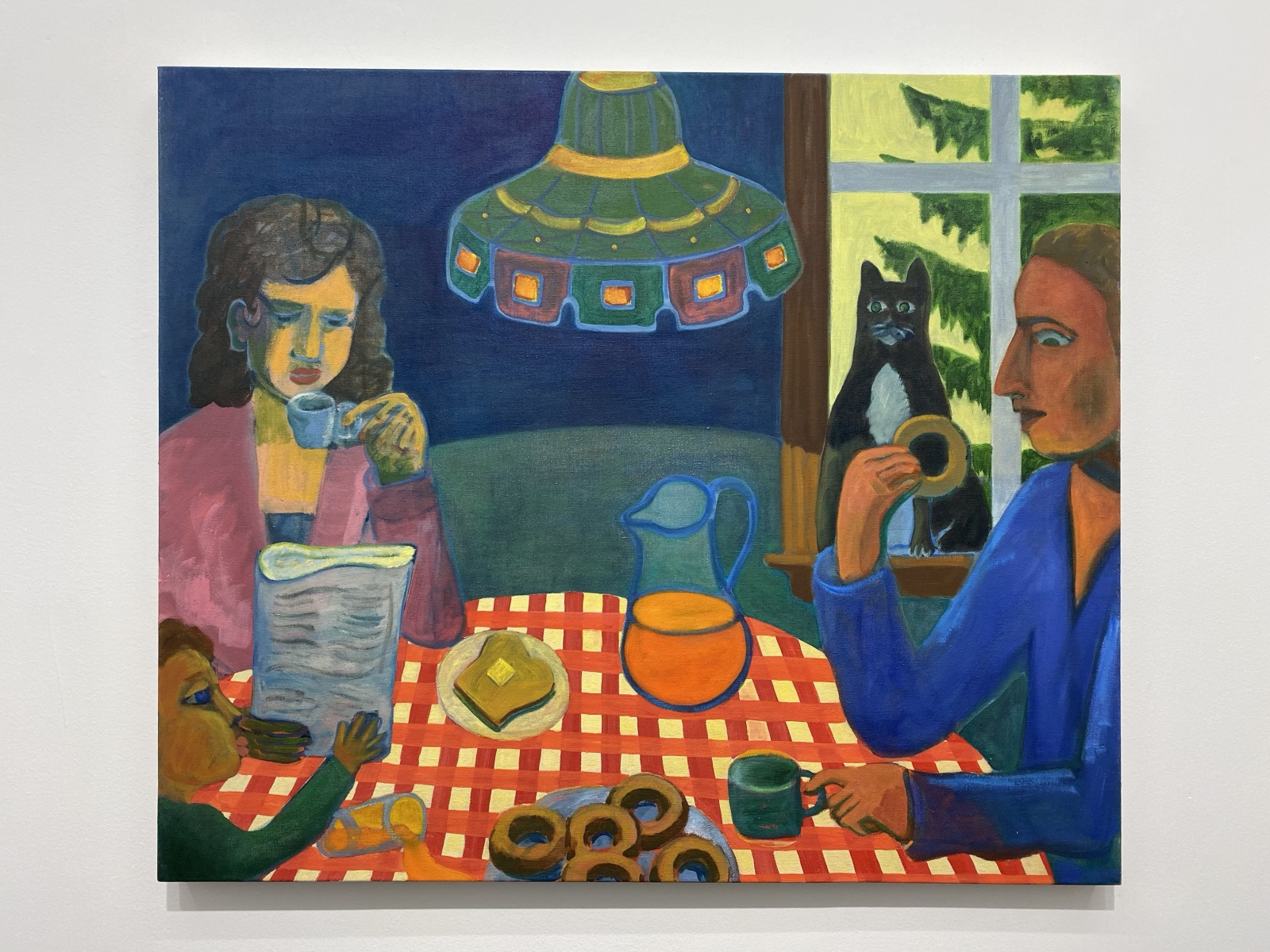 Breakfast at 6 am
, 2019
Oil on canvas
81.92 x 96.52cm
32.25 x 38.00 in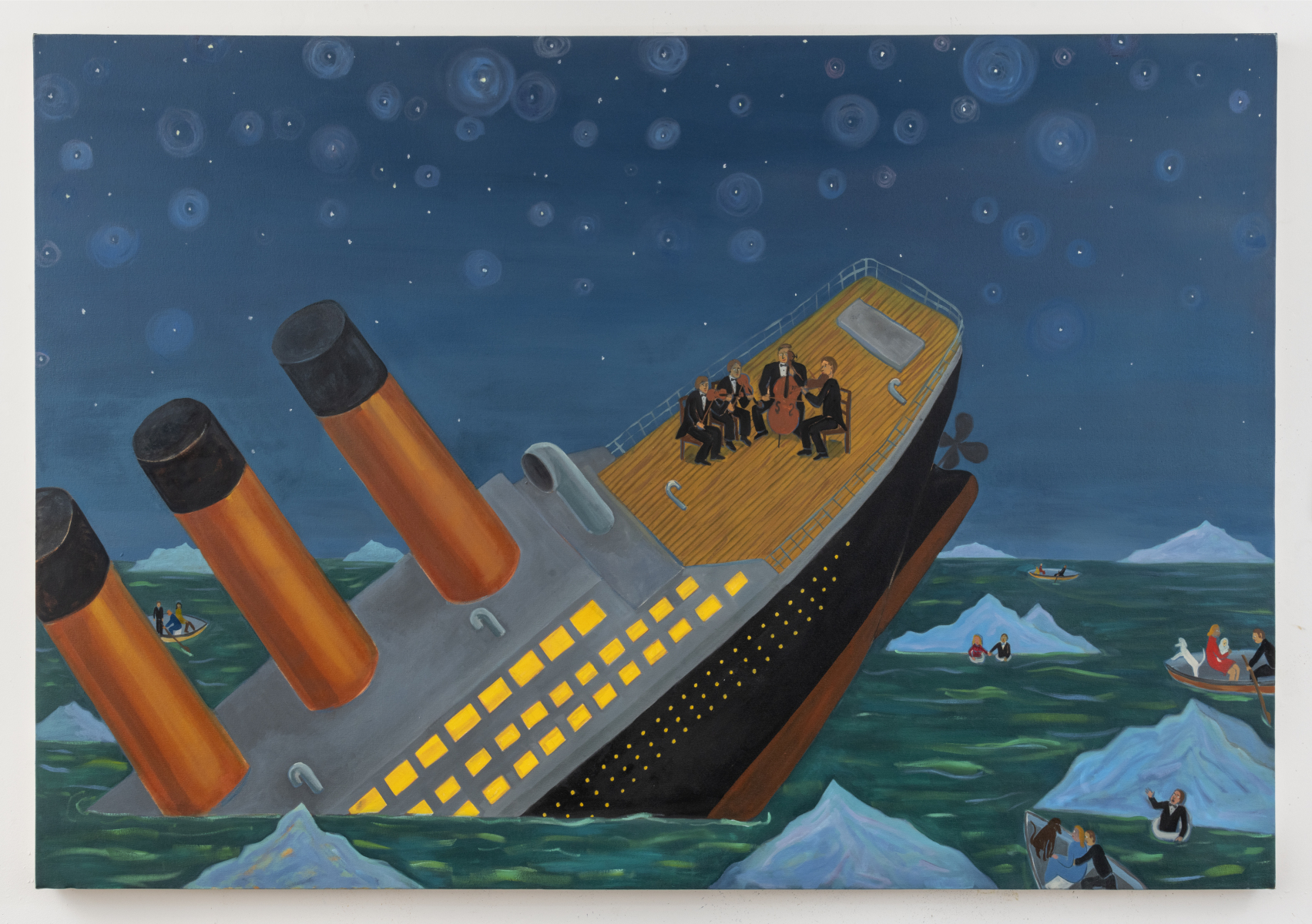 Titanic
, 2019
Oil on canvas
157.48 x 231.14cm
62.00 x 91.00 in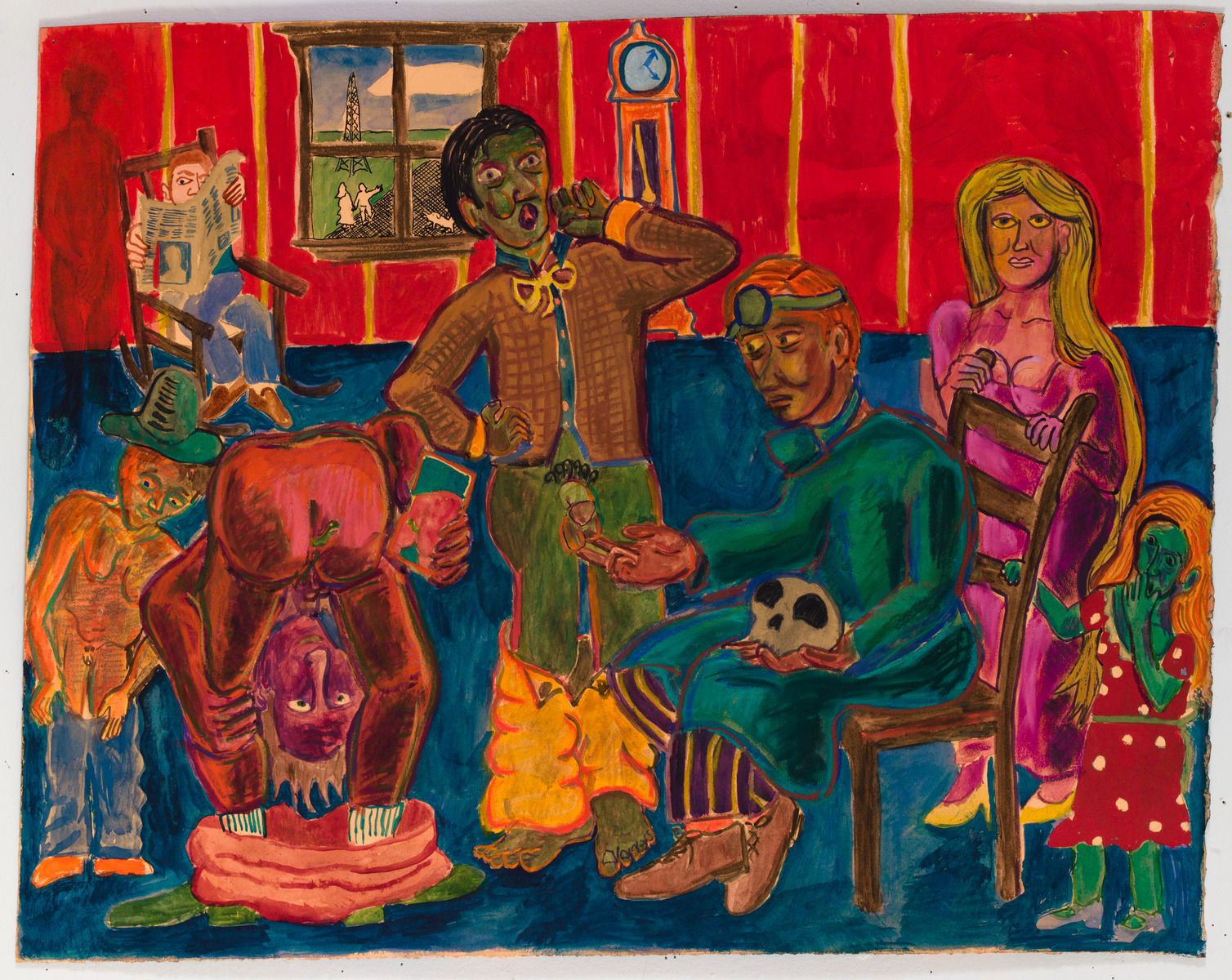 The Physical Checkup
, 2015
Ink, watercolor and pastel on paper
50.08 x 63.5cm
19.72 x 25.00 in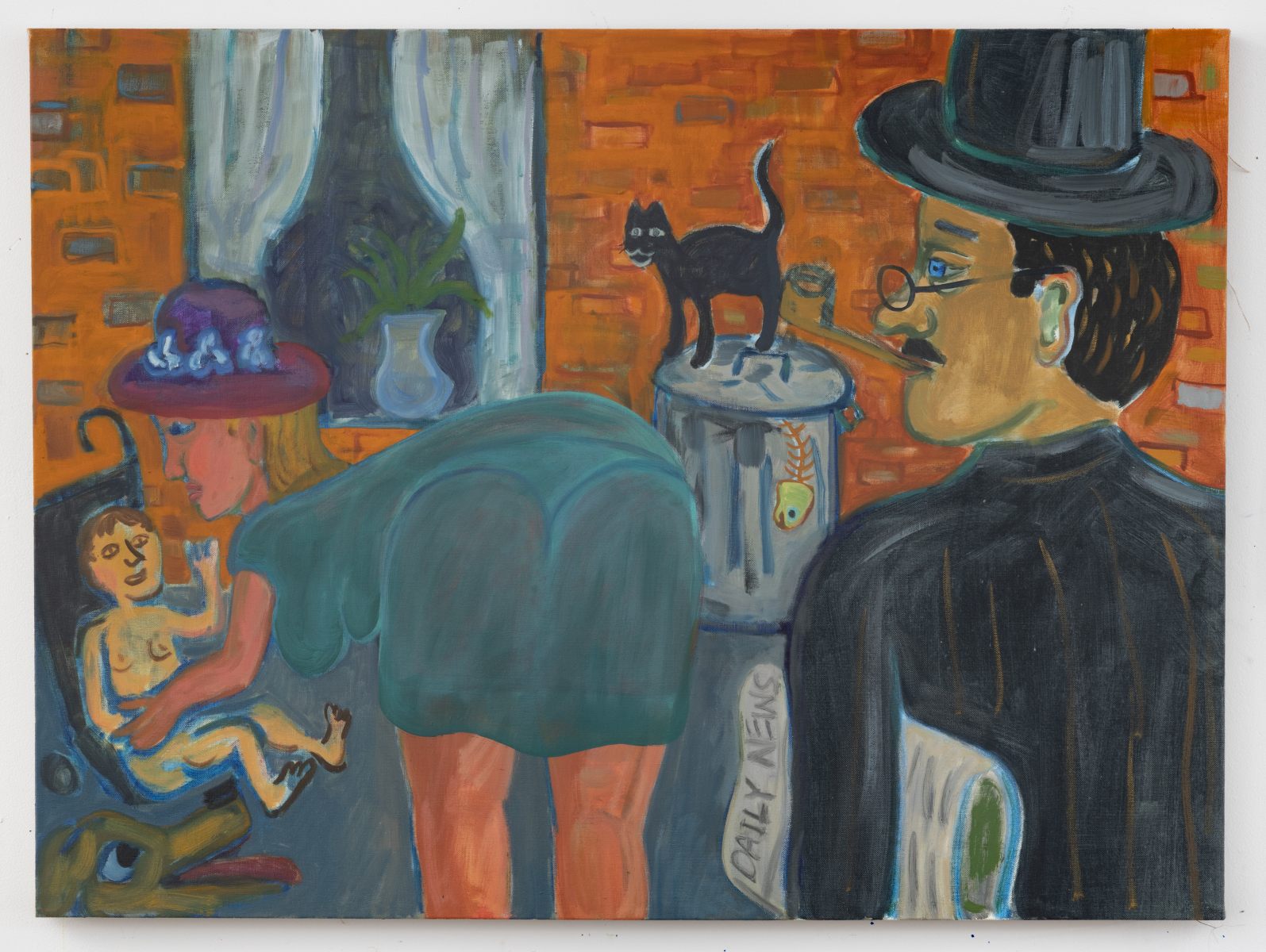 Man Observing a Baby
, 2019
Oil on canvas
66.04 x 91.44cm
26.00 x 36.00 in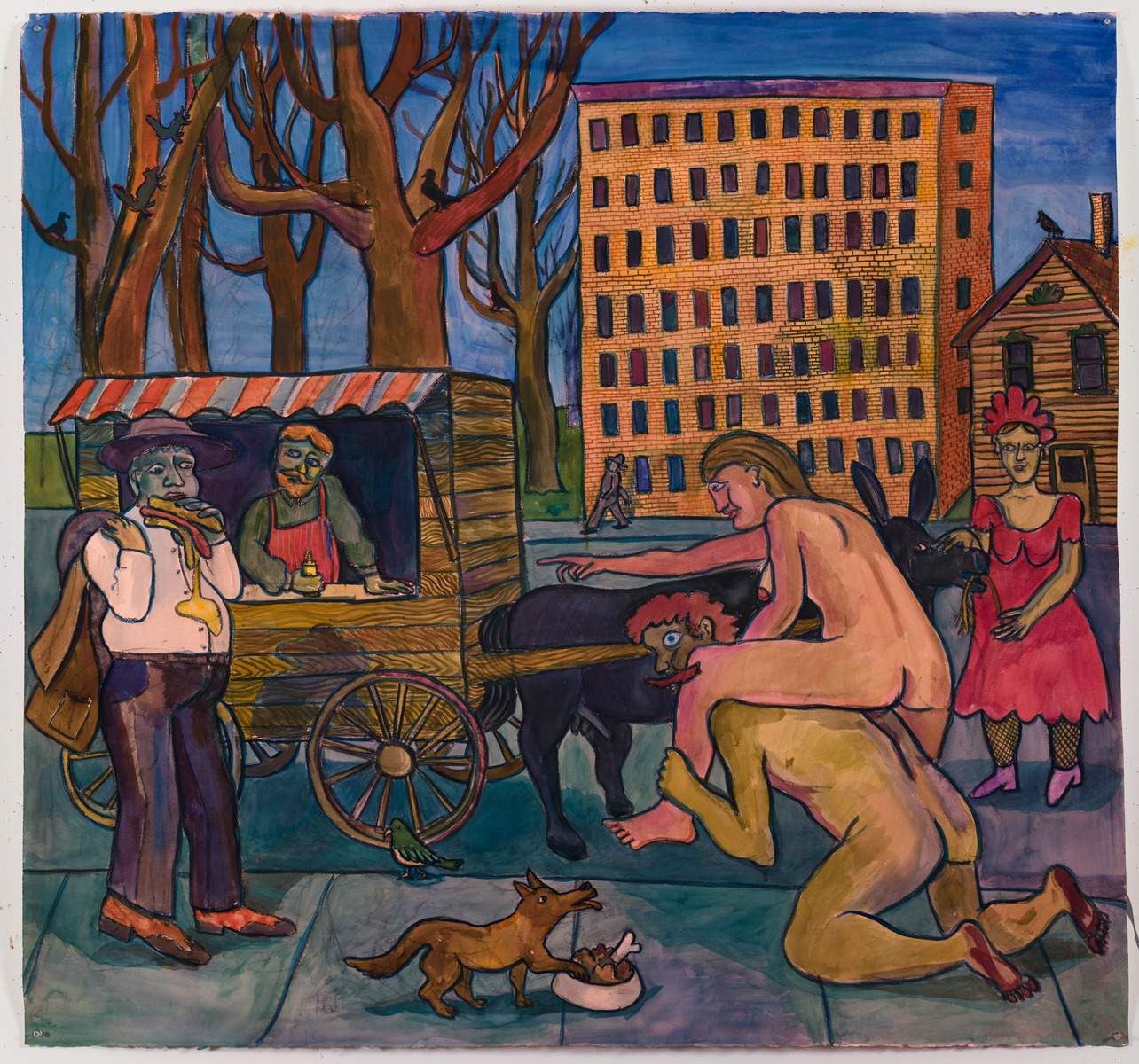 Hotdog Stand ( Man with Mustard Spill )
, 2016
Ink, watercolor and gouache on paper
129.54 x 139.7cm
51.00 x 55.00 in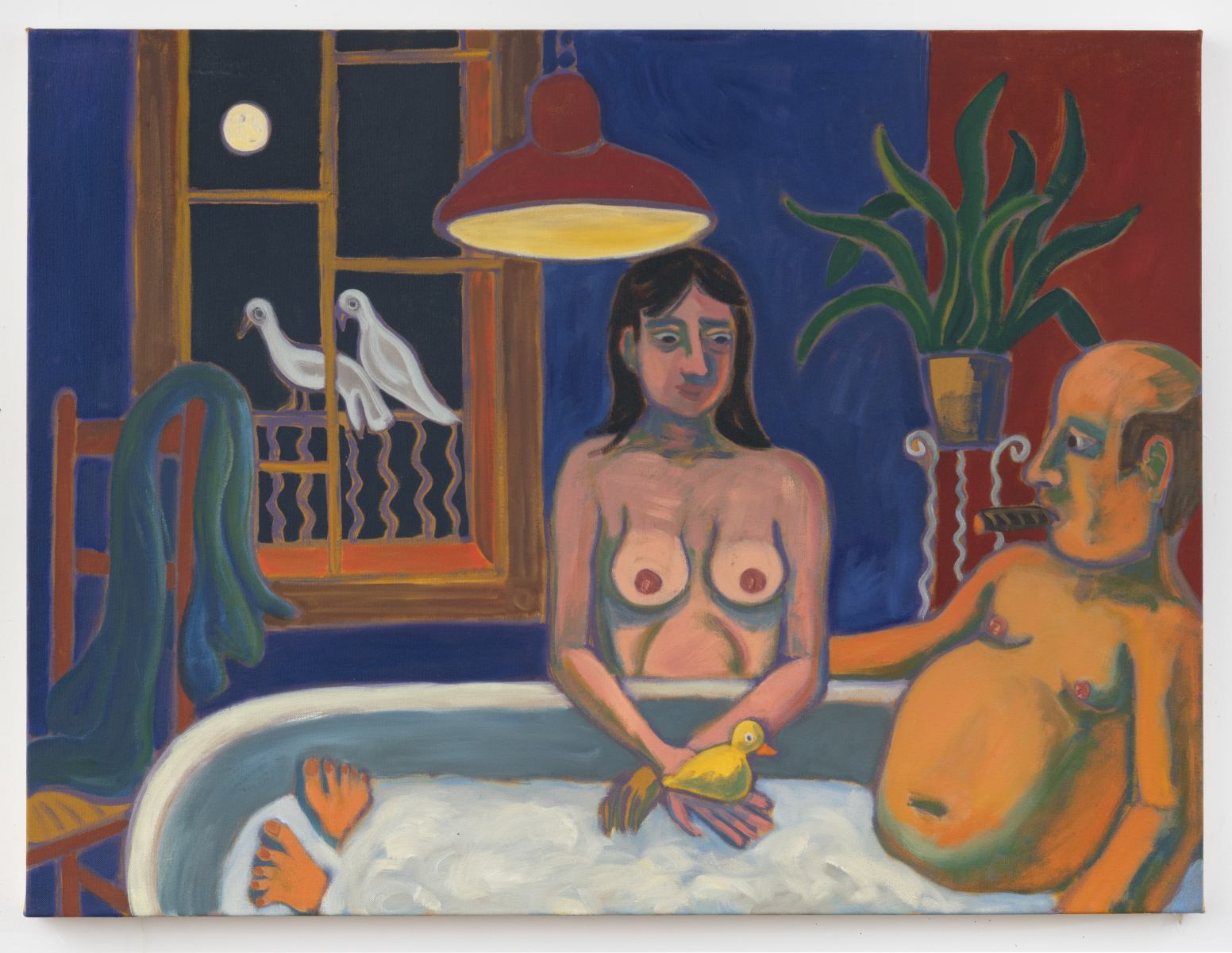 Man in Bathtub (with Rubber Duck)
, 2019
Oil on canvas
86.36 x 114.3cm
34.00 x 45.00 in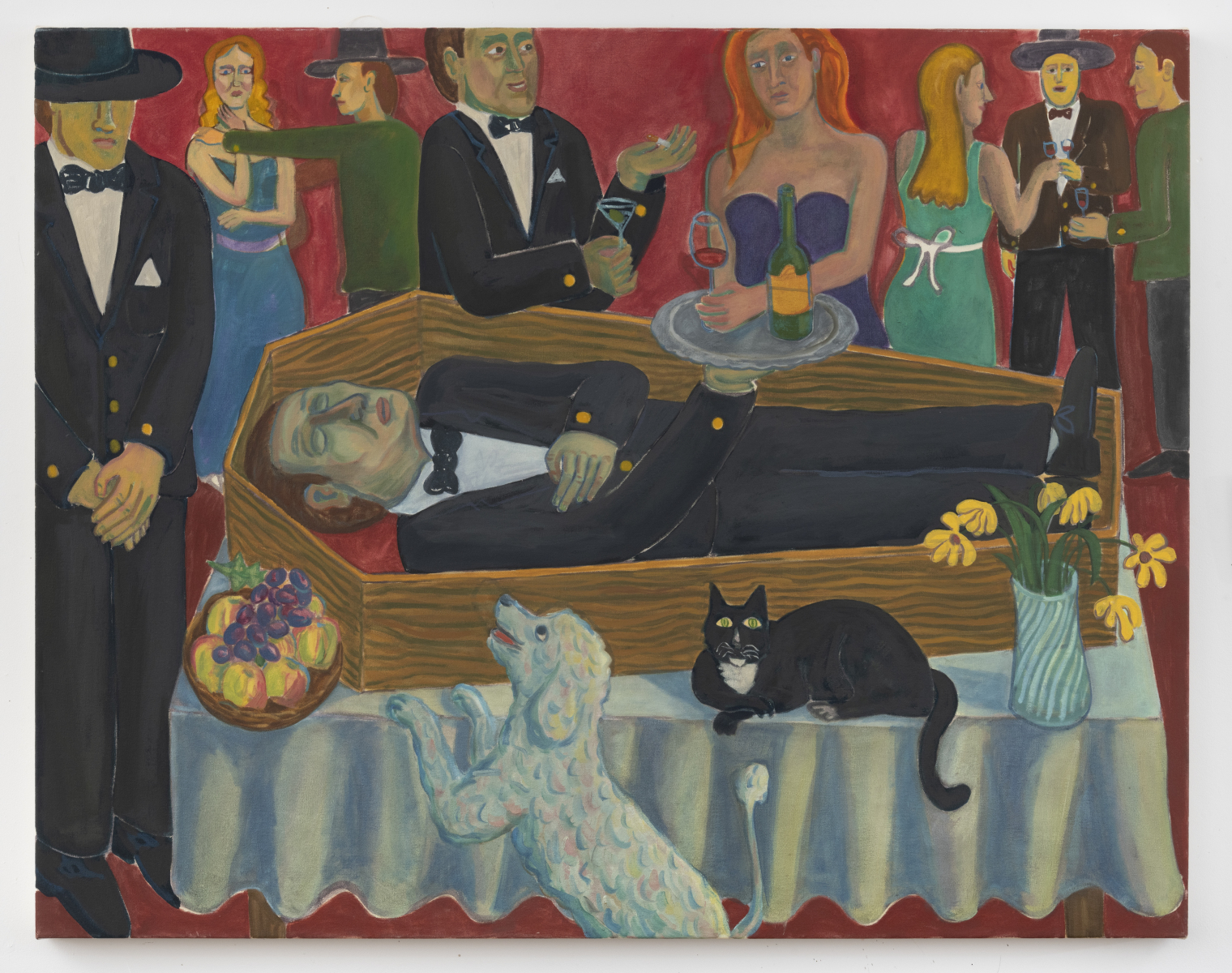 The Server's Funeral
, 2019
Oil on canvas
104.14 x 132.08cm
41.00 x 52.00 in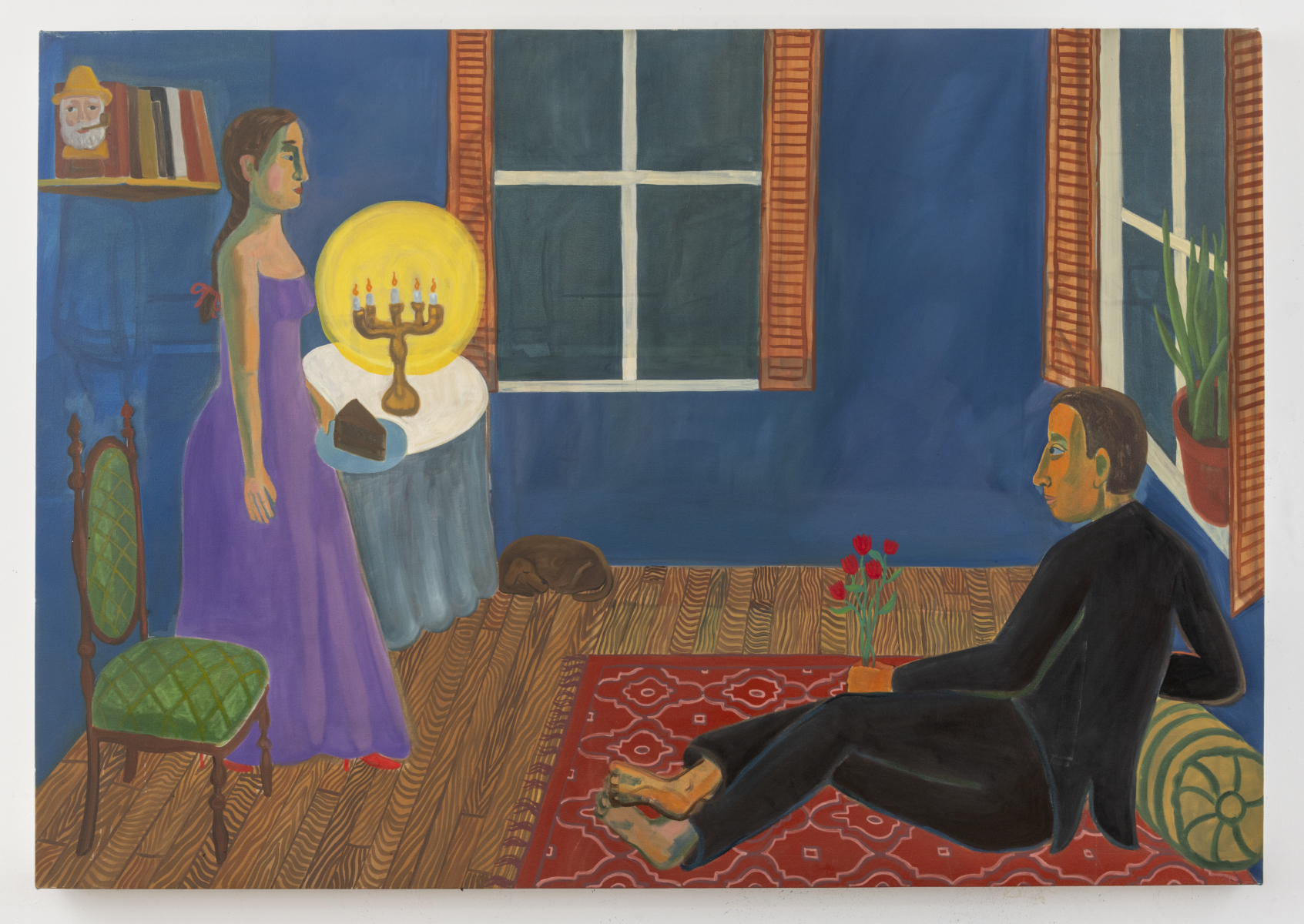 A Romantic Evening
, 2019
Oil on canvas
157.48 x 226.06cm
62.00 x 89.00 in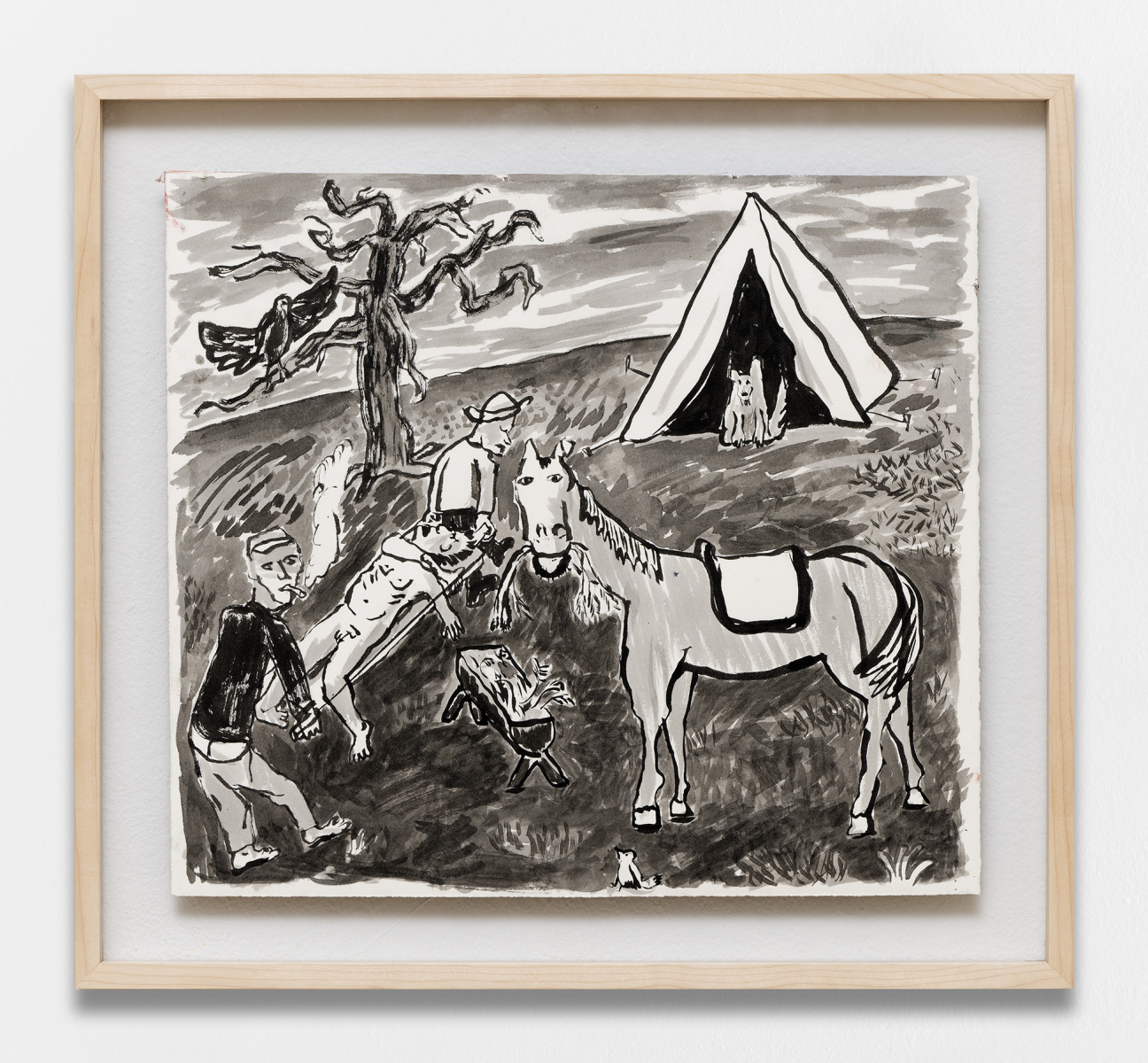 Soldier on a Stretcher
, 2015
Ink on paper
40.64 x 45.72cm
16.00 x 18.00 in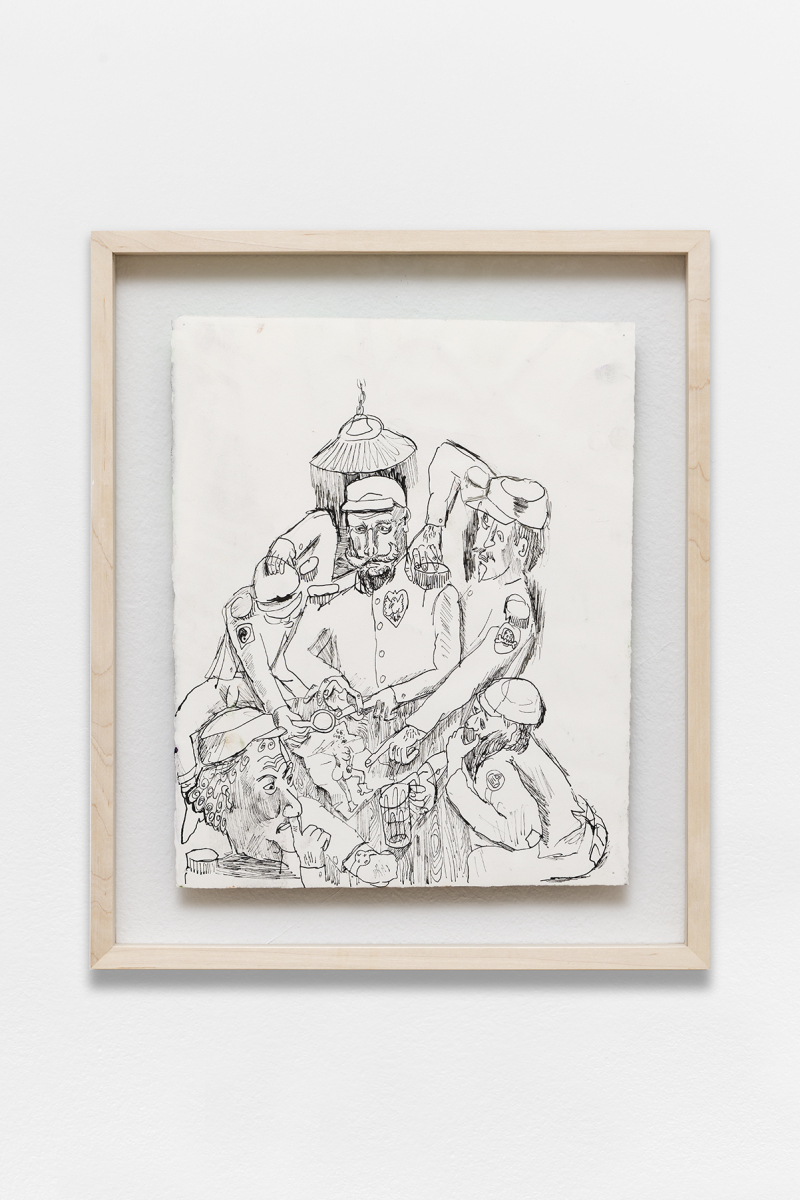 Soldiers Discussing a Plan
, 2015
Ink on paper
38.1 x 30.48cm
15.00 x 12.00 in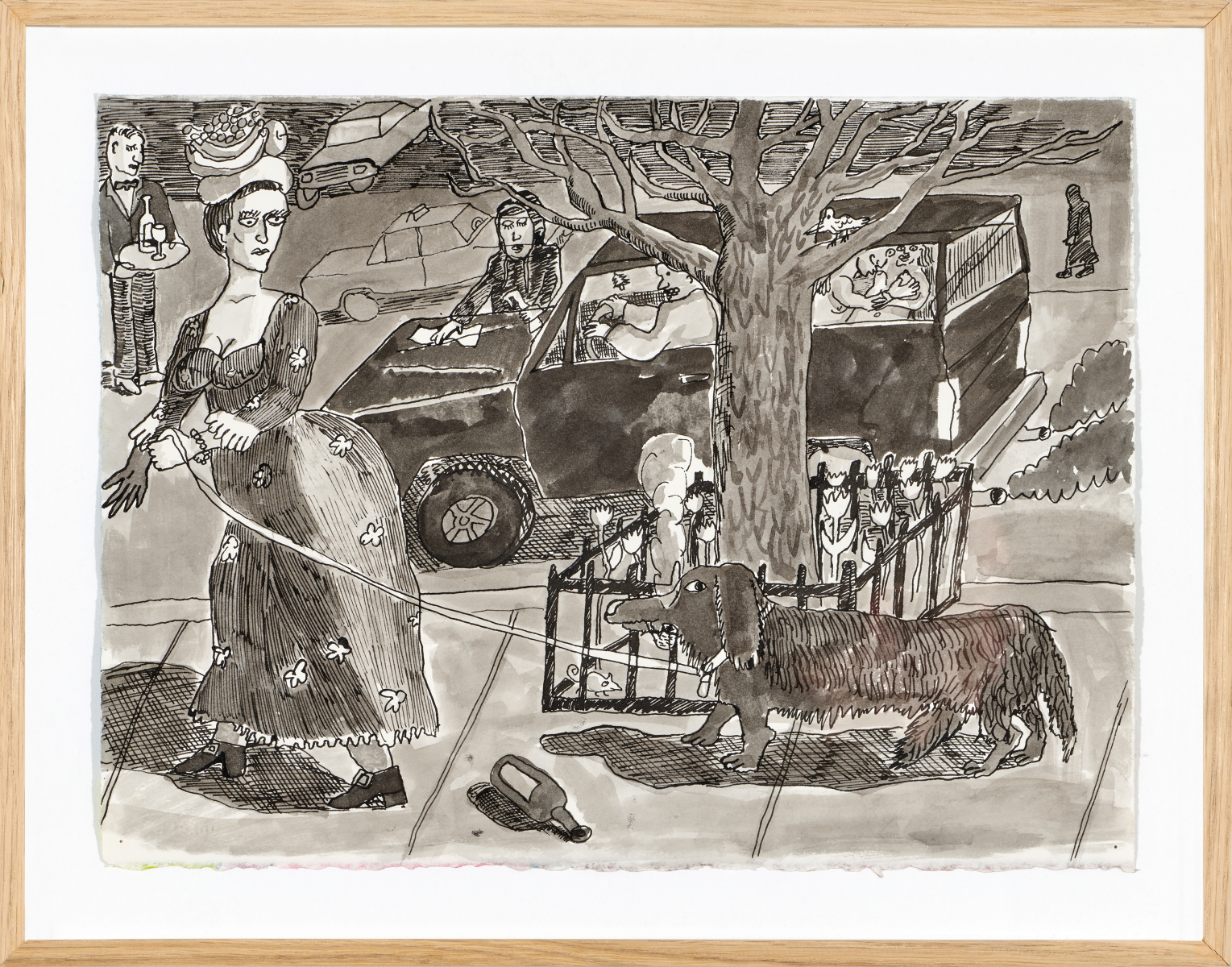 Woman Walking Dog
, 2015
Ink on paper
27.94 x 38.1cm
11.00 x 15.00 in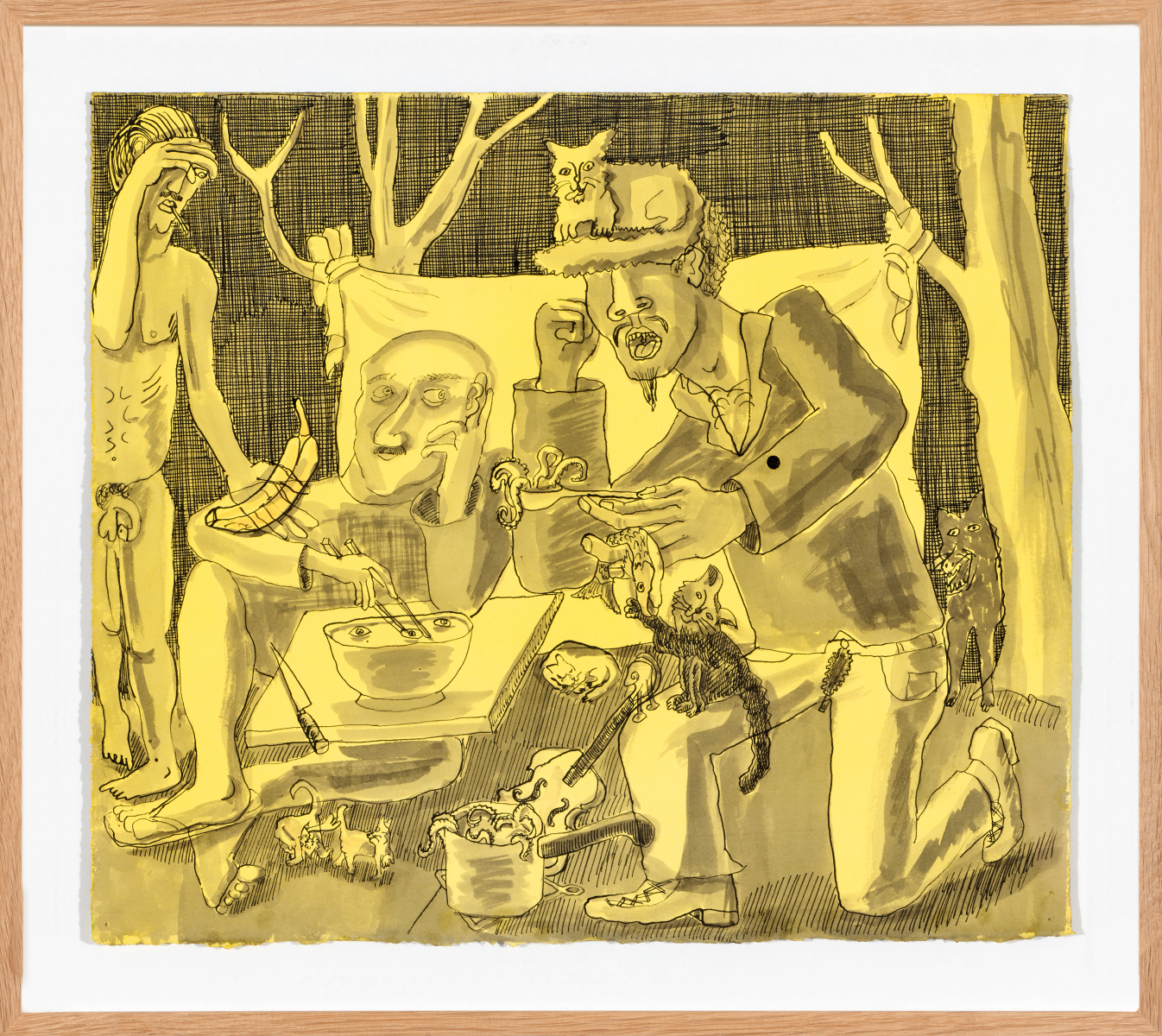 Untitled ( Men Eating Soup )
, 2015
Ink on paper
33.02 x 38.1cm
13.00 x 15.00 in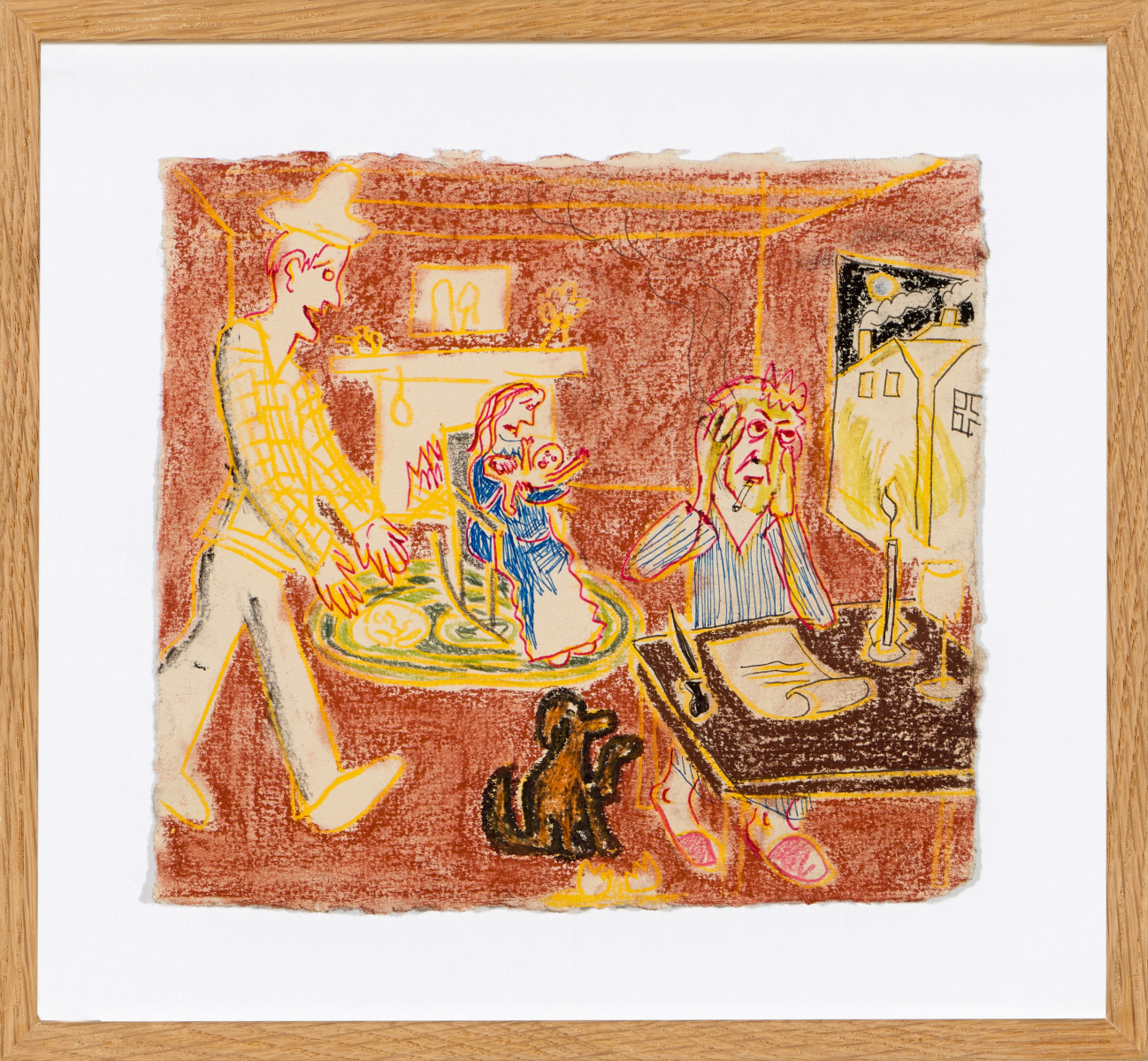 The Distressed Poet
, 2013
Pencil and chalk on paper
17.5 x 19cm
6.89 x 7.48 in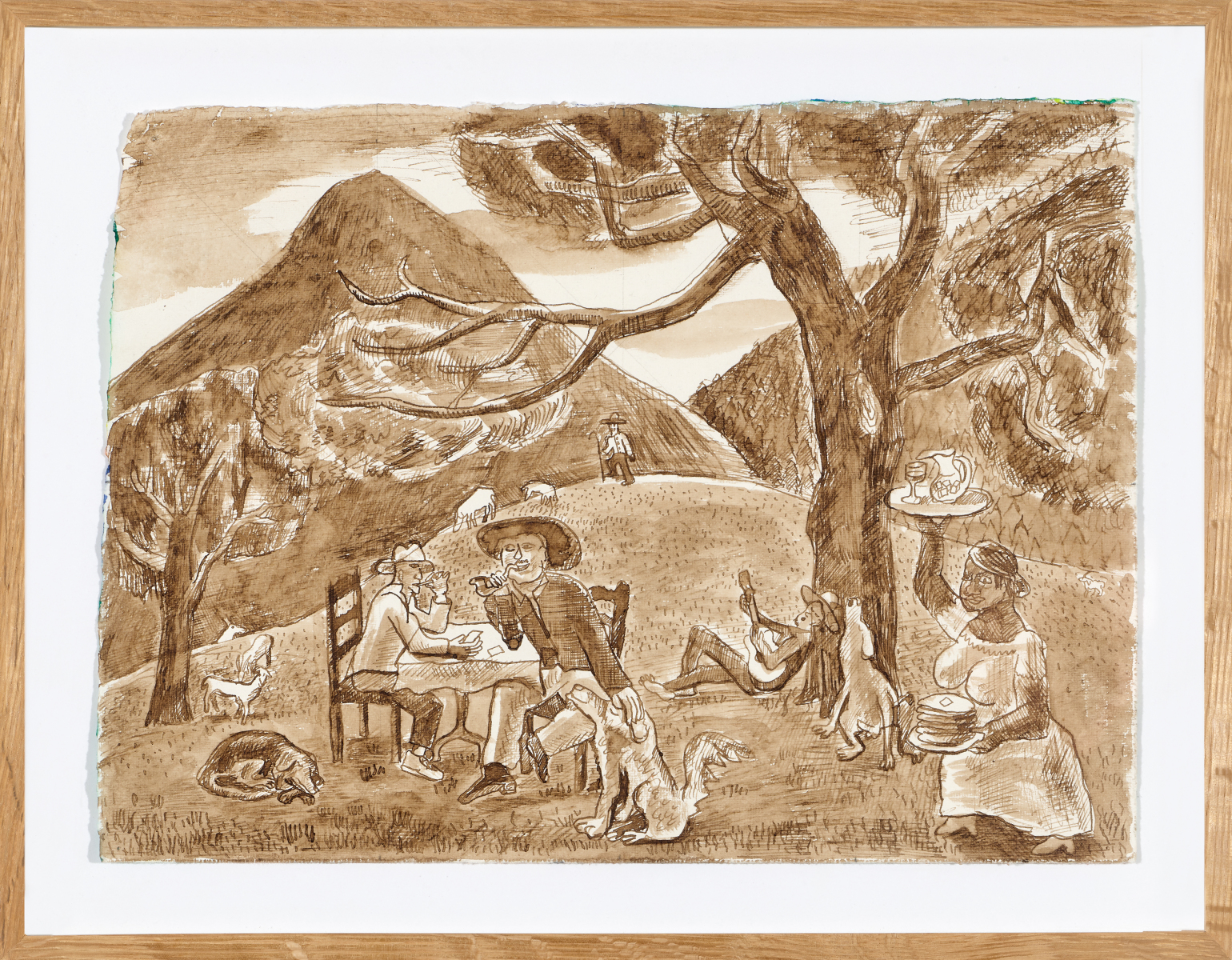 Untitled
, 2015
Ink on paper
28 x 38cm
11.02 x 14.96 in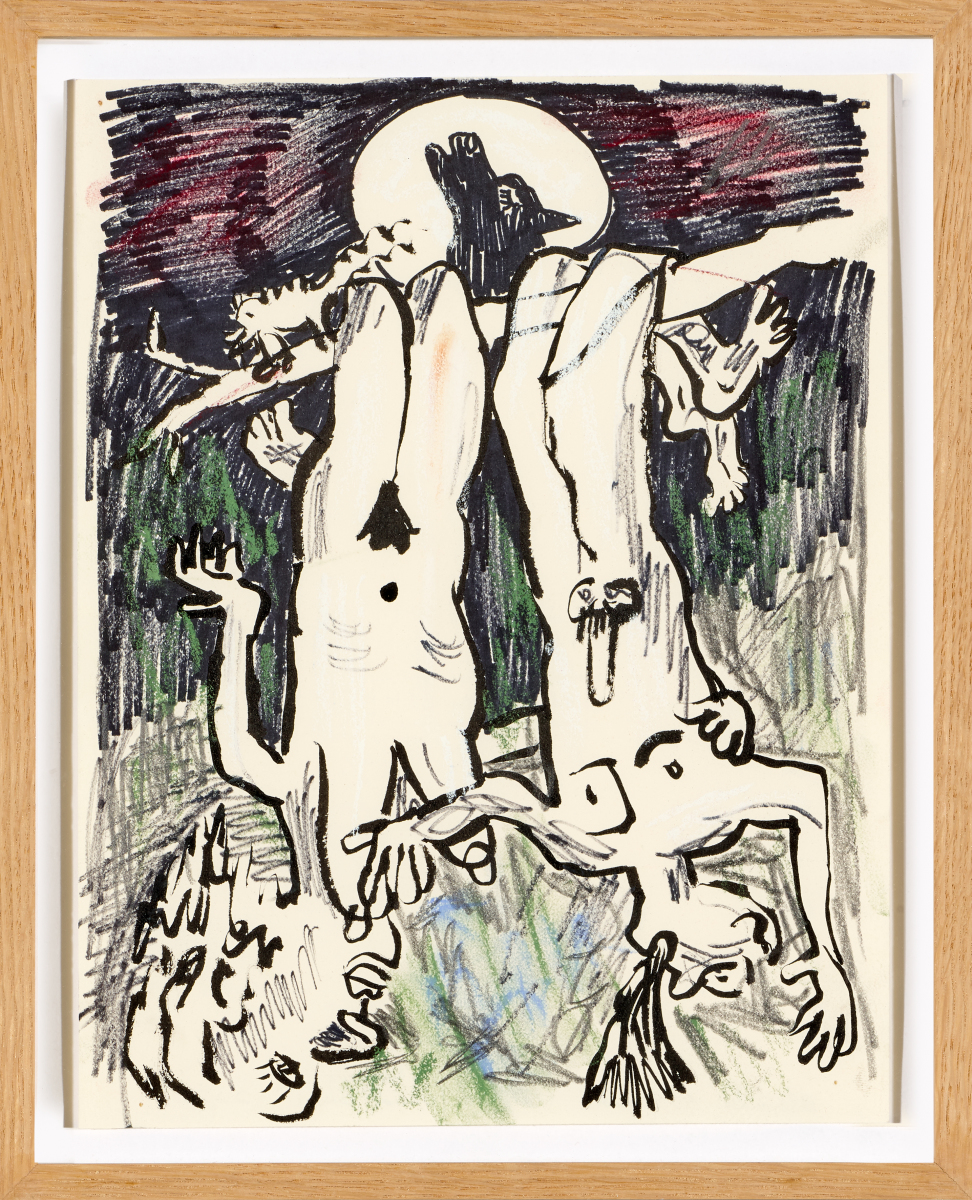 Hanging Upside Down
, 2015
Marker, ink and pastel on paper
28 x 21.5cm
11.02 x 8.46 in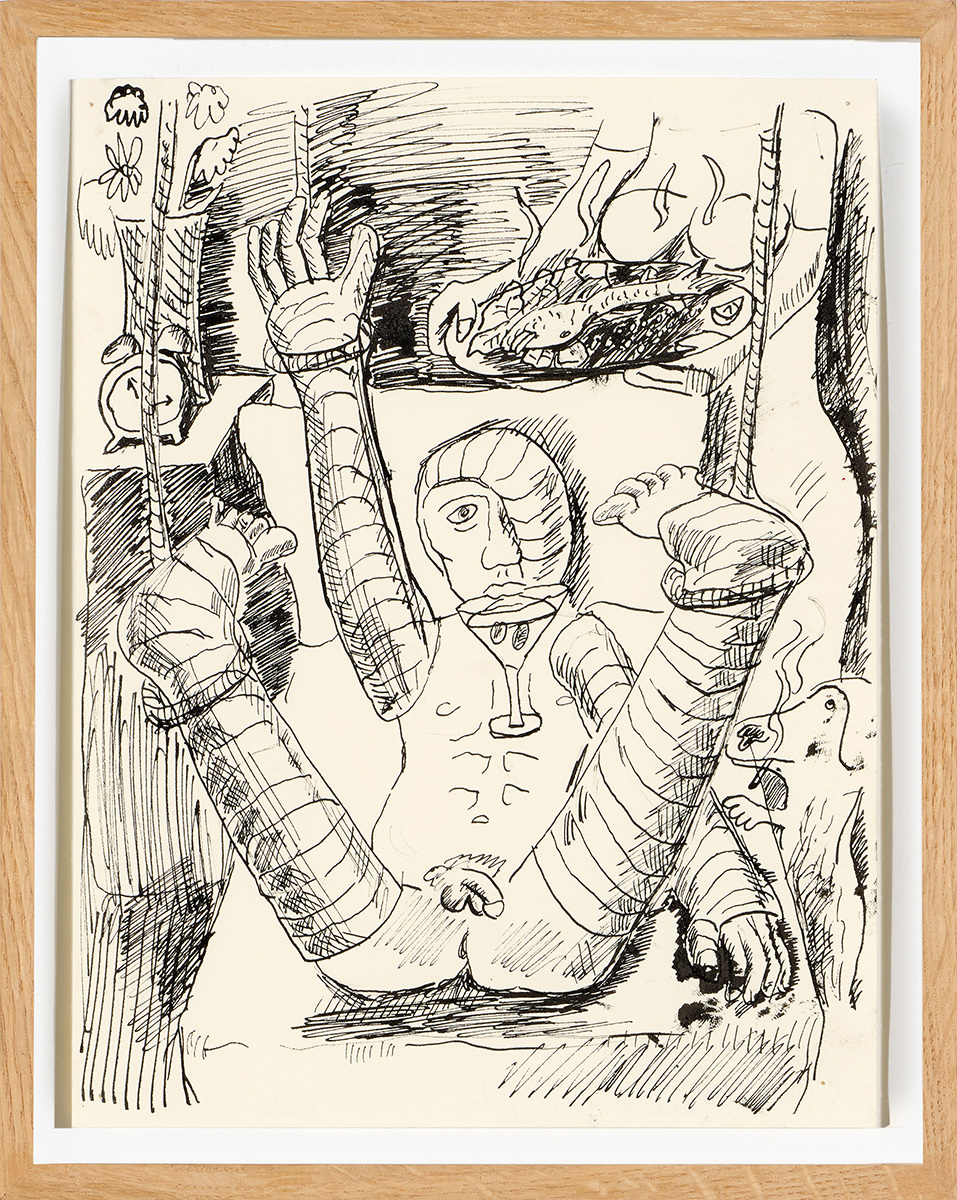 Man in casts
, 2014
Ink on paper
28 x 21.5cm
11.02 x 8.46 in
Born 1980 in Milwaukee, Wisconsin, USA
Lives and works in Brooklyn, New York, USA

Education

2007     MFA New York Studio School, New York, USA

2003     BFA University of Wisconsin-Milwaukee, Milwaukee, USA

The artist about his art:

I started off as an artist making drawings from visions that appeared in my head. I didn't know what they meant, but they seemed necessary. In college I discovered Art History. I studied paintings and learned different ways to interpret them. Painting and drawing from life became a new love of mine and it began a journey that brought me back in time. Old masters fascinated me. I spent a long time in the past, but become less dependent of it. My inner visions persistently yearned to be expressed and brought me to the moment. I began to draw from my inner world again, but this time with a consciousness of the past.

I enjoy walking through my mind as if it were a forest. I pick out here and there something of interest that I feel like expressing and exploring more deeply through the act of drawing. I am not trying to find anything in particular, other than my own bliss.
The drawings from my imagination express my thoughts and feelings about relationships between humor and solemnity. The imagery comes from narrative and personal fantasy.

My drawings are a paradoxical quest for truth and cannot be confronted without humor. Aside from drawing from my imagination, I continue to be captivated with the visual world that exists outside of me. There is something mesmerizing about the appearance of things, the way appearances change and influence me. Drawing the world around me stimulates the world within me. Through drawings I attempt to capture a fragment of the vastness I feel before a motif, exploring the perplexing dichotomy between the infinite and the finite.
Alexander Nolan depicts scenes of everyday life, painted in vibrant gouaches treated as watercolors, or in the Cassis series in the manner of highly contrasting washes. To create genre scenes today is not as unconventional as one might think. A great many contemporary paintings, photographs and videos have their roots in genre painting. But it is the context that makes Nolan's genre scenes perturbing. At first glance because they are painted with traditional techniques; but more importantly because their graphic treatment is so unusual.
These compositions can been perceived as unexpected avatars surprising to the point of hilarity, rooted in all the genre scenes accumulated throughout the centuries of art history. To position such works in the context of the New York scene where abstraction dominates calls for two remarks. First to see in this realism, which hardly corresponds to the accepted use of the term, a kind of "zombie figuration" corresponding to the term "zombie abstraction" which today attracts some philosophically inclined critics. Second, it is impossible to miss in Nolan's more or less phantasmagoric domestic scenes, an ironic reaction to the recent developments of abstract painting: an invitation to ensure, and in a quite assertive way, a true revival of those forms of american realism that have been left by the wayside.

The playful and captivating narrativity of these work lets us read them, particularly the Cassis cycle, as a kind of journal, or if one prefers, a kind of picaresque and initiatory discourse. As if Lesage had been accommodated in Brautigan sauce or Hellzapoppin, or Hogarth turned into comics. These transformations are made possible by Nolan's inscribing himself as a figure in the numerous sketches he imagines, composes and transposes in his drawings. Voyeuristic phantasms incorporating everyday life in temptations of a rather frolicking sexuality facilitate the progress of a picture journal that mixes art and life as they might be related by certain television series. In this sense, the "sketches"-- Alexander Nolan's I-stories, exacerbate the situations and plots of these ubiquitous products of the boob tube. Thus, street scenes near the Port of Cassis become remarkable. The artist interweaves his personal experience with all the clichés of mediterranean existence and depicts himself painting the port wearing a sailor shirt like Picasso. Or a surreal vision of the Saint-Charles train station is morphed into an indescribable edifice right out of the mind of an Egypto-maniac or an Hollywood Aztec, then deployed in a frieze like a sort of 18th century panoramic wall paper.

Nolan's themes and subjects plunge us into his domestic life, his meals, his holidays, his leisure activities with their animal inhabitants: starving and lubricious dogs are often anthropomorphized, cats are aloof and distinguished, and all those fish who seem to devour male organs. These scenes play out in well-framed compositions according to the standards of familiar television series or famously iconic paintings. This sensation of déjà-vu, kind of paramnesia in which dreams meld with reality, confusing fact and fancy, seems to call for a psycho-analytic interpretation, particularly with the prevalence of so many obvious castration motifs. We are in the realm of figuration, confronted-- as in contemporary abstractions with the return of classical abstraction-- to the re-use, sometimes subliminal, of themes and motifs dredged from the unlimited thesaurus of the internet. In terms of figuration, this re-use is more anticipatory and thus read more explicitly as quotation with the feel of unpredictable pastiche.

Nolan organizes these allusions according to a subtle hierarchy which runs from admiring copy to the destructive imitation, with plenty of parody along the way. The reach is vast: George Grosz, Otto Dix, Chagall, but also George Bellows, John Sloan, and the Ash Can School, with tributes to Thomas Hart Benton or even Paul Cadmus. Nolan's appetite for scenes of gluttony, drunkenness and merrymaking irresistibly evoke an earlier tradition: that of Pieter van Laer the initiator of Bamboccianti genre painting. But Nolan is equally conversant with Old Masters all while transgressing the codes of decorum: Valentin de Boulogne, Honthorst amongst others. Like them, Nolan plays his paintings as so many cards in a game, with his scantily clad figures, his urinating and defecating 'heroes' stimulating our memories of rustic or even bucolic representations by David Teniers the Younger, Cornelis Dusart or Jan Steen.




These reminiscences ought not make us forget that Nolan still belongs in the American realist tradition. He parodies Thomas Hart Benton, William Somme and Albert Pynkham Ryder. But Ben Shahn provides perhaps his greatest inspiration. Shan is the artist of American despair, of farmers dispossessed, the visual equivalent of John Steinbeck's Grapes of Wrath. Shan did not hesitate, either as citizen or artist, or even photographer to bear witness. Alexander Nolan is in his own way a witness of his time. That is why he is able when necessary to to capture the drawing prowess-- in his own style-- of the master of The Passion of Sacco and Vanzetti cycle. Shahn is well known for asking himself what he should paint and answering: "Stories !" Caught drinking beer with the boys, is the demonstration of such an approach, with its frontal composition and the intense and captivating face of the woman grabbing one of the drinkers.
Nolan's gouaches and drawings can also be seen as participating in this propensity of western art to move between High and Low, especially the American tradition which, since the 19th century, has been chained to its European model in order to wipe it out. In his manner Nolan participates in this American project to perpetuate popular culture and institutionalize a realist iconography and imagery faithful to European sources, but free of all useless and ineffectual subservience.

These celebrations through a re-appropriation of the museum without walls propagated by the Internet exclude neither irony nor jubilation. Such a merry irony, always delicate and poetic, takes aim both at the original and its painted copy. The latter inspires exultation on the part of the disconcerted viewer who is seduced by the unexpected transpositions from famous artworks that are evoked by Nolan's pictures. The quality and ambition of Nolan's oeuvre is not simply the animation of cultural reminiscences. The audacity resides in the stylistic invention that succeeds in crystalizing and condensing a "story" in in compositions ordered by the disposition of figures and motifs. This disposition is ruled according to the impact on the view of Nolan's sharp and very televisual sense of framing. Hence the theme of the voyeur is significative. In these paintings, a voyeur who resembles the painter, often distanced from the story he observes, stands in for us, the audience. He projects for us, implicates us in the composition and the story just like those figures seen only from the back in the compositions of old masters such as Masaccio or Alberti. But it is in the drawings, in the contours that enclose figures and motifs with such agile lines, simplifying form without sacrificing detail that empower Alexander Nolan "fables" and impose them on the contemporary scene. Such impeccable execution coordinated with the fresh and highly adjusted chromaticism learned from Ben Shahn and dares for happy dissonances like the rhythm of a Jazz Band.

Bernard Ceysson

Solo shows at Ceysson Gallery
Alexander Nolan, New York
October 27 - December 03, 2022
Alexander Nolan, New York
November 06 - December 07, 2019
Alexander NOLAN, Luxembourg
March 12 - May 21, 2016
Group shows at Ceysson Gallery
Spring Saint-Étienne, Saint-Etienne
June 12 - July 25, 2020
Guerre(s), Paris
December 18, 2019 - February 01, 2020
10 YEARS in Luxembourg, Wandhaff
June 02 - August 04, 2018
Special Guest New York, Offsite
September 08 - September 28, 2015
Solo Shows
2016
Bernard Ceysson Gallery, Luxembourg
2012
House of Screwball
, Bushwick Open Studios, Brooklyn, New York, USA
Special Guest
, Galerie Zurcher, New York, USA
Art Rio, Galerie Bernard Ceysson, Rio de Janeiro, Brazil
Nada New York, Galerie Bernard Ceysson, New York, USA
Art Brussels, Galerie Bernard Ceysson, Bruxelles, Belgium
Group Shows
2020
Printemps
, Galerie Ceysson & Bénétière, Saint-Étienne, France
Où est la différence ?
, Abbaye Saint-André, centre d'art contemporain, Meymac, France
2018
10 Years in Luxembourg
, Wandhaff, Luxembourg
2017
Fleeting Impressions and Abundance of Detail
, Tiff Sigfrids, Los Angeles, USA
2016
Romeo
, commissaire de l'exposition : Aurel Schmidt, New York, États-Unis
2015
Apples Turn to Water, SPRING/BREAK
, commissaire de l'exposition : Max Razdow & Kari Adelaide, New York, États-Unis
2014
Mixed Tape
, commissaire de l'exposition : Sophia Alexandrov & Todd Bienvenu, Brooklyn, New York, États-Unis
2013
The Show is a Leo
, 840 Broadway, commissaires de l'exposition : Tisch Abelow, Lauren Luloff & Linnea Kniaz, Brooklyn, New York, États-Unis
2007
Thesis Show, New York Studio School, New York, États-Unis
2017
de la Durantaye, Leland. "Reviews: 'Fleeting Impressions and Abundance of Detail'." Artforum. October 2017, Vo. 56, No. 2. Print.
Fleeting Impressions and Abundance of Detail
Arforum - Leland de la Durantaye
October 01, 2017
Voir le fichier