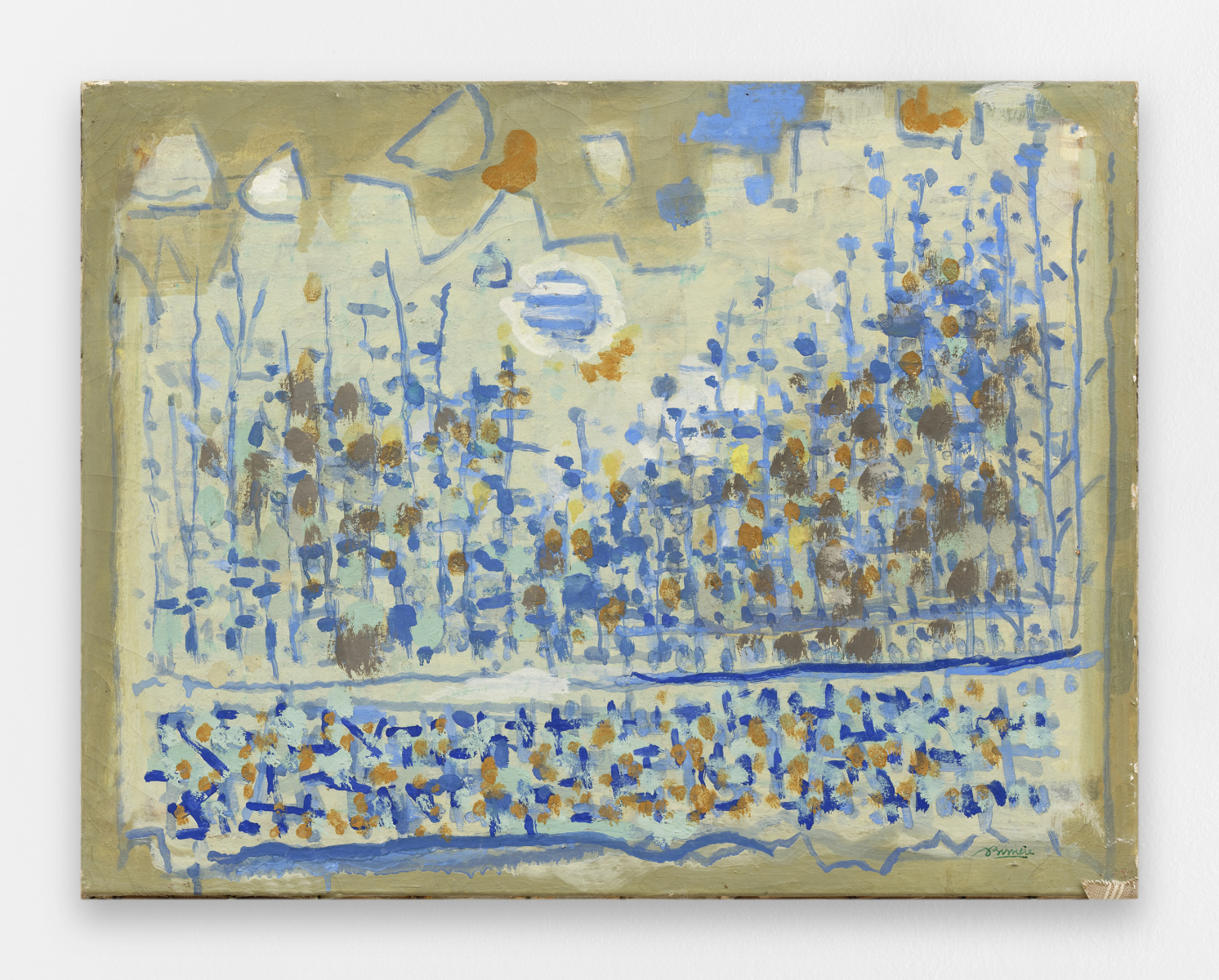 CR2904 Composition gris et bleu
, 1964
Oil on canvas
51 x 66cm
20.08 x 25.98 in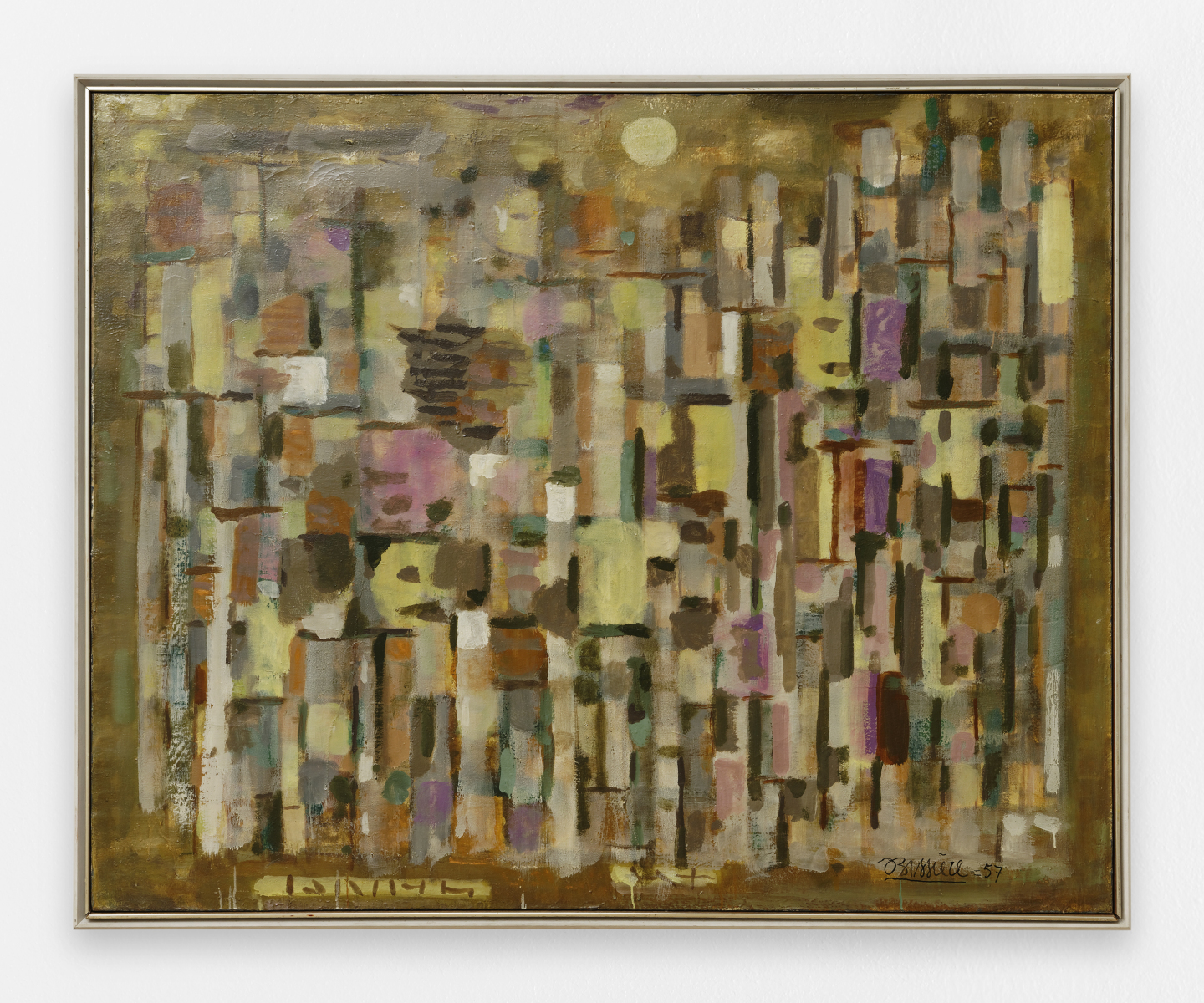 CR 2354 Equinoxe d'hiver
, 1957
Oil on canvas
130 x 162cm
51.18 x 63.78 in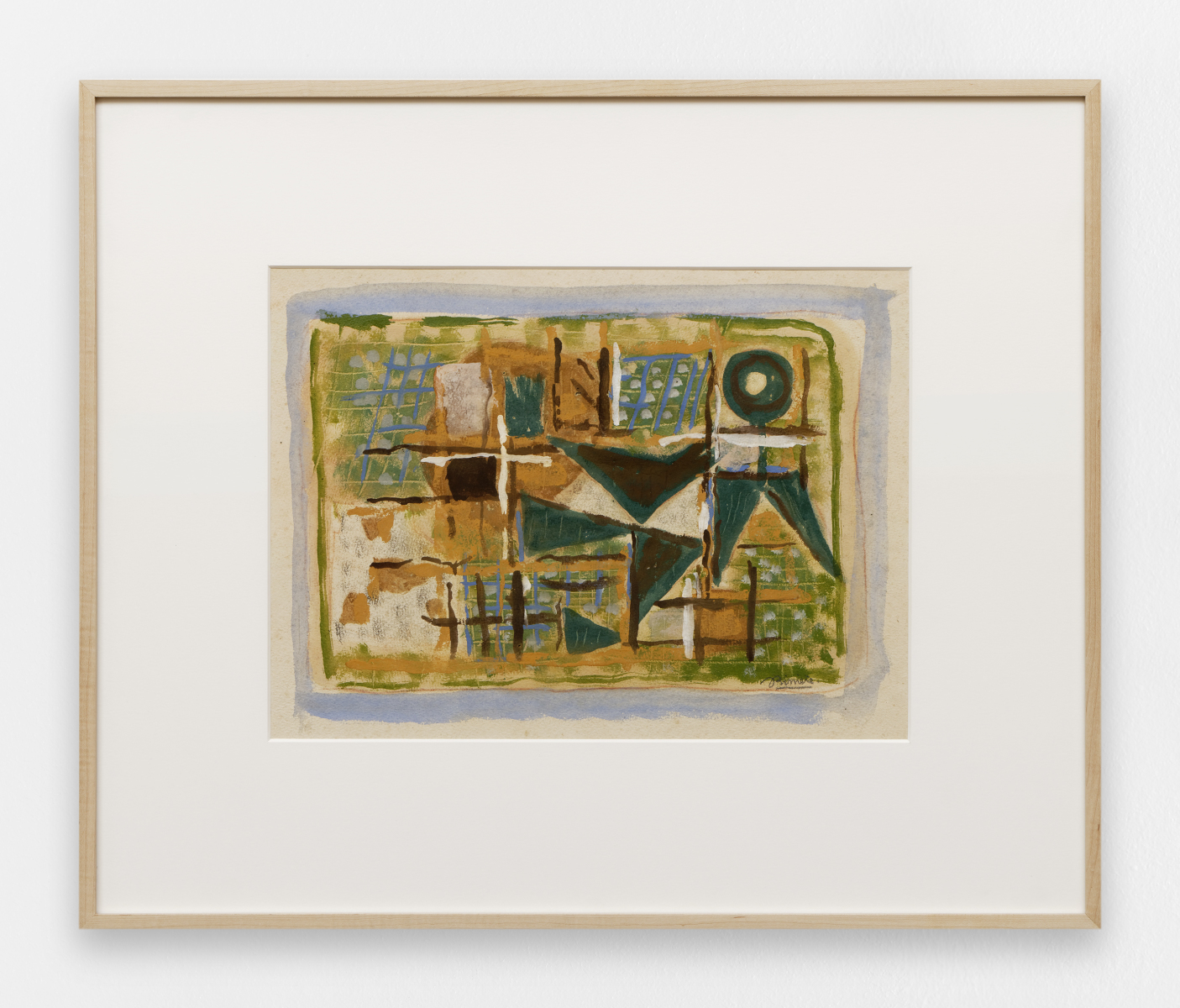 CR 2100
, 1954
Oil on paper
32 x 43cm
12.60 x 16.93 in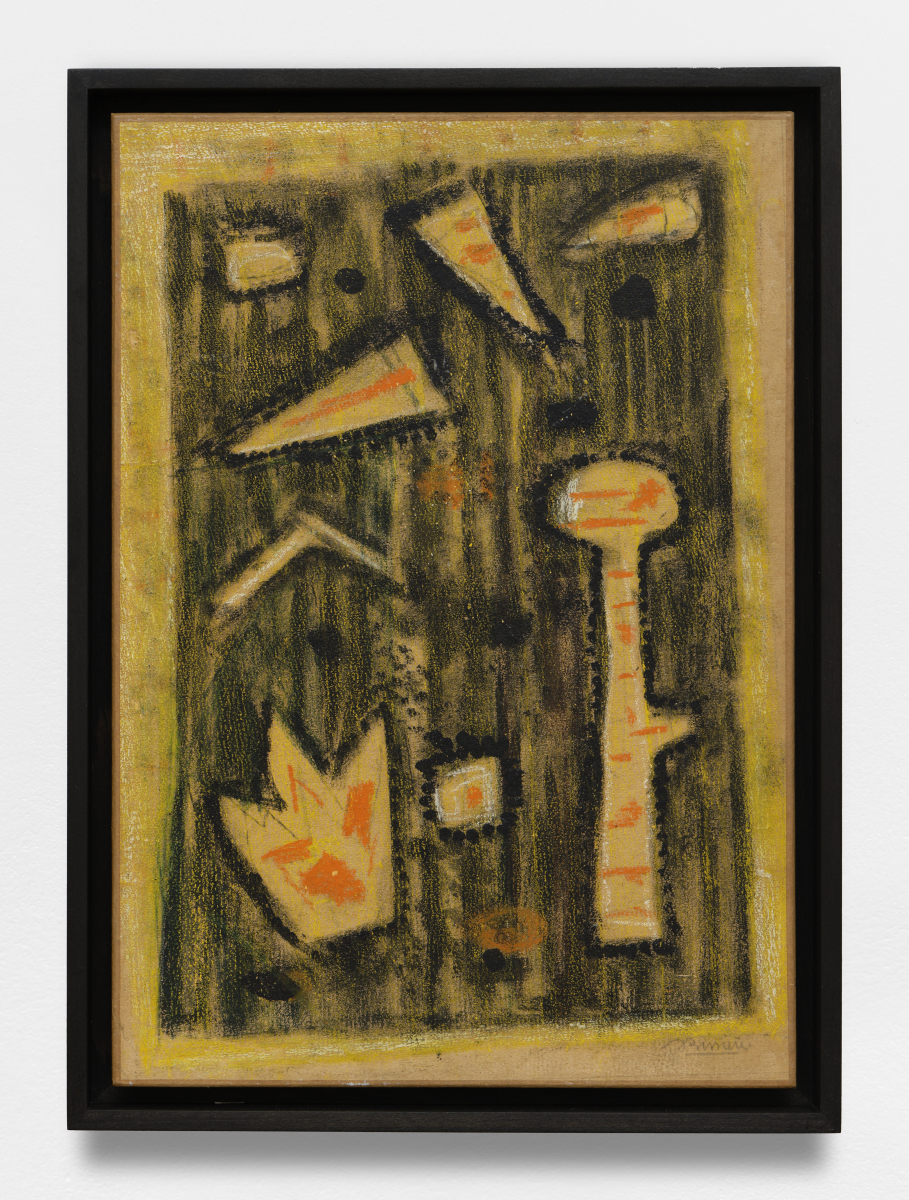 Sans Titre CR2033
, 1953
Grease pencil and oil on mounted paper on panel
44.3 x 32cm
17.44 x 12.60 in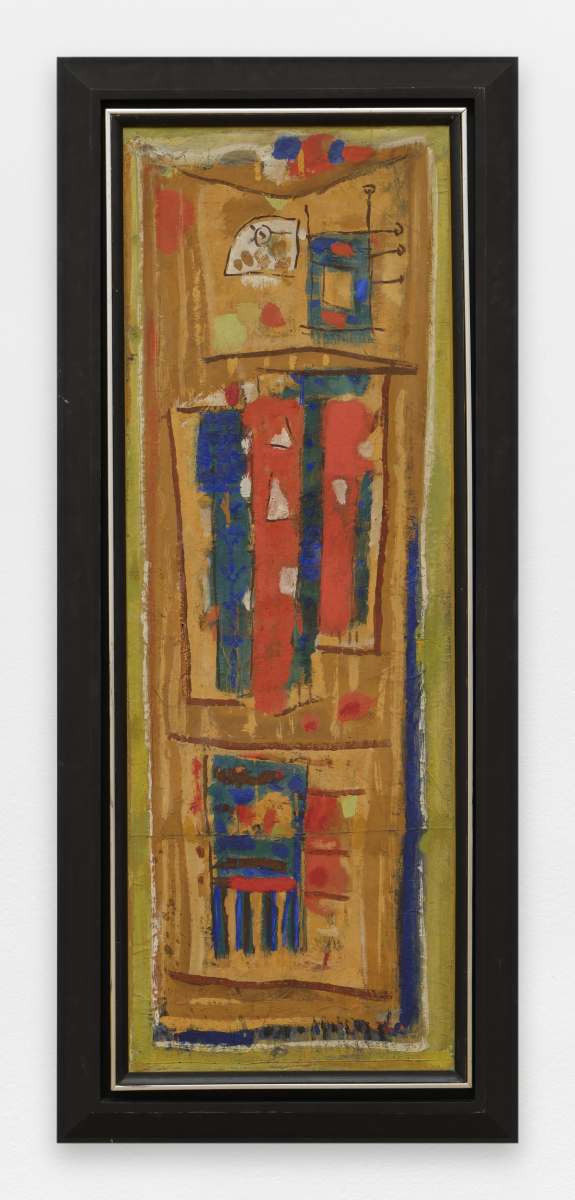 CR 1750 Ocre, rouge et vert
, 1951
Egg painting on canvas
127 x 44cm
50.00 x 17.32 in
Born in 1886, in Villeréal, France.
Died in 1964, in Boissiérette, France.
   Education

1905-1909    École des Beaux-Arts de Bordeaux, France.

1910               École des Beaux-Arts de Paris, France.
   Introduction

When Bissière was a young painter, he was supported by Maurice Denis, among others. He then retreated at the beginning of the First World War, mostly writing critics in important Paris-based newspapers. In that context, he stood for collective wall painting (he was a precursor of the United States claims in the 1930s), the only way to make art social useful again in the necessary post-war reconstruction. Bissière also formulated in that context a whole vision on modern painting, in his 1919-1923 texts about Ingres, Corot, Seurat, Braque, and Gris. In the 1920s, he became a remarked post-Cubist painter, with contracts in several galleries. But he retreated again in the economic crisis of the early 1930s. He was then a charismatic teacher at Académie Ranson. Louise Bourgeois was one of his students, as well as the followers of Alfred Manessier who created the Lyric Abstraction movement in 1941. The period he spent in the Lot, in 1939, was a synthesis of such previous experiences. Even when he was praised in Paris and in international exhibitions from 1951, Roger Bissière did not take any further part in public or institutional life. The only thing that mattered from then on was to improve his painting. It was a radical choice, hence the strength and independence of his paintings.

Robert Fleck, Bissière, Ed. IAC, 2010, p. 12
" My first revelation of Cubism dates from when I met Braque, in 1919-1920, and the resulting friendship. At that point in my youth, I caught a glimpse of new possibilities, and a totally different vision. This discovery led me to exchange an immediate, realist vision of the world for a transposition of nature transformed into a simple pictorial fact. This satisfied my need to have rigorous construction and organisation in paintings.
[…]
It was a striving for logic and construction that I took from Cubism, which, as it happens, I gradually abandoned, spirituality and poetry that plagued me. This led to a form of painting from which representation was absent, except as an allusion. Cubism signified a facet of the sensorial world. I chose the other fact, which was more mysterious, and perhaps more essential. »
[…]
The Impressionist gives his feeling.
The Cubist gives his opinion.
In order to re-create, you just need to have understood.
For a long time I thought that the drawing meant reproducing the shapes of objects that existed within myself. I now think that, on the contrary, drawing means suggesting the shapes of objects through their inner form.
[…]
When I start a canvas, I have nothing other than a feeling of cooer, an emotion, and that's all. Once the first colour's been applied, it elicits another, and then another. And all the colors that comme together end up suggesting forms. I simply have to follow them. I just make sure to fill in the gaps, and give the whole thing great density… All the love you put into a painting can be felt.
[…]
A geometrical figure fully satisfies the intelligence, because it carries within itself something absolute.
A geometrical figure's the only thing that can give you a sensorial image of the idea of perfection. You have to see nature as a repertoire of forms, a dictionary. And you have to use elements it provides, to construct an architecture of your own.
Painting, if you want to consider it in its essence, is a living geometry of forms and colors, a sort of new and more complex geometry in which colors and forms are inseparable, reacting to one another according to laws whereby the element of form and the element of color are one.
[…]
The only thing I ask of my paintings is that each of them should retain what I was when I painted it. For ten years, I has no confident other than myself. All these colors, all these lights that were rushing around underneath my eyelids would've blinded me if I hadn't painted.
I could never see a door without opening it." 
Roger Bissière dans Baptiste-Marreyn, Bissière T'en fais pas Marie, écrits sur la peinture 1945-1964, Le temps qu'il fait, Cognac, 1994 (« Ma première révélation du cubisme », propos rapporté par Pierre Cabanne dans L'Epopée du Cubisme).

First, there seems to be only light and color. Your eye is facing an intense light, although the painting is not particularly bright. Like in the countryside, when you come to, after the light of a sunbeam has briefly blinded you, and you can feel your eyes adapting again to the colors emerging from a field or a wood. Likewise, Roger Bissière's abstract painting appears to you in all its subtlety once you have started watching it for a certain time.
You can perceive hundreds of shades of colors in its, playing on the whole surface with a light that seems to arise from the background (as on today's televisions or computers), in a fine and varied manner. The four elements composing these paintings - light, colour, shape, non linear geometry - are organized at each point of their surface in such a surprising and inventive way that your eye never rests. Yet, Bissière's painting is not tense. The time frame they convey is, on the contrary, particularly « long ». Long-term duration, in the sense given by Fernand Braudel or Henri Bergson. The works compose an « all-over », a rhythmic painting in which lines overflow from shapes. From one square centimetre to another, there is a constantly changing relation between the light arising from the background, on the one hand, and the colors, on the other; between lines and space.
Is it a mistake to describe an abstract painting by Roger Bissière, such as Floréal, circa 1962, employing words that might have been used with works of Jackson Pollock or Mark Rothko, who were Bissière's contemporaries? In other words, can we look at a painting by Roger Bissière in the light of (American) abstract Expressionism, rather than interpreting it in the frame of lyric Abstraction, i.e. abstract painting as implemented by his former students, from the 1940s? It is definitely worth trying. Roger Bissière's abstract paintings, long kept away from permanent collections of great museums and international exhibitions, including historical ones, now convey something fresh. You can now perceive them in their own formal strength. You can grasp the game, both extremely free and controlled, on colors and rhythms becoming autonomous, which makes them oddly close to certain abstract Expressionist paintings. We should be cautious with that king of comparison, though. And we are. When one tries to look at Roger Bissière in the 1950s or 1960s, rather than through Pollock or Rothko. The shock would be fairly strong, as the first look to a masterpiece of abstract Expressionism. However, he or she would also perceive the same essential elements as in Bissière's illustrious American colleagues - namely, a never-ending dance of colors and light through constantly changing rhythms freeing stains and lines from any subordination to the descriptions of stable and preexisting shapes or spaces.
Let's imagine a young artist discovering twentieth-century painting today, without paying much attention to the history of movements and styles, looking at the 1964 painting Silence de l'aube. This work is composed with, on the one hand, drips making the painting autonomous and independent from the painter's hand and, on the other, intertwined free lines making an all-over in the central part. The artist's vision is as singular as his technique. The « elective fraternities » of such a work are both abstract Expressionism (e.g. Tobey) and painting-throught, philosophical painting, in the noble sense of the word (including Simon Hantai, a younger contemporary of Bissière). The drips and lines are apparently chaotic; they liberate both the light (coming from the background) and colors from any functionality, if only composition. The gorgeous color characterizing Bissière's abstract paintings can therefore act autonomously on the spectator's eye, whereas the concert of small colored explosions, much balanced with one another, creates apparently perpetual rhythm. Finally, the painting clearly expresses one thing only, composing one of Roger Bissière's main subject: time. Autonomous light and colors give way to an idea of time that combines the lifetime of natural cycles (hence the impressive sense of calm in these paintings, though they were snatched through Bissière's long pictorial processes) and the speed of the mind, able to grasp this time frame through painting. One of Roger Bissière's strengths was to transform a painting made of traces, signs, and colored stains into a deep reflection on time, making duration visible.

Robert Fleck, Bissière, Ed. IAC, 2010, p. 7-8
Solo shows at Ceysson Gallery
Roger Bissière, Paris
September 03 - October 08, 2022
Group shows at Ceysson Gallery
Septet , Paris
December 16, 2020 - February 13, 2021
---
Solo shows
2022
Le songe de la terre, Galerie Ceysson & Bénétière, Paris, France
O lado do outro, Fondation Arpad Szenes Vieira Da Silva, Lisbon, Portugal
2019
Compagnons de Route, Galerie Jeanne Bucher Jaeger, Espace St Germain, Paris, France
2016
Entre deux horizons, Centre Pompidou - Metz, France
2014
Bissière (1886-1964), Figure à part, Musée de Lodève ; Musée des Beaux Arts de Bordeaux, France
2004
Bissière, Pense à la peinture, Musée Unterlinden, Colmar, France
2002
Centre d'Art Nicolas de Staël, Braine-l'Alleud, Belgium
2001
Galerie Jeanne-Bucher, Paris, France
2000
Musée de Grenoble, France
1999
Bissière, le rêve d'un sauvage qui aurait tout appris, Musée Picasso, Antibes, France
1997
Bissière 1947, Musée de l'Abbaye Sainte-Croix, Les Sables d'Olonne, France
1996
Roger Bissière 1886-1964 : De la forme à la couleur, Musée du Périgord, Périgueux, France
1995
Roger Bissière, oeuvres sur papier, Galerie Kutter, Luxembourg, Luxembourg
1990
Bissière, paysages du Lot, Maison des Arts Georges Pompidou, Cajarc, France
1987
Musée des Beaux Arts et de la Dentelle, Calais, France
Peintures et dessins de Roger Bissière, « Locus Solus » de Fred Deux,
Galerie Jeanne-Bucher, Paris, France
1986
Exposition Itinérante en France : Bissière 1886-1964 Musée d'Art Moderne de la Ville, Paris
Musée des Beaux Arts, Dijon ; Musée des Beaux Arts, Calais, France
1984
Atelier sur l'Herbe, Ecole des Beaux Arts, Nantes, France
Maison du Lot et Garonne, Paris, France
1979
Roger Bissière 1888-1964 : Des gravures et leurs métamorphoses, Galerie Kutter, Luxembourg, Luxembourg
1978
Galerie Dominique Paramythioti, Paris, France
1977
Bissière / Peintures 1945-1964, Musée de l'Abbaye Sainte-Croix, Les Sables d'Olonne, France
1976
Donjon Lacatye, Mont-de-Marsan, France
1974
Rencontres d'art 74. Hommage à Bissière, Musée Ingres, Montauban, France
1973
Bissière, le chemin et la manière 1920-1964, Galerie Jeanne-Bucher, Paris, France
Bissière, La Nouvelle Gravure, Paris, France
1970
Bissière, Peintures et Estampes, Galerie Alice Pauli, Lausanne, Switzerland
Bissière Graphik, Galerie Linnaeus, Nybrogatan, Sweden
Bissière. Rétrospective, Musée d'Unterlinden, Colmar, France
Exposition itinérante au Luxembourg : Musée d'Histoire et d'Art, Luxembourg ;
Städtisches Museum, Luxembourg
1969
Musée Fabre, Montpellier, France
1968
Galerie Mimesis, Bordeaux, France
1966
Stedelijk Museum, Amsterdam, The Netherlands
Kunstverein für die Rheinlande und Westfalen Düsseldorf, Germany
Musée des Arts Décoratifs, Paris, France
1965
Galerie des Beaux Arts, Bordeaux, France
1964
Bissière, Journal 1962-1964, Galerie Jeanne-Bucher, Paris, France
Bissière, Journal en images 1962-1964, Galerie Alice Pauli, Lausanne, Switzerland
1963
Galerie Schmücking, Braunschweig, Germany
1962
Galerie Marya, Copenhague, Denmark
Galerie Jeanne-Bucher, Paris, France
Kunstmuseum, Lucerne, Switzerland
1961
Roger Bissière Paintings from 1919-1959, World House Galleries,
New York, United-States
1959
Bissière, artisan de la cathédrale, Musée de la Ville, Metz, France
Musée National d'Art Moderne, Paris, France
1958
Galerie Jeanne-Bucher, Paris, France
Rétrospective, Stetejlik Museum, Amsterdam, The Netherlands
1957
Exposition itinérante en Allemagne et au Pays-Bas : Kestner-Gesellschaft, Hanovre ;
St. Annen-Museum, Lübeck ;Städtische Kunsthalle, Recklinghausen, Germany
Stedelijk van Abbe-Museum, Eindhoven ; Stedelijk Museum, Amsterdam, The Netherlands
1956
Bissière, Peintures, Galerie Jeanne-Bucher, Paris, France
1954
Onze bois gravés de Bissière pour le Cantique au soleil de François d'Assise, Galerie Jeanne-Bucher,
Paris, France
1952
Galerie Jeanne-Bucher, Paris, France
1951
Quelques images sans titre, Galerie Jeanne-Bucher, Paris, France
1947
Galerie René Drouin, Paris, France
1934
Paintings by Bissière, The Leicester Galleries, Londres, United Kingdom
1931
The Leicester Galleries, Londres, United Kingdom
1928
Galerie Druet, Paris, France
1926
Galerie Druet, Paris, France
1925
Galerie Druet, Paris, France
1924
Galerie Druet, Paris, France
1921
Galerie Paul Rosenberg, Paris, France
1920
Galerie Berthe Weill, Paris, France
---
Group shows
2017
Artes e Letras : as ediçoes da Galeria Jeanne Bucher Jaeger, Árpád Szenes -
Vieira da Silva Foundation, Lisbon, Portugal
Corps et Ame, Galerie Jeanne Bucher Jaeger, Espace Marais, Paris, France
Passion de l'Art - Galerie Jeanne Bucher Jaeger, depuis 1925, Musée Granet,
Aix-en-Provence, France
2016
Dialogue IX, Galerie Jeanne Bucher Jaeger, Espace Marais, Paris, France
Question de peinture, Galerie Jeanne Bucher Jaeger, Paris, France
2015
Galerie Jeanne Bucher Jaeger, Paris, France
Quinte-Essence, Galerie Jeanne Bucher Jaeger, Paris, France
2014
Une passion de l'Art, Musée de Gajac, Villeneuve-sur-Lot, France
Dialogue VI, Galerie Jeanne Bucher / Jaeger Bucher, Paris, France
2013
Matière et Mémoire, Galerie Jeanne-Bucher / Galerie Jaeger Bucher, Paris, France
2008
Expansion-Résonance, Galerie Jaeger Bucher, Paris, France
2007
Galerie Jeanne-Bucher, Paris, France
Le Corps et son double, Galerie Jeanne-Bucher, Paris, France
2006
Galerie Jeanne-Bucher, Paris, France
2005
Galerie Jeanne-Bucher, Paris, France
2000
Dialogue avec des compagnons de route, Galerie Jeanne-Bucher, Paris, France
1999
Hommage à Dora Vallier, Galerie Louis Carré & Cie, Paris, France
Rencontres d'art 1999, Petites Mémoires pour demain, Musée Ingres, Montauban, France
1998
Il furuto alle spalle, Palazzo delle Esposizioni, Rome, Italy
Hommage à la France, Galleri Haaken, Oslo, Norway
Victoire-Elisabeth Calcagni et ses amis, Galerie Anne-Marie Marquette, Le Troisième Œil,
Bordeaux, France
Kunst im Aufbruch-Abstraktion zwischen 1945 und 1959, Am Rhein,
Ludwigshafen, Germany
L'Ecole de Paris ? 1945-1964, Musée National d'Histoire et d'Art,
Luxembourg, Luxembourg
1997
Made in France, 1947-1997 cinquante ans de création en France, Musée National d'Art Moderne,
Centre Georges Pompidou, Paris, France
Natures mortes du XXème siècle, Musée Tavet-Delacour, Pontoise, France
L'Exposition internationale de 1937, autour de Robert et Sonia Delaunay, Aublet, Bissière,
Manessier, Le Moal, Survage, Musée Baron Martin, Gray, France
Vers l'été, vert d'été, Michel Cachoux, Paris, France
L'Arrière-Pays, Château des Adhémar, Montélimar, France
Abstraction, France 1940-1965, peintures et dessins des collections du Musée National d'Art Moderne,
Musée d'Unterlinden, Colmar, France
Pour un jubilé 1947-1997, Galerie Jeanne-Bucher, Paris, France
1996
European Artists of the 1950's, Denise Cadé Gallery, New York, United-States
Bertholle, Bissière, Reichel, Seiler, Steffens, Galerie Lambert-Rouland, Paris, France
1946
L'Art de la Reconstruction, Musée Picasso, Antibes, France
Yves Bonnefoy. La Poésie et les arts plastiques, Musée Jenisch, Vevey, Switzerland
64 oeuvres d'Art moderne, Musée National d'Art Moderne - Centre Georges Pompidou,
Paris, France
1995
1945, Les Figures de la liberté, Musée Rath, Geneva, Switzerland
Passions privées, Musée d'Art Moderne de la Ville, Paris, France
1994
View of the 20th Century Master, The Miyagi Museum of Art, Ostuka Kogei, Japan
D'Ingres à Matisse, Yomiruri Shimbun, Japan
Galerie Jeanne-Bucher, Paris, France
Nesto Jacometti editore, Pinacoteca Comunale, Lucerne, Switzerland
The Avant-Garde of France, The 1940's and 1950's, Nassau Conty Museum of Art,
New York, United-States
Style des années 40, Musée des Beaux Arts, Saint-Lô, France
Vieira da Silva, dation à l'Etat, collection du Musée National d'Art Moderne -
Centre Georges Pompidou, Musée Fabre, Montpellier, France
Homenaje a Denise Colomb. Treinta Artistas del siglo XX, Centro de Exposiciones y Congresos,
Museo Camón Aznar, Saragosse, Spain
Musée d'Art et d'Industrie, Roubaix, France
Vieira da Silva, Musée des Beaux Arts, Rouen, France
1993
Exposition itinérante au Japon : Paris, la joie de vivre Yamanashi ; Navio ; Miyazaki ;
Hamatsu ; Okayama Henri Dutilleux et les peintres,
Musée des Beaux Arts, Caen, France
L'Artiste regardé, Un point, deux vues, Musée Ingres, Montauban, France
L'Abstraction à partir des années 50, Assemblée Nationale, Paris, France
Zoom arrière, Galerie Callu Mérite, Paris, France
Galerie Jeanne-Bucher, Paris, France
Entre la sérénité et l'inquiétude, Musée d'Art Moderne, Saint-Etienne, France
1992
Chemins d'un éditeur, Espace Saint-Jean, Melun, France
L'Arrière-Pays, Galerie Jeanne-Bucher, Paris, France
Hommage aan M.L de Boer, Kunsthandel M.L de Boer, Amsterdam, The Netherlands
De Collectie De Graaff-Bachiene, Hannema-de Stuers Fundatie, Heino-Wijhe ;
Museum voor Schone Kunsten, Gand, The Netherlands
L'Arrière-Pays, Peintures de Bissière, Tobey, Szenes, Jean Dubuffet, Vieira da Silva, Nicolas de Staël,
Nallard, Soulages, Debré, Zao Wou-Ki, Aguayo, Gasiorowki, sculpture de Jean Amado, Galerie de la Cité, Carcassonne, France
Exposition itinérante en France : Dialogues avec Lurçat Argentan ; Avranches ; Bayeux ; Musée Thomas Henry,
Cherbourg ; Coutances ; Granville ; Saint-Lô
Naissance d'une collection d'Art moderne : 50 oeuvres du Musée des Augustins de Toulouse, Château-Prieural,
Monsempron-Libos, France
Leonardo Sinsgalli : entre Poésie et Science, Seminaire Pontificale Regionale, Potenza, Italy
Réflexion pour un musée dans les collections toulousaines, Galerie Pierre-Jean Meurisse, Toulouse, France
1991
Exposition Itinérante au Japon : Premiers chefs-d'oeuvre des grands maîtres européens Tokyo ; Kyoto ; Ikaraki ; Osaka
Exposition Itinérante au Japon : Tarkhoff et son temps Hiratsuka ; Osaka ; Kyoto ; Mito
Paris-Oslo, French and Norvegian Art 1945-1965, Henie-Onstad Kunstsenter, Oslo, Norway
Galerie Jeanne-Bucher, Paris, France
Exposition des peintures de l'Amitié française, Musée Commémoratif d'Otani, Nishinomiya, Japan
Galerie Jeanne-Bucher, Paris, France
1990
Trésors du Petit-Palais de Genève, Palais de la Bourse, Forum des Arts, Marseille, France
European Modernists : 1910-1940, Montgomery Gallery, San Francisco, United-States
Quatre paysagistes abstraits aquitains : Bissière, Calcagni, Gardair, Lagoutte, Galerie Le Troisième Œil, Bordeaux, France
Exposition Itinérante en France : Marie Moulinier Maison des Arts, Evreux ; Centre Régional d'Art Textile, Angers ;
Musée Départemental de la Tapisserie et Chapelle du Château Fellerin, Aubusson ; Espace Jacques Prévert, Aulnay-Sous-Bois ;
Musée-Château Grimaldi, Cagnes-Sur-Mer Idées pour une collection, Galerie Prazan-Fitoussi, Paris, France
La France à Venise, Peggy Guggenheim Foundation, Venise, Italy
Un amateur luxembourgeois de l'Ecole de Paris Joseph Pauly-Groff, Musée National d'Histoire et d'Art, Luxembourg, Luxembourg
Peintures abstraites, Le Troisième Œil, Bordeaux, France
Toulouse et l'Art moderne, Musée Paul Dupuy, Toulouse, France
Bibliography

2014
Isabelle Bissière and Bernard Ceysson, Bissière, figure à part [exhibition catalog., Musée de Lodève et Musée des Beaux Arts de Bordeaux, France], Ed. Fage

2010
Robert Fleck, Bissière, Ed. IAC

2008
Gravures et lithographes, Ed. Musée des Beaux-Arts d'Agen, France

2004
Sylvie Ramond and alii, Bissière, pense à la peinture [exhibition catalog., Musée Unterlinden, Colmar], Ed. Fages

2002
Daniel Abadie, Bissière, Ed. Ides et Calendes, Switzerland

2001
Isabelle Bissière et Virginie DUVAL, C. R. 1886-1964, 3 Vol., Ed. Ides & Calende, Neuchâtel, Switzerland

2000
Serge LEMOINE, Walter LEWINO and Jean-François JAEGER, Bissière, Ed. Ides & Calende, Neuchâtel, Switzerland

1999
Bissière, le rêve d'un sauvage... [exhibition catalog., Musée Picasso, Antibes], Ed. RMN

1986
Daniel Abadie, Bissière, Ed. Ides & Calende, Neuchâtel, Switzerland

1964
François MATHEY, Bissière, journal en images, Ed. Hermann

1962
Dora VALLIER, Bissière, Ed. Galerie Jeanne Bucher

1955
Max-Pol FOUCHET, Bissière, Ed. G. Fall, Paris, France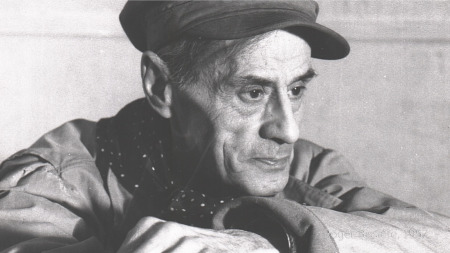 Roger Bissière
October 07, 2022