LuLLabIES
Sadie Laska and Sara Magenheimer
March 20 - May 01, 2021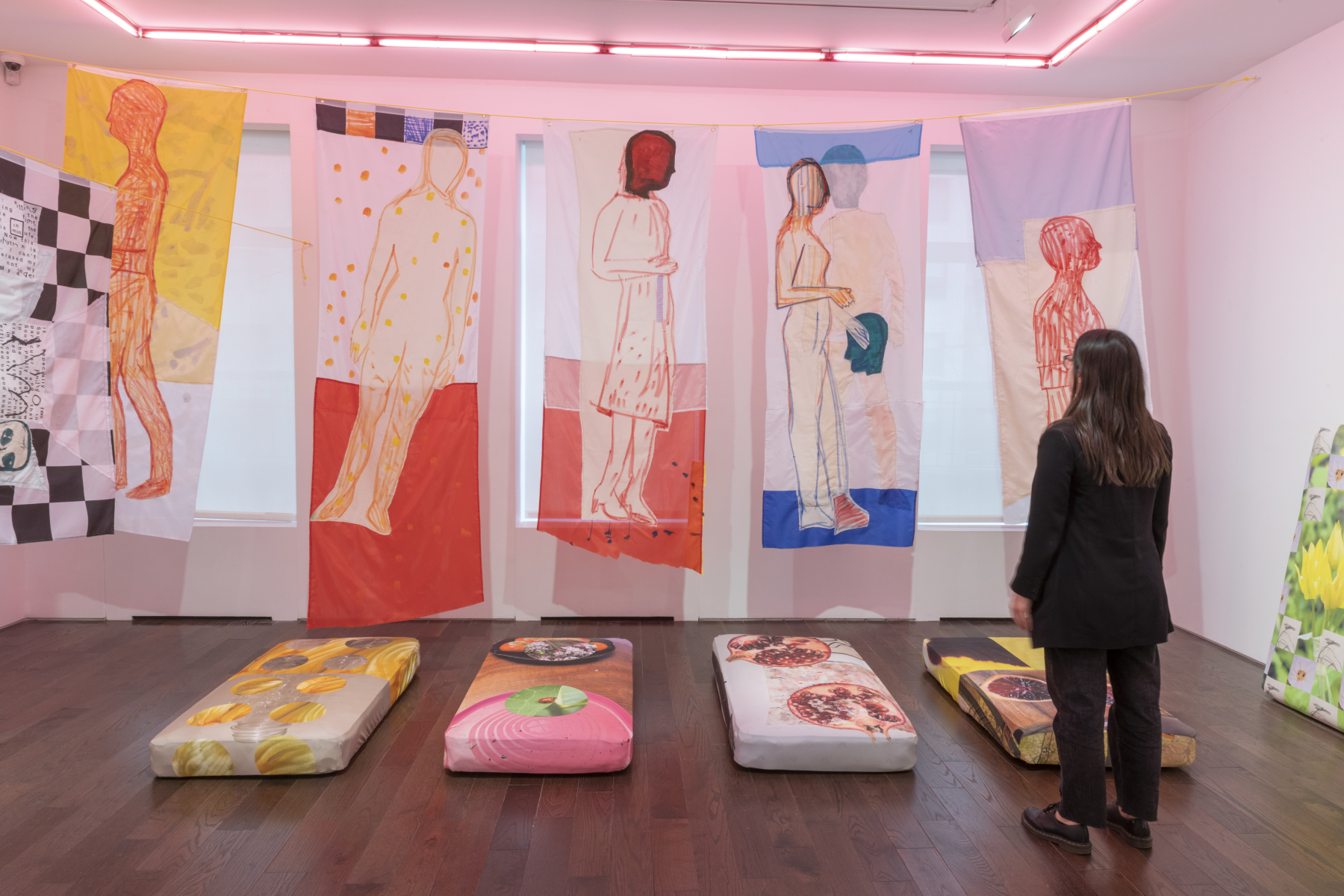 LuLLabIES
Sadie Laska and Sara Magenheimer
March 20 - May 01, 2021
---
i wasn't really sure what he
meant and i suspected he wasn't either
taking pieces  
that had been parts of
and 
putting them down next
to each other
and enjoying what happened when i did it
this was new
they had never
been together before
things that once were parts of
now were together
i felt
but the others wouldn't know
they would not
have known either
we can infer from whats left
there are ways that the mind organizes things
that are more surprising than what you can do mechanically
that are more surprising than what i can do by planning to sit down and
cut the pieces up
— Mira Dayal, "Radical Coherency (After David Antin)"

Ceysson & Bénétière is pleased to present LuLLabIES, an exhibition of works by Sadie Laska and Sara Magenheimer. The exhibition will be on view at Ceysson & Bénétière New York from March 20th through May 1st, 2021.  
Giving birth is hard for a mother, potentially deadly and likely traumatizing. It is common not to talk about the dark nuances of that joyful event, as they would cast a shadow on one's origin story. Birth is messy, chaotic and violent, and from the outside, it can look a lot like death. This is where the snake eats its tail. Sara Magenheimer's crib sheets printed with complex photographs of her home and studio are tucked around crib mattresses. These prone but comforting supports seem to await the souls stuck like flies to the discarded clothing in Sadie Laska's work. This is the part of the self that comes before or after the body, the in between state of consciousness that comes immediately after death or just before birth. Woven like a lifeline through the show is a text taken from a fifty-page poem written by Magenheimer during her year of quarantine, the rise of American fascism, the violent visibility of ever-present racism, an attempted coup and the fraught transition of power between presidential administrations. The poem is a virus, language interfering with everything it touches. These works—and the flags, drawings, collages and paintings that complete the constellation of a collaboration—form a record of conversation and metabolized rage, a show borne of USPS packages and text messages between friends.
Sadie Laska, Sara Magenheimer, and Mira Dayal, January 2021
Sadie Laska (b. 1974; Prince, West Virginia) is a Queens based musician and artist. She received her MFA from Bard College 2013. Laska's work has been shown internationally, with solo shows at Canada, New York; Office Baroque, Brussels; KS Art, New York; and Ceysson & Bénétière, in Paris, Saint-Étienne, Luxembourg and Geneva. Laska has also been included in a three-person exhibition at Newport Street Gallery, London, organized by Damien Hirst. Additionally, her work has been included in group exhibitions at Night Gallery, Los Angeles; Gavin Brown's Enterprise, White Columns, Marlborough Gallery, James Fuentes Gallery, all in New York; among others. Laska's band, I.U.D. has performed at venues including the Whitney Museum of American Art, MoMA PS1, The Kitchen, ISSUE Project Room, Astrup Fearnley and the Kunsthalle Zürich.
Sara Magenheimer (b. 1981; Philadelphia, Pennsylvania) is an artist, writer, and musician based in upstate New York. She received her MFA from Bard College in 2013. Recent solo exhibitions include The New Museum, New York, Portland Institute for Contemporary Art, Portland, OR; The Kitchen, New York. Her videos have been screened at the Flaherty Seminar, International Film Festival Rotterdam, Brooklyn Academy of Music; the New York Film Festival; Images Festival, Toronto; Anthology Film Archives, New York; EMPAC, Troy, NY; and the Museum of Contemporary Art Chicago. She was the recipient of a 2014 Rema Hort Mann Foundation Grant, 2015 Artadia Grant, winner of the Prix De Varti at the 2015 Ann Arbor Film Festival and a recipient of a grant from the Foundation for Contemporary Arts in 2020. Magenheimer has authored "Notes on Art and Resistance A–Z," a downloadable PDF completed over the year following the 2016 US presidential election. In 2019 Wendy's Subway published Beige Pursuit, Magenheimer's first book length work of writing.