Sadie Laska
Boiling Frog Syndrome
March 04 - April 22, 2023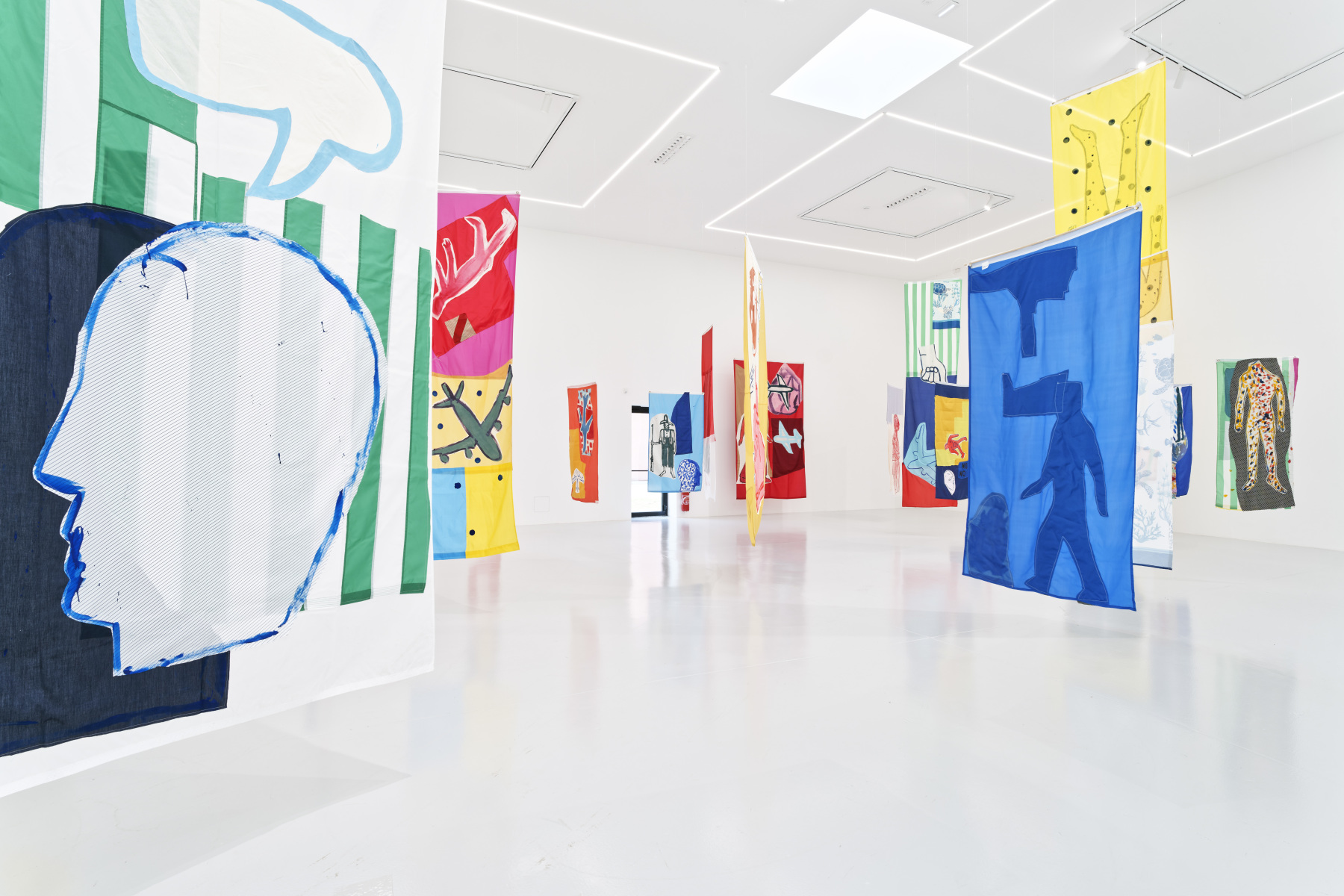 Sadie Laska
Boiling Frog Syndrome
March 04 - April 22, 2023
---
Ceysson & Bénétière is pleased to present Boiling Frog Syndrome, a solo exhibition of works by New York-based artist Sadie Laska spanning from 2017 through 2023. The show will be on view from March 4th through April 22nd, 2023 and marks Laska's fifth solo exhibition with the gallery. 
Boiling Frog Syndrome is the phenomenon in which a person or group fails to act against a problematic situation of increasing severity until it reaches catastrophic proportions and it is too late to respond. Laska uses her practice as a mechanism to process the chaotic and often concerning state of the world around her—the boiling pot surrounding all of us 'frogs'. Although not necessarily or always political, the works are highly aware of the inescapability of our economic, ecological, and political landscape. Using the languages of collage, printmaking, abstraction, and poster art, Laska's series build off of and digest one another as though the works themselves are rising in temperature.
Laska's paintings have, for a long time, functioned as collages as well as acting as a jumping off point for later works. Set between gestural layers of paint are ad clippings from vintage women's magazine, photos of mannequin heads, pieces of fabric, and recognizable stars from an American flag. These cut elements bring with them not only their fraught meanings—the commodification of women's reproductive health, the sanctity of the flag, etc.—but also serve as visual references that re-appear in later series. 

In her flag works, Laska employs a format which is inherently politicized and merges it with graphic imagery found in her paintings. The process of sewing fabric cut-outs onto the flags rather than treating the flags as a traditional canvas bring them, once again, into the realm of collage. Alongside silhouettes of figures and crashing airplanes are cut up phrases taken from poetry. The process of dissecting, abstracting, and reassembling lends a sense of uncanniness and disorientation reflective of the time we are collectively living. Anxiety joins forces with humor and the repetition of motifs and images recall the meme-ification of current affairs—us frogs seeing the boiling water and laughing about it. 

From the flags stemmed a new series of monotypes which take some of the same images from the flag works and layer them with sheer ink layers and dot motifs reminiscent of the earlier paintings. In a sense, Laska sees the monotypes as paintings of sorts, using the same visual language of abstraction found in her gestural works on canvas. While not literally cut and pasted, the figures that appear in the monotypes seem directly lifted from the flags and placed into these compositions. Again we see repetition. By now, the figure becomes like a commodity which begins to appear again and again almost like an advertisement. Although hands, profiles, and language still play a role, they seem increasingly abstracted and gestural.

Finally, Laska returns to the painting. Three large scale canvases which appear to have reached the boiling point. Figures, hands, planes, phones, fire seem to form almost Guernica-esque scenes of chaos. Again, these are not just paintings. Each element in Laska's compositions appear cut and pasted—as though these works themselves are collaged culminations of everything that preceded them. The paintings convey the feeling that the pot is bubbling over and it's too late for we, the frogs, to escape. 

Sadie Laska (b. 1974, West Virginia) is a visual artist and musician living in Queens, New York. She received her MFA from Milton Avery Graduate School of the Arts in 2014. Laska's work has been shown internationally, with solo shows at Canada, New York; Office Baroque, Brussels; KS Art, New York; and Ceysson & Bénétière, in Paris, Saint Etienne, France; Luxembourg and Geneva. In 2017, she was the subject of a three-person exhibition at Newport Street Gallery, London, organized by Damien Hirst. That same year, Laska curated Animal Farm, a group exhibition at the Brant Foundation and Study Center in Greenwich, CT. Additionally, her work has been included in group exhibitions at Night Gallery, Los Angeles; Gavin Brown's Enterprise, White Columns, Marlborough Gallery, James Fuentes Gallery, all in New York; among others. Laska's band, I.U.D. has performed at venues including the Whitney Museum of American Art, PS1 Contemporary Art Center, The Kitchen, ISSUE Project Room, Astrup Fearnley and the Kunsthalle Zürich.

Francesca Pessarelli, January 2023

Artist :
Sadie Laska
---
Visitor Information
Ceysson & Bénétière
10 rue des Aciéries
42000 Saint-Étienne
T: +33 4 77 33 28 93