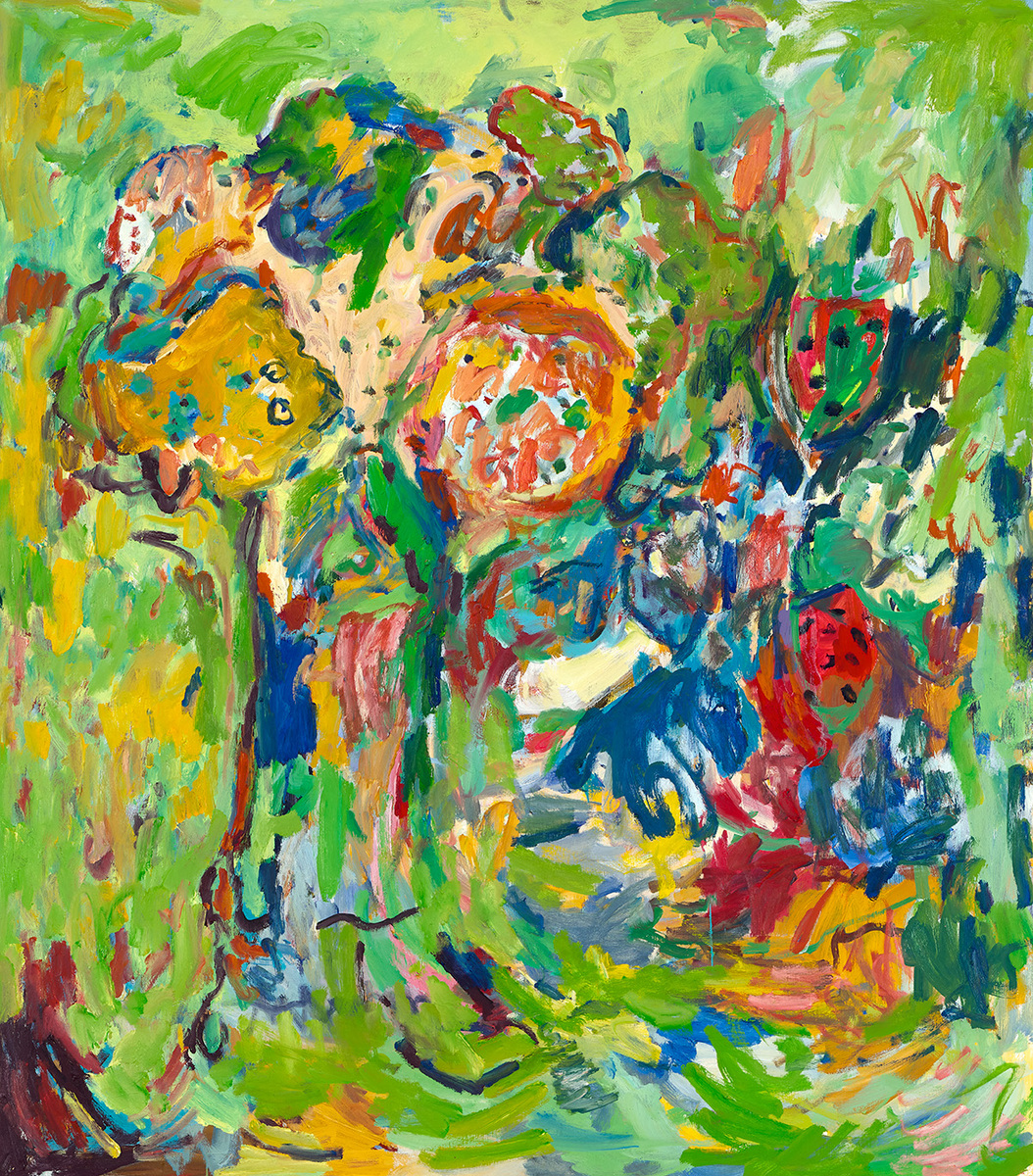 Landscape in Green
, 2017
Huile sur panneau
127 x 111.76cm
50.00 x 44.00 in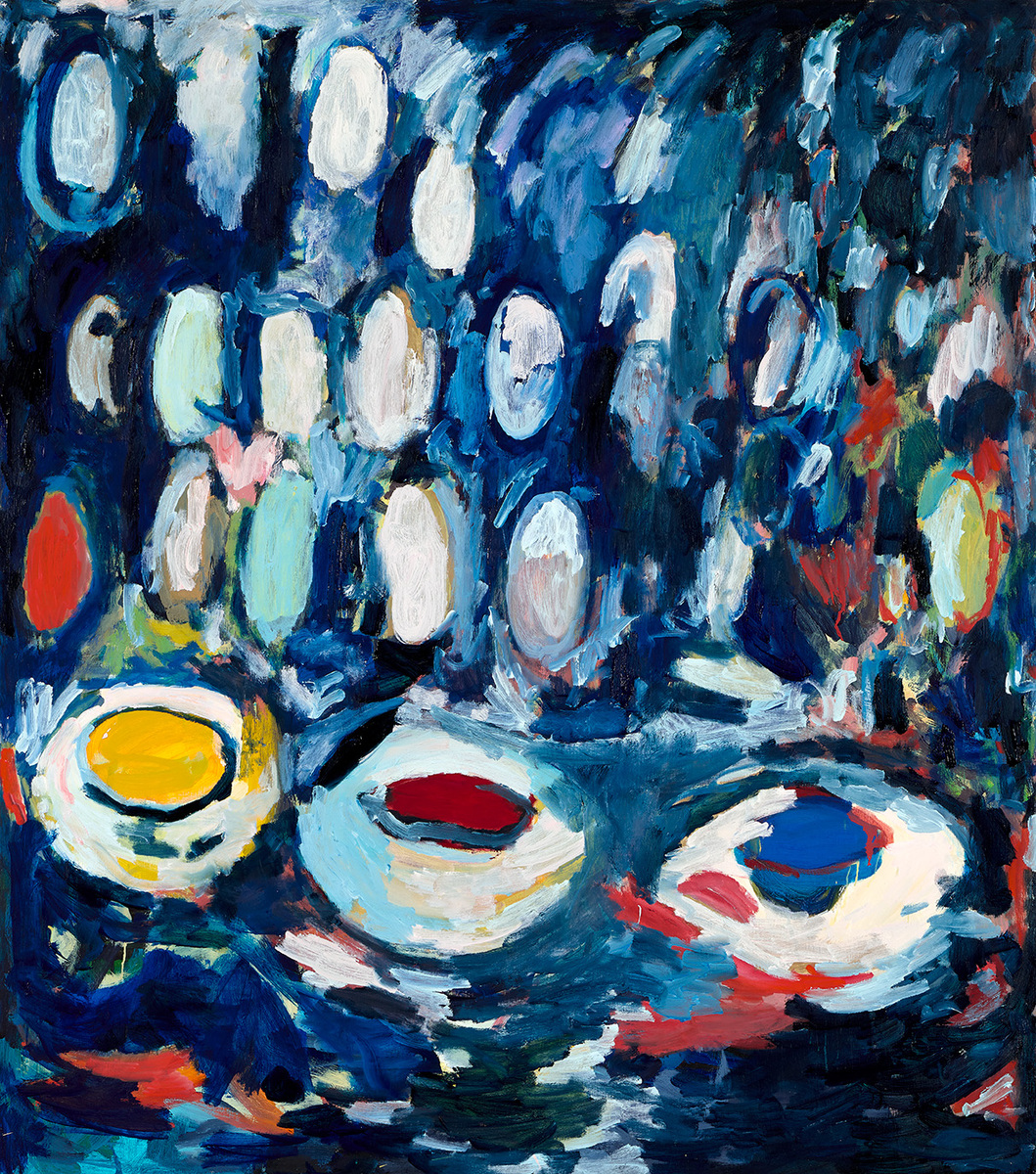 Red Yellow and Blue Golden Eggs
, 2017
Huile sur panneau
127 x 111.76cm
50.00 x 44.00 in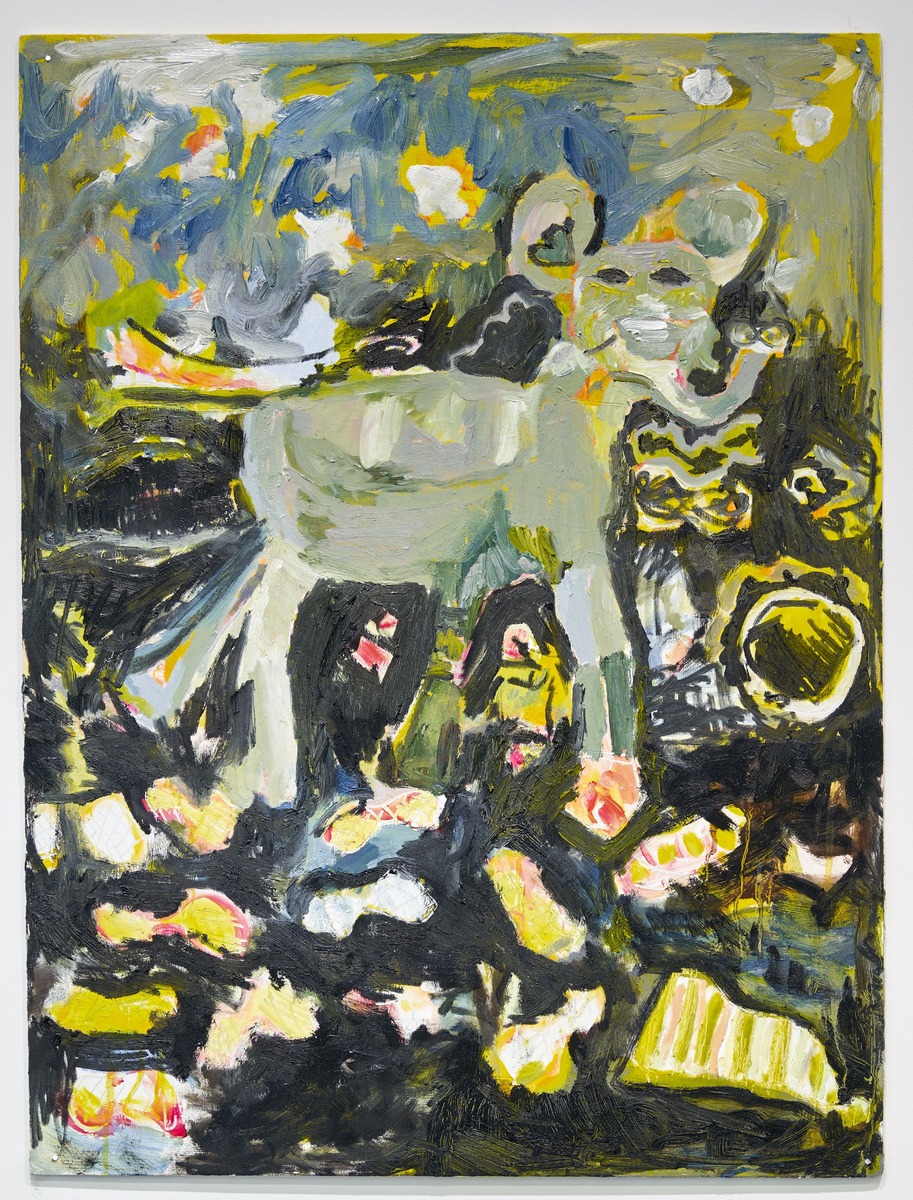 Entertainment
, 2015
Huile sur bois
81 x 61cm
31.89 x 24.02 in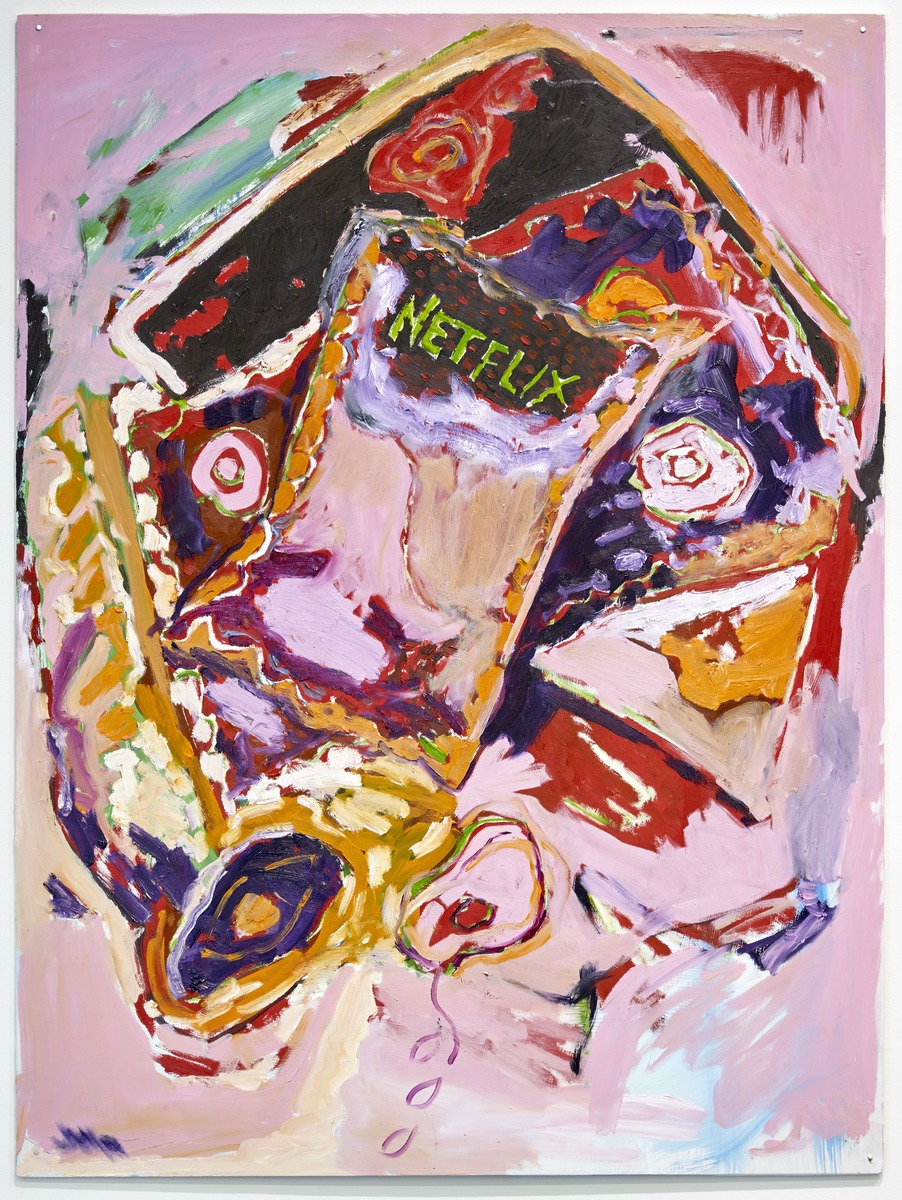 Netflix, I'll See You in My Dreams
, 2015
Huile sur bois
81 x 61cm
31.89 x 24.02 in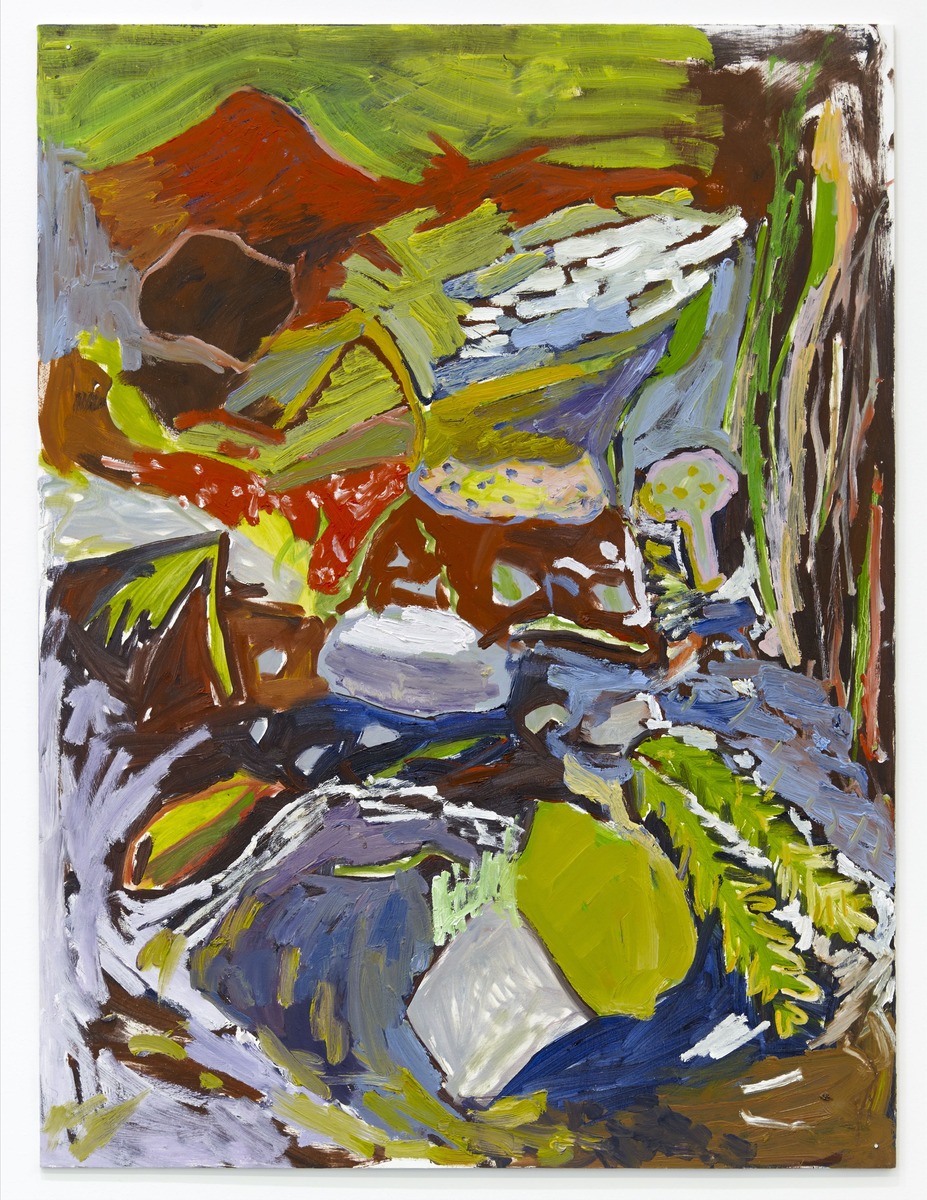 Still Life with Wood Block
, 2015
Huile sur bois
81 x 61cm
31.89 x 24.02 in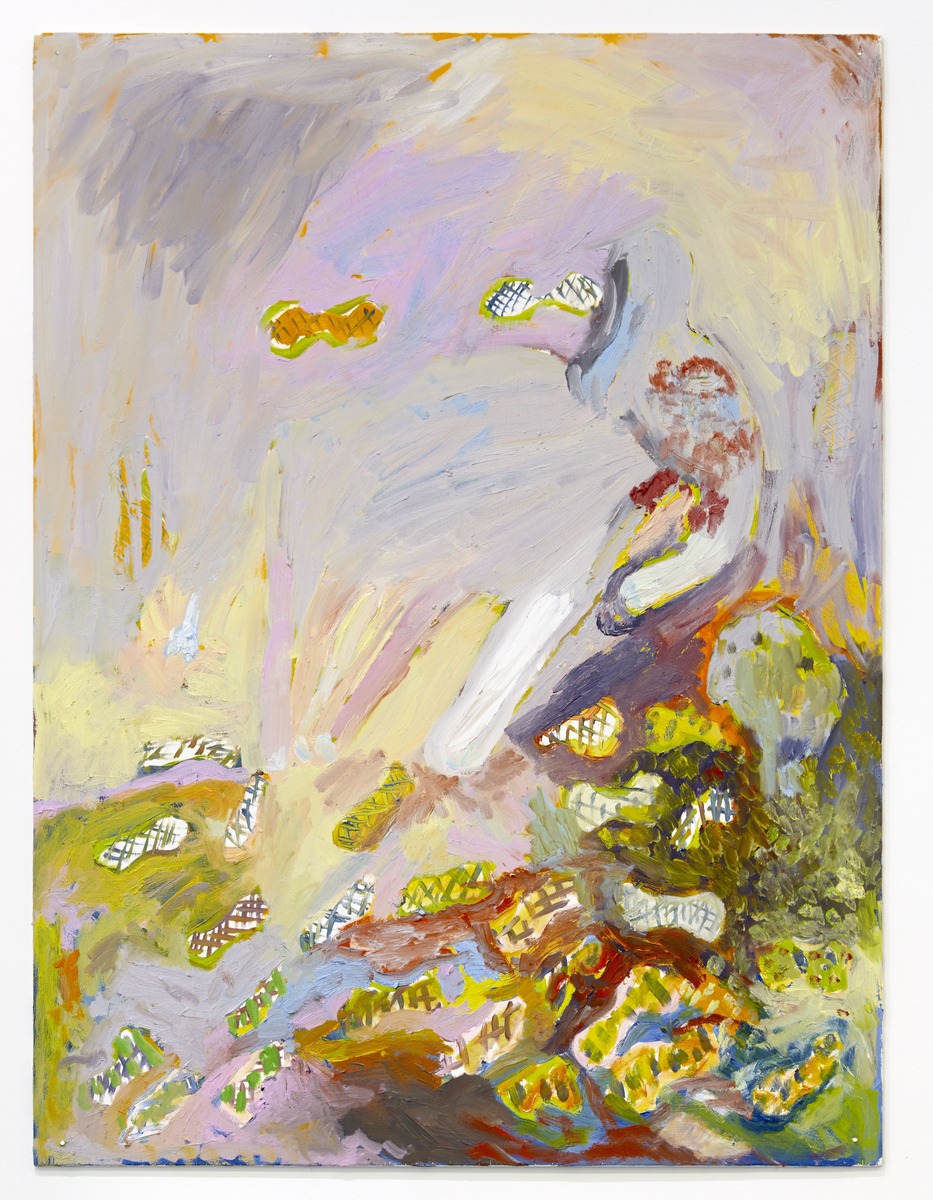 Flying Peanut
, 2015
Huile sur bois
81 x 61cm
31.89 x 24.02 in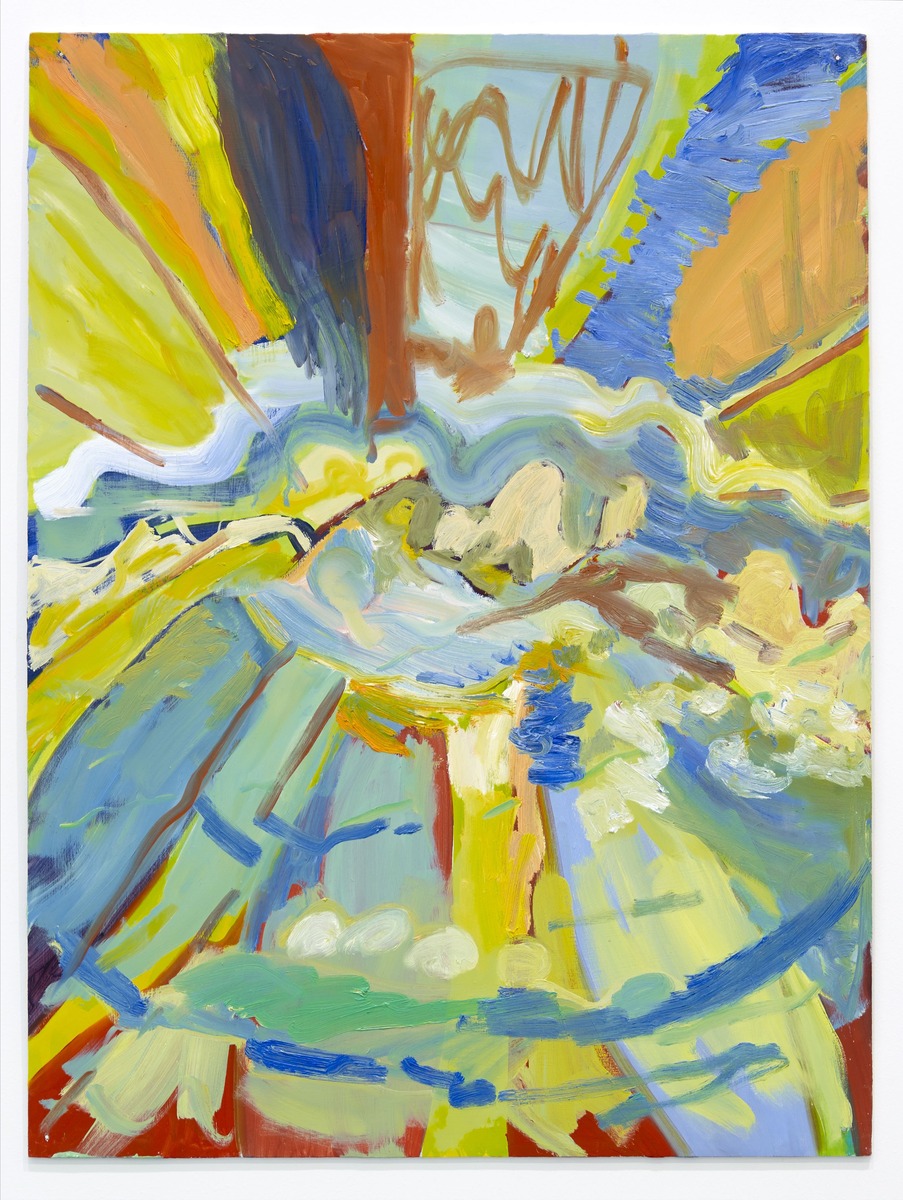 Hippie Patch
, 2015
Huile sur bois
81 x 61cm
31.89 x 24.02 in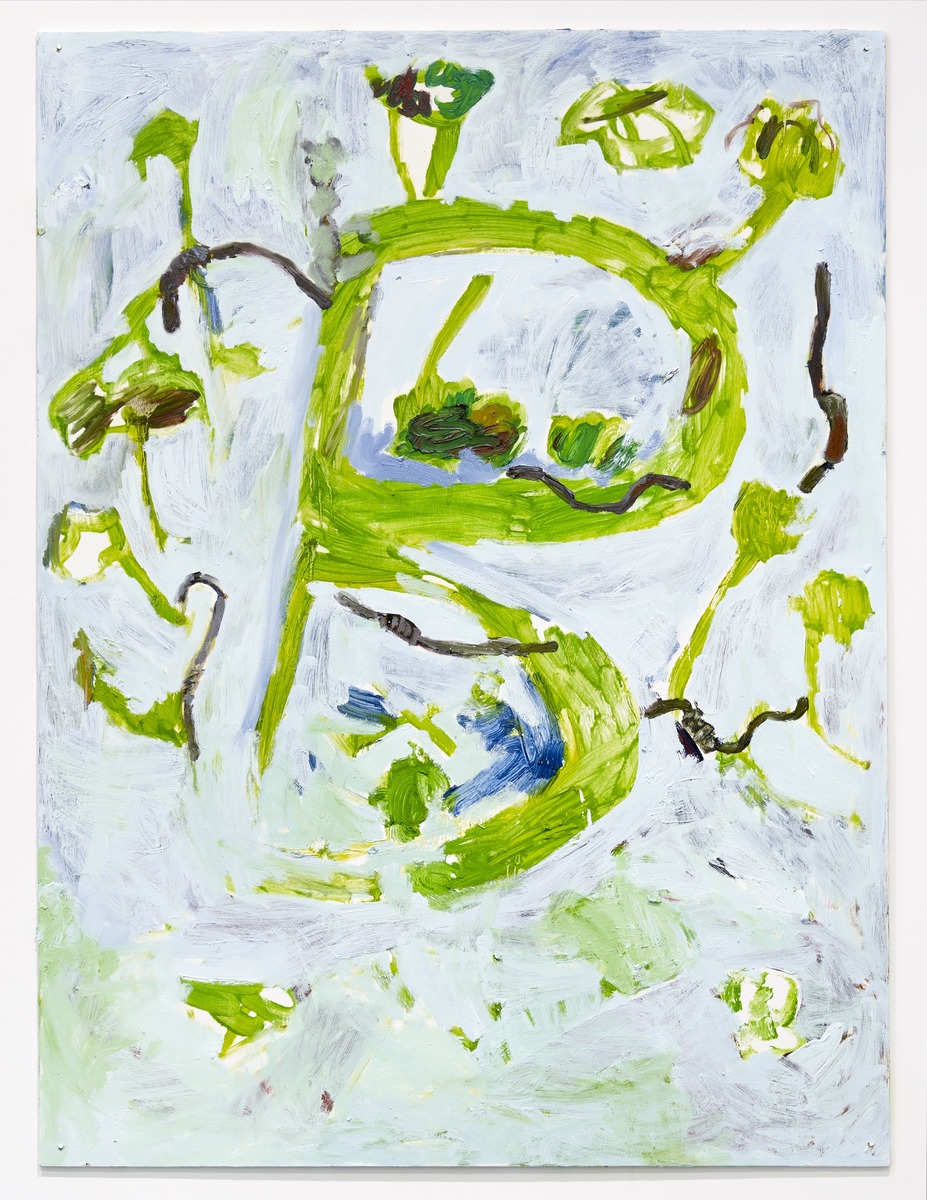 Botanical Painting
, 2015
Huile sur toile
81 x 61cm
31.89 x 24.02 in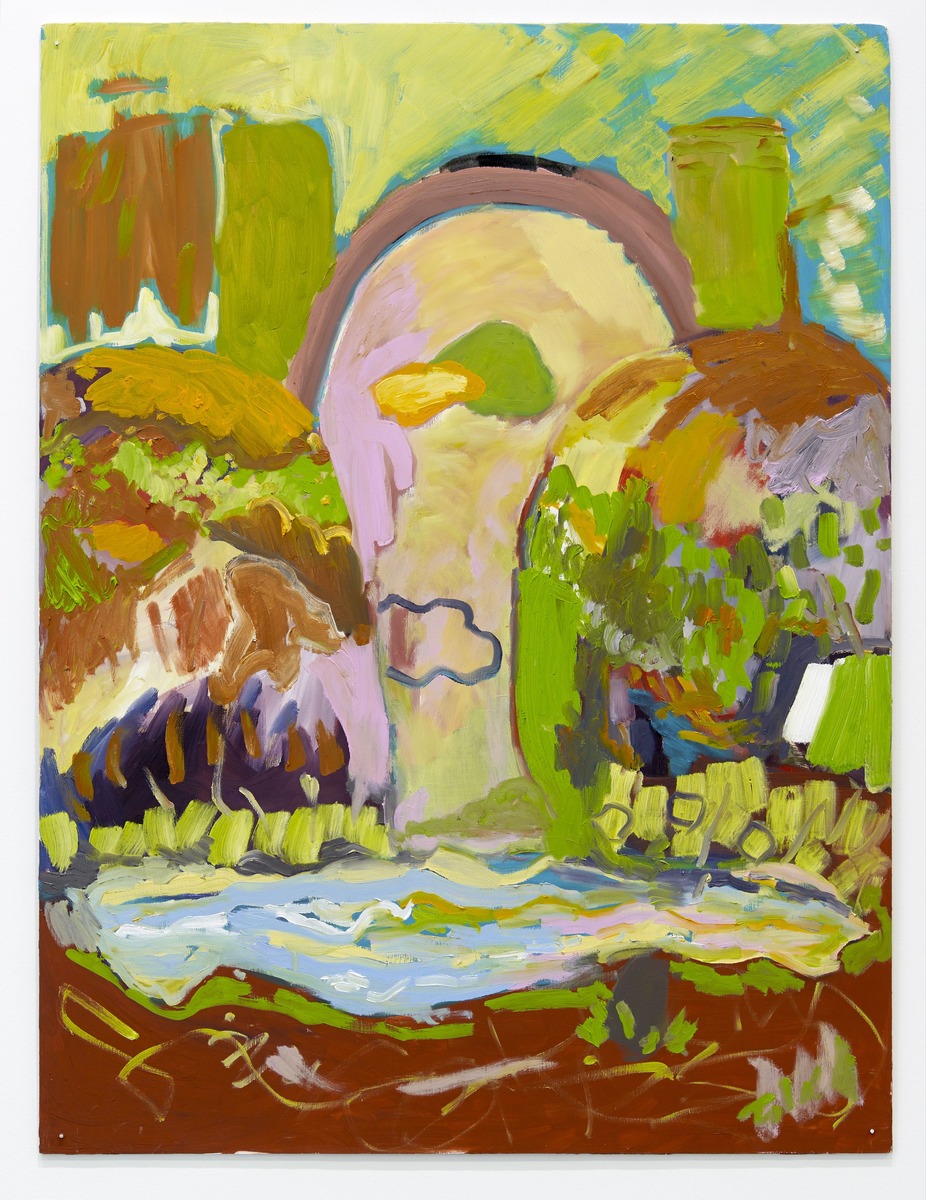 Super Mario
, 2015
Huile sur bois
81 x 61cm
31.89 x 24.02 in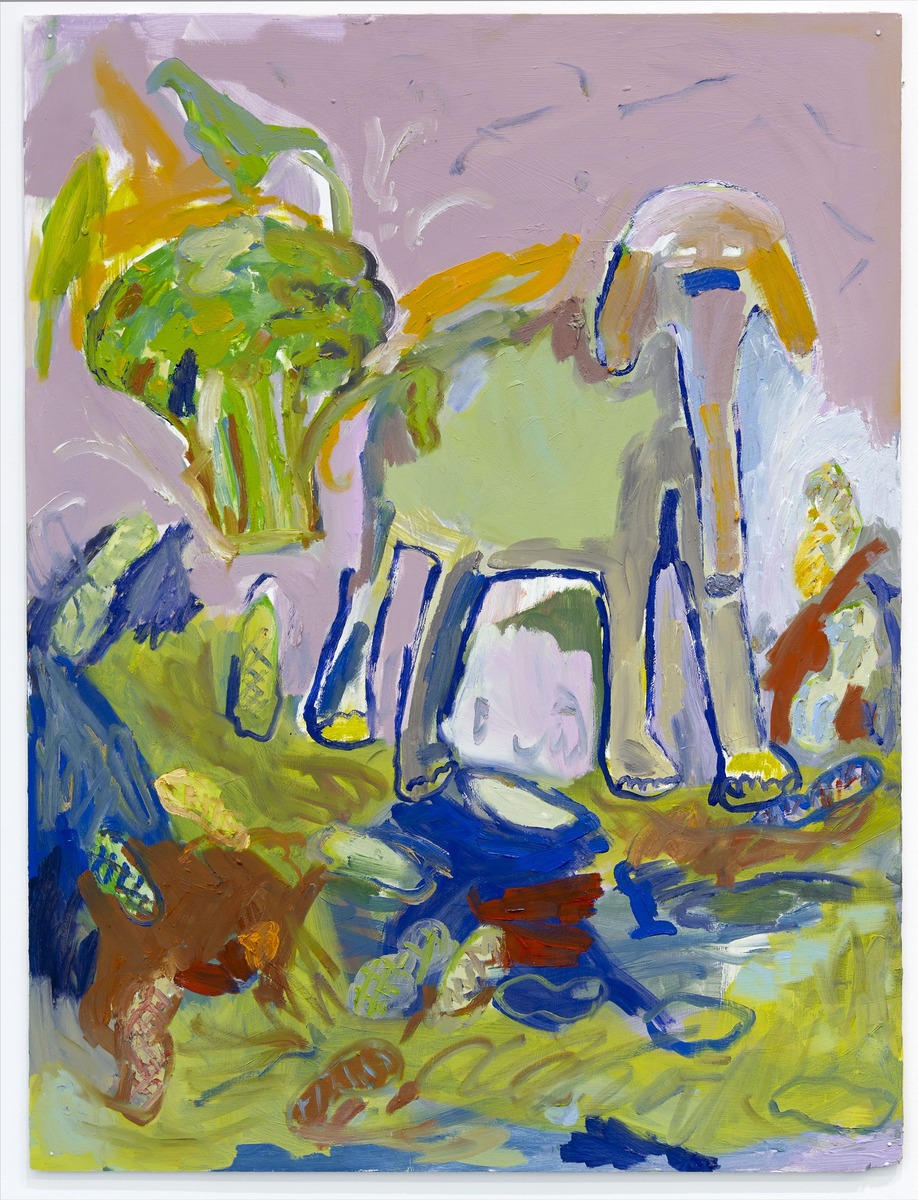 Solliloquy
, 2015
Huile sur bois
81 x 61cm
31.89 x 24.02 in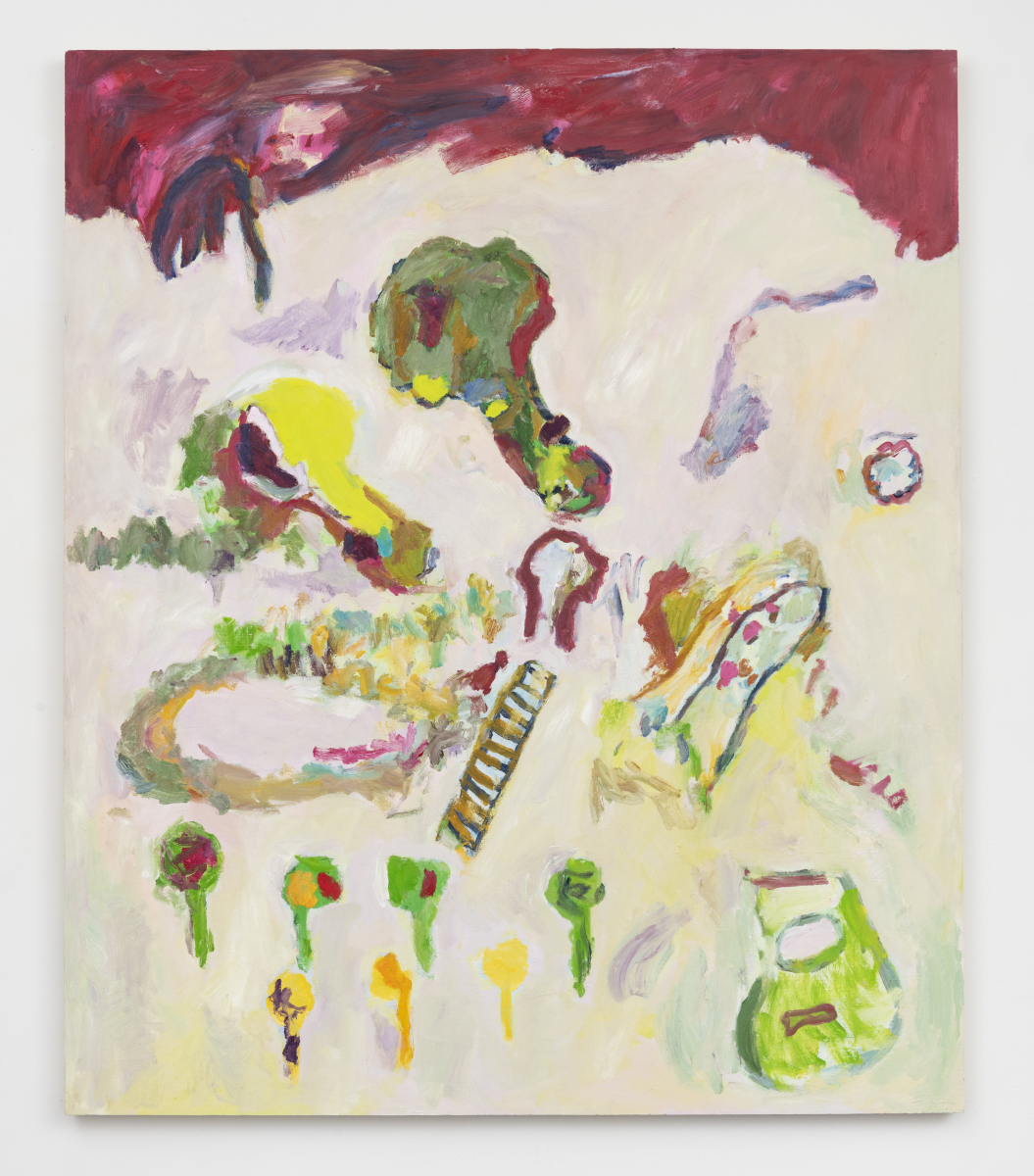 Red River
, 2022
Huile sur panneau
142.24 x 119.38cm
56.00 x 47.00 in
Née en 1983, à Montréal, Canada
Vit et travaille à New York, États-Unis.

Formation
2011
MFA San Francisco Art Institute, San Francisco, États-Unis


2006
BFA Nova Scotia College of Art and Design, Halifax, Canada
Exécutées à l'huile, avec des traits délibérés et confiants, les peintures d'Adrianne Rubenstein sont implacablement optimistes. Mi-abstraites ou mi-figuratives, selon le regard que l'on porte, ces oeuvres biographiques, qui puisent dans les souvenirs d'enfance et de vie de l'artiste, palpitent de vie.
Les tons vifs et acides de certaines pièces rappellent la palette du symboliste français du XIXe siècle Odilon Redon, mais un lien plus fort est encore avec le groupe allemand du début du XXe siècle The Blue Rider, dont les membres ont mis l'accent sur les formes naturelles et la dimension spirituelle/émotionnelle. de couleur. Les peintures de Rubenstein, dans leur naïveté expressive et vibrante, font écho à celles de membres clés tels qu'August Macke, Franz Marc et Gabriele Munter. Marc a peint Blue Horse en 1911; La peinture de Rubenstein du même titre a suivi 110 ans plus tard et est typique de ses compositions denses, avec la tête de cheval luttant pour attirer l'attention avec des touches de couleurs vives et des formes semi-reconnaissables. —Sara Harrison

Expositions de groupe à la galerie
Body Full of Stars, New York
21 juin - 28 juillet 2023
Feed the Meter, Wandhaff
23 septembre - 16 décembre 2017
Combustible Cocktail, Hors les murs
08 juillet - 30 juillet 2017
FEED THE METER, Wandhaff
26 septembre 2015 - 30 janvier 2016
Expositions personelles
2023
(Upcoming) Tanya Leighton, Los Angeles, CA
2021
Global Warmth and Global Cooling, Broadway Gallery, New York, NY
Bark of the Town, The Pit, Los Angeles, CA
2020
Ruby in the Dust, Deli Gallery, Brooklyn, NY
2019
Little Shop of Horrors, Tif Sigfrids, Athens, GA The Journal, New York, NY
2018
I Love Worms, The Pit, Los Angeles, CA The Forest Floor, Cooper Cole, Toronto, ON
2017
Liner Note, Reyes Projects, Birmingham, MI
The Parting of the Green Sea, Fourteen30 Contemporary, Portland, USA
2016
NADA Miami Beach with Stems Gallery, Miami, USA
Peaceful Alien, The Pit II, Los Angeles, USA
White Columns, New York, USA
Frog in Fence, Halsey McKay, East Hampton, USA

Expositions collectives
2023
(Upcoming) David Petersen, Minneapolis, MN
2022
The Way Things Grow, Meg Lipke and Adrianne Rubenstein, Upstate Art Weekend with Broadway, Ghent, NY
Heart View Knot Bird, Tanya Leighton, Los Angeles, CA
Person(a), Venus, New York, NY
SPACE, Laurel Gitlen, New York, NY
Al Freeman, Tyson Reeder, Jennifer Rochlin, Adrianne Rubenstein, Tif Sigfrids, New York, NY
2021

All Because of a Hat, Isabella Cuglievan and Adrianne Rubenstein, KDR365, Miami, FL
Horses?, CHART Gallery, New York, NY
10 Years, Halsey McKay, East Hampton, NY
Sunny Side Up, Sunny's, New York, NY
Speech Sounds, More Pain, New York, NY
Aid for Art Now, Deli Gallery, New York, NY
Grouper, Broadway Gallery, New York, NY
Downtown 2021, curated by Sam Gordon, La Mama Galeria, New York, NY
2020
Quixotic, Ramp Gallery, London, UK
Rootless, Marvin Gardens, Ridgewood, NY
Cadmium Limon curated by Cristina Anglada, Galeria Pelaires, Mallorca, Spain
Riders of the Red Horse, The Pit, Los Angeles, CA
Animal Crossing curated by Dana Frankfort and Jackie Gendel, Inman Gallery, Houston, TX|
Summer Group Show, Tif Sigfrids, Athens, GA
Woof of the Sun, Ethereal Gauze, Halsey McKay, East Hampton, NY
History, Family Exhibitions, Montreal, QC
Jackie Gendel and Adrianne Rubenstein, SOCO Gallery, Charlotte, NC and Tif Sigfrids, Athens, GA
2019
American Earthquake curated by Madeleine Bialke, Vacation, New York, NY
Original Copy, ALTA, Malmö
A Fairly Secret Army curated by Paul Whiting, wildpalms, Dusseldorf
Peanuts curated by Eddie Martinez, Eighteen Gallery, Copenhagen
Hyperlight curated by Sam Borenstein, Underdonk, Brooklyn, NY
Bushwick Rodeo curated by Wallace Whitney, Sean Horton, Dallas, TX
2018
Still Big curated by Sun You, Tiger Strikes Asteroid, New York, NY
Sun Gazers, The Pit, Los Angeles, CA
Out of Control curated by Sally and Peter Saul, Venus Over Manhattan, New York, NY
Friends from LA, Rental Gallery, East Hampton, New York, NY
Howard's and Tif Sigfrids present, Galeria Mascota, Mexico City
Friends of Marvin Gardens, Rod Barton, London
Chimera, Fisher Parrish, Brooklyn, NY
Flower Sermon curated by Jennifer Sullivan, Yui Gallery, New York, NY
An Eye for an Eye, Arsenal, New York, NY
Flat Earthers, Galeria Alegria, Madrid
Permanent Embrace, Walter Robinson and Adrianne Rubenstein, Stems Gallery, Brussels
2017
Retreat curated by Maggie Gladstone and Peter Labier, Mom's, New York, NY
The Dating Game curated by Kenneth Heyne, The Green Door, Chicago
Ear Putty, curated by Esme Thompson-Turcotte, 56 Henry, New York, USA
Combustible Cocktail, Ceysson & Benetiere, Sag Harbor, USA
Unobstructed Views, presented by MOCAD and Library Street Collective, Hawkins Ferry House, Grosse Pointe, USA
Fleeting Impressions and Abundance of Detail, Tif Sigfrids, Los Angeles, USA
Landscape Modern Oil Painting Canvas Painting Abstract Oil Painting Wall Hanging, curated by Jir Sandel, Galleri Benoni, Copenhagen, Denmark
Bicoastal, curated by Lara Bjork, Meyer Vogl, Charleston, USA
New Spring, curated by John-Elio Reitman, Ghostfeaturefilm.com
Say Yes, curated by Kimia Ferdowsi Kline, Elaine L. Jacob's Gallery at Wayne State University, Detroit, USA
2016
Freud's Mouth, curated by Ebony Haynes, Cooper Cole, Toronto, Canada Bruise, curated by Chris Hood, Et al., San Francisco, USA
Hybrid Objects, L'inconnue, Montreal, Canada Outside, curated by Matthew Higgs, Karma, Amagansett, USA
Katherine Bradford, Sarah Braman, Al Freeman, Adrianne Rubenstein, Harper's Books, East Hampton, USA
We Like Explosions, The Pit, Los Angeles, USA X, Lyles & King, New York, USA
Super Sketchy, Alleyoop Projects, New York, USA
So Much, So Little, All at Once, curated by Yevgeniya Baras, Regina Rex, New York, USA
A Short Story, Field Contemporary, Vancouver, Canada Sibling Rivalries, curated by Ashley Garrett, Torrance Museum of Art, Torrance, USA
2015
Form is Not Different From Emptiness, curated by Ryan Schneider, Left Field, San Luis Obispo, USA
Feed the Meter, curated by Wallace Whitney, Galerie Bernard Ceysson, Wandhaff, Luxembourg
Wind Chimes, curated by Shanna Waddel, Bannerette, Brooklyn, USA
Muscular, curated by John McAllister, Kansas Gallery, New York, USA 2014 What Was the Question ?, David Petersen Gallery, Minneapolis, USA
Anthropocene, CANADA, New York, USA
2013
William Deloitte, Alicia Gibson, Adrianne Rubenstein, Derek Eller Gallery, New York, USA
Shut Up, Weirdo, curated by Brandy Carstens, 247365, Brooklyn, USA
The Fruit that Ate Itself, et al., San Francisco, USA
Expositions Organisées
2017
Geranium, Stems Gallery, Brussels, Belgium
We might not have a planet left soon, 68projects, Berlin, Germany
2016
Fort Greene, Venus over Manhattan, Los Angeles, USA
2015
Maraschino, Fourteen30 Contemporary, Portland, USA
2014
If you throw a spider out the window, does it break ?, Brennan & Griffin, New York, USA
2013
Snail Salon, Regina Rex, Ridgewood, USA
Forget About the Sweetbreads, co-curated with Joanne Greenbaum, James Fuentes, New York, USA
Presse

2017
Stephanie Snyder, "Critics Pick", Artforum, March 2017
Richard Speer, "Adrianne Rubenstein", Visual Art Source, March 2017

2016
John Chiaverina, "Rema Hort Mann Foundation names 2016 New York Emerging Artist Grantees", Artnews, November 2016
Bridget Gleeson, "Inspired by Tetsumi Kudo, a New York Painter Makes Contact", Artsy, October 2016
Claire de Dobay Rifelj, "Fort Greene at VENUS LA", Contemporary Art Review Los Angeles, October 2016
Mark Segal, "Four Painters at Harper's Books", The East Hampton Star, August 2016
Anna Furney "Anna Furney's Guide to Summer's Best Exhibits", Harper's Bazaar, July 2016
Roberta Smith, "Pam Glick, Annie Pearlman, Adrianne Rubenstein, Alyson Vega", The New York Times, June 2016
Maria Calandra, "Adrianne Rubenstein", Pencil in the Studio, June 2016
Diane Solway, "Four Artists to Know Now at White Columns, Including an Instagram Discovery", W Magazine, June 2016

2015
Megan Burbank, "Fruit Loops: Lisa Frank, Art History Major, at Fourteen30 Contemporary", Portland Mercury, March 2015

2014
Thomas Micchelli, "More Now than Then: When Art Reaches Back", Hyperallergic, August 2014

2013
Roberta Smith, "Forget About the Sweetbreads Review", The New York Times, January 2013
Andrew Russeth, "Forget About the Sweetbreads Review", New York Observer, January 2013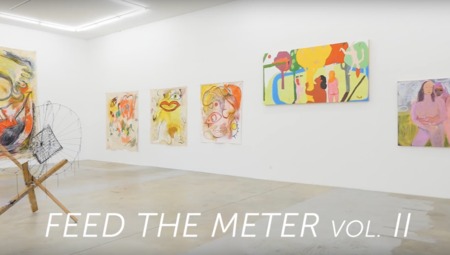 Feed the Meter Vol. 2
12 décembre 2017