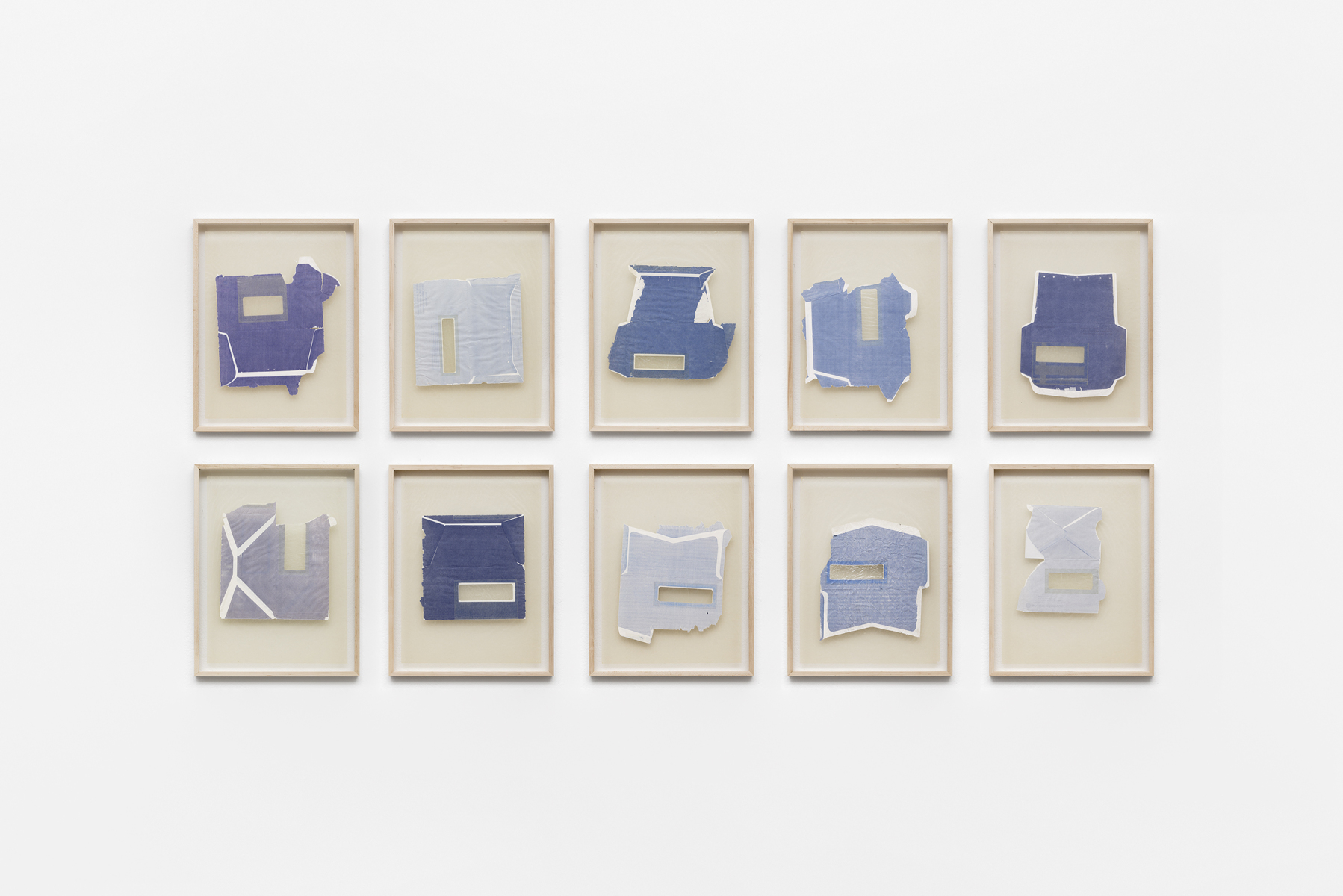 Enveloppes
, 1977
Torn envelopes
85 x 225cm
33.46 x 88.58 in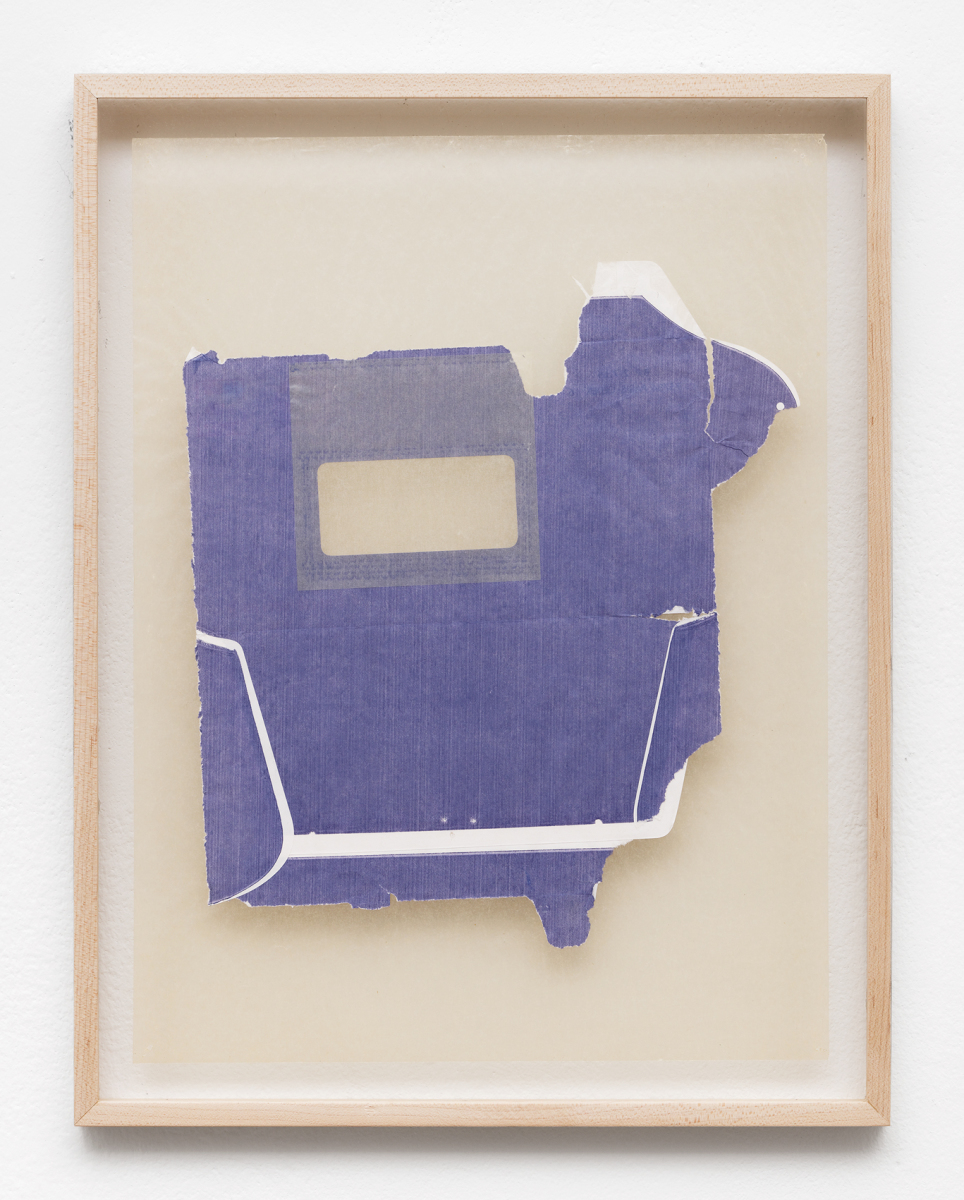 Enveloppe 4/3/5
, 1977
Torn blue envelope
39 x 29.5cm
15.35 x 11.61 in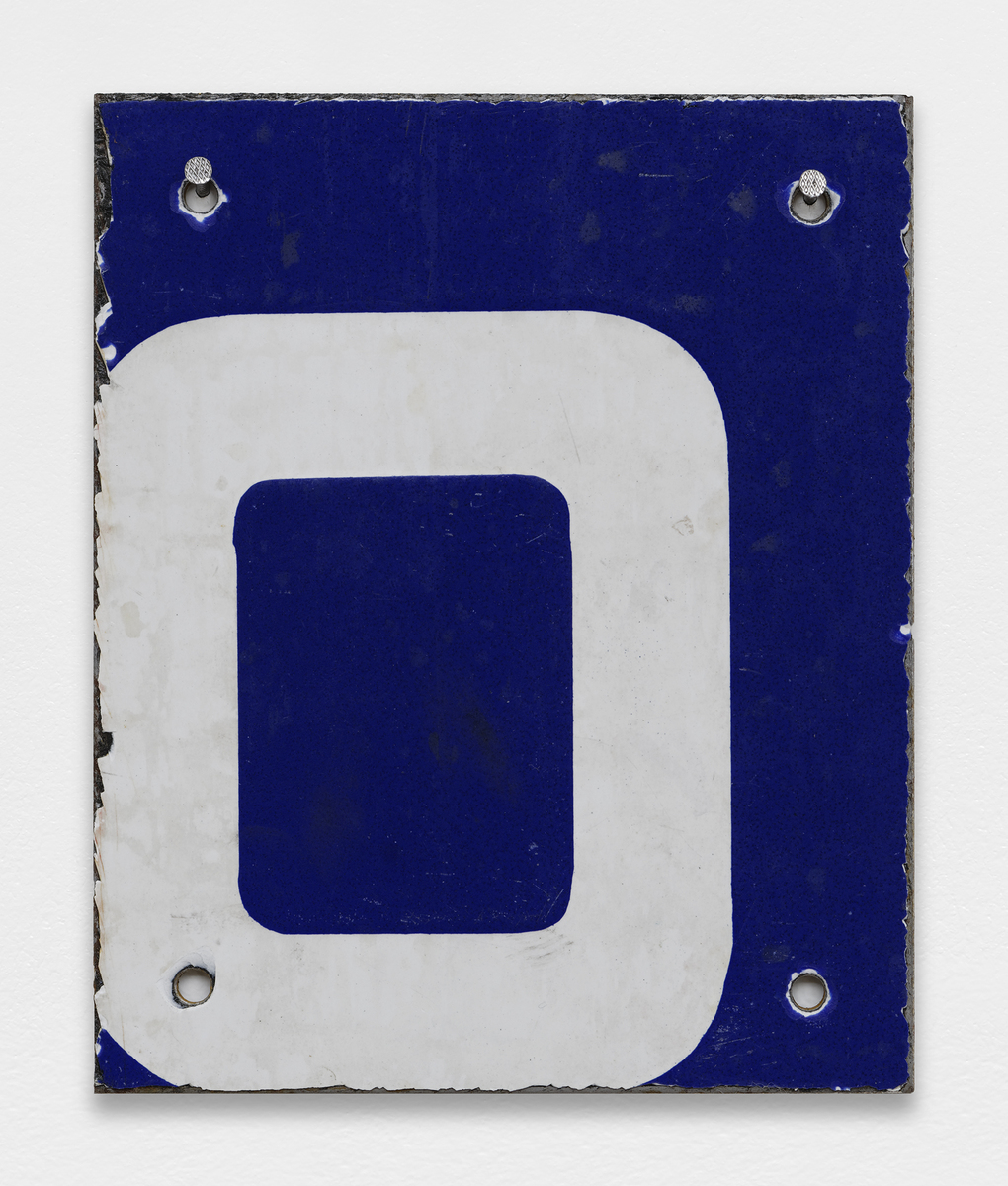 Metro della Robbia
, 1985
Cut Parisian subway sign
16.5 x 12.5cm
6.50 x 4.92 in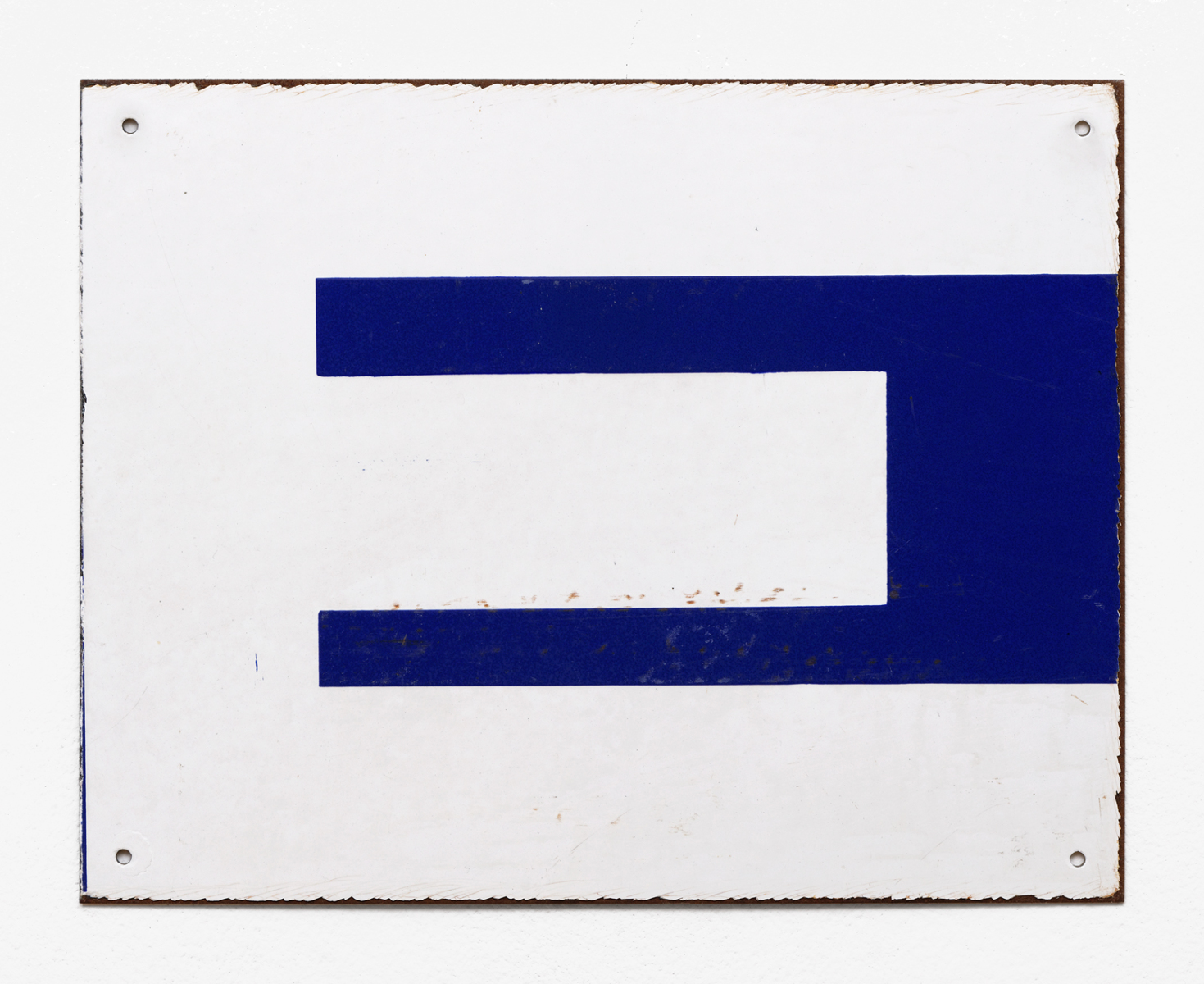 Metro della Robbia
, 1985
Subway plate mounted on metal
28 x 36cm
11.02 x 14.17 in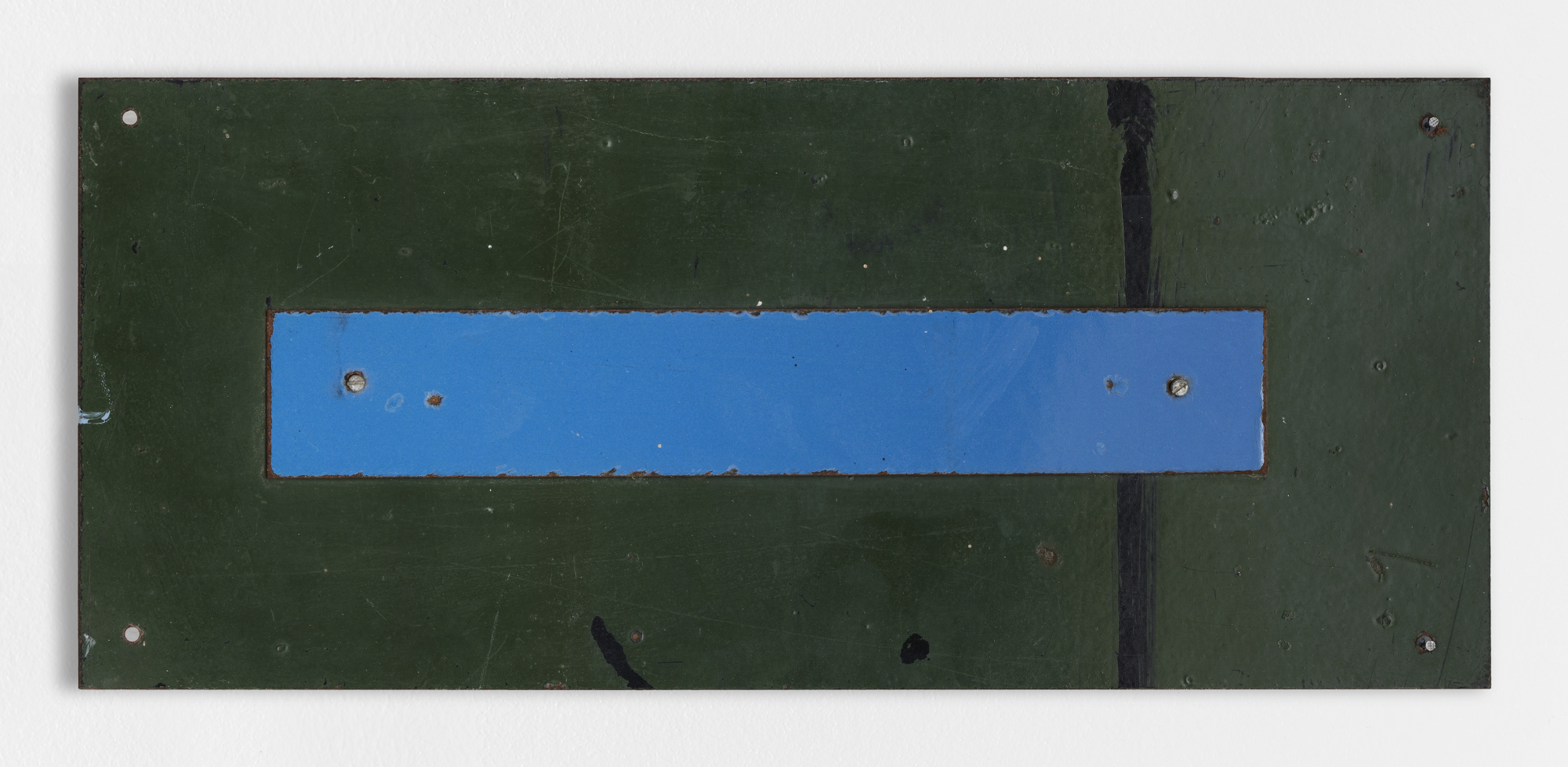 Metro della Robbia
, 1987
Front and back of a Parisian subway sign
43 x 19cm
16.93 x 7.48 in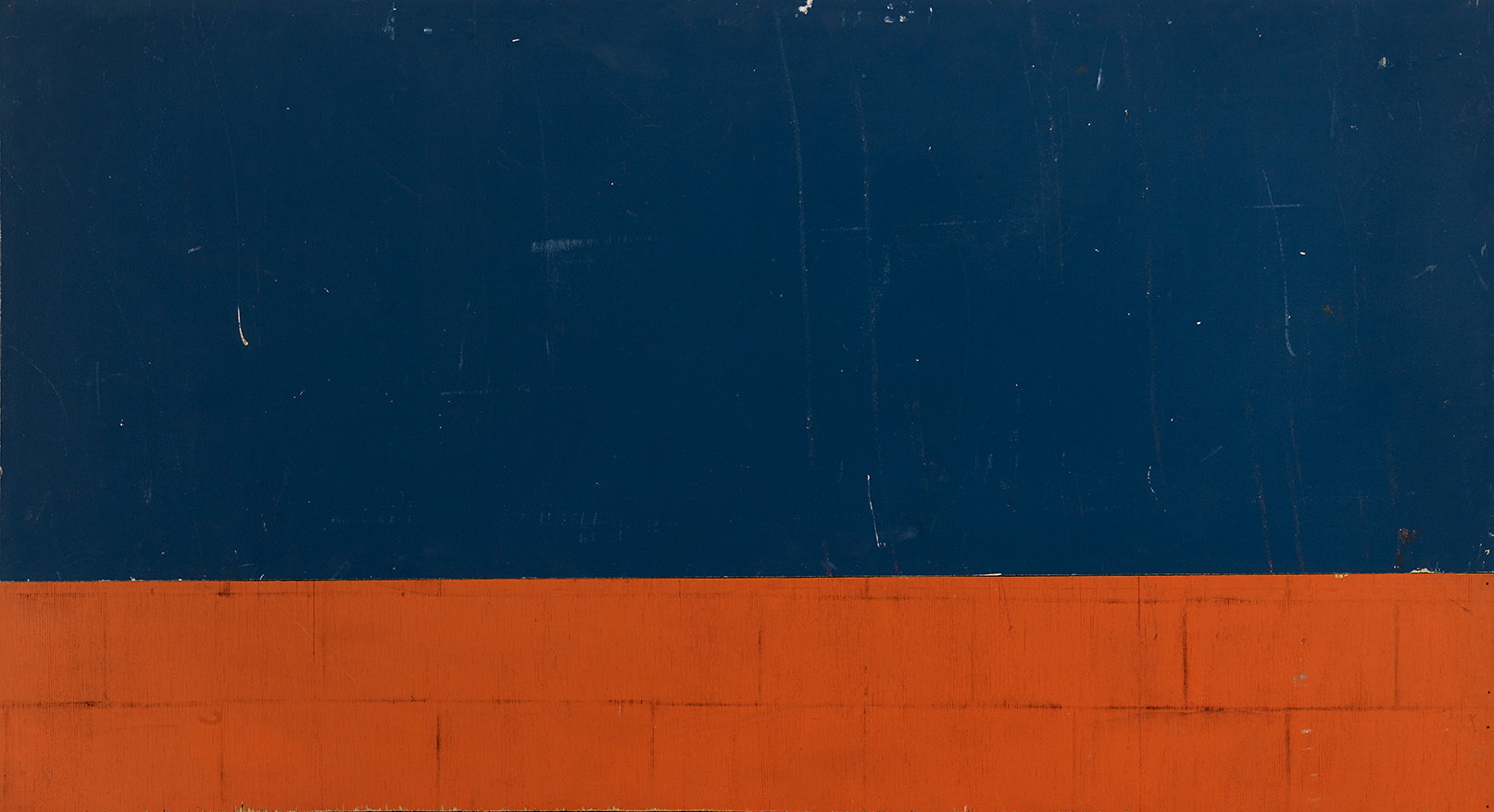 Proposopée à Nicolas de Staël
, 2016
Painting on plywood
84.5 x 157cm
33.27 x 61.81 in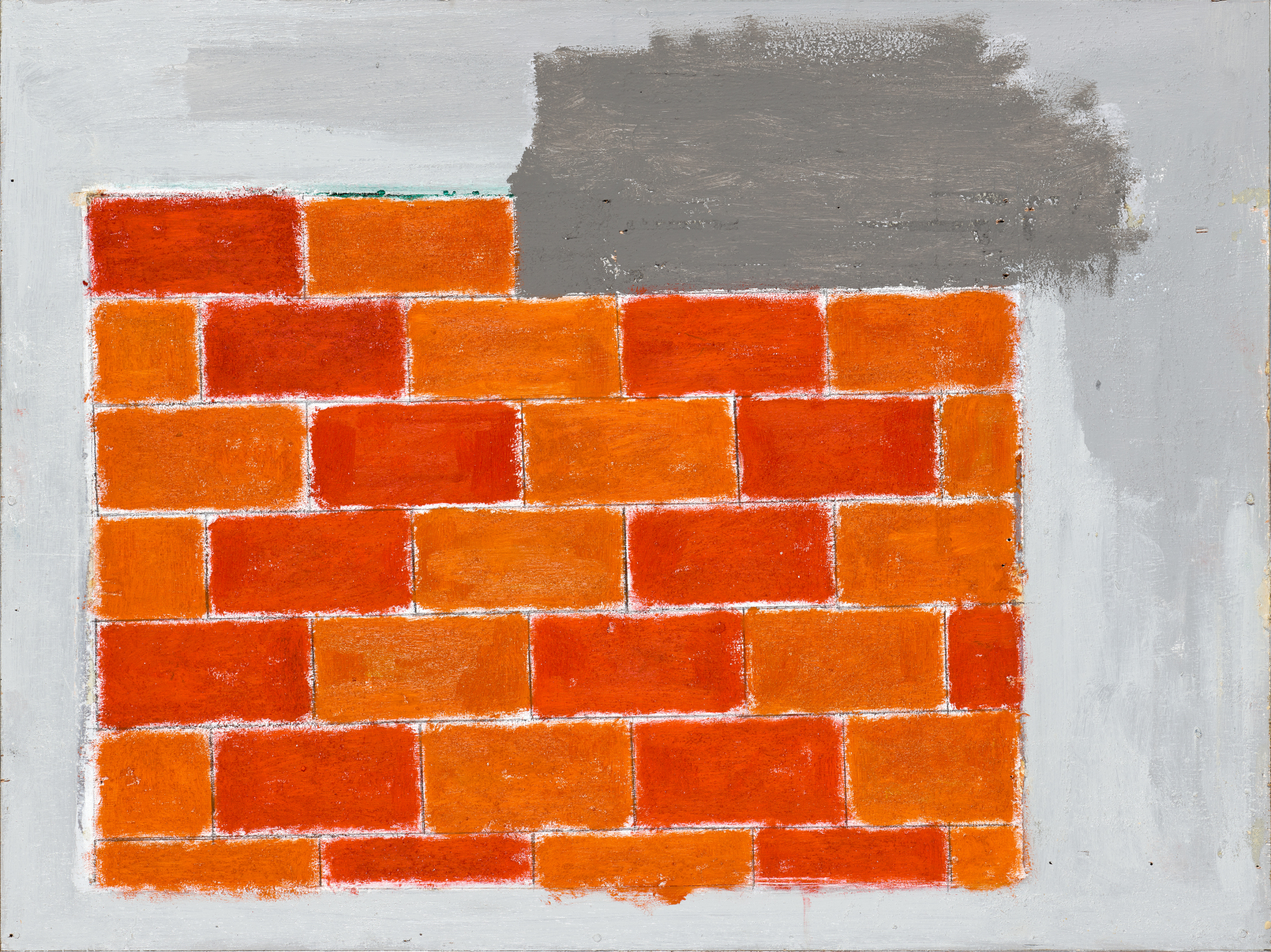 Avenue Mehdi Ben barka, 2015
, 2018
Painting on plywood
41 x 61cm
16.14 x 24.02 in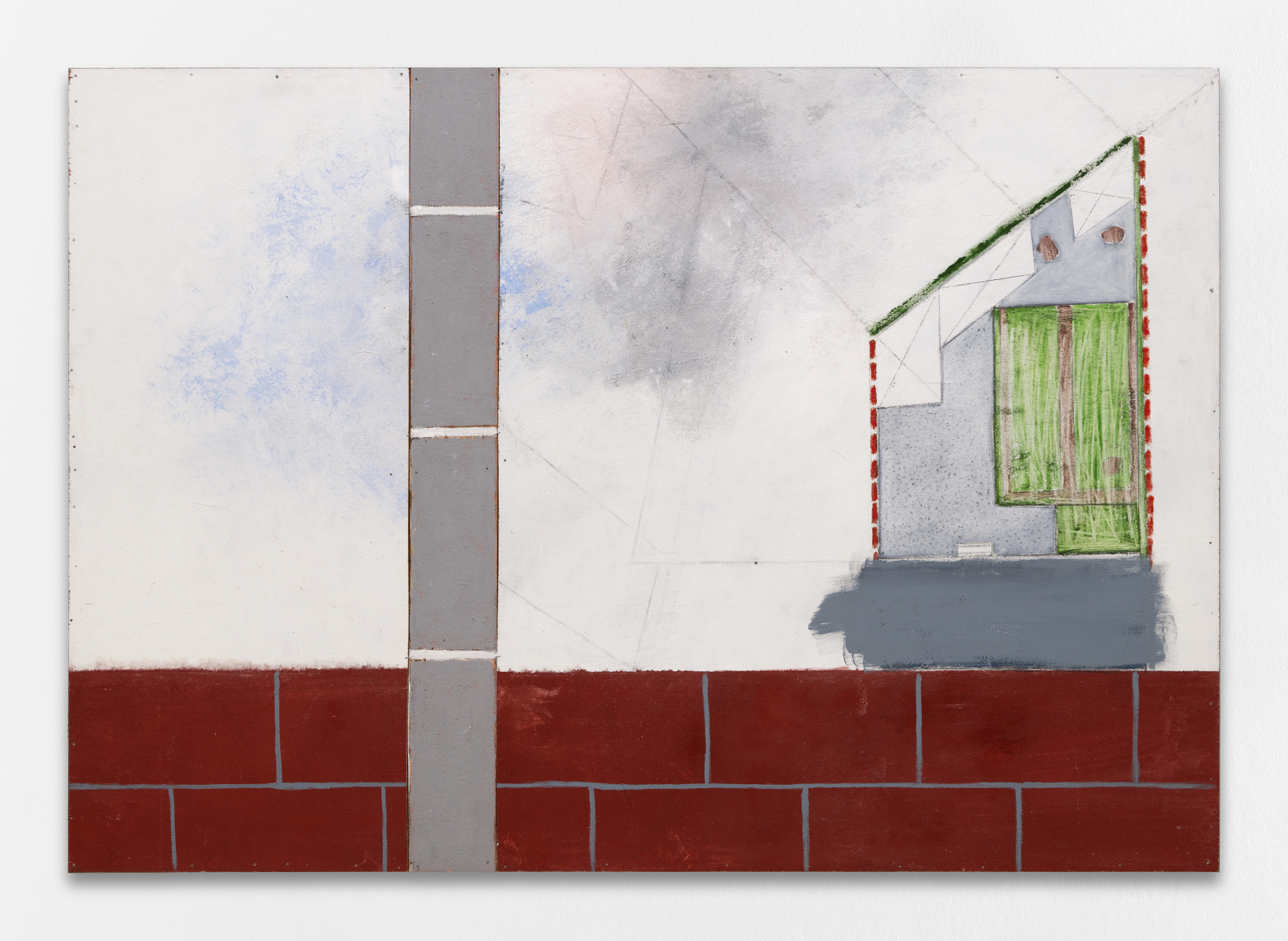 Ici, là
, 2019
Acrylic on wood
114 x 163cm
44.88 x 64.17 in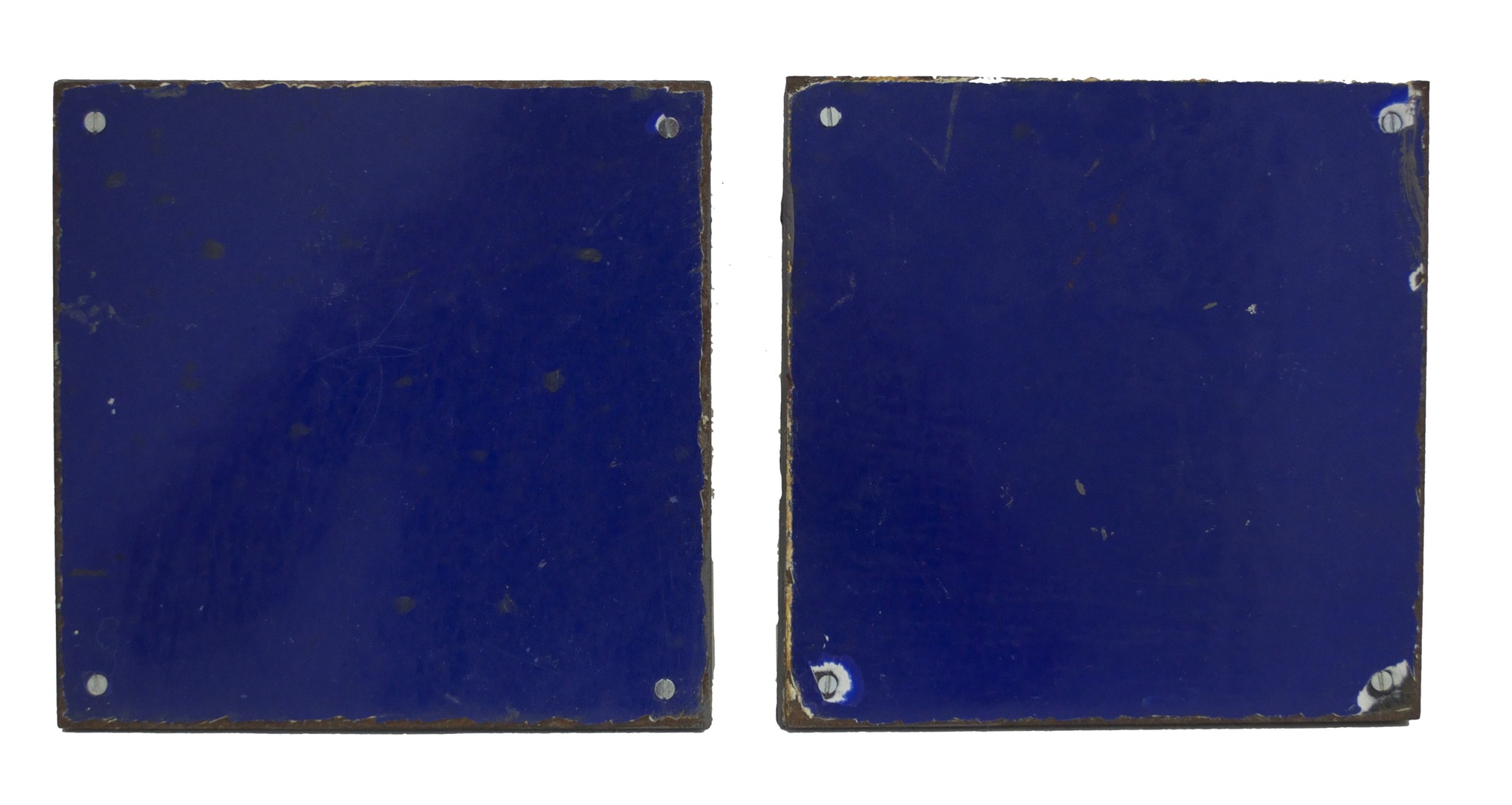 Metro Della Robbia
, 1985
Fragment of Parisian subway plate on metal
15 x 33cm
5.91 x 12.99 in
Born in 1939, in Charenton, France
Works and lives in Maison-Alfort, France
Education
1961     School of Fine Arts, Paris, France
Residencies

2011     Historial de la Grande Guerre, Péronne, France
2004     Musée des beaux arts, Lyon, France

Introduction
Pierre Buraglio was born in Charenton in 1939. He works and lives in Maisons-Alfort, France. He studied at l'École Nationale Supérieure des Beaux-Arts (ENSBA) in Paris. In 1961, he participated for the first time in the Salon for young painters. Between 1963 and 1965, he spent some time in New York. These same years, he visited Robert Chastel's workshop in Paris. Between 1969 and 1974, he stopped painting due to becoming involved in politics. From 1976 to 2000, he taught at the regional school of Beaux-Arts in Valence and having been a visiting artist at l'Ecole des Beaux Arts in Paris, then became a professor.
The first paintings by Pierre Buraglio were dense grounds of color that aimed for an assumed simplicity affirmed by the stapling, apparently in aleatory order, of fragments of canvases on cardboard supports. These works anticipated the stapling of green or blue Gauloise cigarette packs in the 1970s. In 1969, after the series of Camouflages (canvas surfaces painted white juxtaposed with rectangles of military camouflage textile) called into question pictorial representation, Buraglio decides to stop painting in order to dedicate himself to militant political activity. But he returns to painting in 1974, working on stretchers that evoke window frames, a theme he devotes himself to as of 1976. Since then, his art has developed between abstraction and figuration, proposing works that allude to the memory of a an experience which was lived or partially reconstructed.
Public collections 
Centre national des arts plastiques, Paris, France
Musée national d'art moderne, Centre Pompidou, Paris, France
Musée d'art contemporain du Val-de-Marne, France
Des mondes dessinés, FRAC Picardie, Amiens, France
Fonds d'art contemporain, Paris, France
Centre d'arts plastiques et contemporains, Bordeaux, France
Musée d'art moderne et contemporain, Saint-Etienne, France
Musée d'arts de Nantes, France
Musée d'art moderne de Paris, France
Musée départemental Matisse,  Le Cateau-Cambrésis, France
Collection départementale d'art contemporain, Seine-Saint-Denis, France
FRAC Occitanie, Montpellier, France
Musée de Grenoble, France
Musée d'art moderne et contemporain, Strasbourg, France
Les abattoirs, Toulouse, France
FRAC Normandie, Rouen, France
Musée d'art contemporain, Marseille, France
Carré d'art, Nîmes, France
Musée Picasso, Antibes, France
Musée d'art moderne, Céret, France
FRAC Bretagne, Rennes, France
Drawn to abstraction and figuration, Pierre Buraglio's work explores the interdisciplinary relationship as well as links between form and content in contemporary aesthetics. Trained in Roger Chastel's atelier at l'Ecole des Beaux Arts in Paris, Buraglio got to work closely with Bioulès and Viallat very early in his career.


From 1961, he developed a passion for assemblages and drawings, three years later realizing his first 'recoveries', which were composed of superimpositions of glued paper. Following on came his first 'staplings' that gave Buraglio's art its mechanical characteristic. Cut up into irregular triangles, the fragments of painted canvas were then folded, reformed as rectangles and then hung on the frame.


Rejecting the easel painting for an image made up of several properties, the artist went between the vitality of colour and neutral shades for a jerky rhythm. Engaged socially, he exposed in the Salle Rouge at the Musée d'Art Moderne in order to draw attention to the Vietnam War and also showed work at the popular atelier at l'Ecole de Beaux Arts during the 'May 1968' protests. The next year, he took a break from art in order to dedicate himself to political militarism. He did return to his craft quite quickly however, in 1970, bringing together obsolete and worn-away objects such as window frames or gallic emballages.


He has exposed his works extensively throughout France. Considered to be in the same mould as Braque or Schwitters, his distinctly modern oeuvre has wowed the French art scene since the 1960's.
Solo shows at Ceysson Gallery
Pierre Buraglio , Saint-Etienne
June 03 - July 13, 2023
Pierre Buraglio, Lyon
June 09 - July 23, 2022
Pierre Buraglio, Saint-Etienne
June 06 - July 31, 2019
Pierre Buraglio, New York
March 07 - April 27, 2019
Pierre Buraglio , Wandhaff
January 14 - March 25, 2017
Pierre Buraglio  , Saint-Etienne
October 08 - December 12, 2015
Pierre Buraglio, Luxembourg
November 17, 2012 - February 02, 2013
Pierre Buraglio, Luxembourg
September 09 - November 06, 2010
Group shows at Ceysson Gallery
At Jean Prouvé, Offsite
July 15 - July 18, 2021
Septet , Paris
December 16, 2020 - February 13, 2021
The Spaces In Between, New York
September 09 - November 07, 2020
At Jean Prouvé, Offsite
July 26 - July 28, 2020
Spring Saint-Étienne, Saint-Etienne
June 12 - July 25, 2020
Spring Paris, Paris
May 18 - July 23, 2020
Guerre(s), Paris
December 18, 2019 - February 01, 2020
Le grand détournement , Paris
June 27 - August 03, 2019
Unfurled: Supports/Surfaces 1966-1976, Offsite
February 01 - April 21, 2019
The Surface of the East Coast: Différance , New York
July 12 - September 29, 2018
10 YEARS in Luxembourg, Wandhaff
June 02 - August 04, 2018
Animals : intimates works, Paris
December 15, 2016 - February 04, 2017
Pierre Buraglio / Edouard Pignon, Paris
September 05 - October 18, 2014
Solo Shows 

2022 
Buraglio à l'épreuve de Balzac, maison de Balzac, Paris 
Libres comme l'art, 100 ans d'histoire entre les artistes et le PCF, Espace Niemeyer, Paris 

2021 
Estampes, dessins, carnets (1962/2020), Institut français de Madrid avec la galerie Catherine Puman
Drawing now, galerie Catherine Putman, Paris 

2020
Cinématisse, curated by Claudine Grammont et Dominique Païni, Musée Matisse, Nice, France
PB à Madrid, French institute of Madrid, Spain
PB appliqué, Galerie Neuf, Nancy, France

2019
Bas voltage / 1960-2019, Musée d'art moderne et contemporain de Saint-Etienne Métropole, Saint-Etienne, France

2017
Tout support, Villa Balthazar, Valence, France
...Le maintenant avec un jadis et un lendemain..., Galerie Bernard Ceysson, Wandhaff, Luxembourg
Se cantonner, Galerie Jean Fournier, Paris, France

2016
Drawing Now Paris, focus Pierre Buraglio, Galerie Jean Fournier, Paris, France

2015
Pierre Buraglio - Fenêtre à Tanger, commissariat : Bernard Collet, Galerie Delacroix - Institut Français, Tanger, Marocco
SURPLUS, Galerie Bernard Ceysson, Saint Étienne, France
Galerie Jean Fournier, Paris, France
Galerie Catherine Putman, Paris, France

2014
...à tenons et mortaises... Pierre Buraglio - Edouard Pignon, Galerie Bernard Ceysson, Paris, France
SOON / Salon de l'oeuvre originale et numérotée, Galerie Catherine Putman, Paris, France
Pierre Buraglio Echos de 14/18. Son enfance/sa Normandie, Musée de Louviers, France
Galerie Catherine Putman, Paris, France
Galerie Vieille du Temple, Paris, France

2013
D'après, autour, avec, selon..., Musée des beaux-arts de Nancy, Nancy, France
Decorum. Tapis et tapisseries d'artistes, MNAM, Musée d'Art moderne de la Ville de Paris, Paris, France
Carte blanche à Pierre Buraglio avec le collectif BGB, Galerie Confluences, Nantes; IUFM, Lyon, France
Frontalité, Galerie Vieille du Temple, Paris, France
Fresque noire et blanche, Galerie Jean Fournier, Paris, France
Pierre Buraglio PB sur/avec le papier 1981-2012, Lyon, France

2012
Vice, versa 1960-2011 - Dessins, papiers, imprimés..., Galerie du Faouëdic, Lorient, France

2011
Buraglio, la guerre intime, Historiale de la grande guerre, Péronne, France
... de l'atelier à ..., avec quelques travaux de Claude Buraglio, Galerie Hélène Trintignan, Montpellier, France
Le papier à l'œuvre, Musée du Louvre, Paris, France
Pierre Buraglio... Suite, Le passage Sainte-Croix, Nantes, France
Imprimez!, Galerie José Martinez, Lyon, France

2010
Galerie Catherine Putman, Paris, France
Avatars, Galerie Bernard Ceysson, Luxembourg
Salon du Dessin, Carrousel du Louvre, Paris, France
BLOK ZOO HOC, Galerie Jean Fournier, Paris, France
L'art est affaire de goût, Galerie Thierry Salvador, Brussels, Belgium

2009
En planeur, Musée Fabre, Montpellier, France
Pierre Buraglio - Autour de Pierre Buraglio, Villa Tamaris, Toulon, France
Les compatibles, Galerie Thierry Salvador, Brussels, Belgium

2008
Écrits - Caviardages, Centre National de la littérature Maison Servais, Mersch, Luxembourg
Dans le fonds, 1966-1997, Galerie Jean Fournier, Paris, France
C'est alors que... 1998-2008, Galerie Marwan Hoss, Paris, France
Centre d'art contemporain des Eysines, Bordeaux, France

2007
1972-2000, Galerie Athanor et MAC, Marseille, France
Abbaye de Mondaye, Basse Normandie, France
La contredanse, Galerie Marwan Hoss, Paris, France
Galerie Catherine Putman, Paris, France

2006
Pierre Buraglio « ... des bleus », Musée d'Art, Toulon, France
Station debout, 1960-2006, Musée des tapisseries, Aix-en-Provence, France
Un pittore francese, Pavia, Italy
Pierre Buraglio... avatars 1963 - 2006, Brussels, Belgium
Pierre Buraglio / Impressions d'œuvres imprimées, Artothèque, Pessac, France
Dessins du FRAC de Picardie, Galerie Francis Picabia, Lycée Pierre Mendés, France

2005
Pierre Buraglio... au reste..., Musée des Beaux-Arts et d'archéologie, Valence, France
Assemblages, Caviardages, dessins et imprimés 1978-2005, Galerie ArteNostrum, Dieulefit, France
Pierre Buraglio, Lithos, Saint Restitut, France
Pierre Buraglio, Imprimés et Variés, Musée Faure, Aix-en-Provence, France
Assemblages 1987-1988, Galerie Marwan Hoss, Paris, France

2004
Pierre Buraglio... autour... auparavant, Musée Matisse, Le Cateau Cambresis, France
Récemment, Galerie Marwan Hoss, Paris, France
Avec qui ? A propos de qui ?, Musée des Beaux-Arts, Lyon, France
Mais encore, Galerie Martinez, Lyon, France
Une collection : Les fruits d'un regard, Galerie Confluence(s), IUFM, Lyon, France
Avec les mots, avec les écrivains, Ecole normale supérieure, Lyon, France
Paysages et marines, En collaboration avec Jean Voos, Galerie Léa Gredt, Luxembourg
D'après et cependant, Le Ring, Nantes, France

2003
Galerie Jacques Girard, Toulouse, France
Galerie Hélène Trintignan, Montpellier, France
Galerie Tal-coat, Centre Culturel d'Hennebont, France
Prolongements et Prélèvements, Musée Zadkine, Paris, France

2002
Musée des Beaux-Arts, Tours, France
Galerie des Sept Collines, Vienna, Austria
En collaboration avec D. Gutherz, Centre d'art et de littérature, l'Echelle, France

2001
Galerie Marwan Hoss, Paris, France
Galerie José Martinez, Lyon, France
Galerie Athanor, Marseille, France
Espace APCIS, Maisons-Alfort, France

2000
Morceaux choisis, 1965-1999, Maison d'Art Contemporain Chailloux, Fresnes, France
Papier, Galerie Itutsutji, Toyko, Japan

1999
CAPC Musée d'art contemporain, Bordeaux, France
Metro della Robbia, Fonds Régional d'Art Contemporain Pays de la Loire, Nantes, France
Galerie Zographia, Bordeaux, France

1998
Centre d'art contemporain d'Istres, France
Oeuvres sur papier, Galerie Athanor, Marseille, France
Oeuvres 1965-1998, Centre Rhénan Art Contemporain, Alsace, France
Variations imprimées en rouge d'après Grünewald, Arthotèque Musée des Beaux- Arts, Mulhouse, France
Espace Lumière, Hénin Beaumont, France

1997
Avec/sans les mots, 1963-1996, Centre de la Gravure et de l'Image Imprimée de la Communauté Française de Belgique, La Louvière, Belgium(cat.)
Galerie Léa Gredt, Luxembourg
Imprimé/s, Galerie Athanor, Marseille, France
Oeuvres de 1966-1997, Palais des Congrès, Le Mans, France

1996
Avec..., d'après..., Galerie de l'Ancien Collège, Châtellerault, France
Galerie Léa Gredt, Luxembourg
B. cum libro, Galerie Jean Fournier, Paris, France
Autour de la Croix-Sainte Claire, Galerie Art Culture et Foi, Paris, France
Galerie Plessis, Nantes, France
Galerie Saint-Séverin, Paris, France

1995
Galerie Jean Fournier, Paris, France

1994
Galerie Pierre Colt, Nice, France
Galerie Trintignan, Montpellier, France
Imprimé/s, Galerie Athanor, Marseille, France
Galerie Léa Gredt, Luxembourg
Autour de la Croix-Sainte Claire, Galerie Art Culture et Foi, Paris, France
Galerie Plessis, Nantes, France

1993
Institut Français, Galerie Matisse, London, United-Kingdom
15 dessins d'après Chardin, Musée des Beaux-Arts, Orléans, France
Galerie d'Arsac, Margaux, Gironde, France
Avec, d'après, autour, et..., Galerie Jean Fournier, Paris, France

1992
Buraglio d'après..., Fonds Régional d'Art Contemporain de Picardie, Amiens, France
Centre d'Arts Plastiques, Royan, France
Centre d'Art Contemporain, Mont-de-Marsan, France
Centre d'Art Contemporain, Carré Saint-Vincent, Orléans, France

1991
Galerie Pierre Colt, Nice, France
Centre d'Arts Plastiques, Royan, France
Galerie Jean Fournier, Paris, France
Galerie Christine Debras et Yves Bical, Brussels, Belgium
Galerie Saint-Séverin, Paris, France

1990
Galerie La Cour 21, Nantes, France
Musée Sara Hilden, Tempere, Finland (cat.)

1989
Passé-présent, FRAC - PACA, Marseille, France
Galerie Jean Fournier, Paris, France
Galerie Gilles Favre, Lyon, France
Maison de la Culture, Amiens, France
Centre Culturel de l'Albigeaois, Albi, France
Centre d''Art Contemporain, Castres, France
Institut français, Cologne, Germany
Musée Réatu, Arles, France (cat.)
Galerie Won, Seoul, South Korea (cat.)

1988
Du/des papier(s),Galerie de l'Ancienne Post, Calais, France (cat.)
Galerie Dortindeguey, Anduze, France (cat.)
Crédac, Galerie Fernand Léger; Centre d'Art Contemporain, Ivry-sur-Seine, France (cat.)

1987
Galerie Pascal de Sarthe, San Francisco, USA (cat.)
Galerie Jean Fournier, Paris, France
Galerie Zographia, Bordeaux, France
L'autre musée, Brussels, Belgium

1986
Centre d'Art, Flaine, France
Galerie Athanor, Marseille, France
Atelier Bordas, Paris, France

1985
Musée des Beaux-Arts de Valence, France (cat.)
Buraglio : Fenêtres, Centre d'Art contemporain, Carré St-Vincens, Orléans, France

1984
Fenêtres, dessins d'après..., Musée Savoisien, Chambérry, France (cat.)
Galerie Jean Fournier, Paris, France

1982
Galeries contemporaines, Paris, France
Musée National d'Art moderne - Centre Georges Pompidou, Paris, France
Galerie Jean Fournier, Paris, France

1980
Galerie Jean Fournier, Paris, France

1979
Buraglio: 1965-1979, Musée de Grenoble, France (cat.)

1978
Galerie Jean Fournier, Paris, France

1976
Baie aveugle, Galerie 30, Paris, France
Ecrans : 1964-1976, Musée d'Art Moderne - ARC, Paris, France (cat.)

Group Shows
2022
Musées en exil, commissariat : Vincent Honoré, Pauline Faure, MOCO, Montpellier, France
Les choses, musée du Louvre, Paris, France


2020
Printemps , Galerie Ceysson & Bénétière, Paris, France
Printemps , Galerie Ceysson & Bénétière, Saint-Étienne, France
Histoire de l'art cherche personnages…, CAPC, Bordeaux, France
Drapé, Musée des Beaux-Arts de Lyon, France
D'une maison à l'autre, curated by Emmanuel Ruben, Maison Julien Gracq, Mauges-sur-Loire, France
Papier sur le Génie - L'art du vitrail, Abbaye de Fontevraud, France
Le parti de l'art, Espace Niemeyer, Paris, France


2019
Back to Simple Radical Gestures: The Supports/Surfaces Movement, Tsinghua University Art Museum, Beijing, China
Incontri, Galerie Jean Fournier, Paris, France
Bientôt déjà hier, Métamorphose et écoulement du temps, Le Centre de la Gravure et de l'Image imprimée de la Fédération Wallonie-Bruxelles, Brussels, Belgium
Posture(s), approches de la figure, Galerie La Forest Divonne, Brussels, Belgium
Art Brussels 2019, Galerie Ceysson & Bénétière, Brussels, Belgium
Drawing Now 2019, Galerie Ceysson & Bénétière, Paris, France

2018
Persona Grata, MACVAL, Vitry-sur-Seine, France
Drawing Prints, Galerie Jourdan Seydoux, Berlin, Germany
Moyen-Âge, Renaissance, Art contemporain, Galerie Artenostrum, Dieulefit, France
Noir et Blanc, Galerie Catherine Putman, Paris, France
Images en lutte, Palais des Beaux-Arts, Paris, France
Under Erasure, Pierogi, New York, USA
Eric Seydoux: Meisters des Siebdrucks, Freund der Künstler, Jordan-Seydoux, Berlin, Germany
Supports/surfaces et après..., Galerie Clémence Boisanté, Montpellier, France

2017
The Surface of the East coast, commissaire d'exposition : Marie Maertens, Le 109, Nice, France
Le Massacre des innocents, Salle du Jeu de Paume, Domaine de Chantilly, France
Supports/Surfaces : les origines 1966-1970, Carré d'art, Nîmes, France
COLLISIONS, Galerie Catherine Putman, Paris, France
On aime l'art / Agnès B.,Collection Lambert, Avignon, France
Tout Balayer, Tout Assimiler, Galerie La Forest Divonne, Brussels, Belgium

2016
Passages. Vers une abstraction habitée, commissariat : Amélie Adamo, Musée de l'abbaye de Sainte Croix, Sables d'Olonne, France
Paysageurs, Galerie Oliver Nouvellet, Paris, France
Rituels, répétitions, contraintes, tentations, Musée régional d'art contemporain, Sérignan, France
Lieux Mouvants, Lanrivain, France
Tableaux en souvenir de Jean Fournier, Galerie Jean Fournier, Paris, France
« R-K + H.B » PB avec Claude Buraglio, Maison des Arts, Bagneux, France
36/36, Assemblée Nationale, Paris, France
30 ans de la galerie, Galerie Berthet-Aittouarès, Paris, France
Le temps de l'audace et de l'engagement, IAC, Villeurbanne, France
Matisse Now, Galerie Jean Fournier, Paris, France

2015
Le nu dans tous ses états, Galerie Hélène Trintignan, Montpellier, France
En tandem, avec Claude Buraglio, L'atelier blanc - Art contemporain, Villefranche de Rouergue, France
Que la rencontre vive..., Musée Bernard Boesch, Le Pouliguen, France
Carte blanche à..., Galerie Jean Fournier, Paris, France
94/66, Musée d'art moderne de Collioure, Collioure, France

2014
Supports/Surfaces, CANADA Gallery, New York, USA
Pierre et Claude Buraglio + le collectif BGB, Centre d'art contemporain Eysines, Eysines, France
(im) matériel, Galerie Jean Fournier, Paris, France
La lumière, commissariat : Bernard Collet, Centre d'art contemporain, Vienna, Austria
Frontalité, Château de Poncé, Poncé sur le Loir, France
Avec et sans peinture, Musée d'art contemporain du Val-de-Marne, Vitry-sur-Seine, France
Supports/Surfaces is alive and well, Galerie Cherry and Martin, Los Angeles, USA
Quarante ans de peinture, Galerie Hélène Trintignan, Montpellier, France
Cet obscur objet de désir, Autour de l'Origine du monde, Musée Courbet, Ornans, France
Musée éphémère, commissariat: Evelyne Artaud, Maison René Char, Isle sur le Sorgue, France

2013
Le temps des collections, Musée des Beaux-Arts de Rouen, Rouen, France
Collection LGR, MAMAC, Nice, France

2012
L'atelier rue du Bac, Galerie Jean Fournier, Paris, France

2011
Dessiner/Tracer, Buraglio, la guerre intime, Historiale de la grande guerre, Château de Péronne, France

2010
Support Papier  Pierre Buraglio / Damien Cabanes, Galerie municipale de Vitry-sur-Seine, France
L'envers et l'endroit, Galerie nationale de la tapisserie, Beauvais, France
Papiers en vrac, Dessins et estampes des réserves du Musée Faure, France
Nevermore Souvenir, souvenir, que me veux-t ?, MAC/VAL, France
L'émotion et la règle, Musée des Beaux-Arts de Lyon, Lyon, France
Les 20 ans de la MACC, une proposition de Pierre Wat, Maison d'art contemporain, Chaillioux, France
La vie saisie par l'art, Musée d'Art contemporain de Bordeaux, France
Sortie du portfolio « J1 vol.3 », Galerie Catherine Putman, Paris, France
Figures et Paysages, Galerie Villa Delaporte, Casablanca, Marocco
La vie saisie par l'art, CAPC, France
Fundacio Stämpfli, Sitges, Spain
Musée d'Art contemporain de Bordeaux, France
Lignes et contours, FRAC Picardie, Amiens, France
L'envers et l'endroit, Galerie nationale de la tapisserie, Beauvais, France
Lignes et contours, FRAC Picardie, France

2009
Vos papiers, s'il vous plaît , Galerie Hélène Trintignan, Montpellier, France
Regards critiques pour la cathédrale de Chartres, CACRF, Mont de Marsan, France
Les collections, Musée d'art de Toulon, France
Pas nécessaire et pourtant indispensable, 1979-2009 Abbaye St André, Meymac, France
1er salon du dessin contemporain de Montpellier, France
L'art du carnet de voyage, Musée de la Poste, France
D'après... Autour... Selon..., Abbaye de Silvacane, Le Roque d'Antheron, France
Exposition collective, Galerie Jean Fournier, Paris, France
Exposition de groupe, Galerie José Martinez, Lyon, France
L'estampe au bout de l'aventure, Maison des arts de Bagneux, Bagneux, France
Le dessin à l'oeuvre , Galerie Vieille du Temple, Paris, France
Le temps est un enfant Atelier Cantoisel, Joigny, France
J'y pense et puis... Musée château Saint-Jean, Nogent le Rotrou, France
Collection d'art contemporain du conseil général de la Seine Saint Denis, France
Salon du Dessin, Galerie Jean Fournier, Paris, France
Figures de style, styles de figures , Cabinet d'amateur, Paris, France
Centre culturel de Flaines, France
Ingres et les Modernes, Musée national des Beaux-Arts, Montréal, Canada
Le Blanc, Cabinet d'Art graphique - Centre Georges Pompidou, Paris, France
Portraits et Autoportraits, Galerie Hélène Trintignan, Montpellier, France

2008
Pierre Buraglio, Centre d'Art plastique de Royan, France
Trace du sacré, Musée National d'Art moderne - Centre Georges Pompidou, Paris, France
20 ans et plus, Galerie Vieille du Temple, Paris, France
Musée de Rauma, Finland
Sextet, Galerie Vieille du Temple, Paris, France

2007
Espace carte blanche, Paris, France
Jean Degottex - Pierre Buraglio,Galerie l'Or du Temps, Paris, France
Pierrette Bloch- Pierre Buraglio, Galerie Marwan Hoss, Paris, France
L'amour de l'art, Église des Jacobins, Agen, France
Marie-Madeleine contemporaine, Maison de la Cure Saint-Restitut, France
De leur temps (2), Musée de Grenoble, France
La couleur toujours recommencée, Hommage à Jean Fournier, Musée Fabre, Montpellier, France
Musée des Tapisseries, Aix en Provence, France
Carte Blanche à la Manufacture nationale de Sèvres, Palais Fénelon, Le Cateau Cambresis, France
Le souffle à la surface, Institut catholique de Paris, Paris, France
Sextet, Galerie Vieille du Temple, Paris, France

2006
Cézanne 2006, Aix en Provence, France
Pierre Buraglio... avatars 1963 - 2006, Brussels, Belgium
Arts Paris, Galerie Vieille du Temple, Paris, France
2 jours 2 nuits, Place St Sulpice, Paris, France
Le Noir est une Couleur, Saint-Paul de Vence, France
L'imprimé - Avant, pendant, après, Maison des Arts de Mallakoff, France
Open 20, Artothèque, Caen, France

2005
Nu, Centre d'art contemporain, Mont-de-Marsan, France
Été, CAPC, Bordeaux, France
Les adieux de Jean Le Gac, Galerie Nationale de la tapisserie, Beauvais, France
Ici aussi, FRAC Bretagne, Chapelle Saint Mathieu Morlaix, France
La peau du chat, Musée des Sables-d'Olonne; Château de Tanlay, France
Hommage à Carlotta, Galerie Baudoin-Lebon, Paris, France
Autour de Cervantès, Galerie Yves Faurie, Nîmes; Galerie Jean Fournier, Paris, France
Une certaine idée du paysage, Galerie Vieille du Temple, Paris, France
Au delà des signes, Sint-Tillokerk, Izegem, Belgique
Sélection, Centre de la Gravure et de l'imprimé, La Louvière, Belgium
Ecole des Beaux­-Arts, Rennes, France
L'original multiple, Bibliothèque Nationale de France - Bibliothèque François Mittérand, Paris, France

2004
Ombres et lumières, Quatre siècles de peinture française, Budapest, Hungary; Warsaw, Poland; Bucharest, Romania
Couleurs simples, APCIS, Maisons-Alfort, France
Galerie Léa Gredt, Luxembourg
France, expériences croisées, Musée de Marrakech, Marocco
Galerie Jean Fournier, Paris

2003
Marseille Collections privées nantaises de 1950 à 2000, Galerie Athanor, Marseille
Marseille Collections privées nantaises de 1950 à 2000, Musée des Beaux-Arts, Nantes, France

2002
Galerie Léa Gredt, Luxembourg
Paris, Capital of the Arts 1900-1968, Royal Academy, London, United-Kingdom; Guggenheim Museum, Bilbao, Spain
A tension fort fragile, Galerie municipale, Vitry-sur-Seine, France
Ces fous de dessins, Galerie de France, Paris, France
Triennale de l'Estampe, Biella, Italy
Jardins secrets IV, hôpital Charles Foix, Ivry, France
De la Passion à la Résurrection, Château de Villeneuve, Vence, France
Signes des temps, FRAC Bretagne, Pontivy, France

2001
L'Esprit Supports/Surfaces, Shenzhen, China
Musée d'histoire, Shouxi, Chine

2000
Les Années Supports/Surfaces dans les collections du Musée National d'Art moderne,
Museum, Tokyo, Japan
Museu de Arte Moderna, Sao Paulo; Centro Cultural Banco de Brazil, Rio de Janeiro, Brasil
2000 en France, Cathédrale d'Evry, Epiphanies, France
Commandes et acquisitions publiques, Assemblée nationale, France
Galerie Athanor, Marseille, France
Galerie Léa Gredt, Luxembourg
Galerie Dortindeguey, Arles, France

1999
René Gimpel Gallery, London, United-Kingdom
Les années Supports/Surfaces dans les collections du Musée national d'Art moderne, Maison de la culture, Namur, Belgique
Muzeum Sztuki, Lodz, Pologne
Palazzo delle exposition, Rome, Italy
Taidemuseo, Tampere, Finland
Sculptures. Propositions (Oeuvres du Fonds national d'Art contemporain), Musée Denys Puech, Rodez, France
Le seuils de la peinture en France et en Italy, Pérouse, Italy

1998
Collection: un autre regard, de la peinture à l'objet, CAPC, Musée d'Art Contemporain, Bordeaux, France
Una select dels fons de la Fondation Cartier pour l'art contemporain, Fundacio Joan Miro, Barcelone, Spain
Les années Supports/Surfaces dans les collections du Musée national d'Art moderne, Galerie Nationale du Jeu de Paume, Paris, France
Centro Cultural de Cande Duque, Madrid, Spain
La collection 1945-1995 et la collection Sonnabend, Musée d'Art Moderne, Saint-Etienne, France

1997
Pierre Buraglio et Dominique Fourcade, La Vieille Charité, Marseille, France
Made in France, Musée national d'Art moderne - Centre Georges Pompidou, Paris, France

1996
En Filigrane, Bibliothèque nationale, Paris, France
Foire de Chicago, stand Galerie Marwan Hoss, USA
Monuments et Modernité, Fondation Electricité de France, Espace Electra, Paris, France

1995
Passions privées, Musée d'Art Moderne de la Ville de Paris, Paris, France
Du paysage incertain fragments, Centre d'Art Contemporain, Vassivières-en-Limousin, France
Dessin Contemporain, Musée de Valence, France
Du trait à la ligne, Musée national d'Art Moderne - Centre Georges Pompidou, Paris, France
Threshold, Thirteen French Artists, National Gallery of Moderne Art, New Delhi, India

1994
SAGA, stands: Galerie Jacques; Catherine Putman, Paris, France
Liberté et Egalité, Ludwig-Museum, Coblence, Germany
Autour de Support-Surface, Centre d'Art Contemporain, Meymac, France
Dessiner une collection d'art contemporain : oeuvres du Fonds régional d'Art contemporain Picardie, Musée du Luxembourg, Paris, France (cat.)
Le Musée et les modernes, un choix de Marcelin Pleynet, Musée de Picardie, Amiens, France

1993
Claude Viallat, Pierre Buraglio, Thèmes et Variation, Musée Matisse, Nice, France
Galerie Enrico Navarra, Tokyo, Japan
Dominique Bozo ; un regard, Musée national d'Art moderne - Centre Georges Pompidou, Paris, France
Ils ont cité Matisse, Galerie de France, Paris, France
Copier, créer, Musée du Louvre, Paris, France
Le grand émerveillement pour le Sud, Musée de Vence, France
Ville Biennale international de l'estampe, Seoul, South Korea

1992
La collection du FRAC Pays de la Loire, Musée des Beaux-Arts, Nantes, France
Exposition universelle de Séville, Pavillon français, France
L'art abstrait en France dans les années 60-70 : Le geste et l'idée, Musée d'Art Moderne, Toulouse, France
Papier, Image et Base, Musée Oud-Hospitaal, Alost, Belgium
Galerie Hélène Trintignan, Montpellier, France

1991
L'Amour de l'Art, Biennale d'Art Contemporain de Lyon, France
Dessins d'une collection, FRAC - Picardie, Amiens, France

1990
Konkrete Utupien in Kunst und Gesellschaft, Düsseldorf, Germany
Sainte-Victoire Cézanne, Musée Granet, Aix en Provence, France
Desseins et dessins, Ecole des Beaux-Arts, Avignon, France
Musée des Beaux-Arts, Mulhouse, France

1989
Hommage à Jean Hélion, Galerie Art of Century, Paris, France
Liberté-Egalité = Freiheit-Gleichheit, Musée Folkwang, Essen, Germany
Kunstmuseum, Winterthur, Suisse
Passé-Présent, FRAC - PACA, Marseille, France

1988
L'art Moderne à Marseille, La collection du Musée Cantini, Marseille, France
BAC 88, Biennale d'Art Contemporain, Nancy, France
Art Français contemporain, exposition itinérante : Zaghreb, Croatia ; Ljubljana, Slovénie ; Belgrade, Serbia
Biennale d'art contemporain, Ankara, Turkey
Dessin: naissance d'une collection, FRAC - Picardie, Amiens, France
Collection d'art contemporain, Musée d'Art moderne, Saint-Etienne, France
Nouveau Musée, Villeurbanne, France

1987
Salon de Montrouge, Paris, France
Bourse d'Art Monumental, Crédac, Ivry-sur-Seine, France

1985
Rencontres, Abidjan/Dakar/Bamako, Africa
Art français 1960-1985, exposition itinérante : Belgrade, Serbia ; Zagreb, Croatia
Since Matisse. French Color, Edimbourg, United-Kingdom
Museum for Moderne Kunst, Humlebaek, Denmark
Marseille: Ils collectionnent, Musée Cantini, Marseille, France

1983
L'Espace de la couleur, Baden-Baden, Germany
Vingt ans d'art en France. 1960-1980, Mayenne, Tübingen, Berlin, Luxembourg, Bologne, Italy

1982
Choix pour aujourd'hui, Musée national d'Art moderne - Centre Georges Pompidou, Paris, France
Collection Bernard Lamarche-Vadel, Musée SainteCroix, Poitiers, France
Le Relief mural en Fronce de 1955 à nos jours, Galerie Zabriskie, Paris, France
Pierre Buraglio, Bertrand Lavier, Georges Rousse, Galerie Zabriskie, New York, USA
Sans Tire 1, Musée de Toulon, Toulon, France

1981
Murs, Musée national d'Art moderne - Centre Georges Pompidou, Paris, France

1980
Kunst 1 dag = Art aujourd'hui, Ordruggaard, Copenhague, Danemark
Les collections privées liégeoises, APIAW, Liège Avatars, Galerie Jean Fournier, Paris, France
Achats depuis 60, Musée Cantini, Marseille, France

1979
Biennale de Sao Paulo, Brasil
Tendances de l'Art en Fronce 1968-1978 : les Partis pris de Marcelin Pleynet, ARC - Musée d'Art Moderne de la Ville de Paris, Paris, France
L'éternel conflit du dessin et de la couleur: accrochage Il, Musée national d'Art moderne - Centre Georges Pompidou, Paris, France

1978
L'Estampe d'aujourd'hui 1973-1978, Bibliothèque Nationale, Paris, France
D'un espace à l'autre; la fenêtre, Musée de l'Annonciade, Saint-Tropez, France

1977
3 villes : 3 collections, Musée Cantini, Marseille ; Musée de Grenoble ; Musée d'Art et d'Industrie, Saint-Etienne, France

1976
Premier Salon de la critique, Paris-La Défense, France
Vitte Festival International de la peinture, Cagnes-sur-Mer, France

1975
TP, Travaux pratiques, UER de Sciences, Limoges, France
Collectif d'exposition, AAARP, Paris, France

1968
Salle rouge pour le Viêt-Nam, ARC - Musée d'Art Moderne de la Ville de Paris, France

1967
Festival de la Côte d'Azur, France

1966
Impact 1, Musée d'Art Moderne, Céret, Biennale de Menton, France
Galerie Le Couloir, Yverdon, Suisse
Salon Grands et Jeunes d'aujourd'hui, Paris, France
Triptyque, Galerie Jean Fournier, Paris, France

1965
Biennale de Paris, France
Salon Grands et Jeunes d'aujourd'hui, Paris, France
Salon des Réalités Nouvelles, Paris, France

1964
Salon Grands et Jeunes d'aujourd'hui, Paris, France

1963
Biennale de Paris, France

1959-1961
Salons de la Jeune Peinture, Paris, France
2014
Pierre Buraglio. Echos de 14/18 Son enfance/Sa Normandie, coedited by Musée de Louviers
"18 JUIN", Pierre et Claude BURAGLIO + le collectif BGB, Centre d'art contemporain, Eysines

2013
SUPPORTS SURFACES ET APRÈS..., exhibition catalogue summer 2013, Déborah Laks, Geneviève André-Acquier, Brigitte Quilhot-Gesseaume
Catalogue "Le temps des collections", Musée des Beaux Arts de Rouen, Collections of the Musée des Beaux Arts de Rouen, 2012-2013
Art Absolument, "L'Art au défi de l'espérance", 2013

2012
1%, Philippe Régnier, Collection : « HORS COLLECTION »
Pierre Buraglio d'après...Delacroix et autres maîtres, Musée des Beaux-Arts de Vannes, Editions Apogée
Alone together, Confluence(s), IUFM, Pierre et Claude Buraglio + le collectif BGB
Sébastien Gokalp, Pierre Buraglio. Le parti pris des restes, Broché, June 2nd 2012
« Buraglio,la guerre intime », Historial de la Grande Guerre Château de Péronne
Vice versa. Pierre Buraglio au Faouëdic à Lorient, La Galerie du Faouëdic

2011
Connaissance des Arts, N°699, December 2011
« Le papier à l'oeuvre », Natalie Coural, Dominique Cordellier, Hélène Grollemund, Editions Musée du Louvre
L'Invention de l'oeuvre. Rodin et les ambassadeurs, coedition Actes Sud/Musée Rodin
Patrimoine et création, Arlette Auduc, 2011, Editions Somogy
Censures: les violences du sens, N. Amrouche , E. Kippelen, J. Marchio, R. Mathieu, Collectif, 2011, Editions Université de Provence
De l'ar[t]chitecture en milieu hospitalier, Isabelle Genyk, Isabelle Saint-Martin, Magali Uhl, 2011

2010
Supports Surfaces, FIAC Editions, 2010
Art absolument, N° 37, September 2010
Blok...Zoo...Hoc, catalogue, Paris, Galerie Jean Fournier, 2010

2009
Meeting Pierre Wat, Universitaire et crtitique, Centre Culturel Allemand, Paris
Meeting Prof. J.P. Deremble et PB, Notre Dame de la Sagesse, Paris
Lecture at INSA in Strasbourg on the subject of the Oratoire de l'Hôpital Bretonneau, Paris
Lecture : Sur PB, J.P. Deremble, Notre-Dame de la Sagesse

2008
"Écrits - Caviardages ", Centre National de la littérature Maison Servais, Mersch (Luxembourg)
"Dans le fonds, 1966-1997", Galerie Jean Fournier, Paris
"C'est alors que... 1998-2008", Galerie Marwan Hoss, Paris
Centre d'art contemporain des Eysines, Bordeaux
Dessin d'après Philippe de Champaigne (La Crucifixion), in Les 200 plus beaux dessins du monde, Jean-Luc Chalumeau, Ed. du Chêne (Publication)
Figures d'artistes, Natacha Pugnet, Archibooks Sautereau éditeur, Collection Voix (Publication)
Pierre Buraglio dans le fonds, Dominique Fourcade, éditeur Panama / Galerie Jean Fournier
Conférence : Grand Palais rencontre dans le cadre Picasso et les maîtres, Pierre Buraglio-Danièle Cohn
Travioles, n°14 Blokoss avec Hubert Lucot
Catalogue of the Centre d'art et de littérature, Luxembourg. Foreword by Lucien Kayser
DVD Traces du Sacré (Centre Georges Pompidou), interview
Epreuves du Mystères, Eseme
Book Cover for Je suis abstraite d'Isabelle Pinson, Edition Le Bruit des Autres
France 5, Un soir au musée Autour de Géricault : La monomabe de l'envie, Musée des Beaux-Arts de Lyon, June 12th 2008
Témoignage chrétien Peinture, « 68 à l'encre rouge », May 7th 2008, by Luc Chatel
Journal Le Monde, « Retour sur Pierre Buraglio », March 28th 2008, by Henry Bellet
« Du jour au lendemain », Alain Veinstein s'entretient avec Pierre Buraglio autour de Ecrits entre 1962 et 2007 sur France Culture, February 25th 2008

2007
"1972-2000" Galerie Athanor et MAC, Marseille
FIAC de Paris. Stand Marwan Hoss, Catherine Putman, Jean Fournier
Galerie Martinez, Lyon
Abbaye de Mondaye, Basse Normandie
La contredanse, Galerie Marwan Hoss, Paris
Galerie Catherine Putman
Ecrits entre 1962 et 2007, Pierre Buraglio, éditions Ecole Nationale des Beaux-Arts, Paris (Publication)
Surpris par la nuit, Alain Veinstein, France Culture, « Dites dons à quelle date est morte la peinture ? »
« Jean Fournier ou la passion partagée », France Culture Peinture fraîche, par Jean Daive (à propos de la réouverture du nouveau Musée Fabre à Montpellier)
Colloque Villa Médicis, Le paysage mental

2006
Pierre Buraglio "... des bleus", Musée d'Art de Toulon
Station debout, 1960-2006, Musée des Tapisseries, Aix-en-Provence
"Un pittore francese", Pavia. Italy
Pierre Buraglio... avatars 1963 - 2006, Brussels
Pierre Buraglio / Impressions d'œuvres imprimées, Artothèque de Pessac, Gironde
Dessins du FRAC de Picardie, Galerie Francis Picabia Lycée Pierre Mendés France
Arte « Metropolis » - Pierre Buraglio et Eduardo Manet au Musée des Beaux-Arts de Dijon. France Culture ...des bleus..., television show, Porte de Versailles, Paris.
France Culture, Surpris par la nuit, « Pique-nique dans les ruines »
France Culture, Peinture Fraîche par Jean Daive - « Année Riopelle - Année Cezanne et Pierre Buraglio à Aix-en-Provence »

2005
Pierre Buraglio... au reste... Musée des Beaux-Arts et d'archéologie de Valence, Drôme
Assemblages, Caviardages, dessins et imprimés 1978-2005, Galerie ArteNostrum, Dieulefit, Drôme
Pierre Buraglio, Lithos, St Restitus, Drôme
Pierre Buraglio, Imprimés et Variés, Musée Faure, Aix-en-Provence
Assemblages 1987-1988, Galerie Marwan Hoss, Paris
Arte « Metropolis » - Exposition -Femmes de la Bibre
France Culture : Hommage à Jean-Pierre Pincemin par Marion Daniel et Anne Fleury
Online video Pierre Buraglio « D'après Véronèse »

2004
Pierre Buraglio... autour... auparavant, Musée Matisse, Le Cateau Cambresis
Récemment, Galerie Marwan Hoss, Paris
Avec qui ? A propos de qui ?, Musée des Beaux-Arts, Lyon
Mais encore, Galerie Martinez, Lyon
Une collection : Les fruits d'un regard, Galerie Confluence(s), IUFM, Lyon
Avec les mots, avec les écrivains, Ecole normale supérieure, Lyon
Paysages et marines, Galerie Léa Gredt, Luxembourg / avec Jean Voos
Pierre Buraglio - "D'après et cependant". Le Ring, Nantes
Journal Le Monde ; January 23rd 2004
Arte « Metropolis » Pierre Buraglio - En toute liberté

2003
Galerie Jacques Girard, Toulouse
Galerie Hélène Trintignan, Montpellier
Galerie Tal-coat, cente Culturel d'Hennebont
Prolongements et Prélèvements, Musée Zadkine, Paris
France Culture Raison de plus avec Pierre Buraglio par Alain Veinstein, in the context of Prolongements et prélèvements, Galerie Zadkine

2002
Musée des Beaux-Arts, Tours
Galerie des Sept Collines, Vienna
Centre d'art et de littérature (avec D. Gutherz), l'Echelle (Ardennes)

2001
Galerie Marwan Hoss, Paris
Galerie José Martinez, Lyon
Galerie Athanor, Marseille
Espace APCIS, Maisons-Alfort

2000
Morceaux choisis, 1965-1999, Maison d'Art Contemporain Chailloux, Fresnes
Papier, Itutsutji, Toyko

1999
Capc Musée d'art contemporain, Bordeaux (catalogue)
Metro della Robbia, Fonds Régional d'Art Contemporain Pays de la Loire, Nantes
Galerie Zographia, Bordeaux
Reading with Ann Hindry, Centre Georges Pompidou, Paris

1998
Pierre Buraglio de 1965 à 1998, Fiac 98, Paris, stand Galerie Marwan Hoos
Oeuvres récentes, Fiac 98, Paris, Galerie Marwan Hoos (cat.)
Centre d'art contemporain d'Istres (avec Emmanuel) (cat.)
Oeuvres sur papier, Galerie Athanor, Marseille
Oeuvres 1965-1998, Centre Rhénan Art Contemporain, Alsace, Altkirch (cat.)
Variations imprimées en rouge d'après Grünewald, Arthotèque Musée des Beaux- Arts, Mulhouse
Espace Lumière, Hénin Beaumont (booklet)
Entretien avec Pierre-André Boutang dans le cadre de l'exposition Supports/Surfaces au Musée du Jeu de Paume, Paris

1997
Avec/sans les mots, 1963-1996, Centre de la Gravure et de l'Image Imprimée de la Communauté Française de Belgique, La Louvière, Belgique (cat.)
Galerie Léa Gredt, Luxembourg
Imprimé/s, Galerie Athanor, Marseille
Oeuvres de 1966-1997, Palais des Congrès, Le Mans
Pierre Buraglio, film by William Minouri, 26 minutes

1996
Avec..., d'après..., Galerie de l'Ancien Collège, Châtellerault
Galerie Léa Gredt, Luxembourg
B. cum libro, Galerie Jean Fournier, Paris
Autour de la Croix-Sainte Claire, galerie Art Culture et Foi, Paris
Galerie Plessis, Nantes
Galerie Saint-Séverin, Paris
Seminar "La mort cellulaire", invited by Professor J-L. Binet
Interview with Pierre Descargues, France Culture
Dessiner la main qui pense, a film by Judit Weschler,
Symposium « Rapport théorie/pratique », Université d'Aix-en-Provence

1995
Galerie Jean Fournier, Paris
Symposium « Poésie », Ecole des Beaux-Arts, Perpignan
Symposium « Raisonnances », Ecole d'architecture de Paris-Belleville

1994
Galerie Pierre Colt, Nice
Galerie Trintignan, Montpellier
Imprimé/s, Galerie Athanor, Marseille
Galerie Léa Gredt, Luxembourg
Autour de la Croix-Sainte Claire, galerie Art Culture et Foi, Paris
Galerie Plessis, Nantes
Symposium « Ostad Elahi », La Sorbonne, Paris
Visite de l'exposition Joan Mitchell, Galerie Nationale du Jeu de Paume, Paris
Symposium « Art Sacré », Palais de Thau, Reims
Interview in the context of the symposium "La relance du 1%", Grenoble

1993
Pierre Buraglio, Institut Français, Galerie Matisse, Londres (cat.)
15 dessins d'après Chardin, Musée des Beaux-Arts, Orléans.
Galerie d'Arsac, Margaux, Gironde (cat.)
Avec, d'après, autour, et..., Galerie Jean Fournier, Paris (booklet).
La danse d'Henri Matisse, vidéo de G. et L. Meichler, Musée d'Art Moderne de la Ville de Paris

1992
Buraglio d'après..., Fonds Régional d'Art Contemporain de Picardie Amiens (cat.)
Amiens (cat.)
Centre d'Arts Plastiques, Royan (cat.)
Centre d'Art Contemporain, Mont-de-Marsan.
Centre d'Art Contemporain, Carré Saint-Vincent, Orléans (cat.)

1991
Galerie Pierre Colt, Nice
Centre d'Arts Plastiques, Royan (cat.)
Galerie Jean Fournier, Paris (booklet)
Galerie Christine Debras et Yves Bical, Brussels
Galerie Saint-Séverin, Paris
Interview with Pierre-André Boutang, in Océaniques n°7, television show

1990
Galerie La Cour 21, Nantes
Musée Sara Hilden, Tempere, Finlande (cat.)

1989
Passé-présent, Fonds Régional d'Art Contemporain Provence Alpes-Côte d'Azur, Marseille
Galerie Jean Fournier, Paris
Galerie Gilles Favre, Lyon
Maison de la Culture, Amiens
Centre Culturel de l'Albigeaois, Albi
Centre d''Art Contemporain, Castres
Institut français, Cologne
Musée Réatu, Arles (cat.)
Galerie Won, Seoul (cat.)

1988
Du/des papier(s),Galerie de l'Ancienne Post, Calais (cat.)
Galerie Dortindeguey, Anduze (cat.)
Crédac, Galerie Fernand Léger, Centre d'Art Contemporain, Ivry-sur-Seine (cat.).

1987
Galerie Pascal de Sarthe, San Francisco. (cat.)
Galerie Jean Fournier, Paris
Galerie Zographia, Bordeaux
L'autre musée, Brussels

1986
Centre d'Art, Flaine
Galerie Athanor, Marseille
Atelier Bordas, Paris

1985
Musée des Beaux-Arts de Valence (cat.)
Buraglio : Fenêtres, Centre d'Art contemporain, Carré St-Vincens, Orléans
Interview by Dominique Abensour, in Les Chantiers de l'artiste, radio show, France Culture
Interview by Olivier Kaeppelin, in Nuits magnétiques, émission radiophonique de France Culture

1984
Fenêtres, dessins d'après... Musée Savoisien, Chambérry (cat.)
Galerie Jean Fournier, Paris
Interview with Pierre-André Boutang and Philippe Collin, in «Désirs des arts, television show
1982
Galeries contemporaines, Paris
Musée d'Art Moderne, Centre G. Pompidou Paris
Galerie Jean Fournier, Paris

1980
Galerie Jean Fournier, Paris

1979
Buraglio : 1965-1979, Musée de Grenoble (cat.)

1978
Galerie Jean Fournier, Paris

1976
Baie aveugle. galerie 30, Paris
Ecrans : 1964-1976, ARC2 Musée d'Art Moderne de la Ville de Paris (cat.)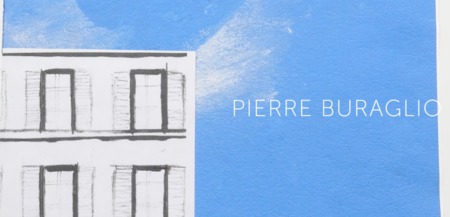 Pierre Buraglio
March 18, 2017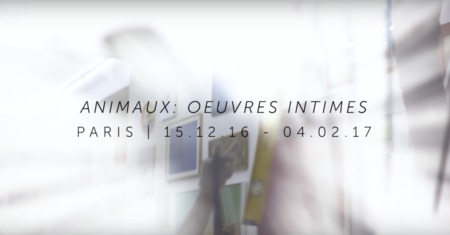 Animaux : oeuvres intimes
December 22, 2016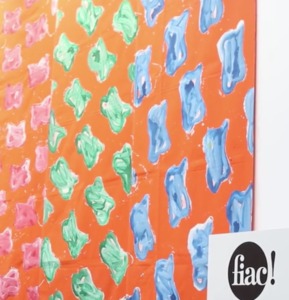 FIAC 2016
October 18, 2016